Brooklodge Wedding Photos
It was a September day at the beautiful Brooklodge Hotel in Macreddin Village which would lay host to the full wedding of Eimear and Cain, from bridal preparations, to the ceremony, the photos, drinks, the reception, the dancing , and everything else was all on site which made for a super day. Here is the full story from Eimear all about how it all began.
The proposal…
In February 2016, Cain surprised me on a snowboarding holiday in Meribel, France. Cain managed to sneak the ring and a bottle of champagne to the very top of the ski slope, where he popped the question. He caught me completely by surprise and I was over the moon.  We took some pics, polished off the champagne and snowboarded down to the next town to celebrate. Even a couple of wrong turns in a blizzard and a fall couldn't dampen our mood.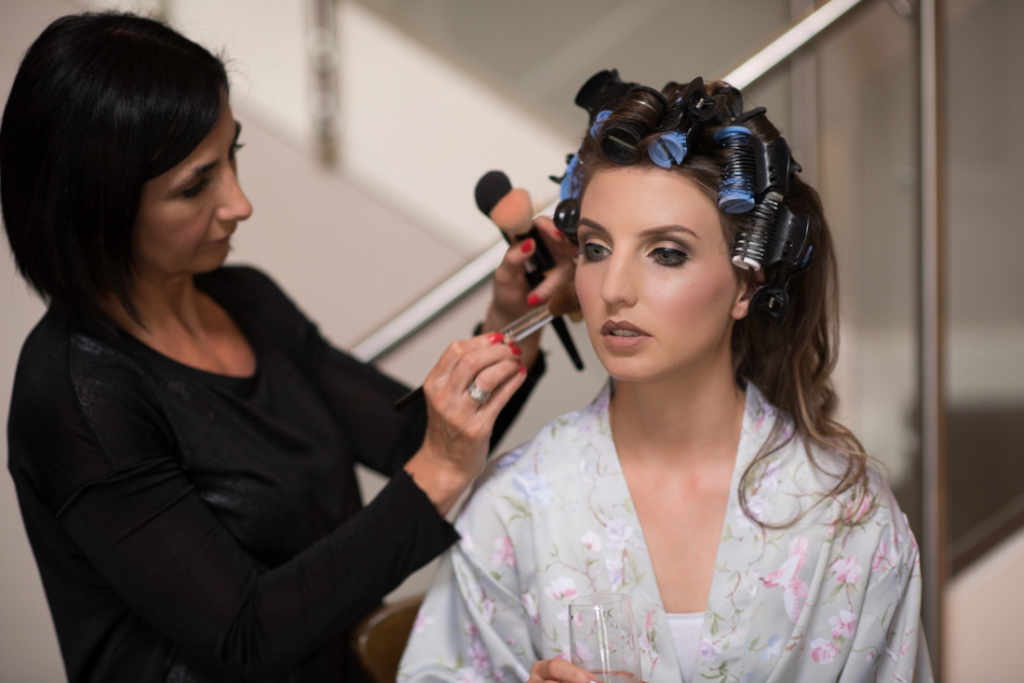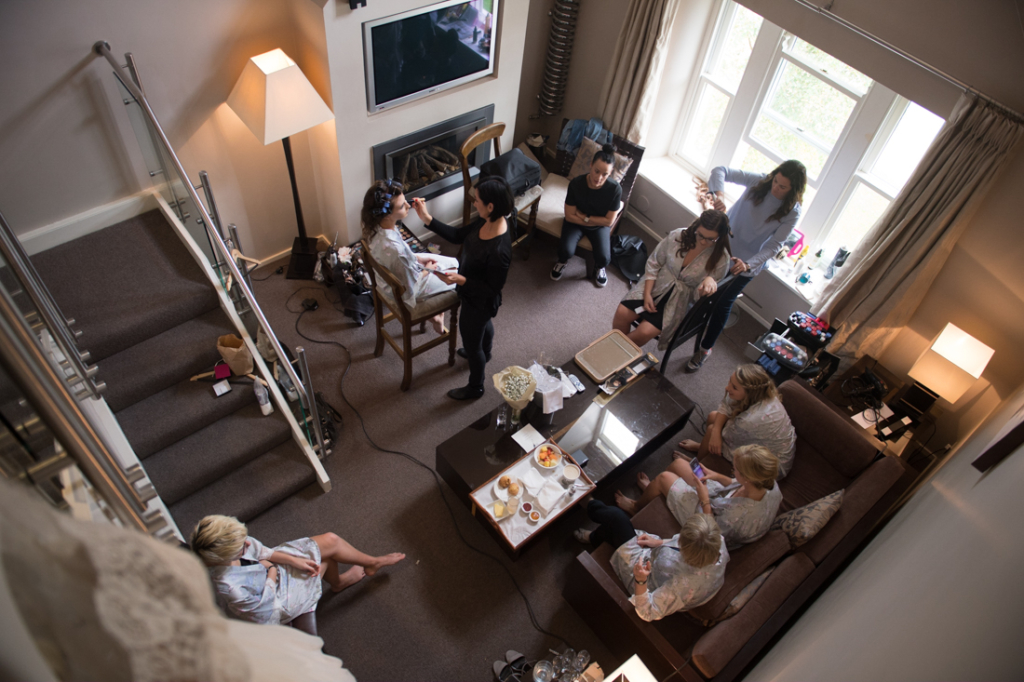 My hair and make up…
Anne from the International Make-up Academy, along with her colleague Donna Reid, did my make-up. Her technique she uses an airbrush to apply the foundation which looked great in our Brooklodge wedding photos.
Our hair styles were done by Claire Barry and my hair was up so that the back of my dress could be seen. Claire helped me to pick a style that would suit me and the dress.
Anne and Claire were both really relaxed and friendly on the morning of the wedding which helped to create a lovely environment.  We were all delighted with how the hair and make-up looked and we were ready in plenty of time. There was no last minute panic.
The Planning…
We gave ourselves plenty of time to plan the wedding. All the big things were booked a year in advance and we never felt under too much pressure. In particular, we had wedding photographers The Fennells booked over a year in advance to capture our Brooklodge wedding photos because we knew their style was the perfect match of creative and natural photos.
His suit…
Cain chose a custom suit from Louis Copeland in Dundrum.  "Just married" was embroidered under the collar and our initials and wedding date were inside the jacket.
My dress…
One Saturday in November 2016, I went dress shopping with my Mam in Dublin. The second appointment of the day was with Sharon Hoey. I loved with dresses by Divine Atelier because they looked a bit more unusual and unique compared to anything else that I had seen. I chose "Ramia" which had lace sleeves and a floaty tulle skirt
Our wedding theme/colours…
The style we wanted the wedding to look vintage with lace, pearl and wooden details. We tried to stick to mostly neutral colours like taupe, dusty pink and cream, and had lots of greenery. We wanted to incorporate some Irish language so we had a reading in Irish during the ceremony and the band we chose, Carouse, added a traditional element.
Cain's sister, Rebekah, designed our wedding invites. We liked the image of the lanterns on the pink sky so much that we used it for all of the materials for the wedding – ceremony leaflets, table plan, menus and table numbers.
My nephews, Cian and Eoghan, were ring bearers. My mam made the ring cushion, which Cian carried and Eoghan had a horse shoe.

We chose our venue because…
We chose BrookLodge at Macreddin Village because of the lovely chapel onsite. Also we knew from a photo point of view that Brooklodge wedding photos would be fantastic with all the locations to go onsite. I knew that it would be the perfect setting for our ceremony.  We also loved Brookhall which has high ceilings with wooden rafters and balconies.
We had heard that the food was delicious and that the staff were excellent (which was all true!). It was a pleasure to work with Monika and Sinead in the lead up to the wedding. Everything was so well organised and it was as stress-free as possible.

Our ceremony…
We had a humanist wedding ceremony in the chapel at BrookLodge. We met with our humanist celebrant, Amy Browne, a few times before the wedding. The both of us really enjoyed working with her. She helped us to plan every detail of the ceremony and made sure that everything ran smoothly on the day.
We had some traditional instrumentals, mixed with some of our favourite songs (Shelter by Ray LaMontagne, How Long Will I Love You by the Waterboys). The ceremony ended on an upbeat note with Baby I love you by the Ramones.

What our bridal party wore…
The four bridesmaids wore taupe chiffon flour-length dresses, which were ordered online from JJ's House. They all wore a necklace from Enibas, an Irish designer, which said Croí álainn.
We chose our photographer because…
When we first met Mark, neither of us had a clear idea of what we wanted. Mark put us at ease immediately and gave us lots of great tips. He explained all the options and the different styles. We knew that The Fennells would have everything under control and would capture our amazing Brooklodge wedding photos.
As it got closer to the wedding we met Mark again to discuss the Brooklodge wedding photos that we wanted and the exact plans for the day. We had spotted one shot on their website (a couple at night in the rain with an umbrella) and we were hoping that we could get something like it. I even bought a white umbrella just in case!
As the band was getting going, Mark and Fiona came to let us know it was raining! The umbrella was nowhere to be found but we threw a jacket over my head, ran outside, took the picture in the carpark and were back inside on the dance floor within minutes. Nobody even noticed we were gone and it's our favourite shot of them all.
For the reception, we printed out lots of old photos in black and white, and hung them on twine with little wooden pegs. We had our parents' and grandparents' wedding photos at the fireplace. There was a vintage postbox to collect any cards. Cain's mum helped us with lots of extra details like signs, baskets and the sweets table. My mam made blankets and cushions for people to use outside on the deck.
Cain's sister, Naomi, made the cake,  a chocolate biscuit cake, covered in white chocolate fingers and white chocolate buttons. Naomi and Cain's mum also made the cake toppers.
On the tables, we had candelabras as the centerpieces. There were wooden place names and we left a disposable camera on each table for the guests to capture a few extra photos.
The Venue and how was it decorated…
We asked the florist to cover the bridge on the way to the chapel with greenery and some small flowers.
My favourite part of the wedding day…
The music played a really big part of the day for us. The band, Carouse, helped to make the ceremony really special for us and they kept everyone entertained at the drinks reception.
We are big fans of Bellx1 and we were delighted with Carouse as they were willing to learn one of our favourite songs called Upswing. This was for our first dance.
Our Brooklodge Wedding Suppliers:
Photography: The Fennells
The Dress: Divine Atelier, Sharon Hoey
Shoes: Jenny Packham, Debenhams
Earrings: Jules Bridal Jewellery
Groom's suit: Louis Copeland, Dundrum
Wedding bands: Bannon's Jeweler, Bray
Bridesmaids' dresses: JJ's House UK
Hair: Claire Barry
Make-up: The International Makeup Academy
Venue: BrookLodge
Music: Carouse Music
Flowers: Irish Flowers
Vintage postbox: My Wedding Store
Wooden place names: VM Bespoke
Disposable cameras: Favour Lane