Rathsallagh House Wedding Photos from Gill and William's Wedding Day
Gill and William set the tone for their wedding day in such a great way. These two are two of the nicest people. There was laughter from the start and myself and Fiona knew it was going to be a super day. Below is Gill's feedback and advice on how she planned the whole day and where she found all her suppliers so have a read and check out the last photo from their Rathsallagh House wedding photos.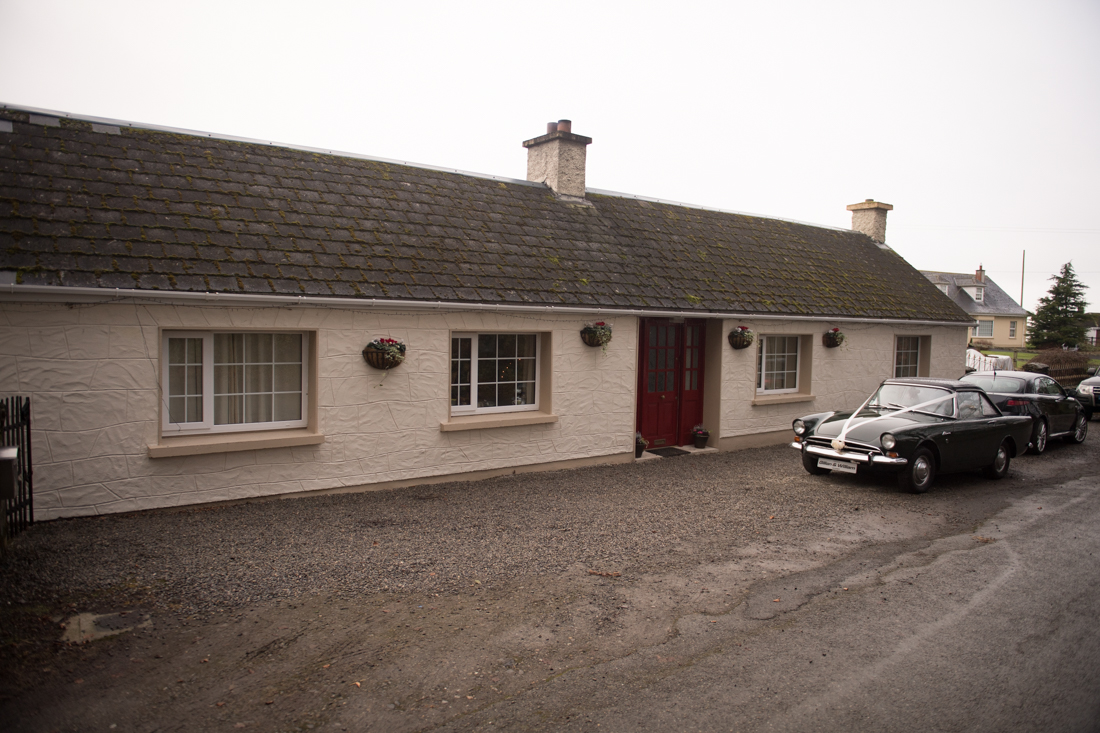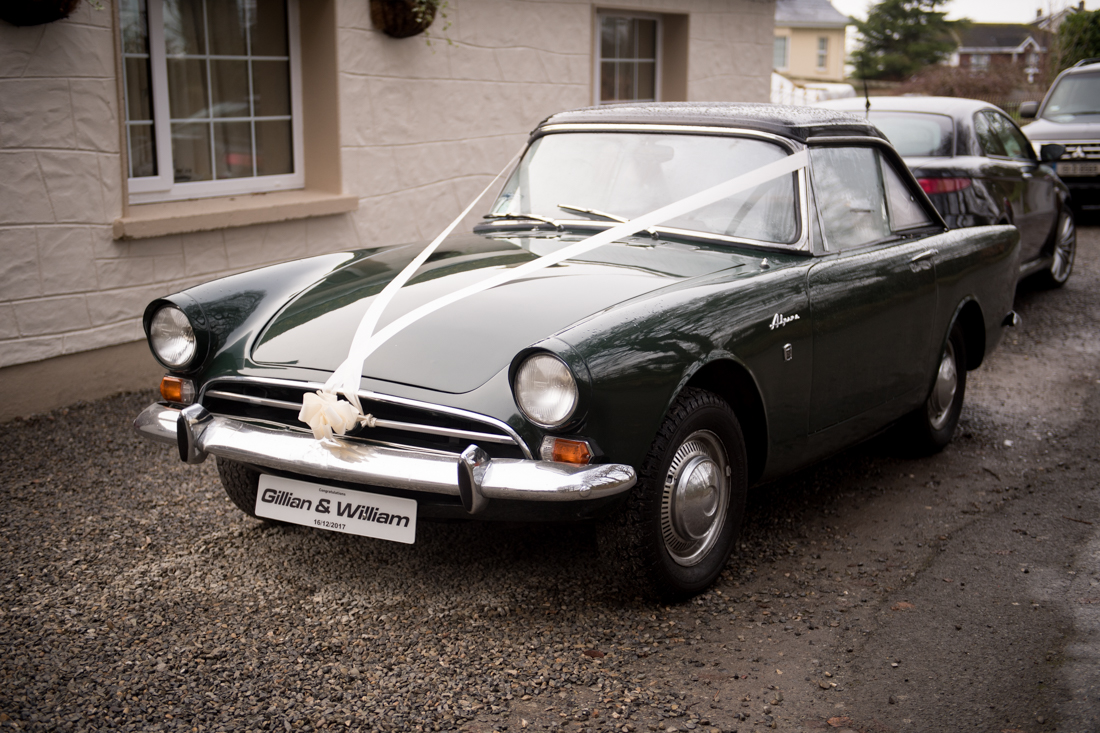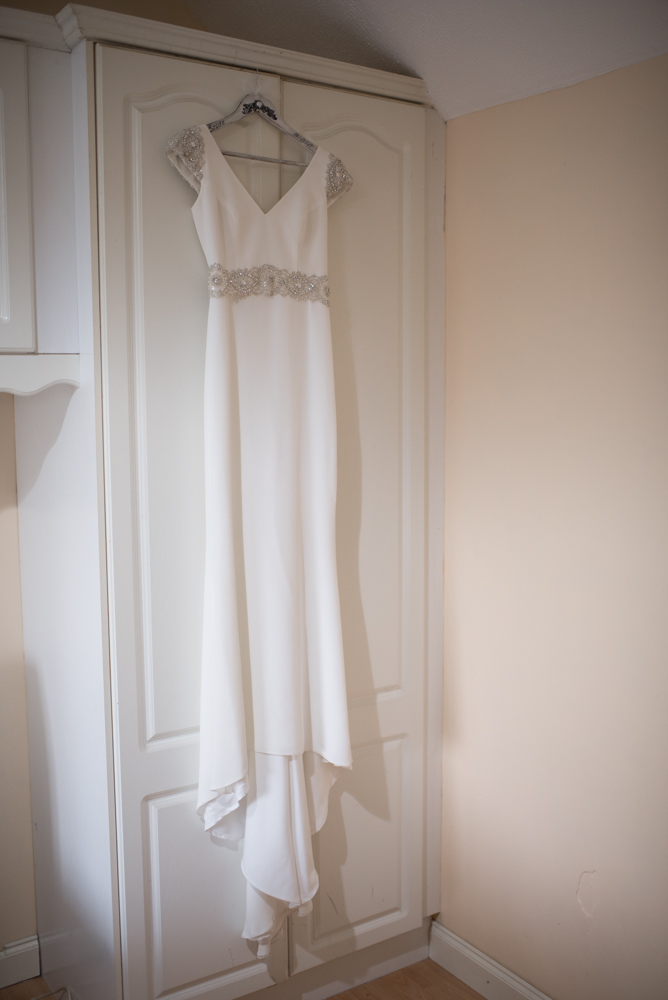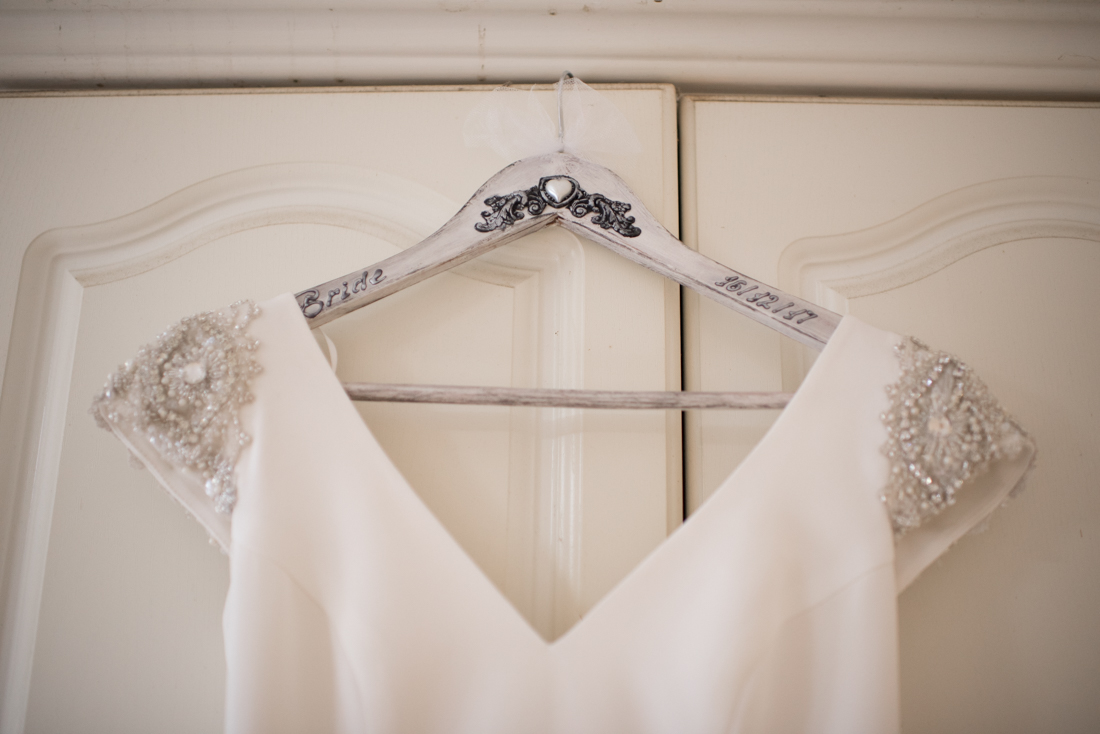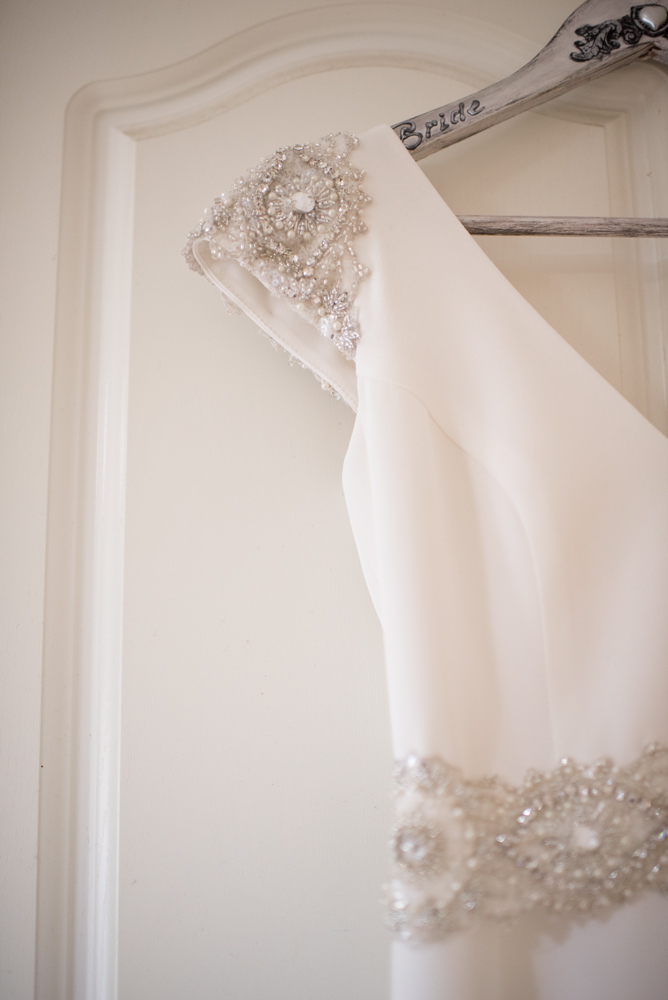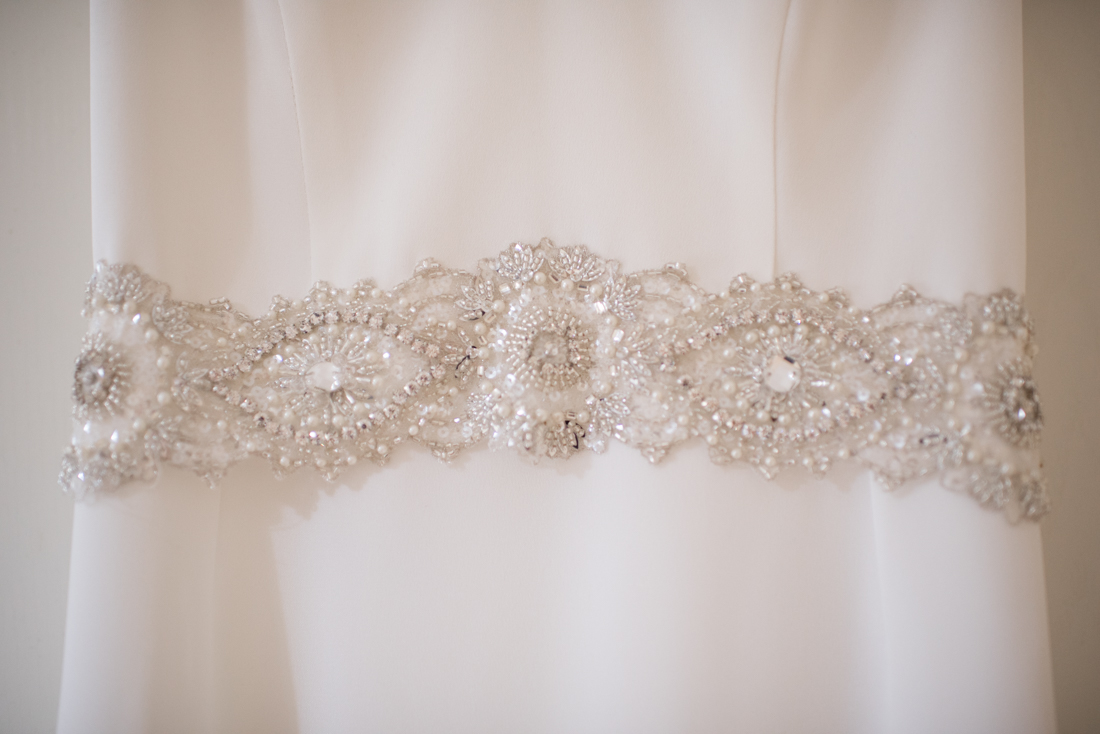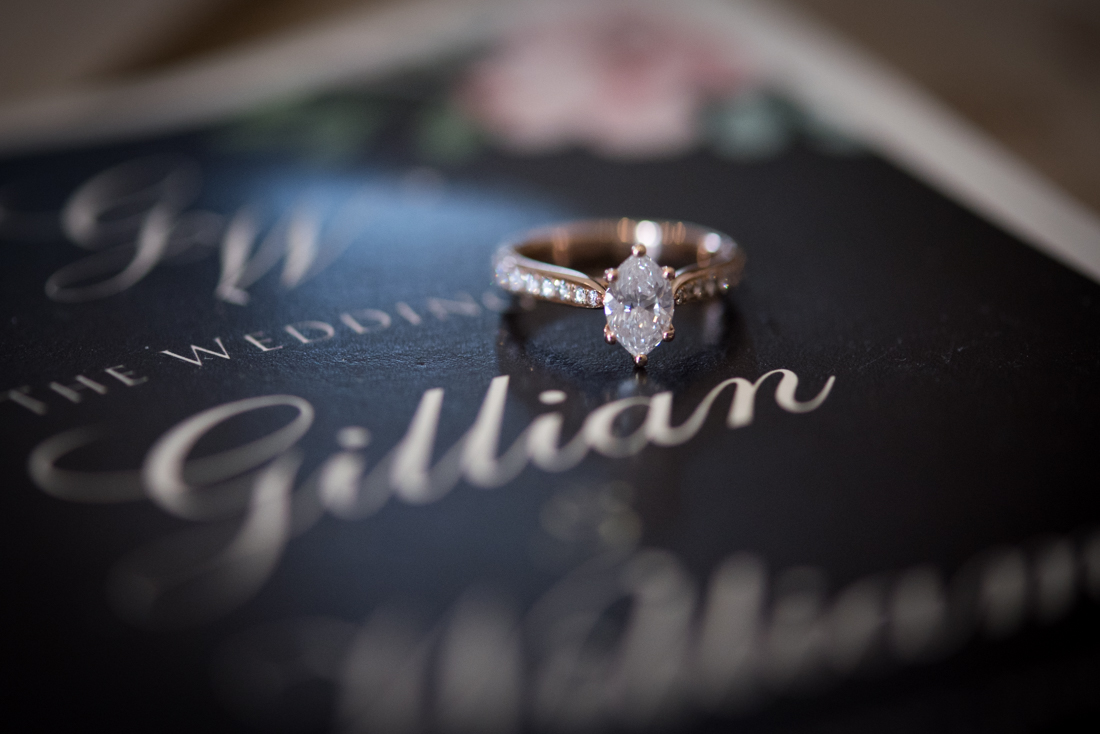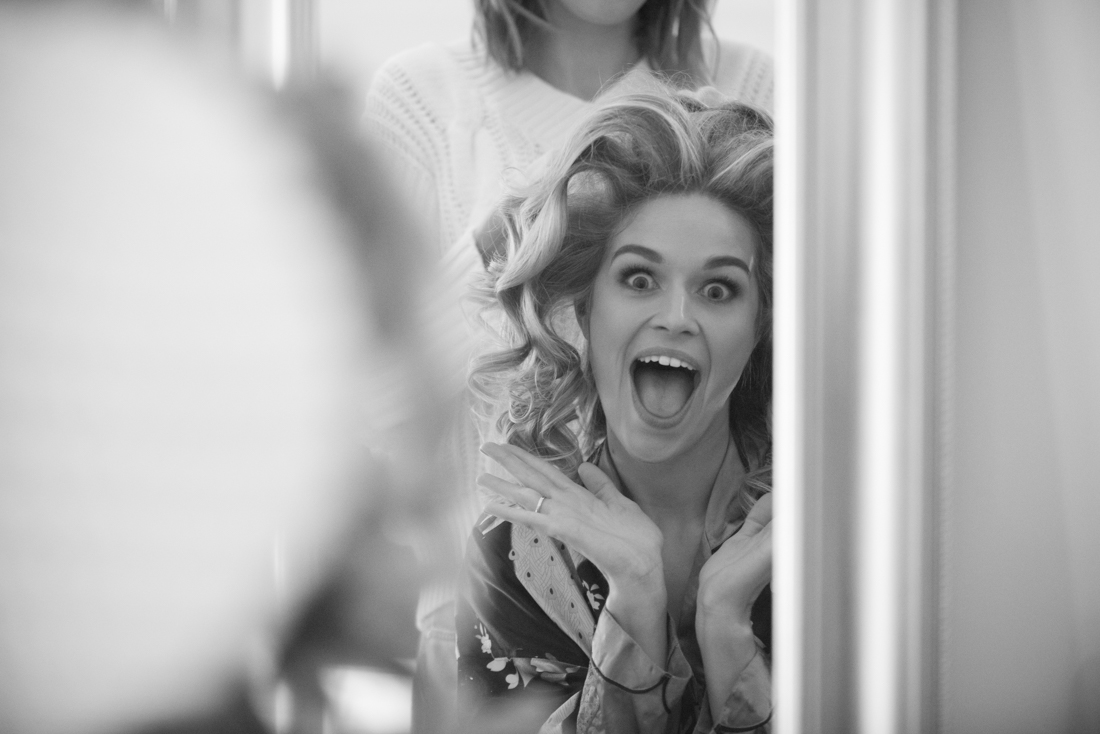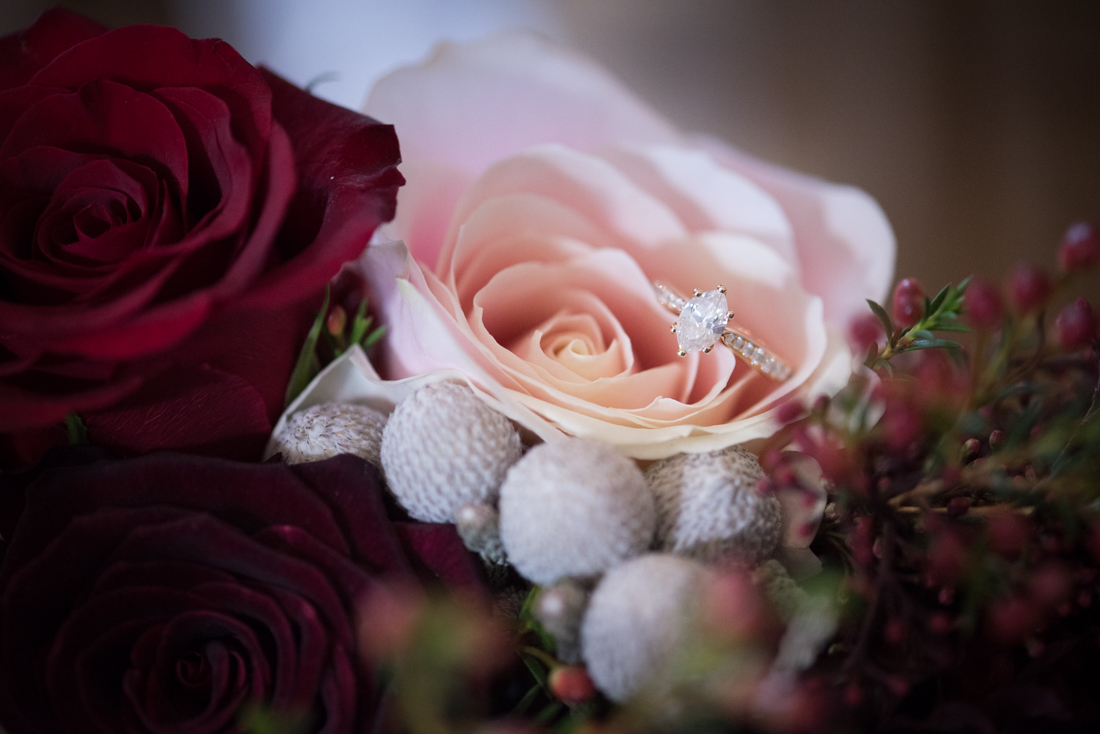 The proposal…
After 12 years Will popped the question. It was a Friday night and we were due to fly on our holidays to the Amalfi coast, Italy on the Monday. That Friday night I was out with two of my friends not realising that they knew what was in store for me when I got home. They spent the night telling me they were so tired and how we should put an end to the night. I couldn't understand why they would want an early night. 
My friend Lynsey dropped me home and Will proposed that night in our house. That Saturday night we had all our friends over for celebratory drinks. It was amazing to share our news with all our friends and family.   He had organised for us to fly to Antwerp on the Monday to choose a ring and then continue our holiday in Italy. We felt like we got married and had our honeymoon by the time we got home!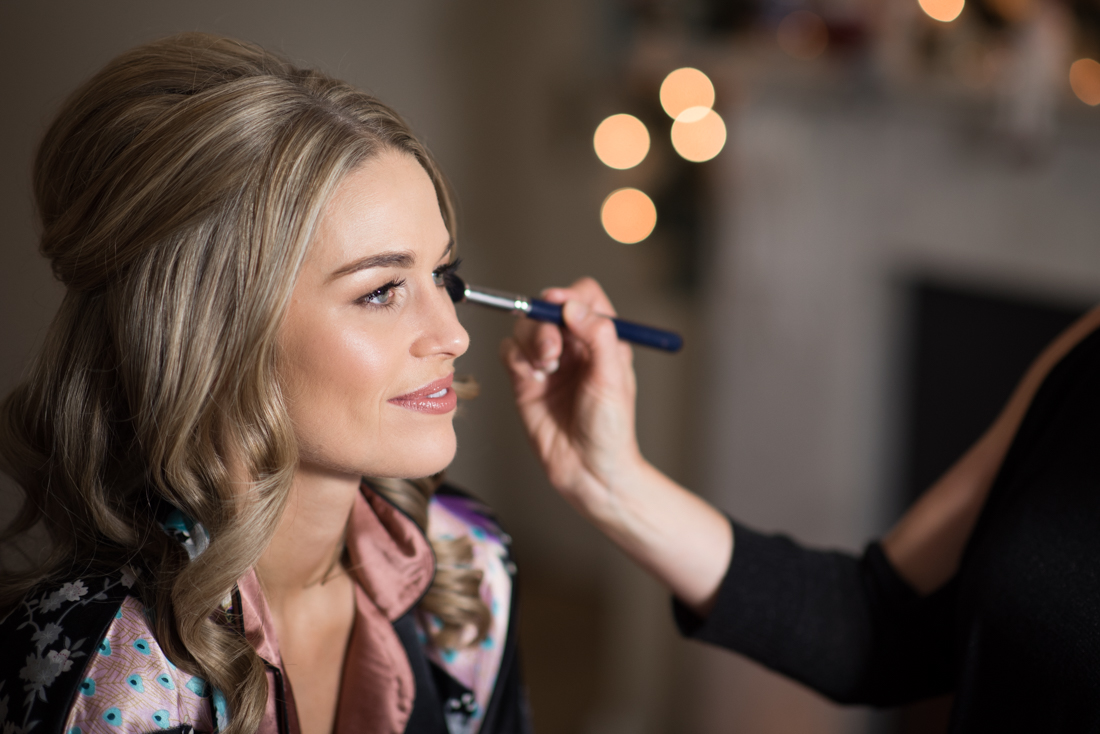 The stunning flowers for their Rathsallagh House Wedding.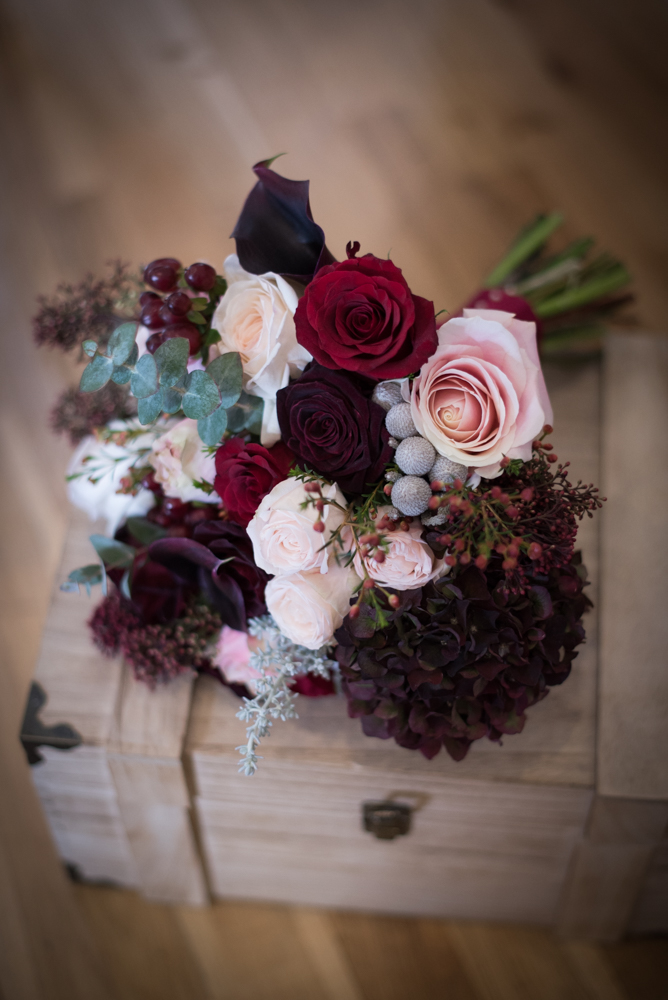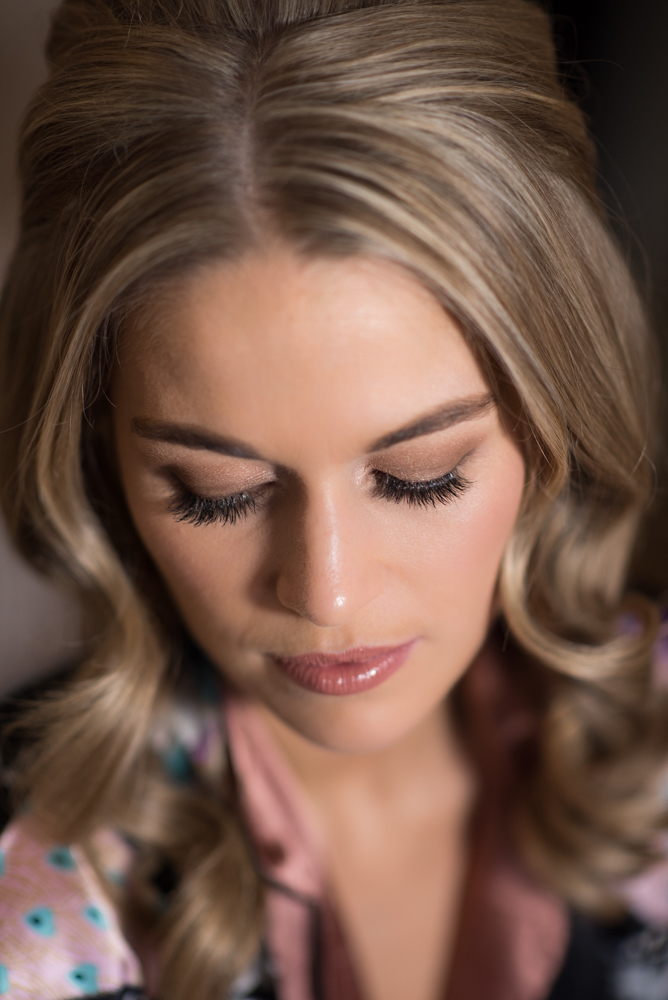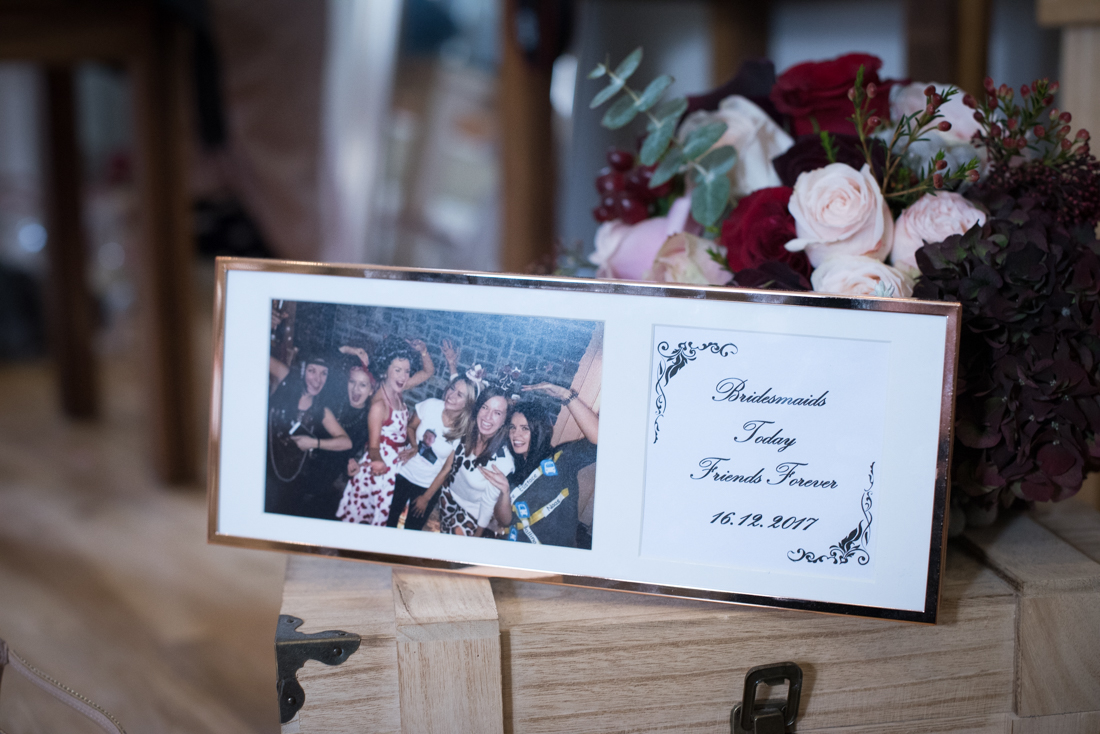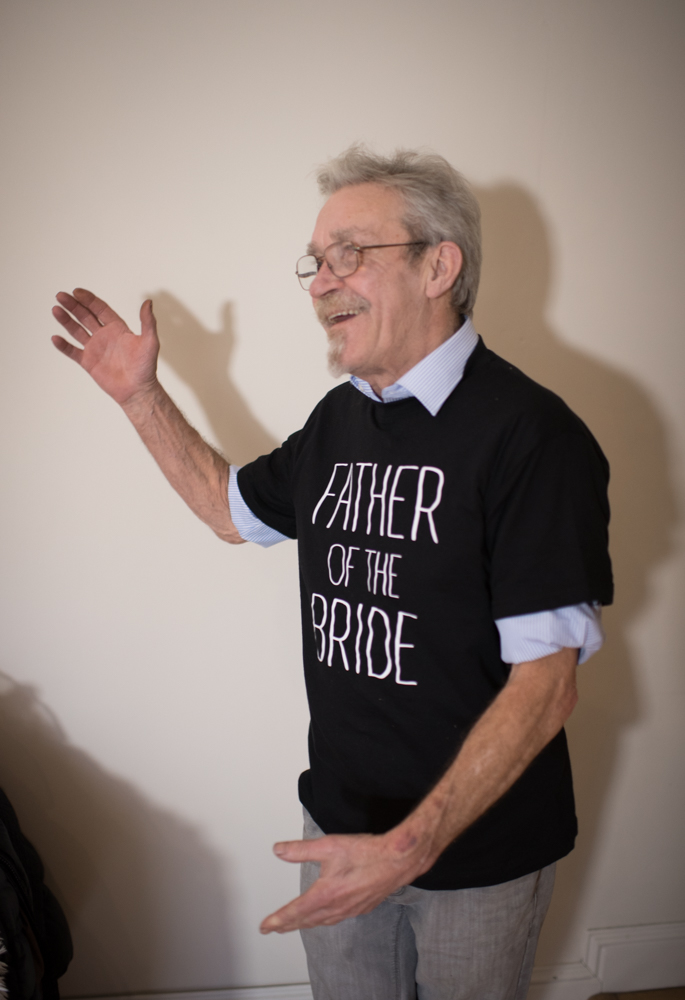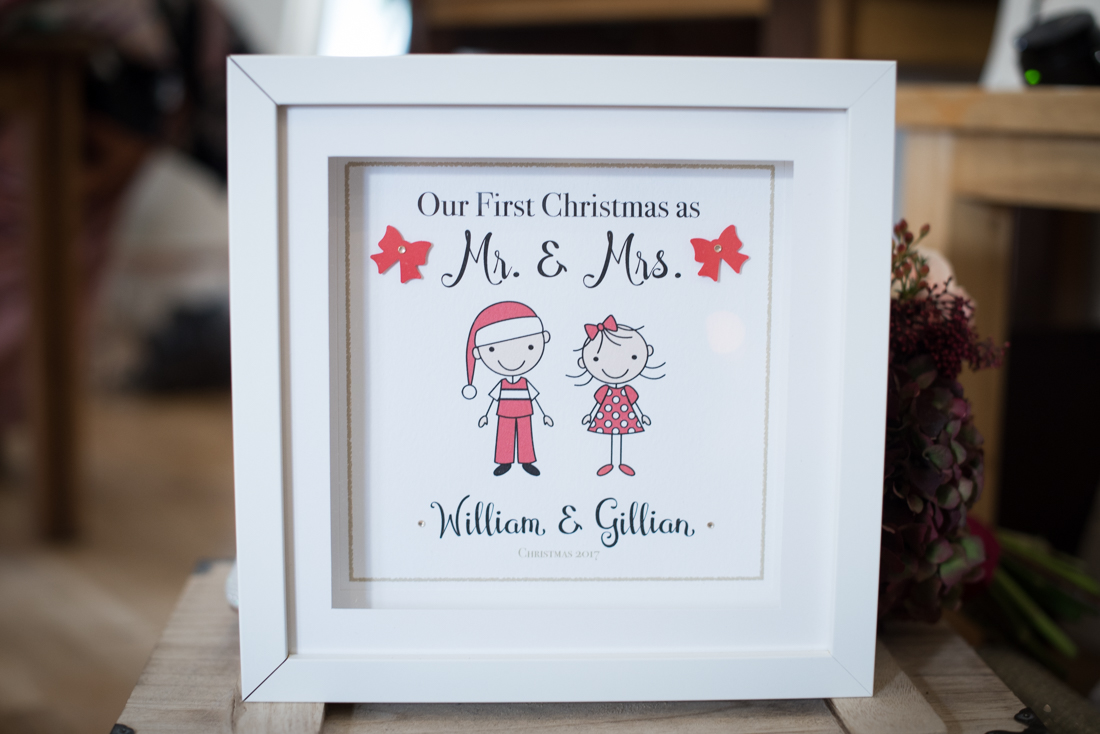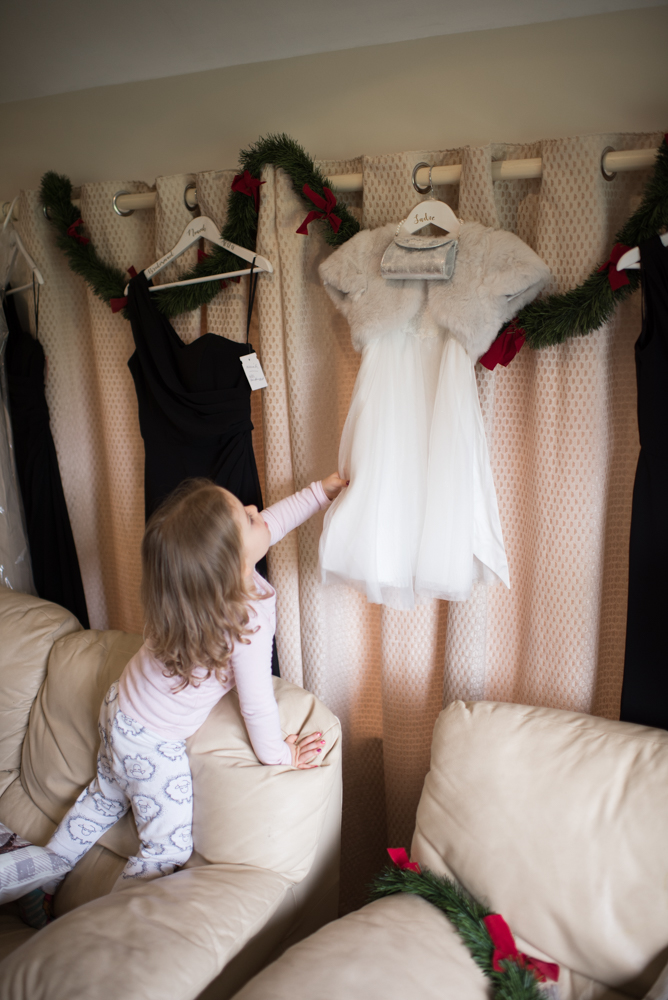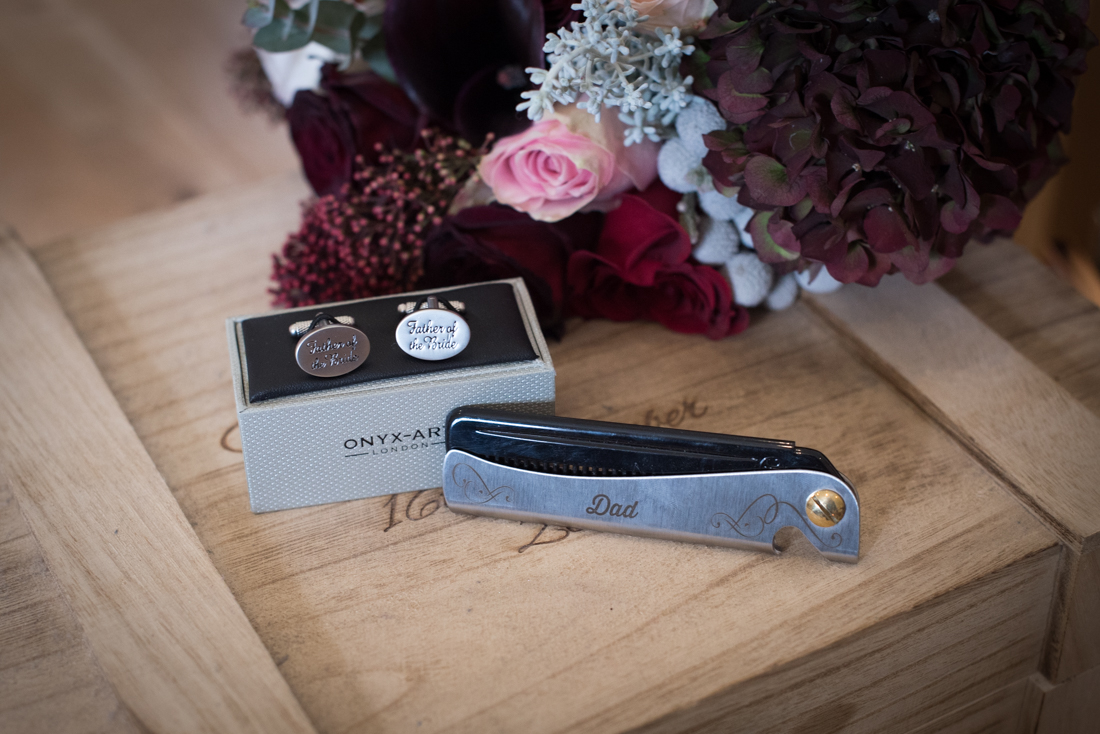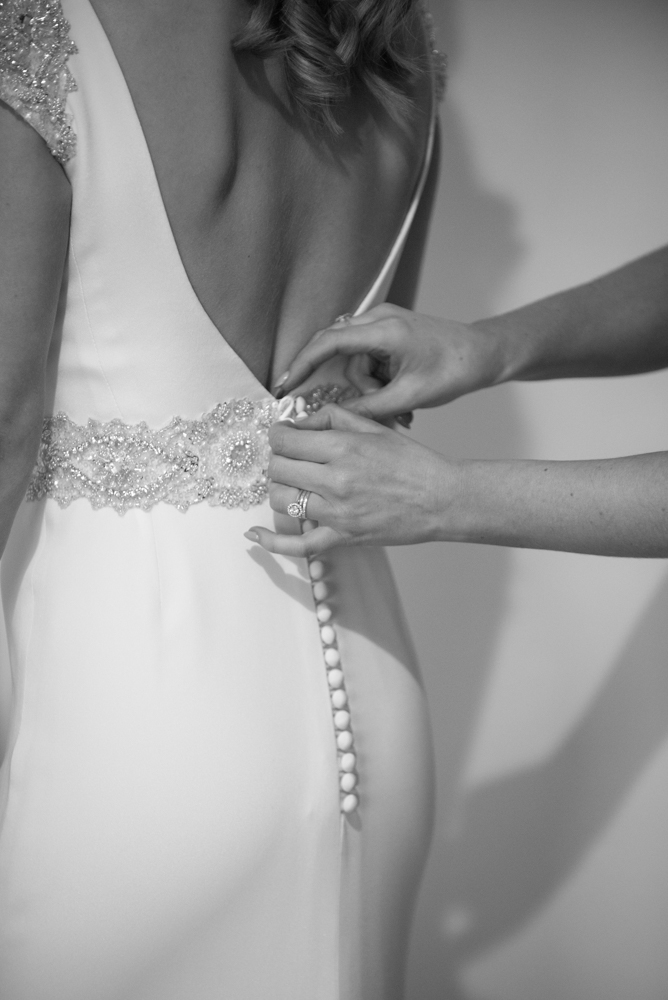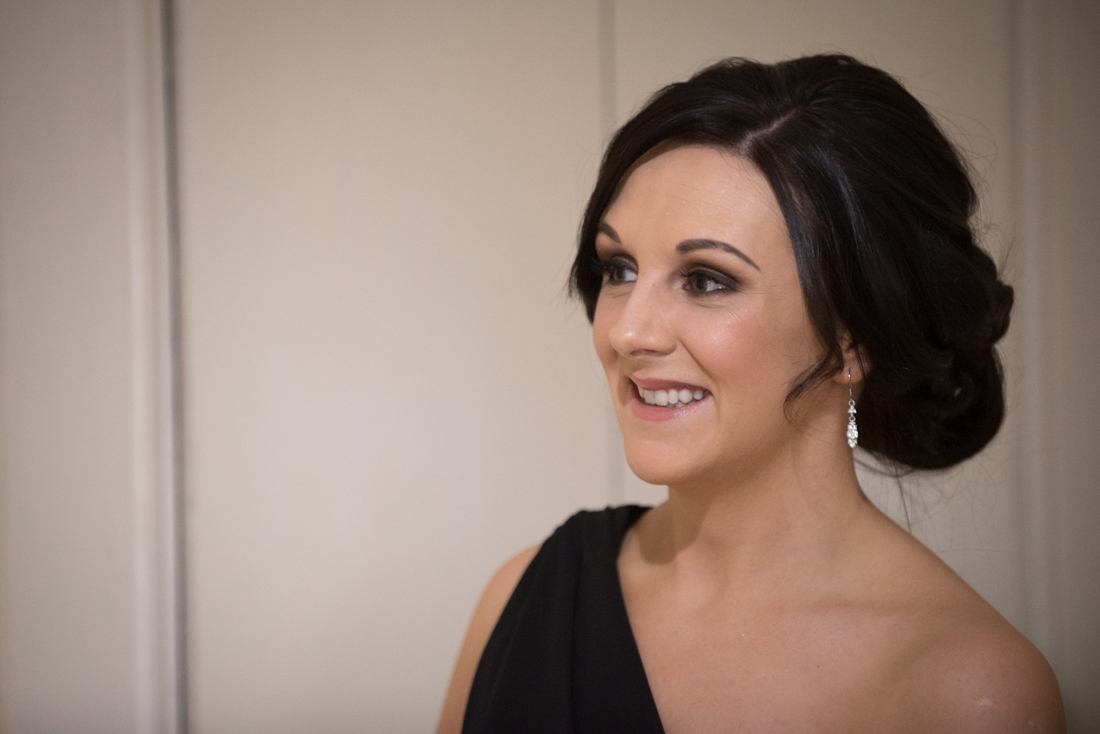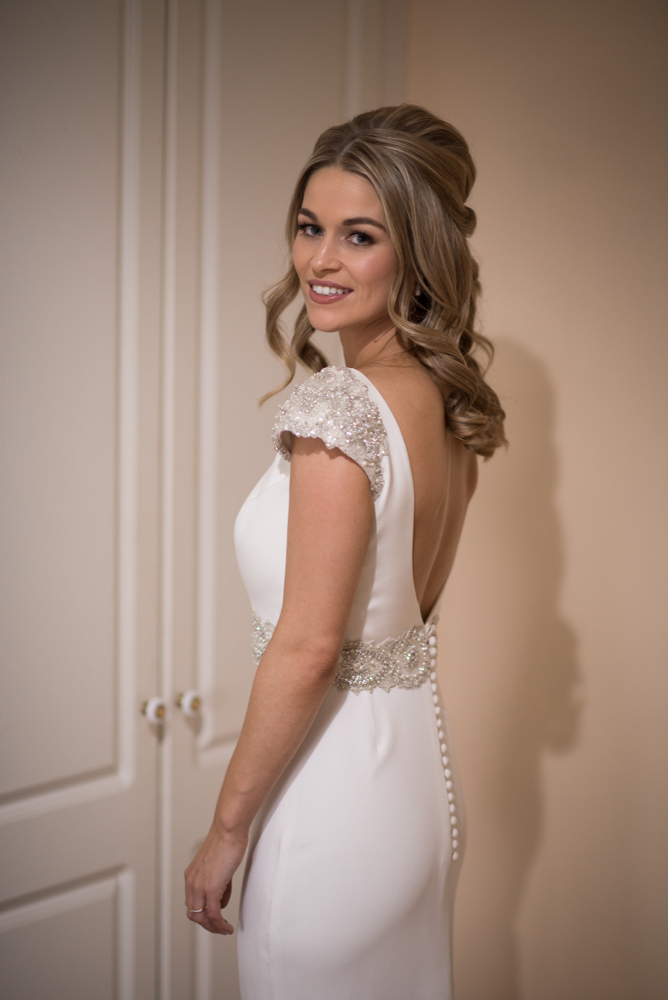 My dress…
My dress was designed by Kathy de Stafford. They were amazing to work with. I was so nervous about dress shopping. They made the experience so enjoyable. It was actually the first dress I tried on. The team was extremely professional and so helpful.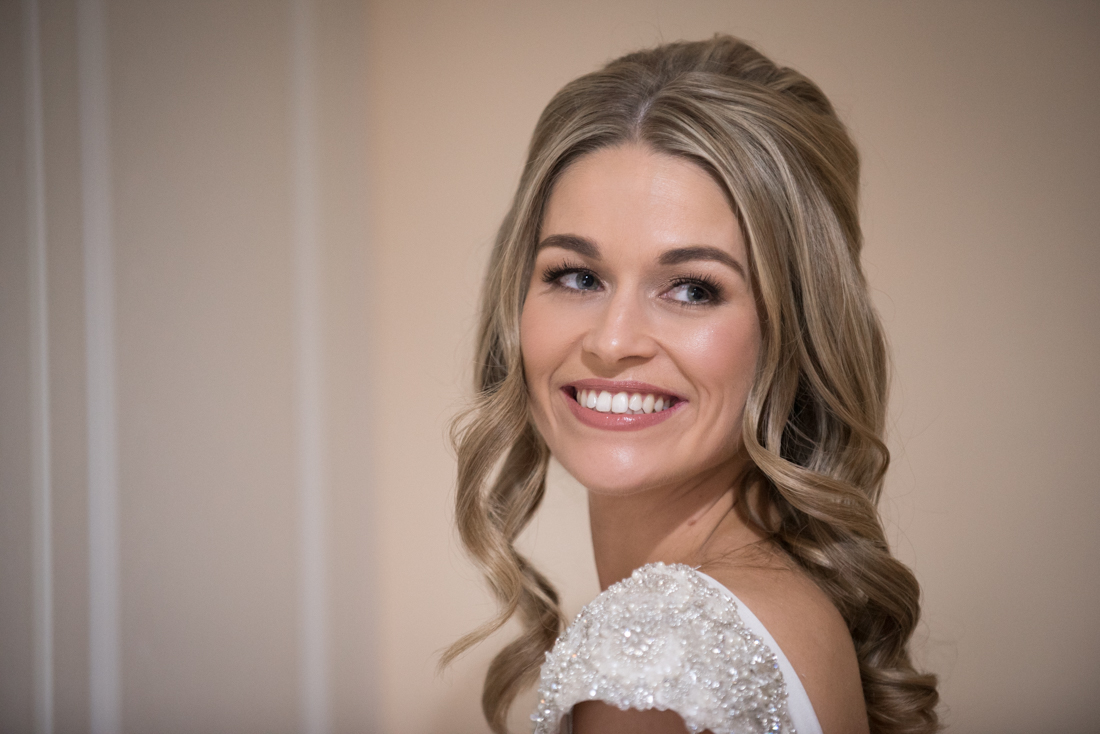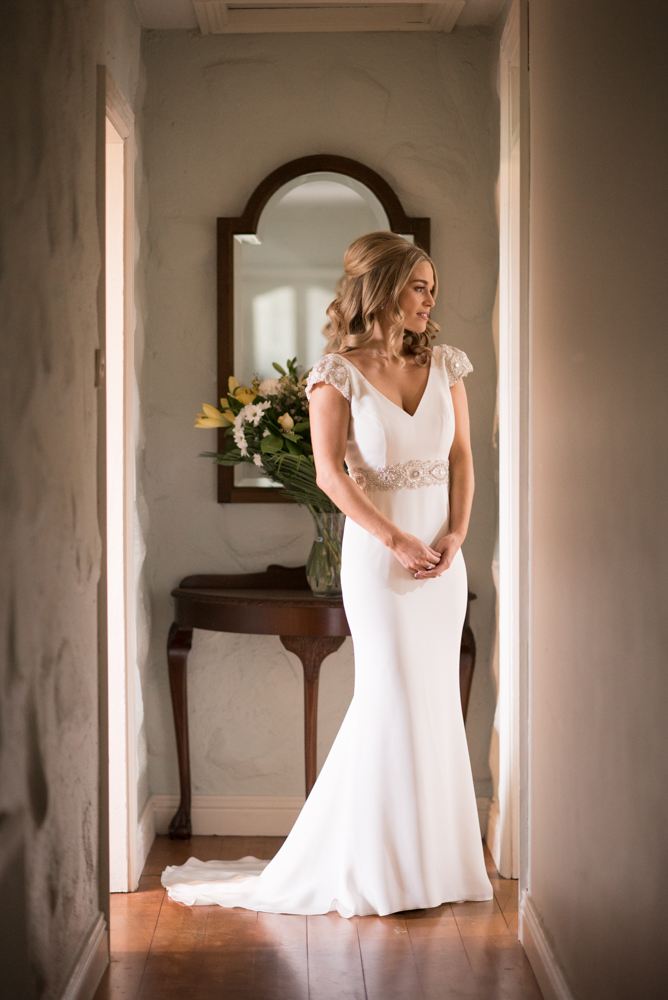 How we met…
Will and I met at the Oxygen music festival in 2005. We always knew each other as we are from the same village but Oxygen was the beginning of years of laughter, fun and making memories! 13 years later we are married!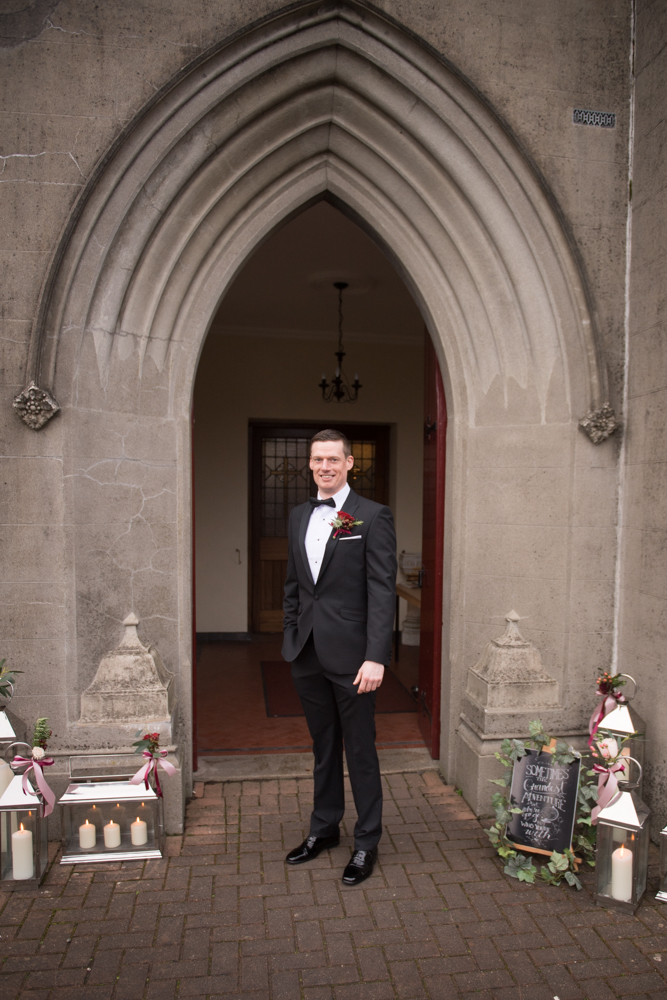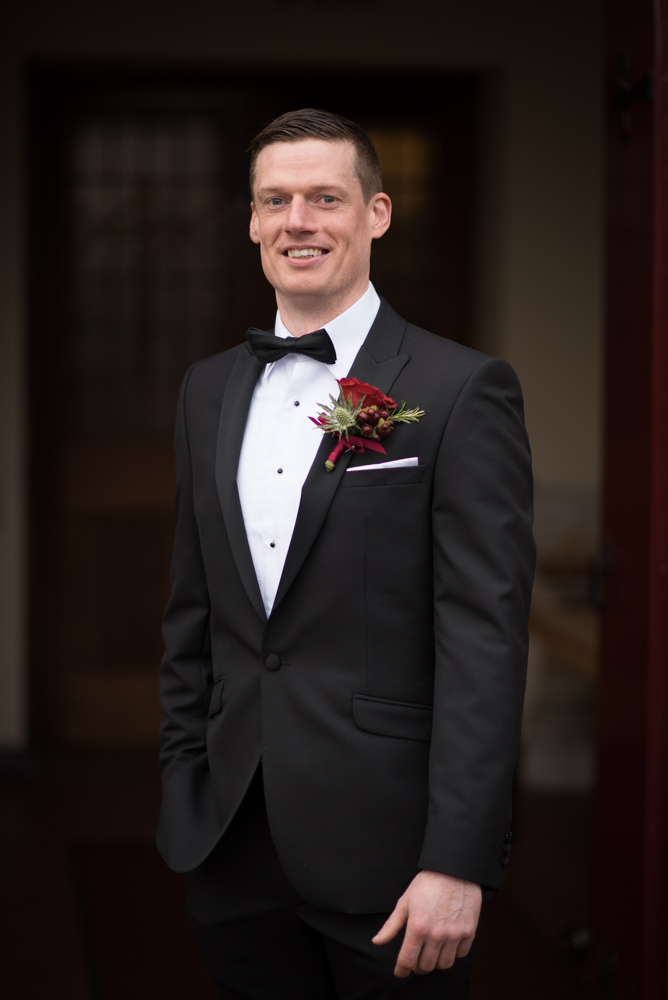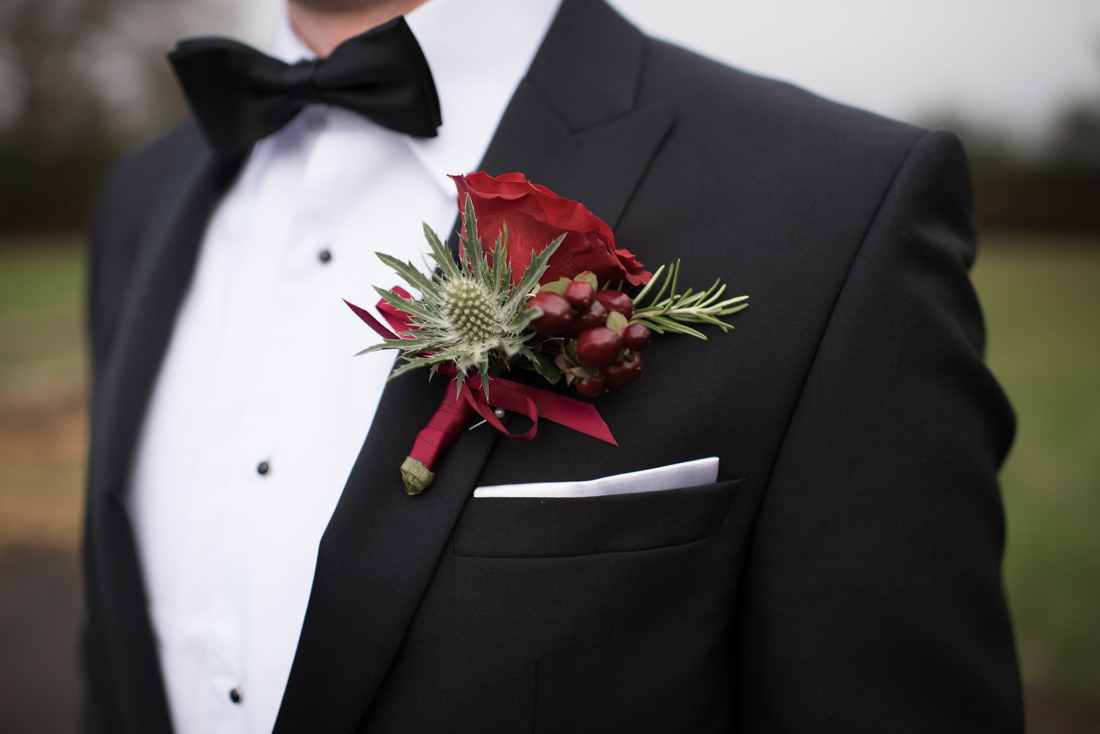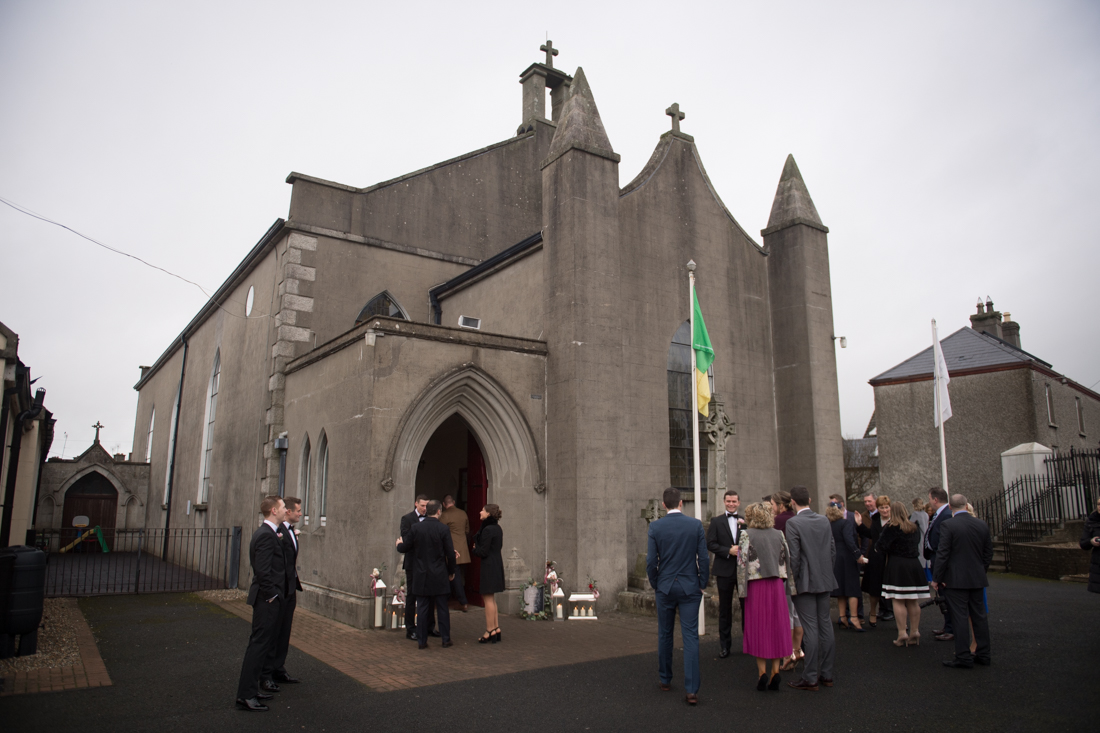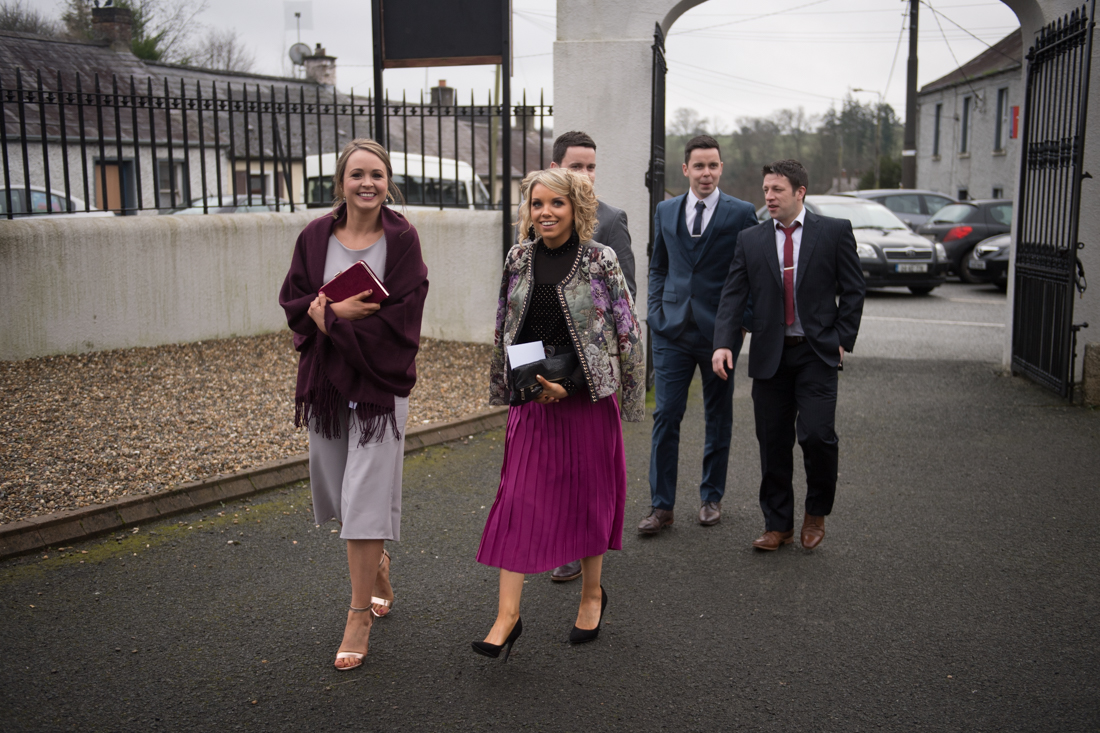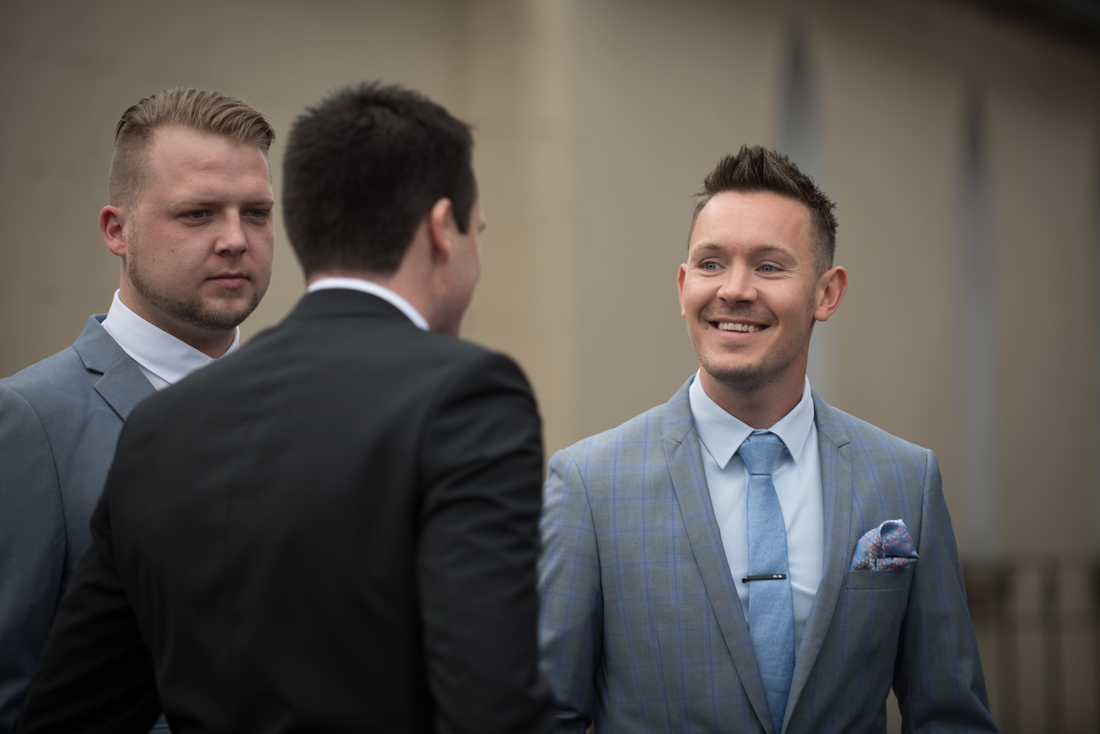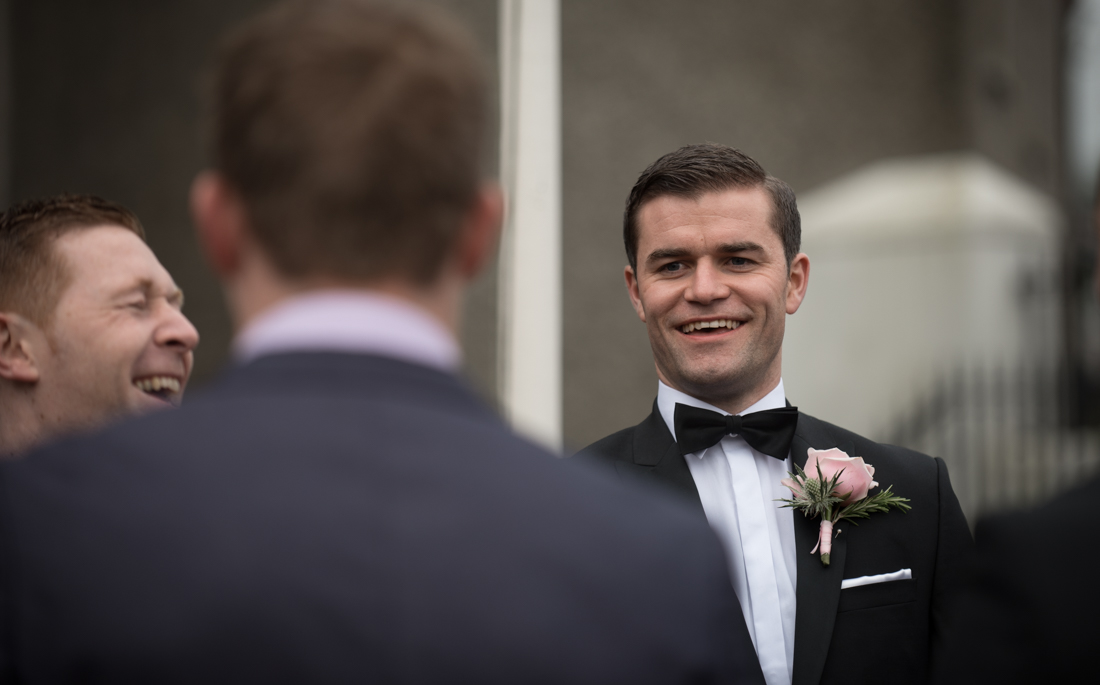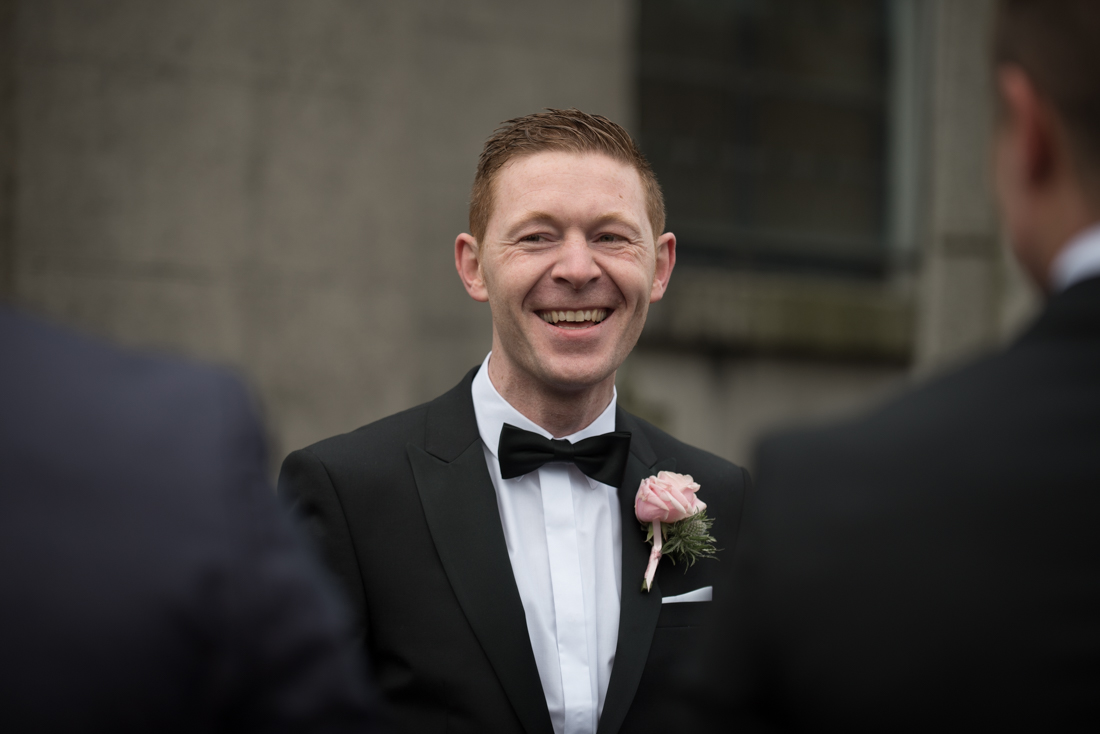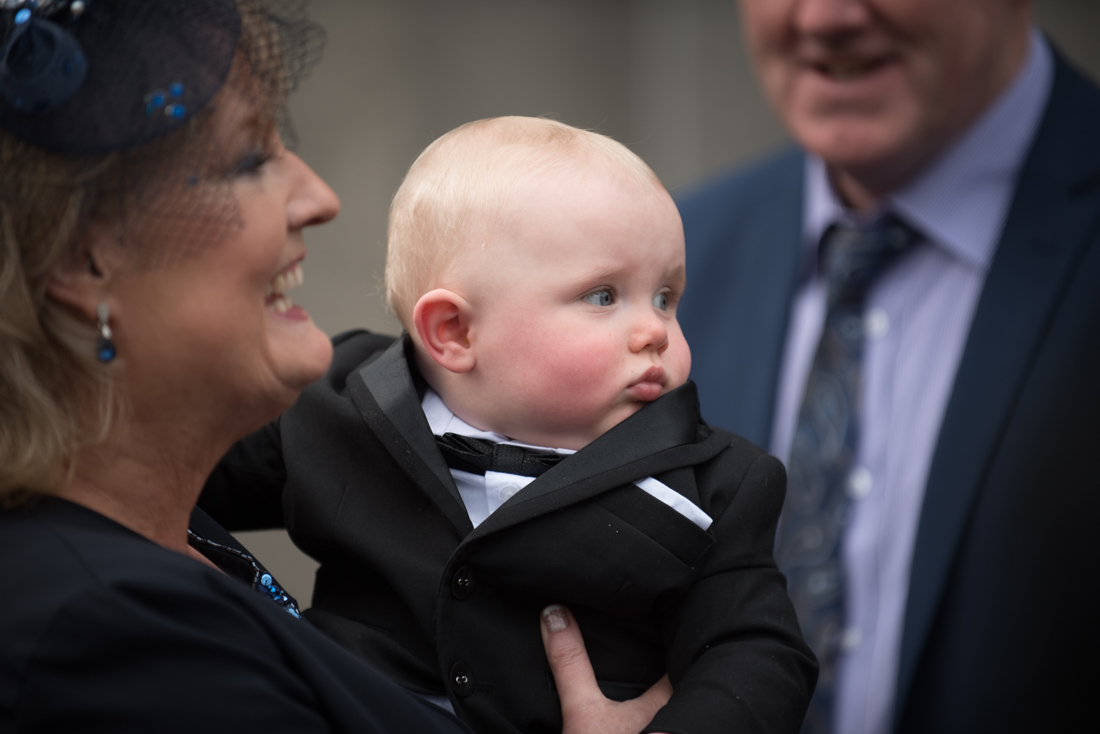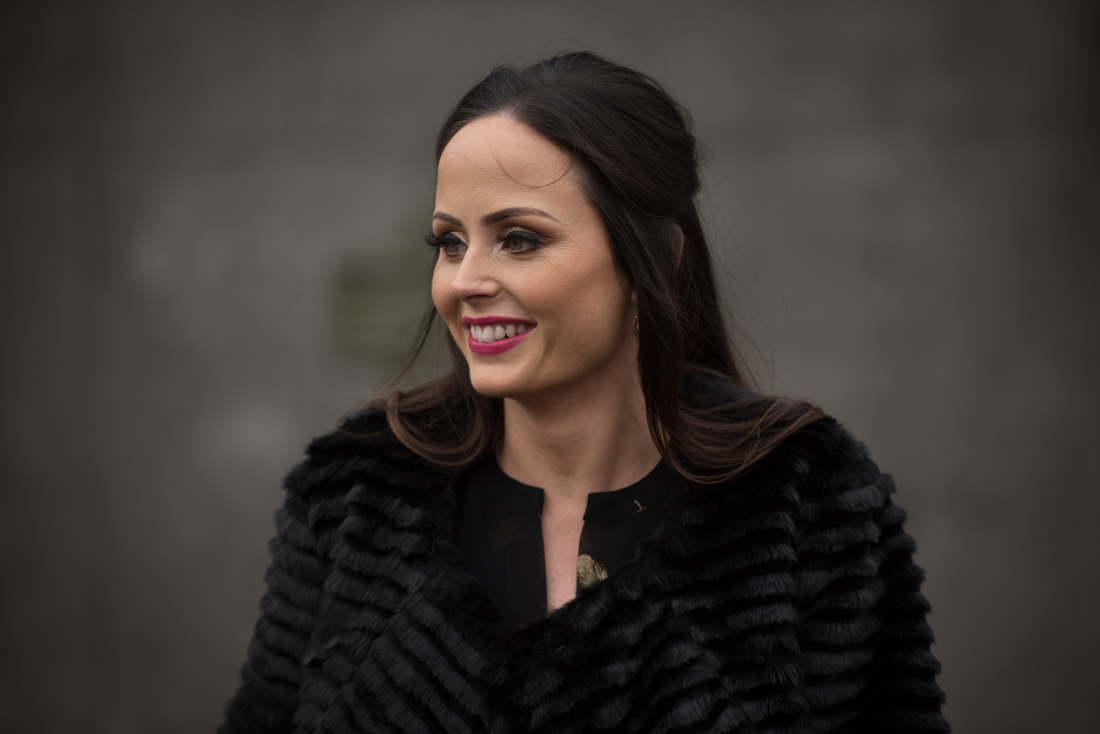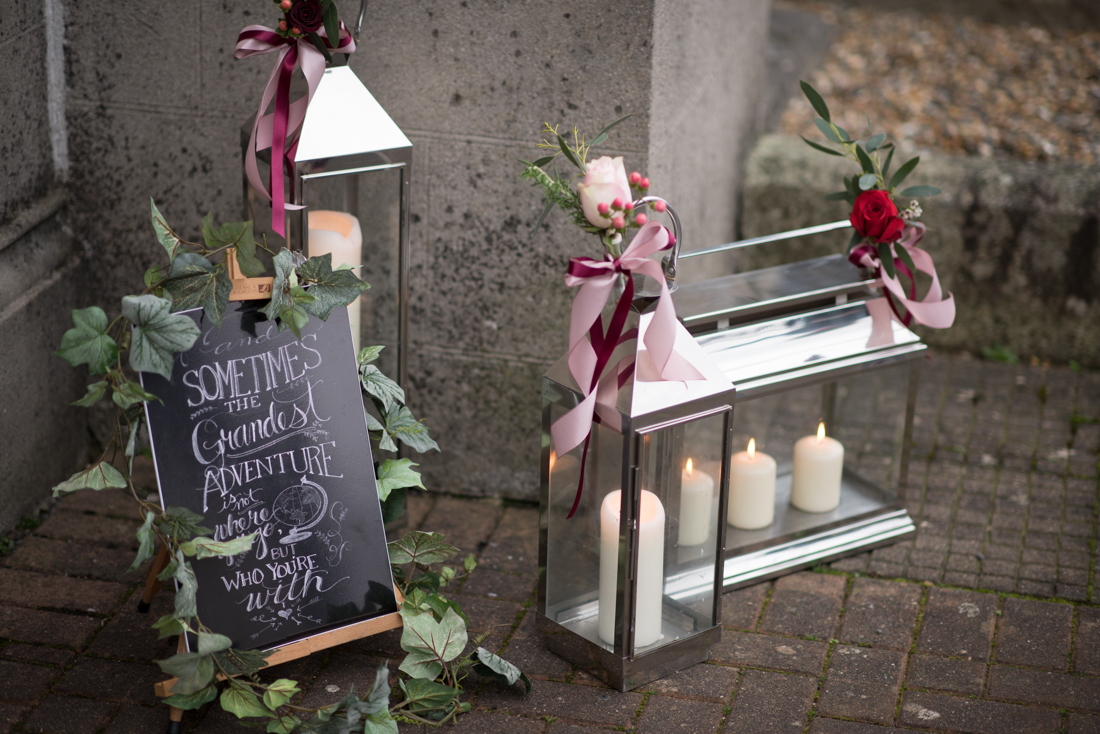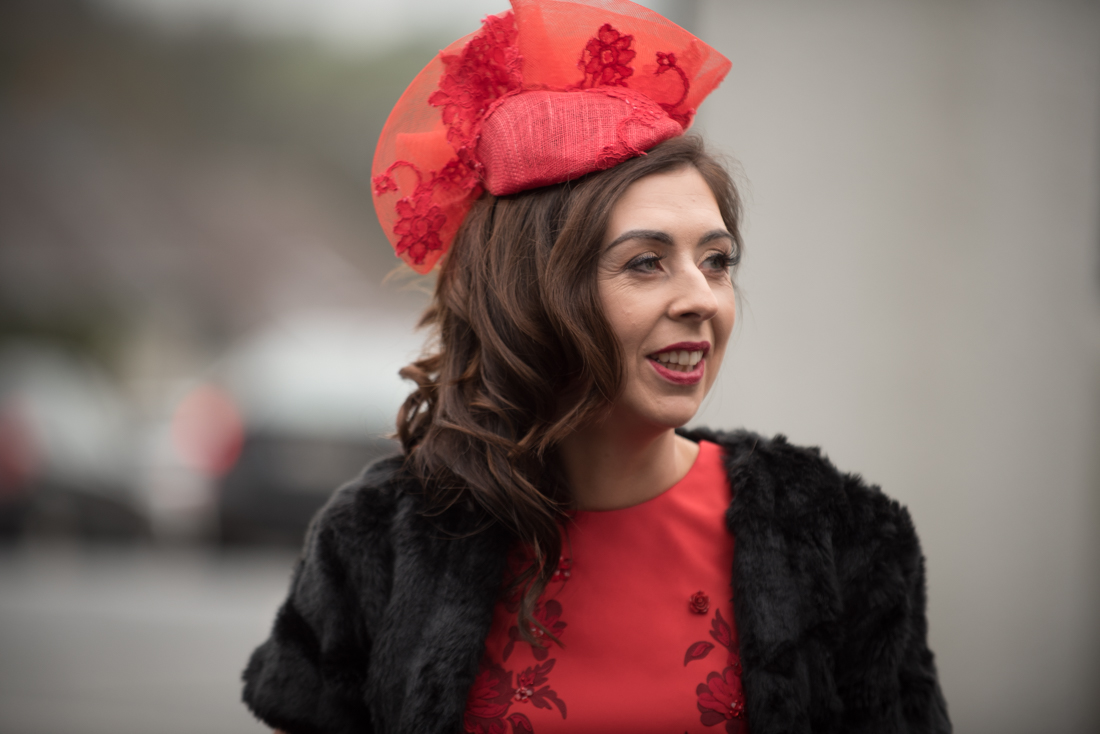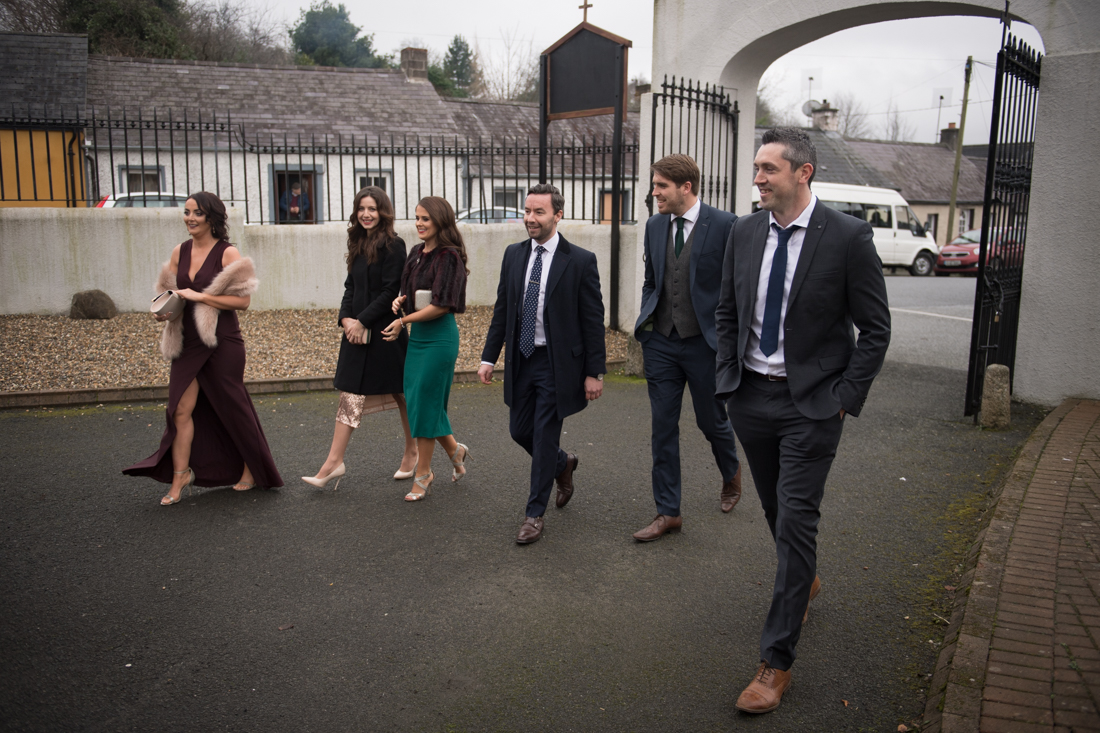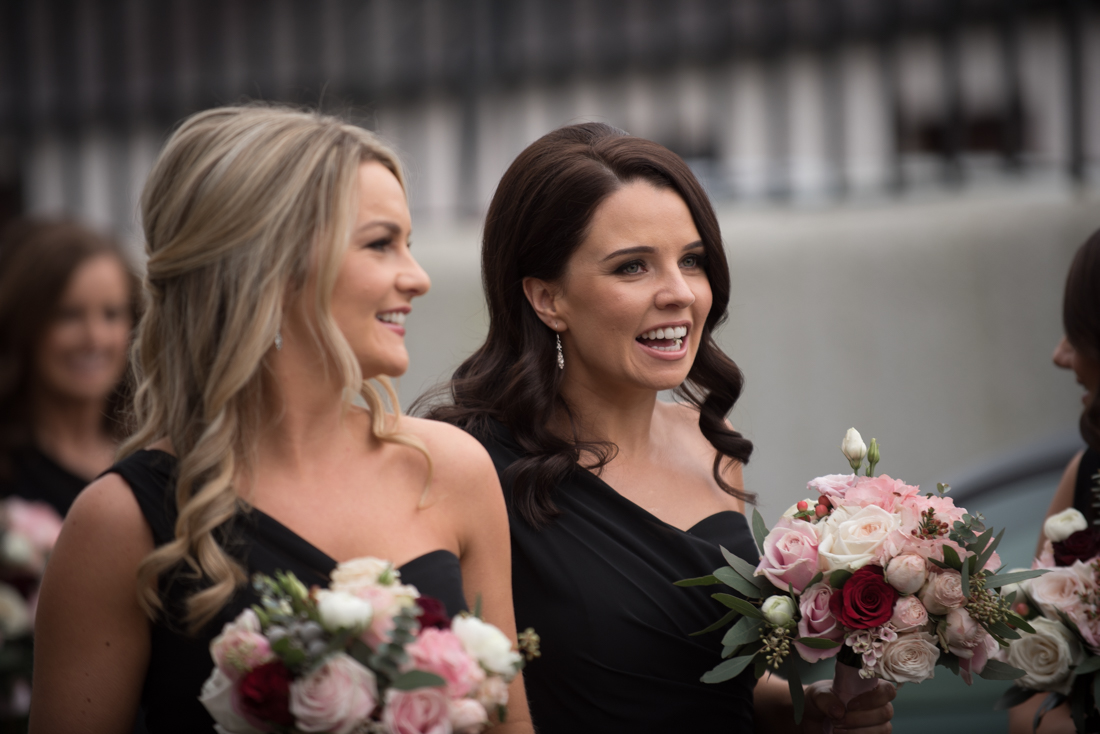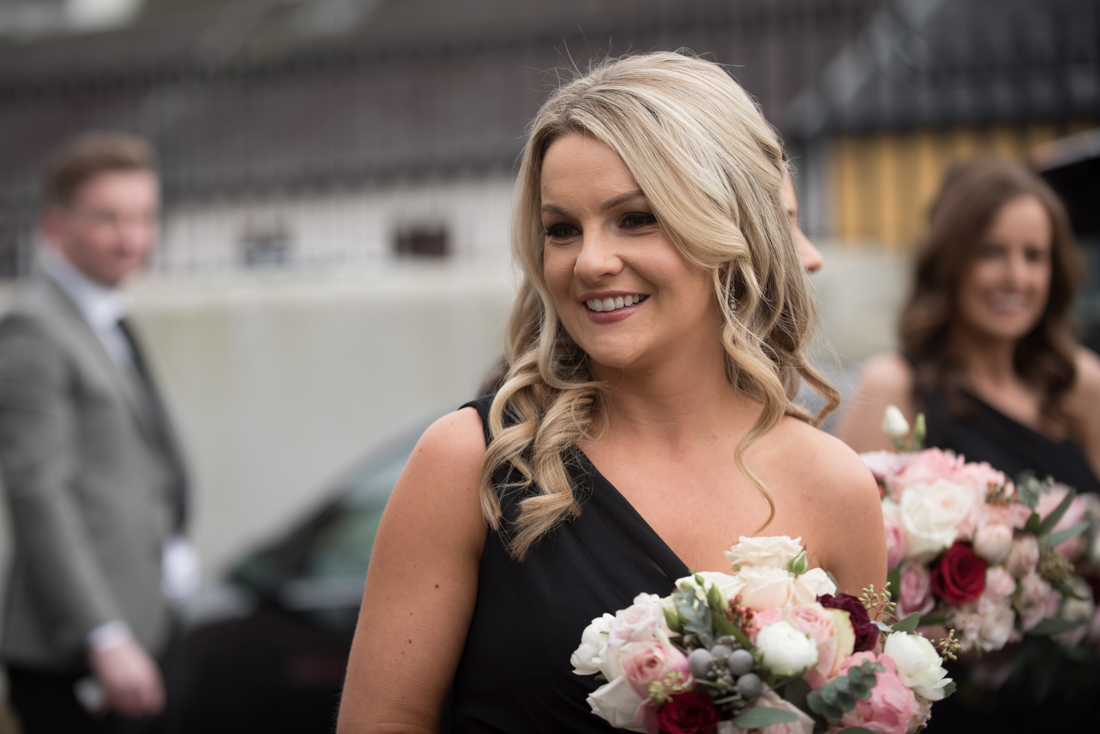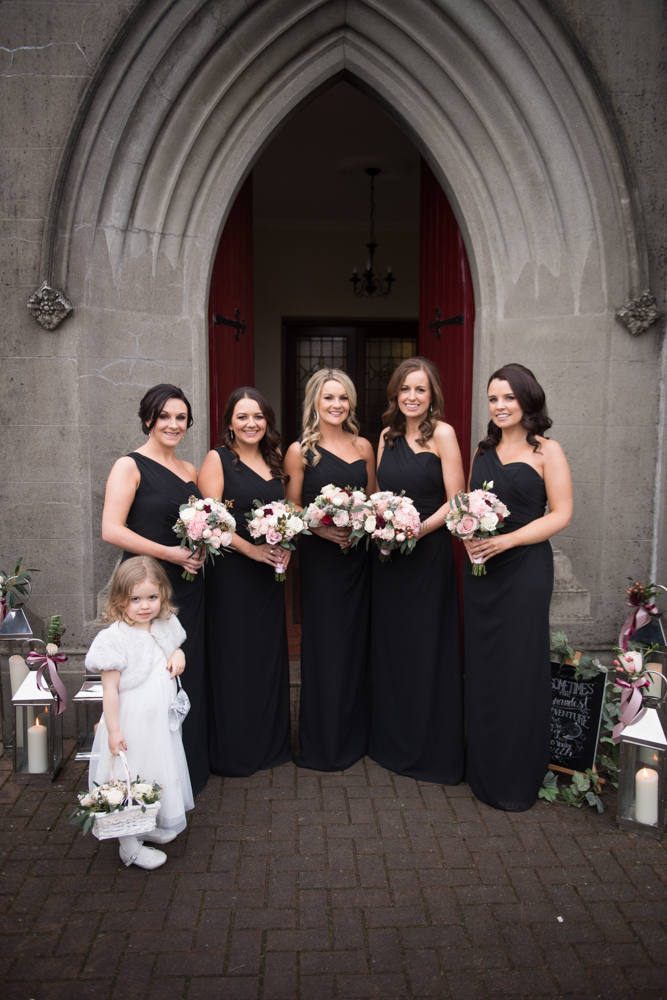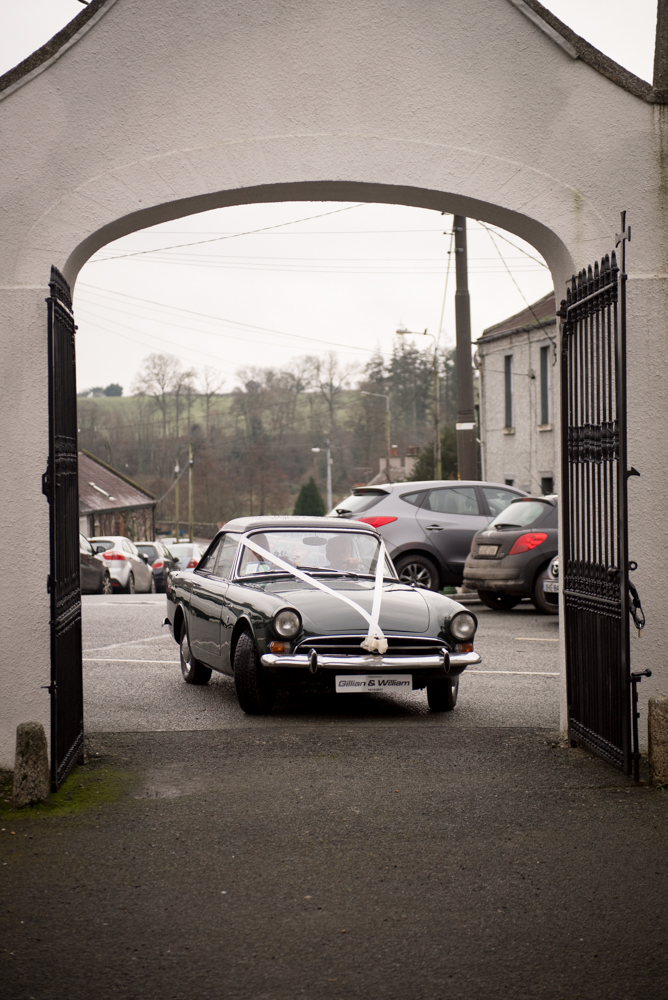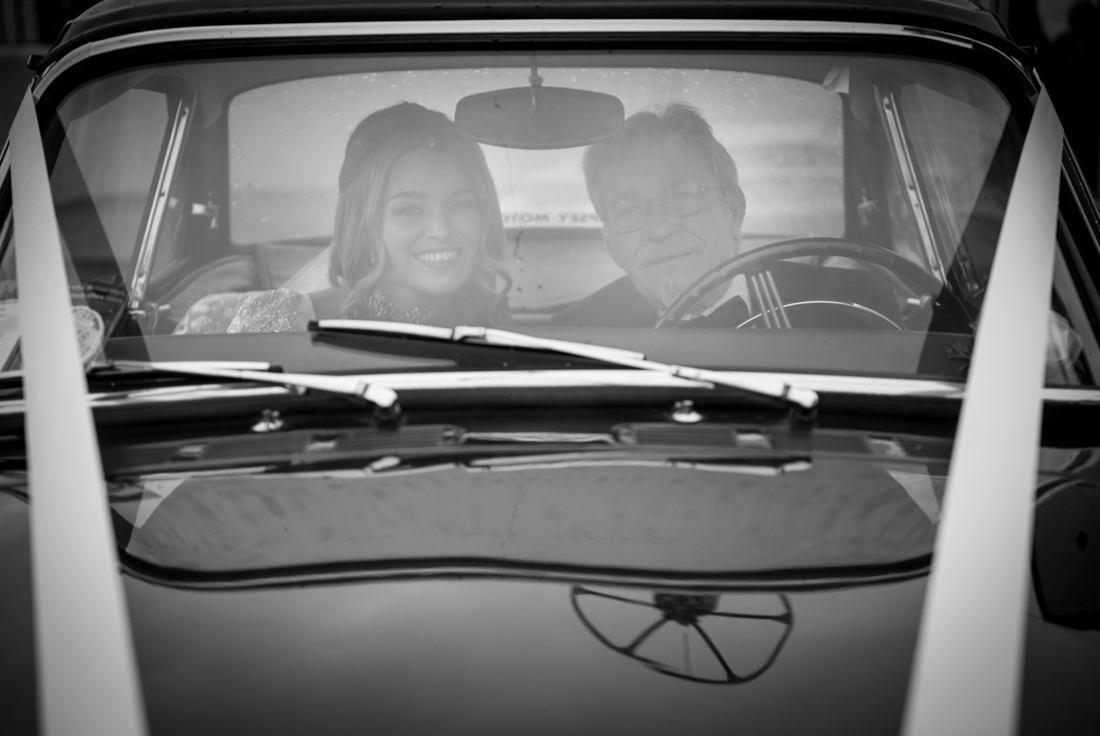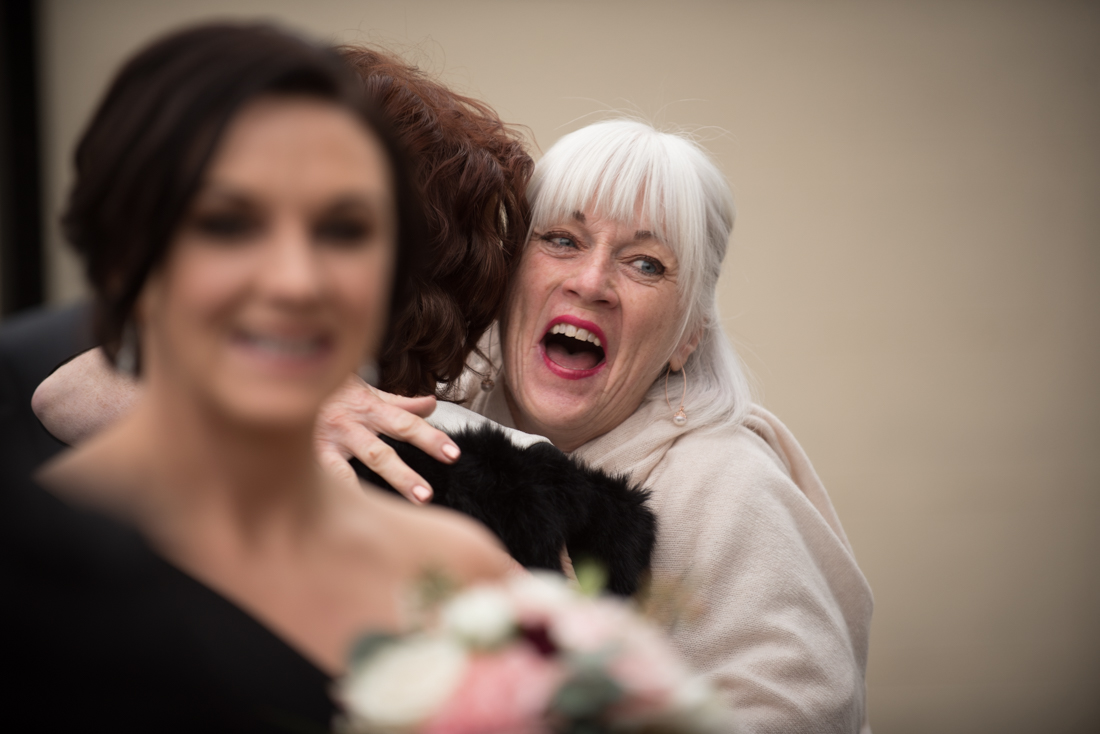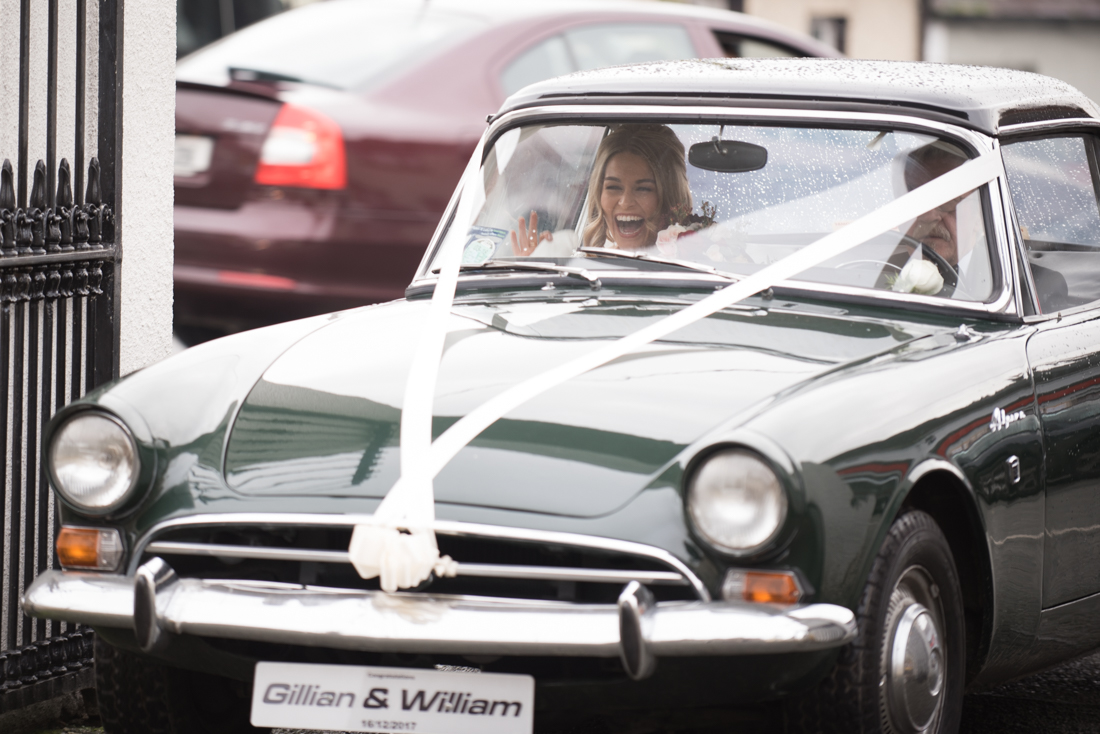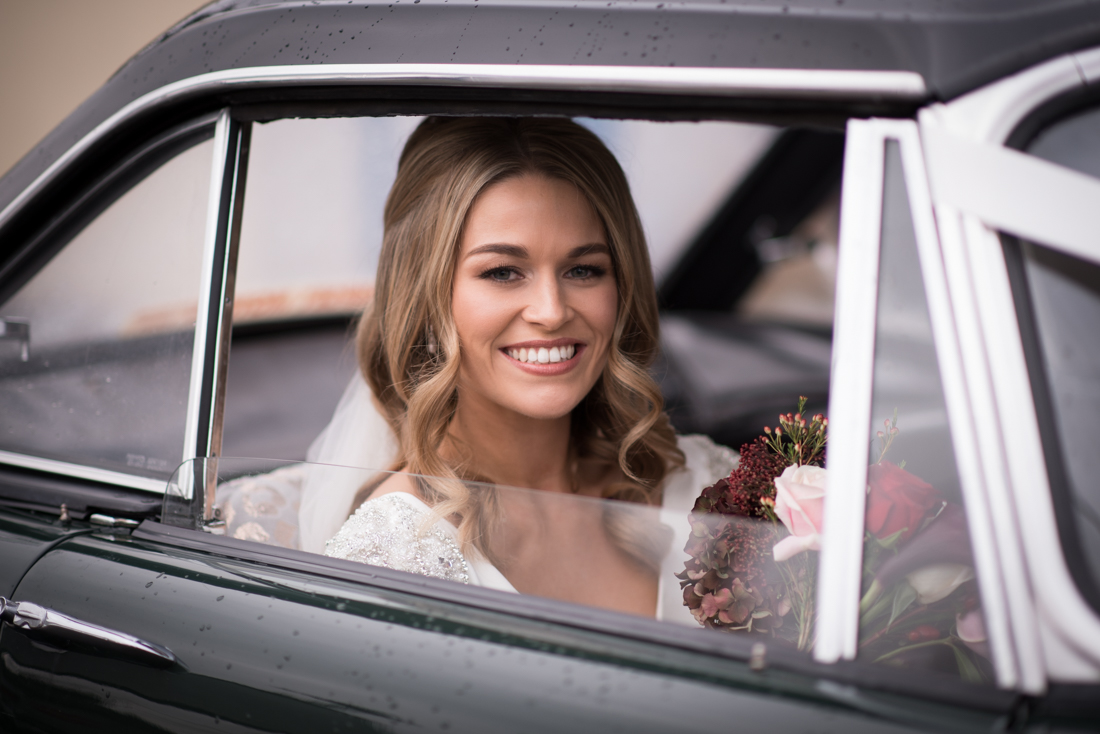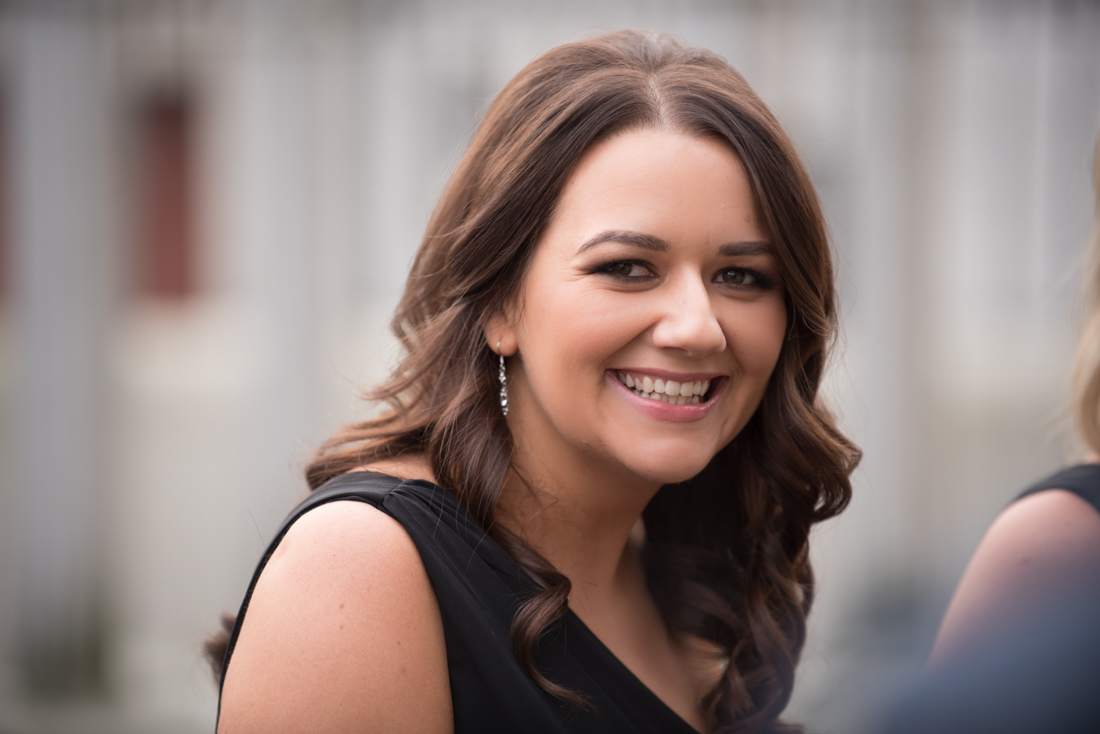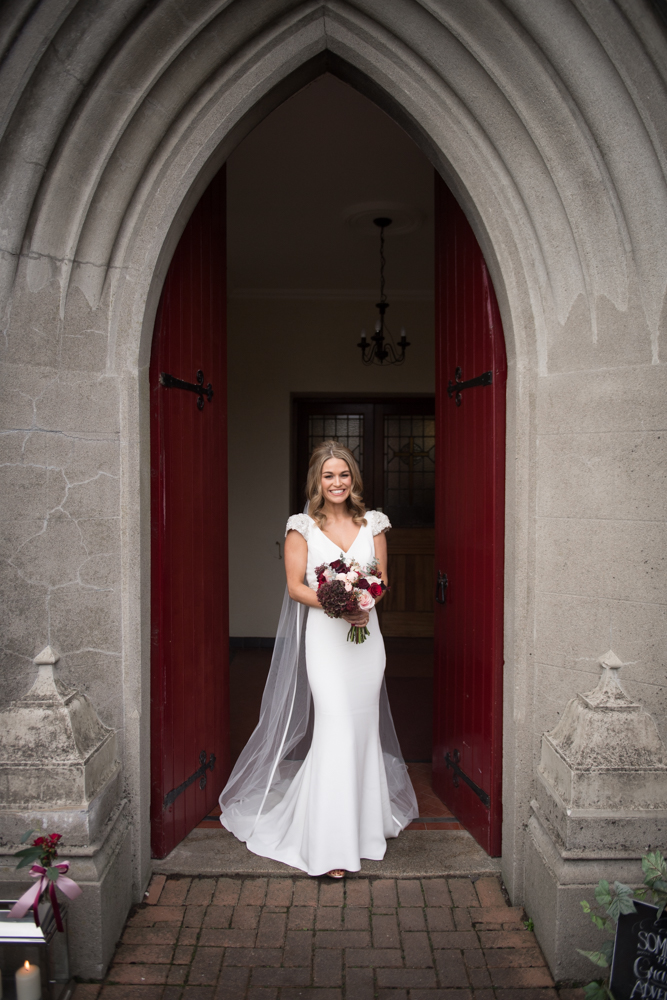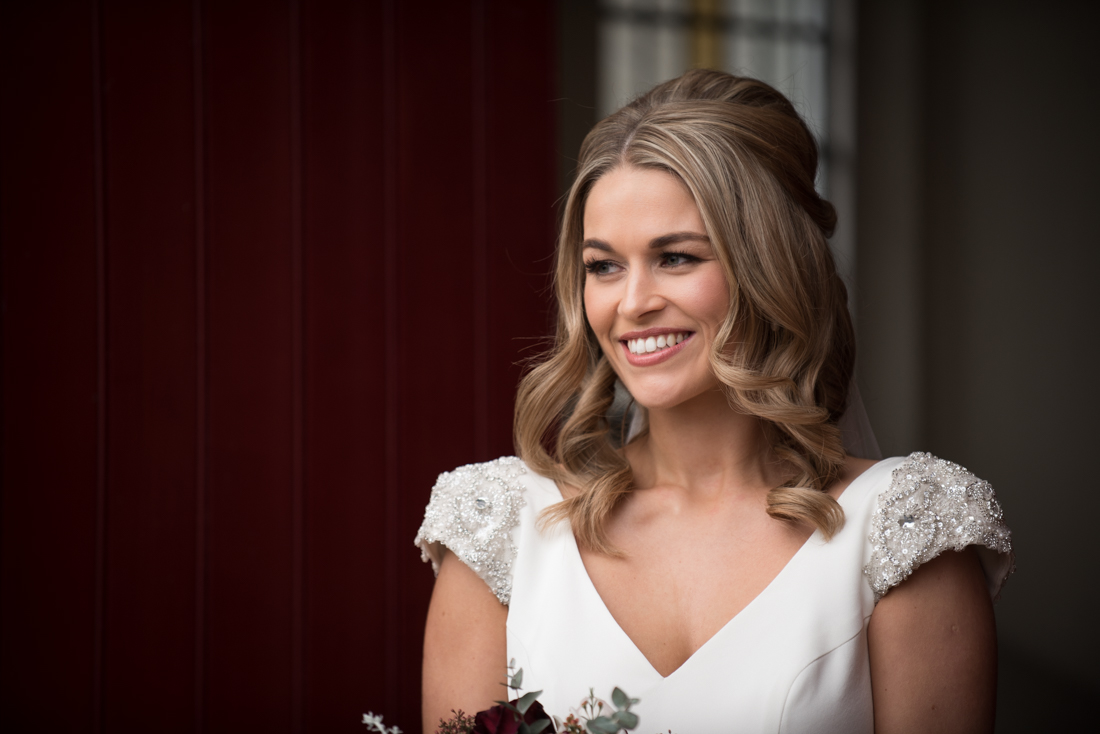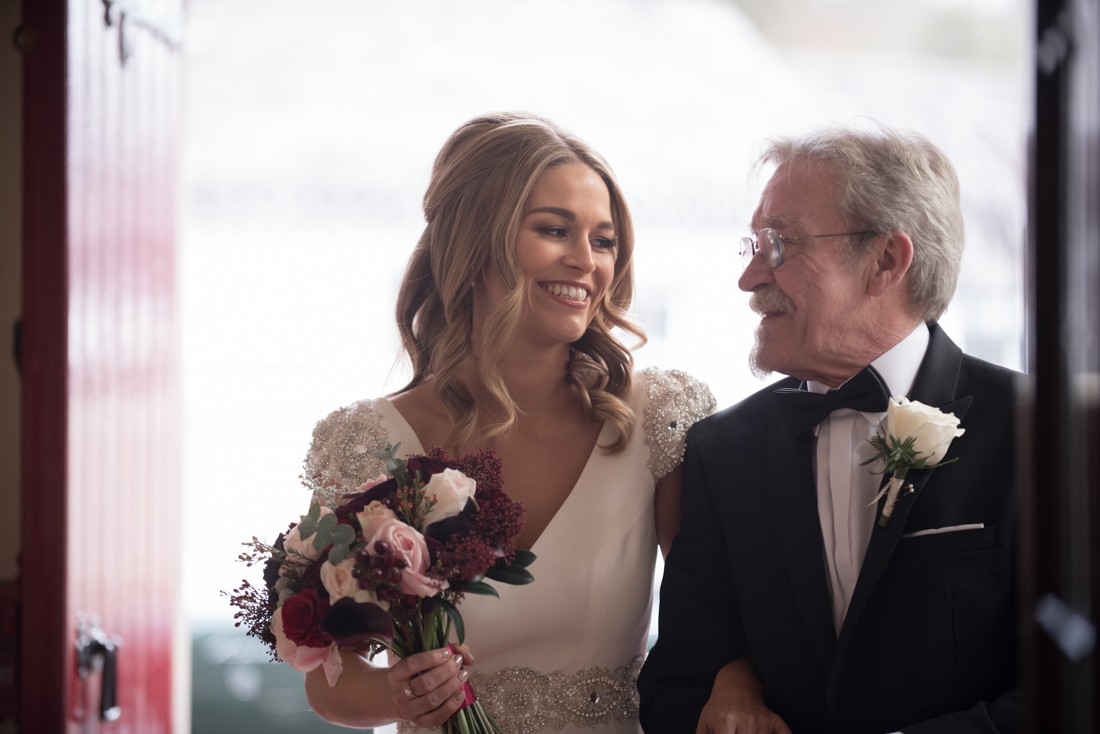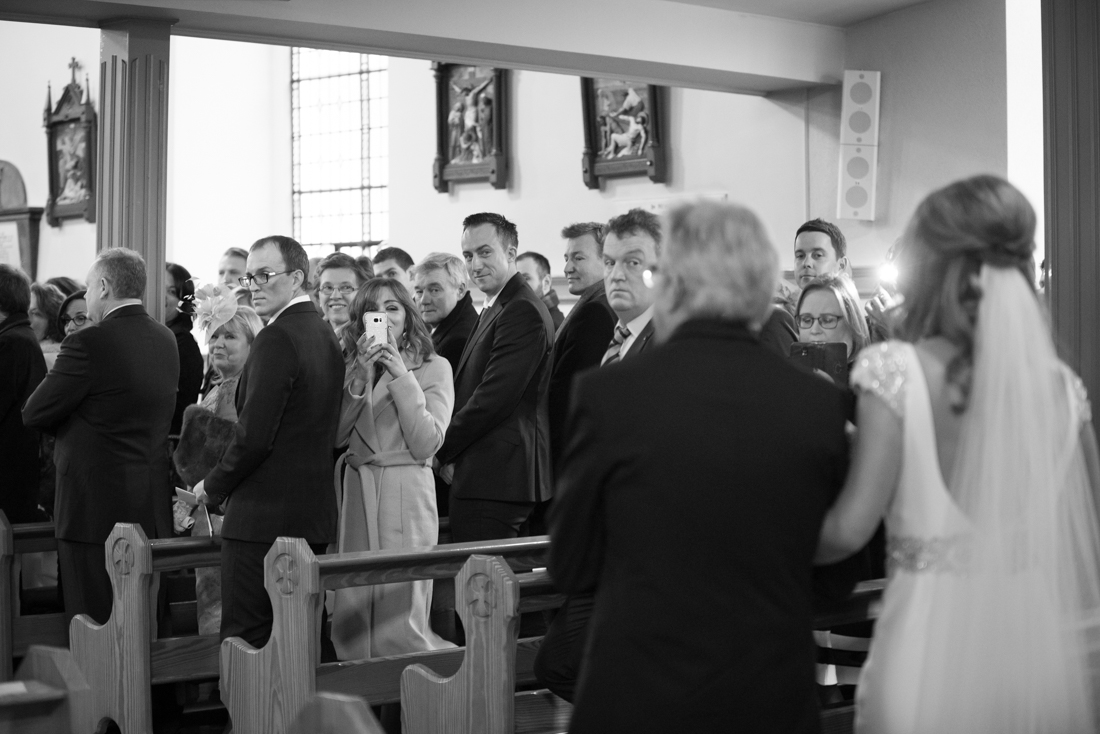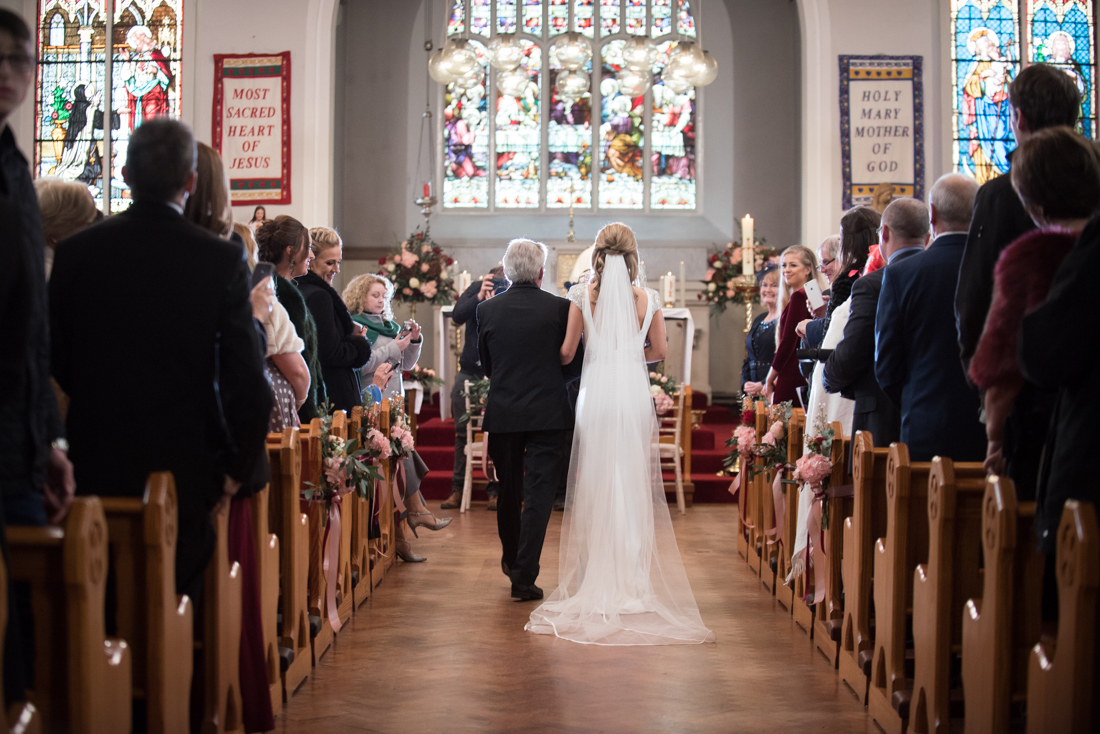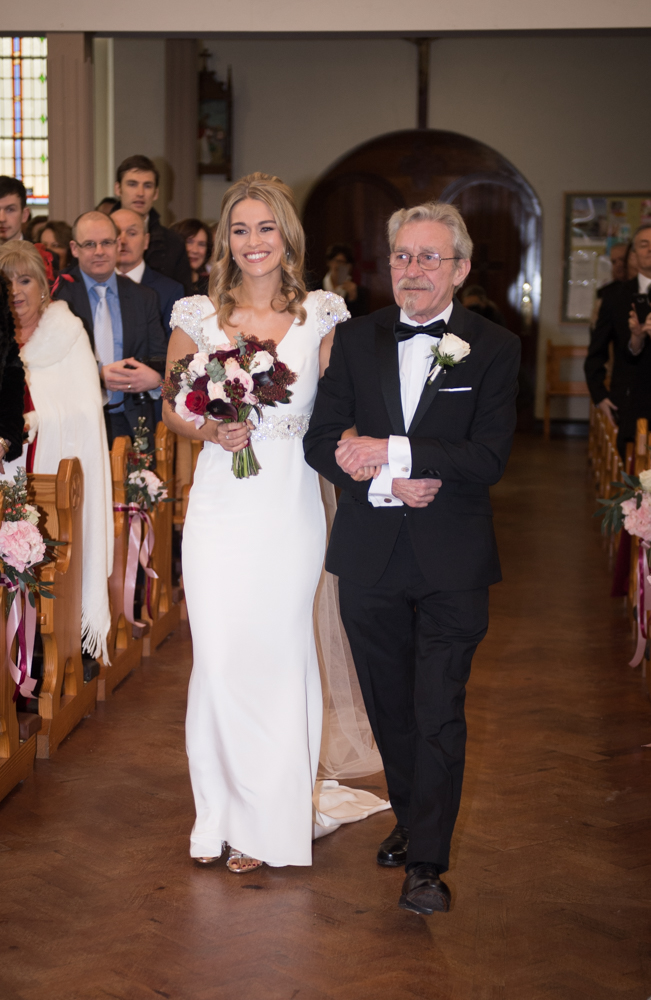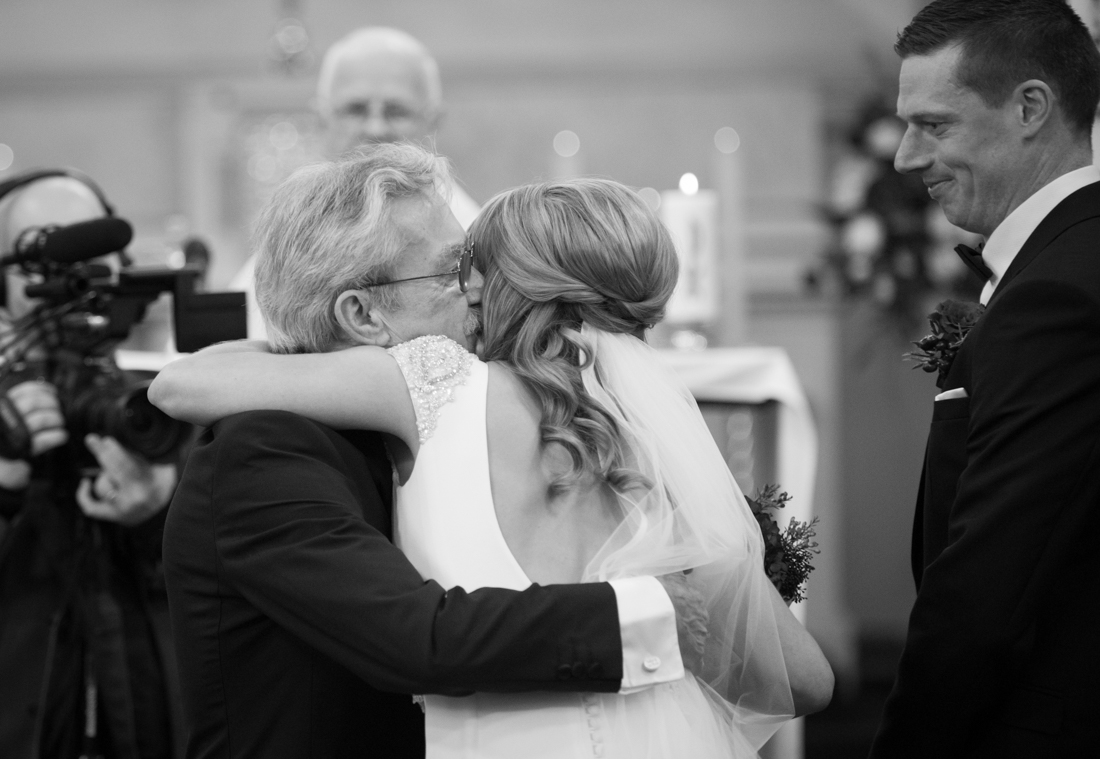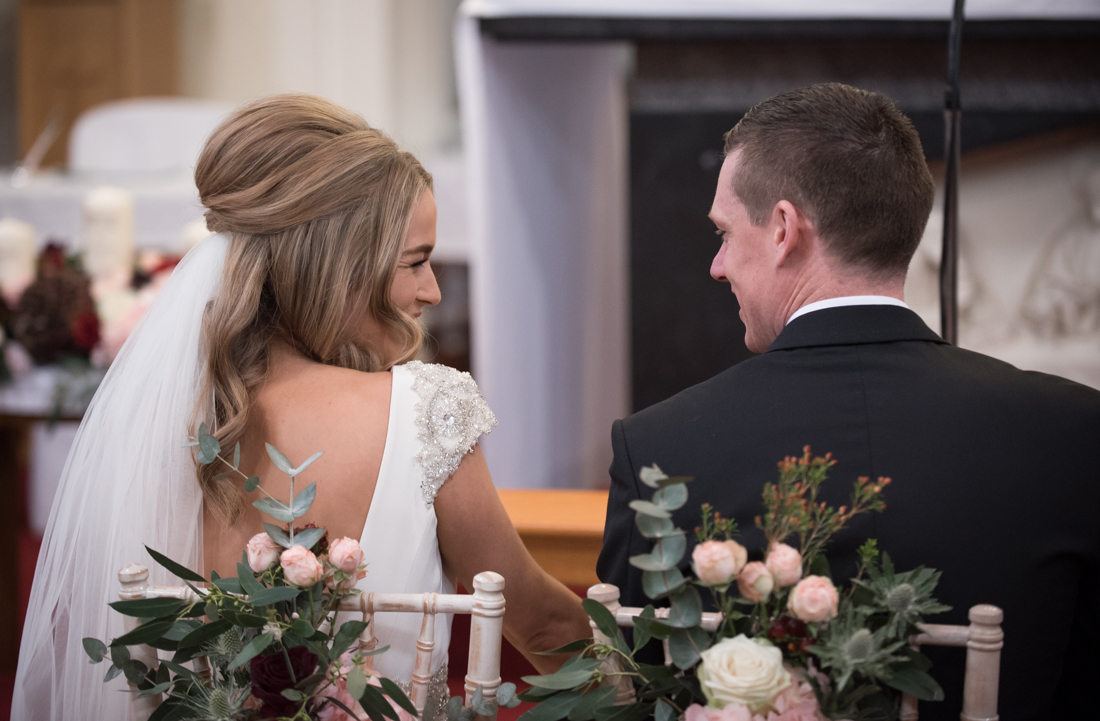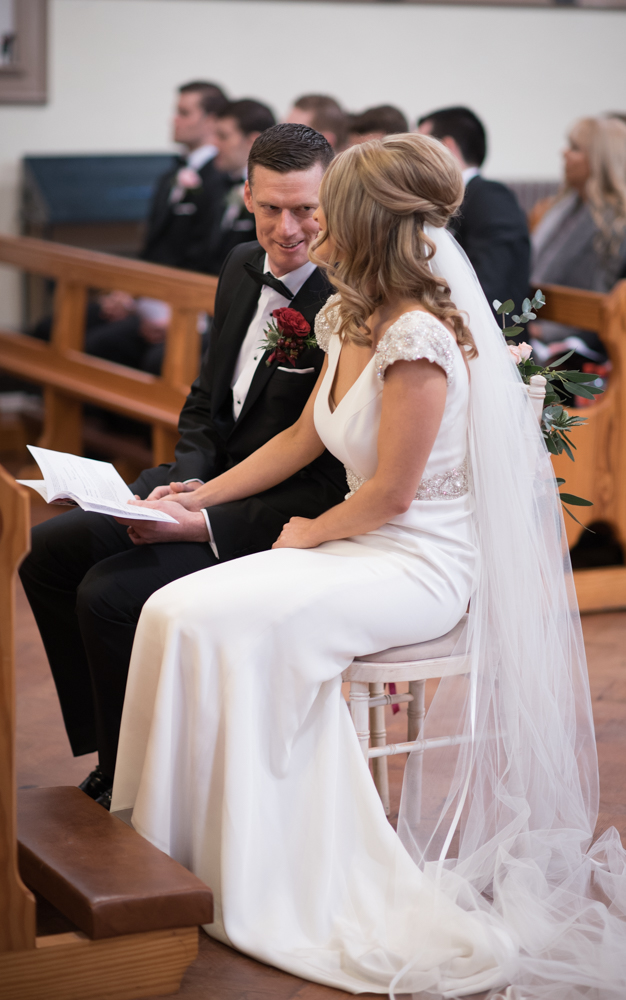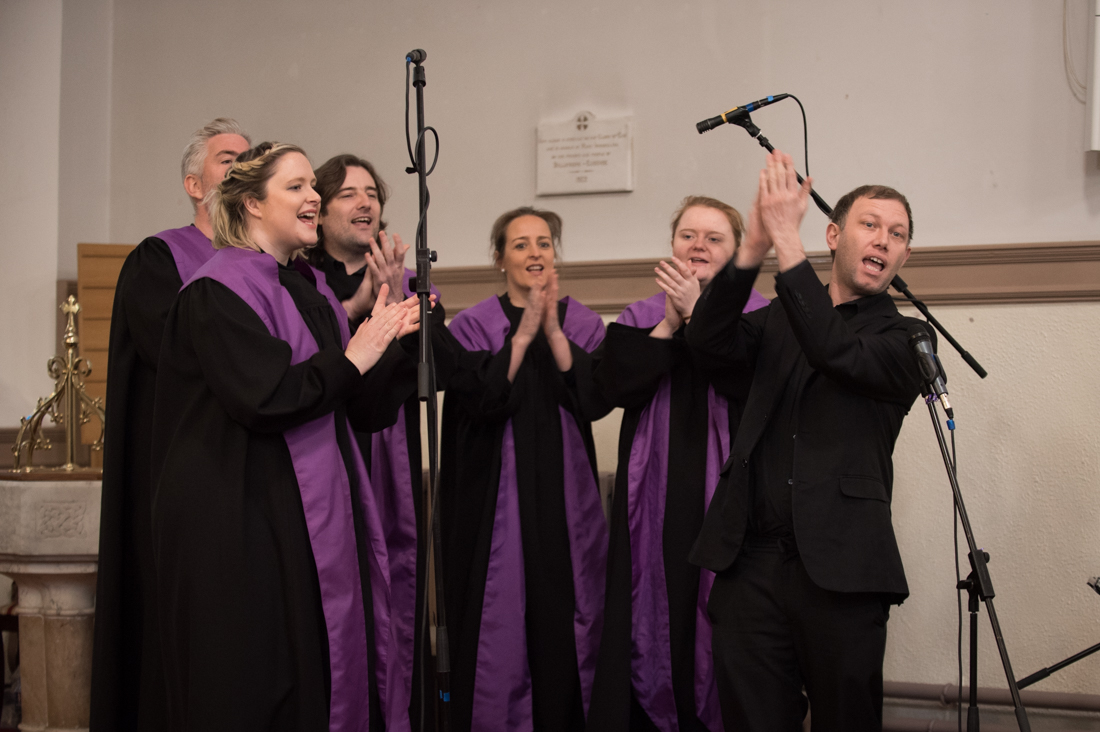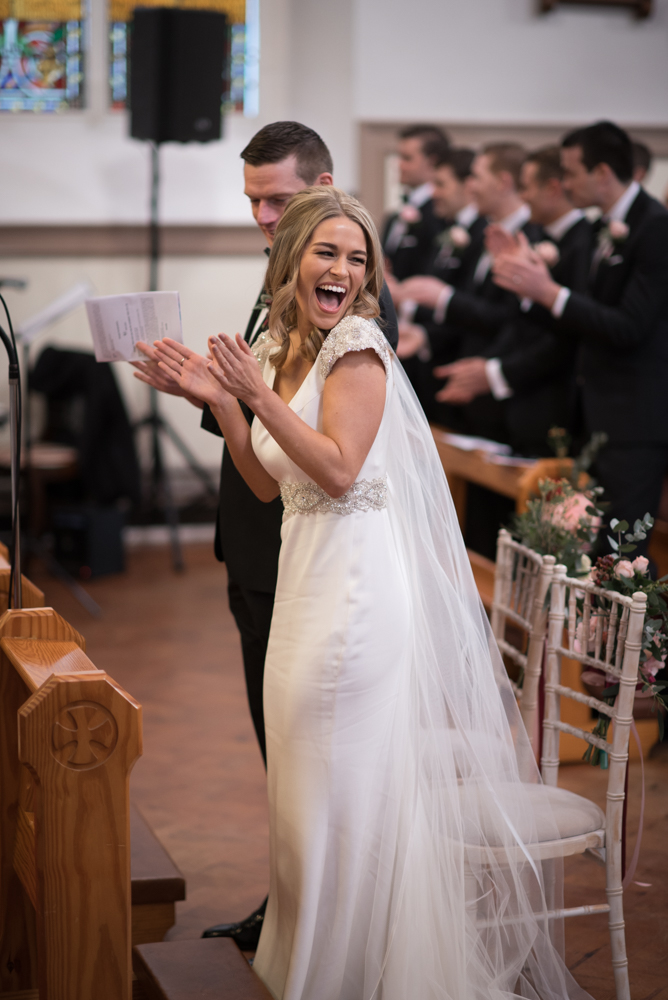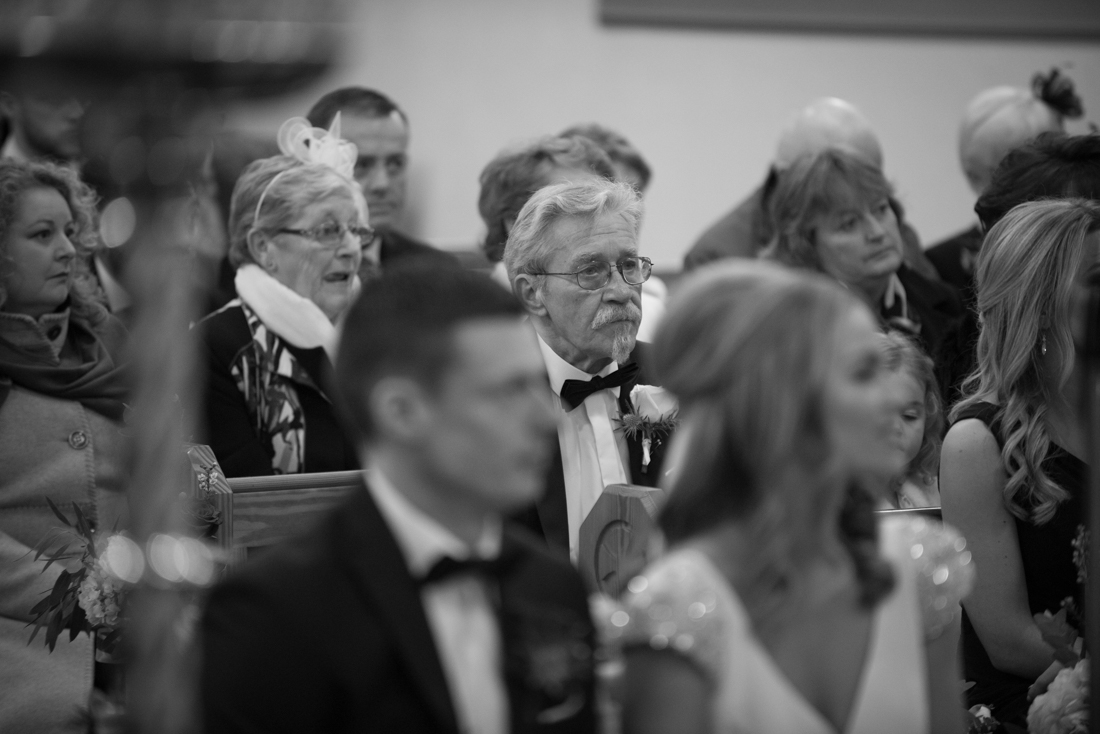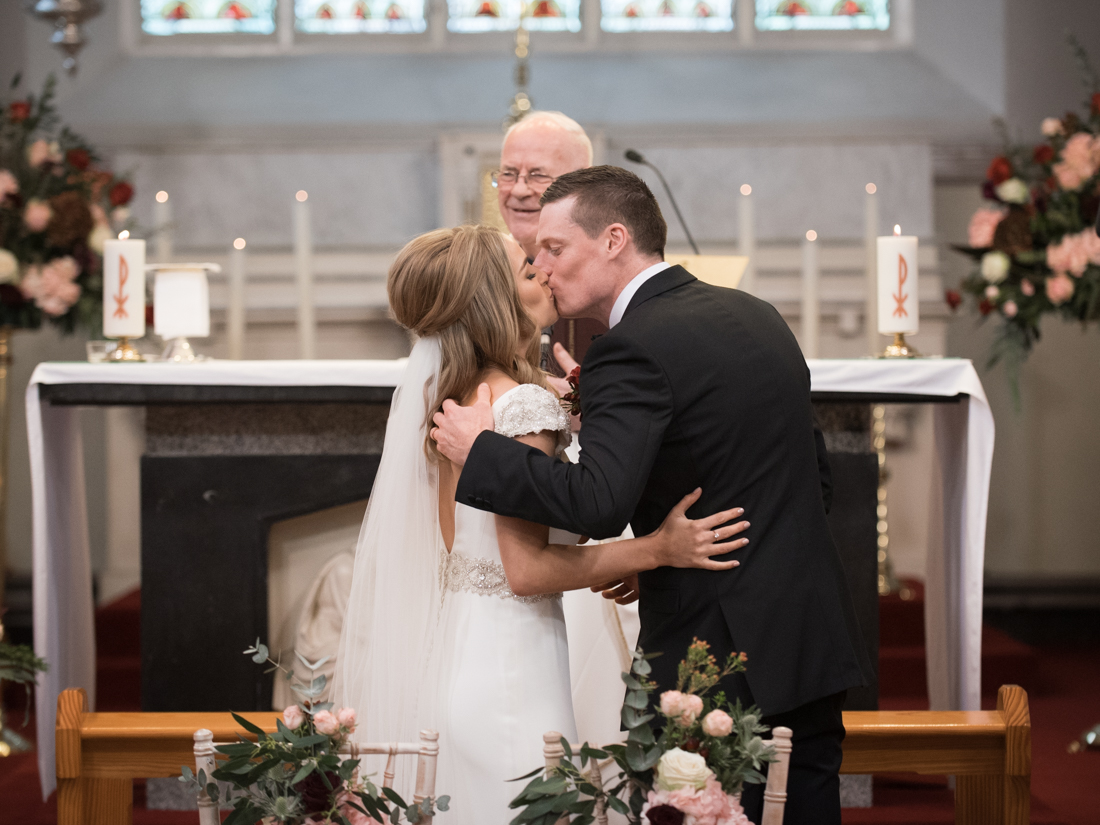 Our ceremony…
We had a church ceremony in Ballymore Eustace . It was beautiful. Will's sister Kate sang "Winter Song"as my dad and I walked down the aisle.  We booked the Maynooth Gospel Choir and they were so uplifting and brought great energy to the ceremony.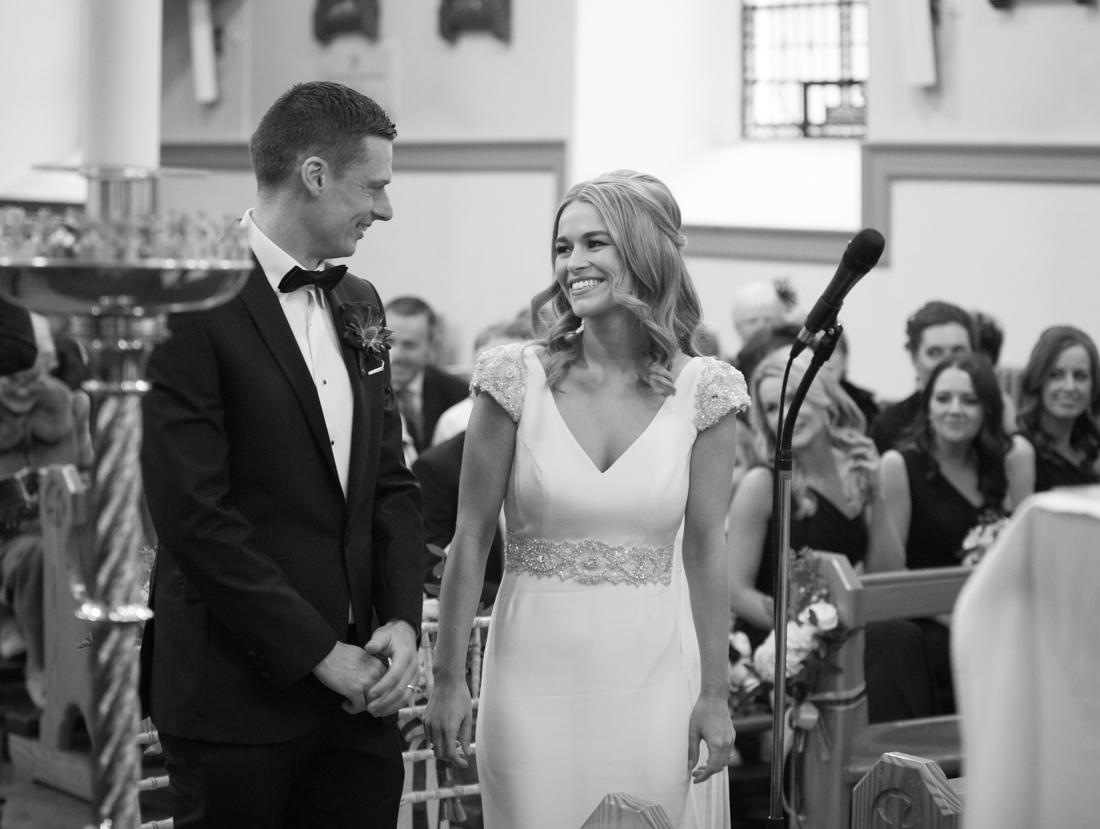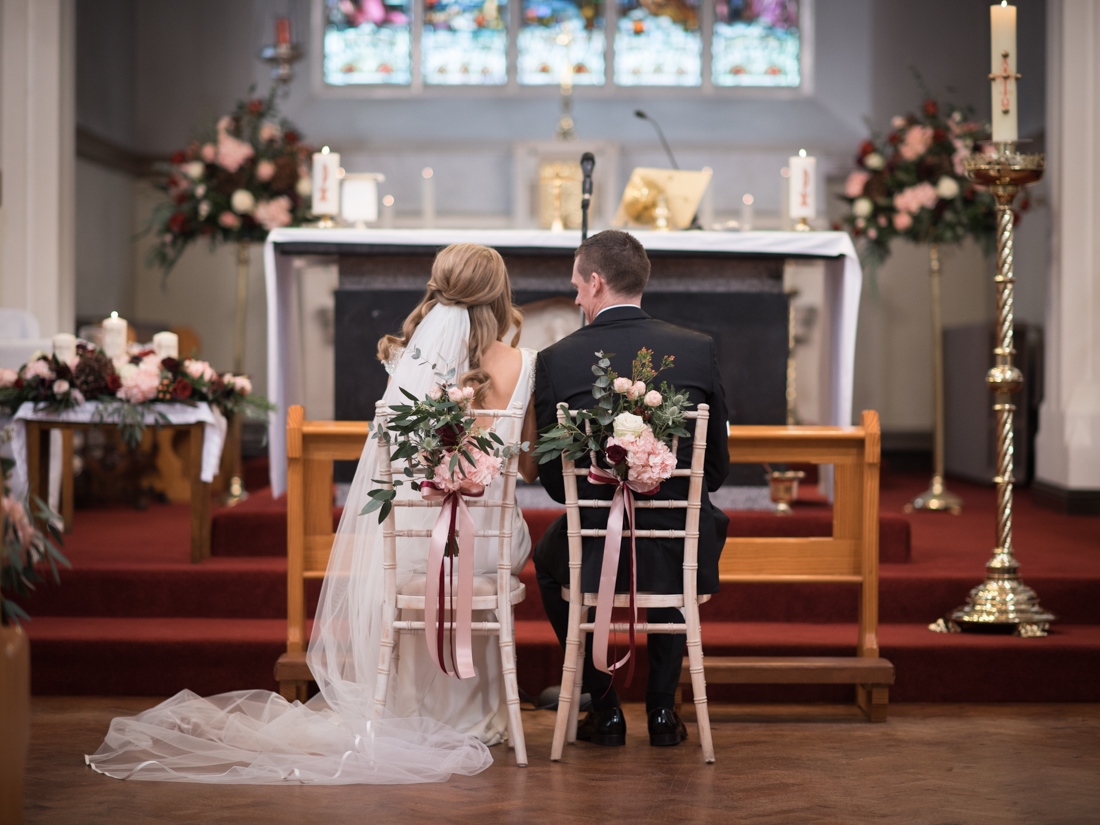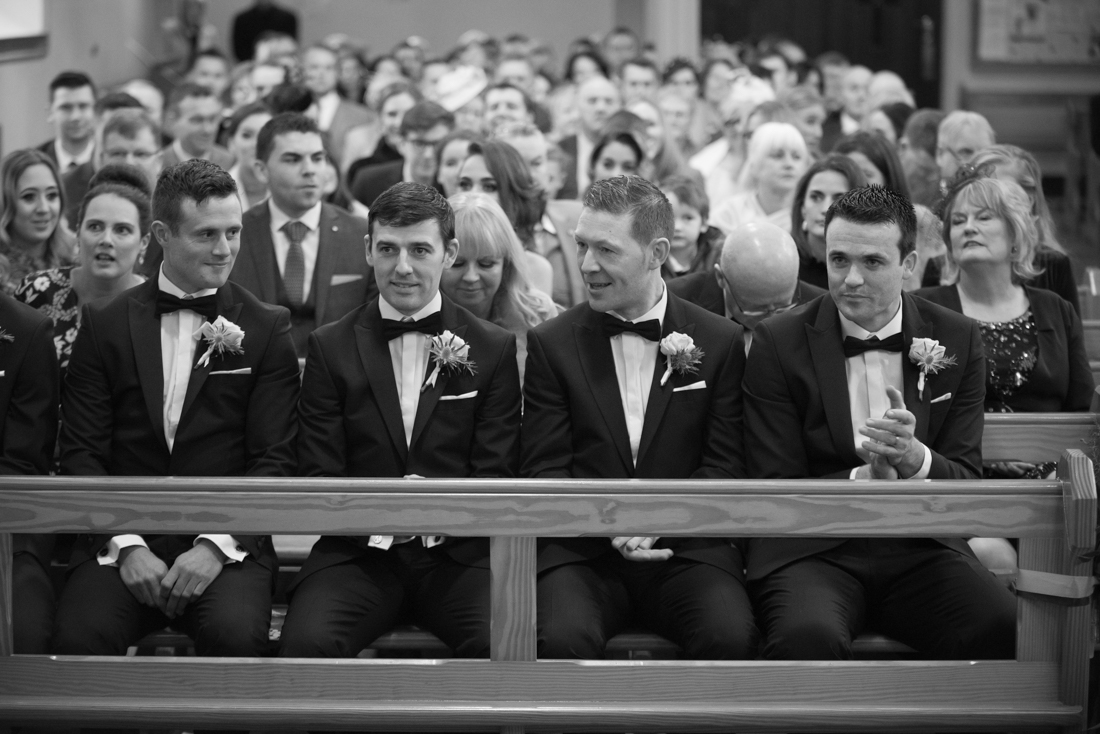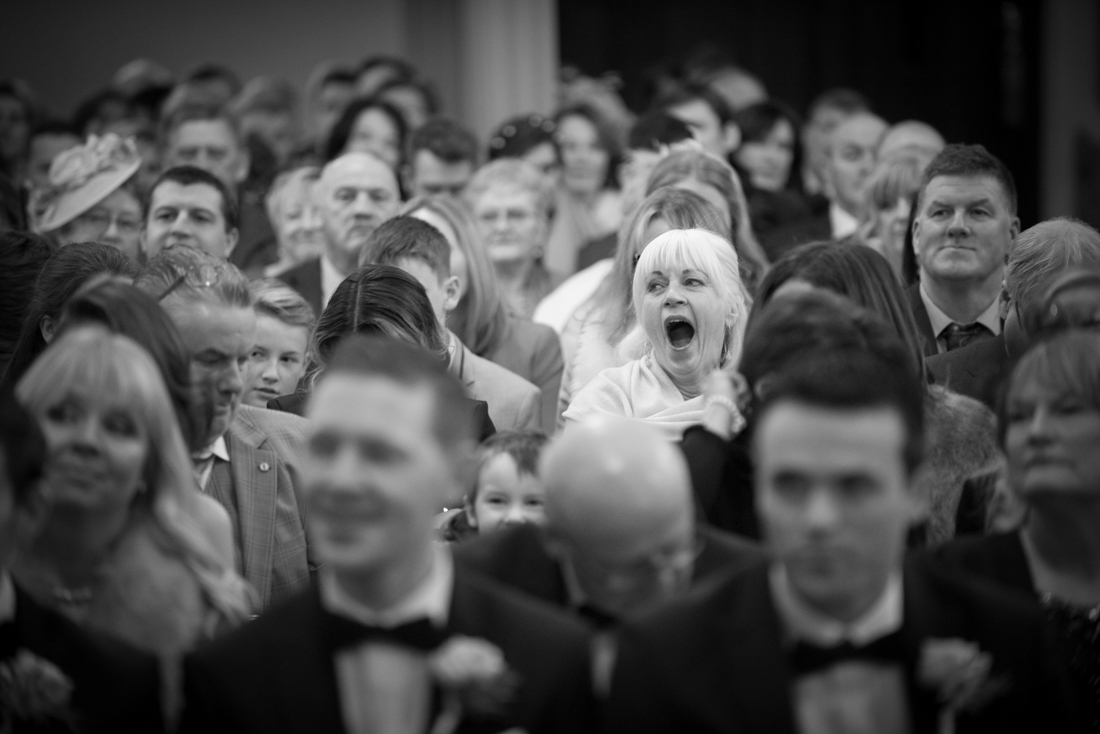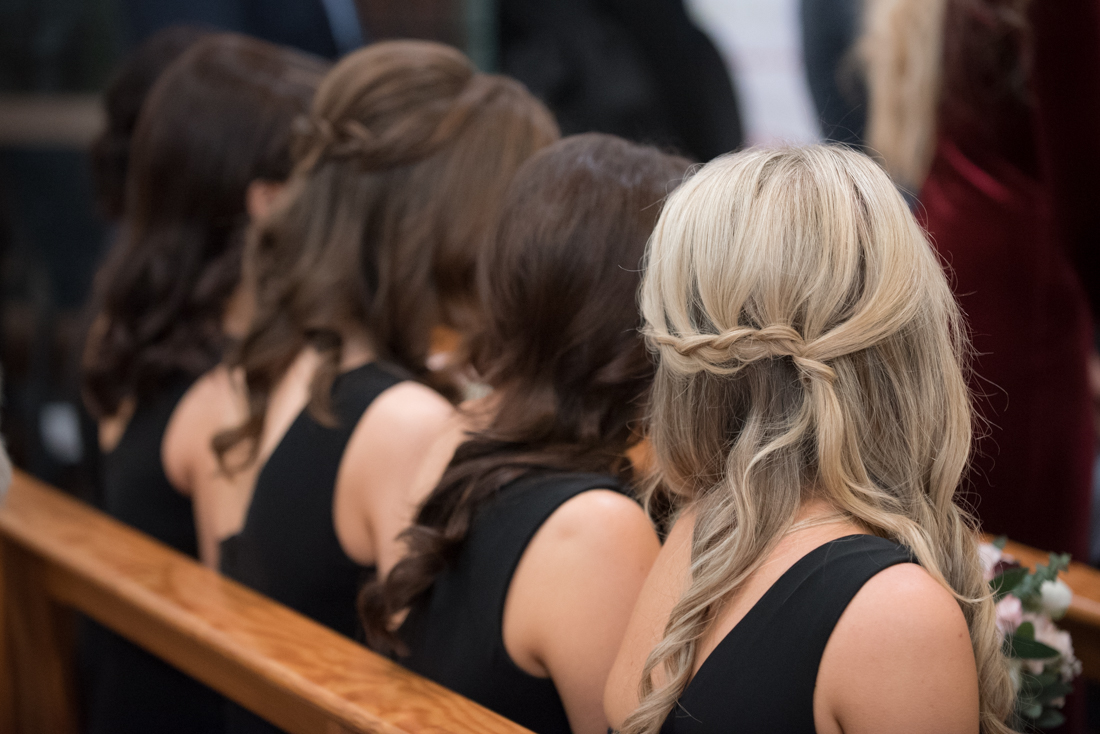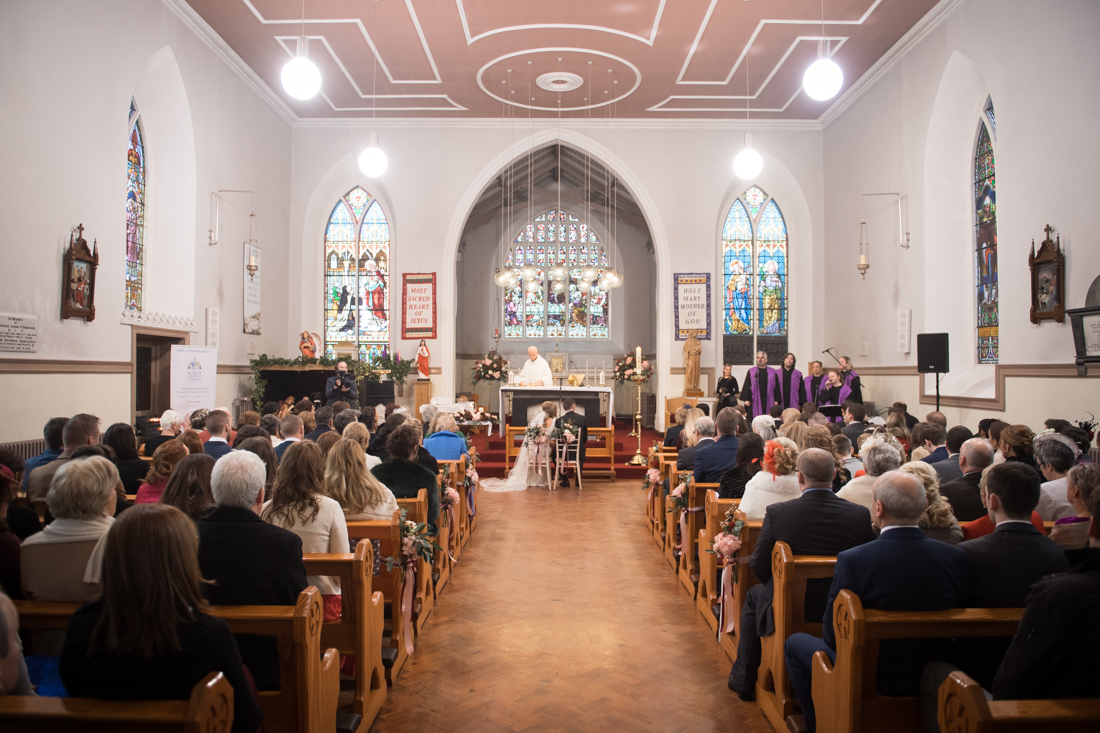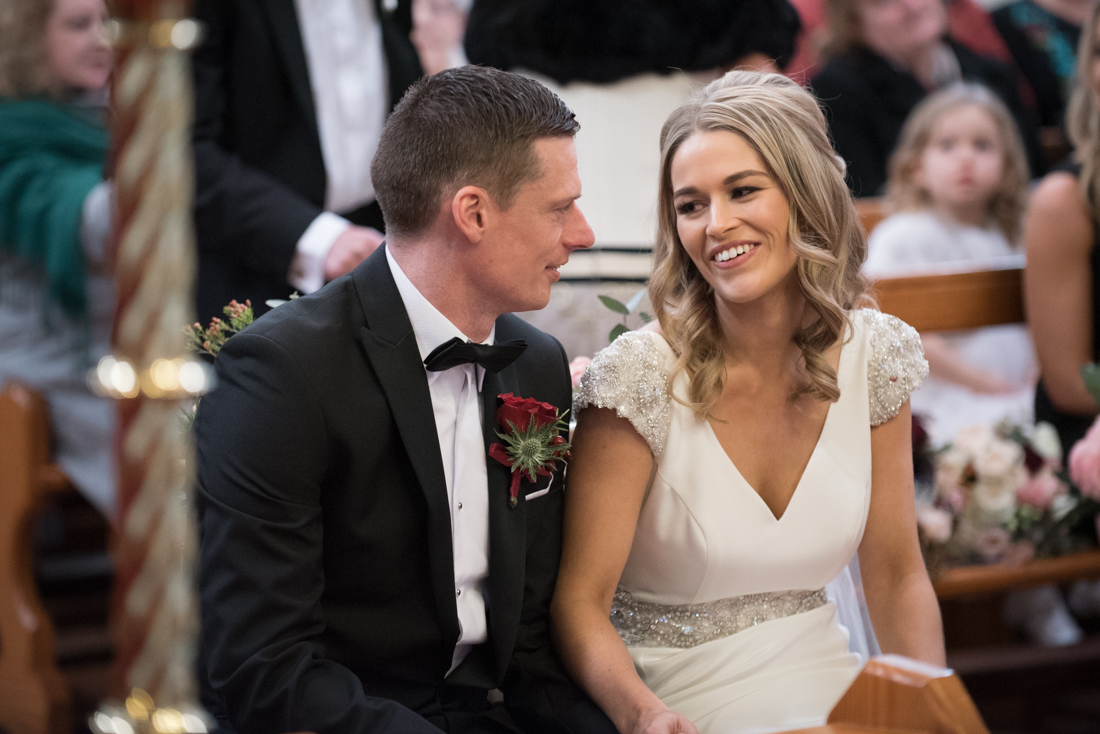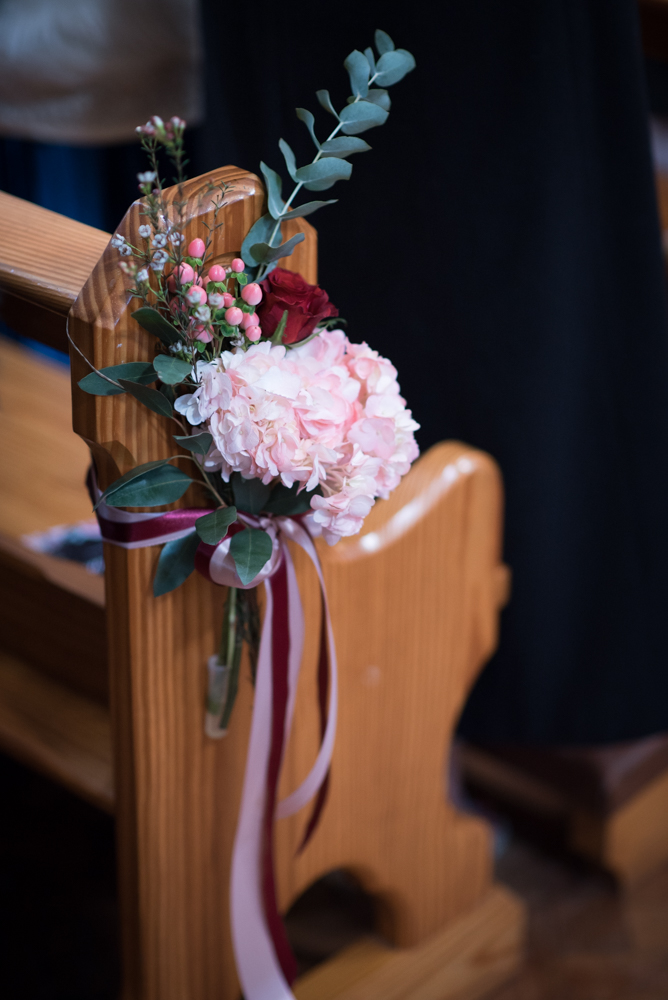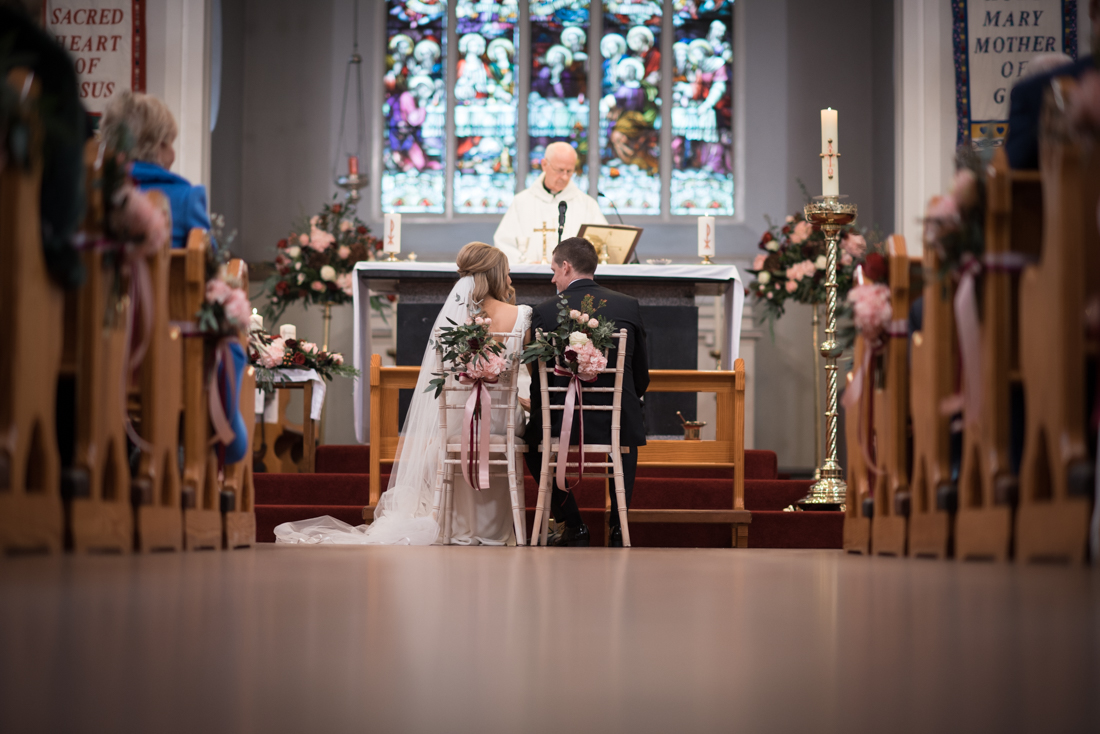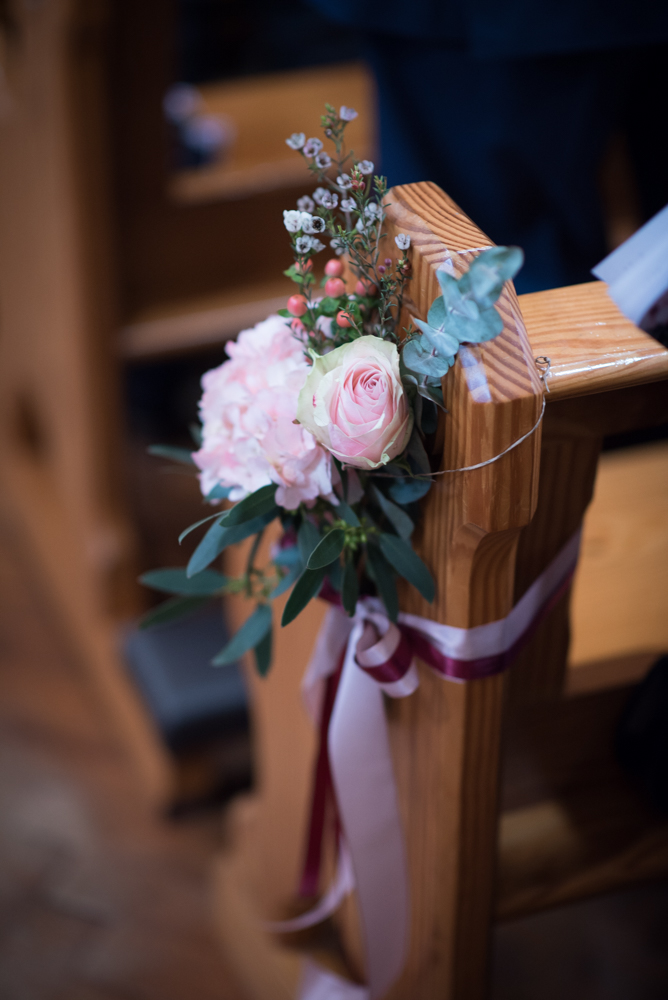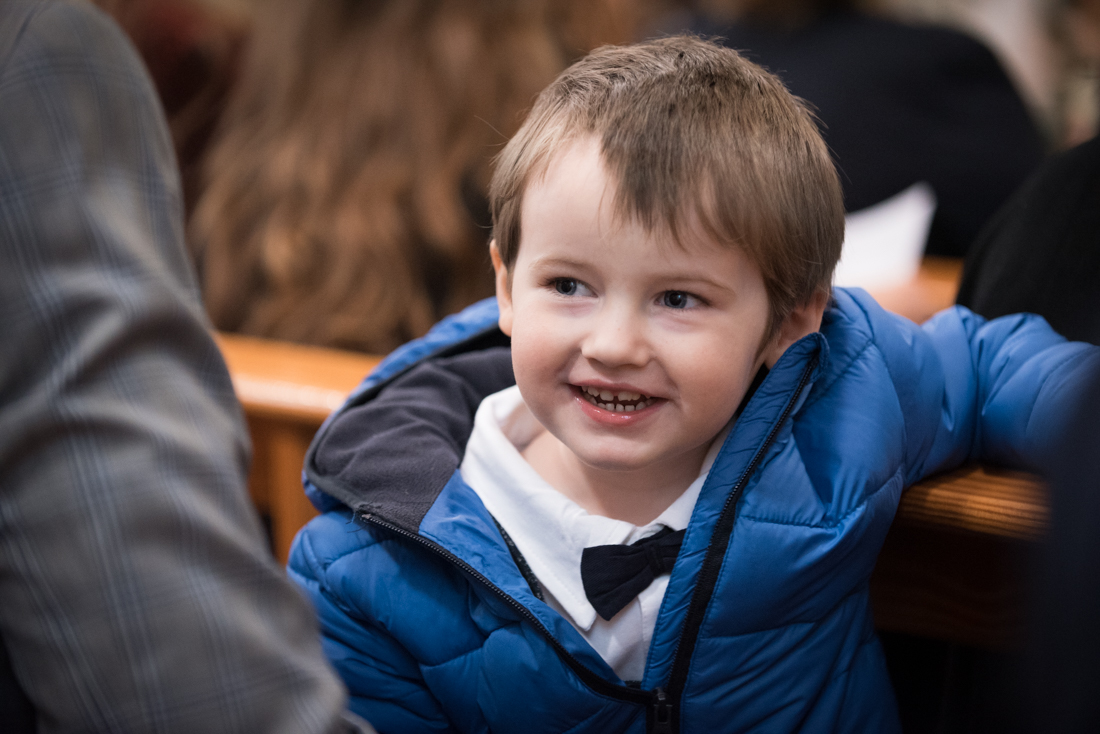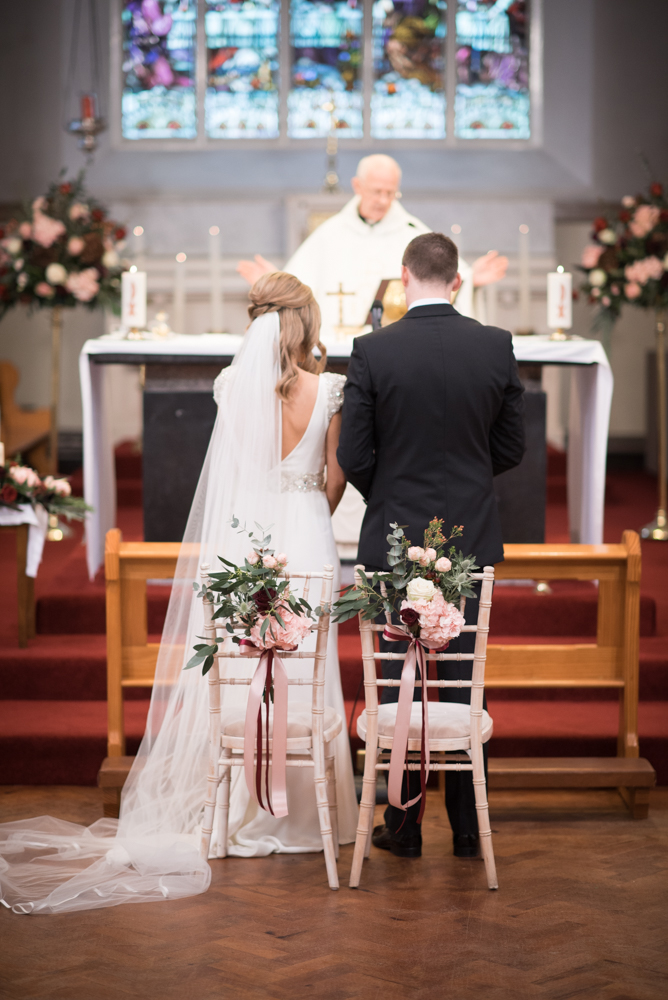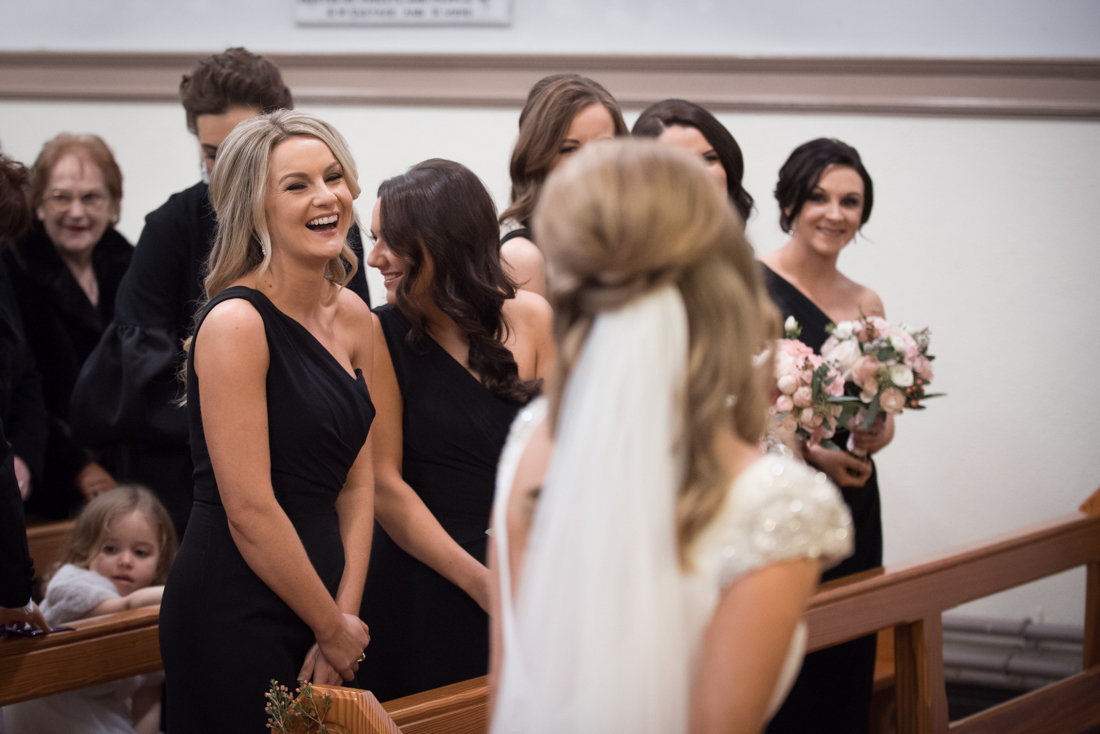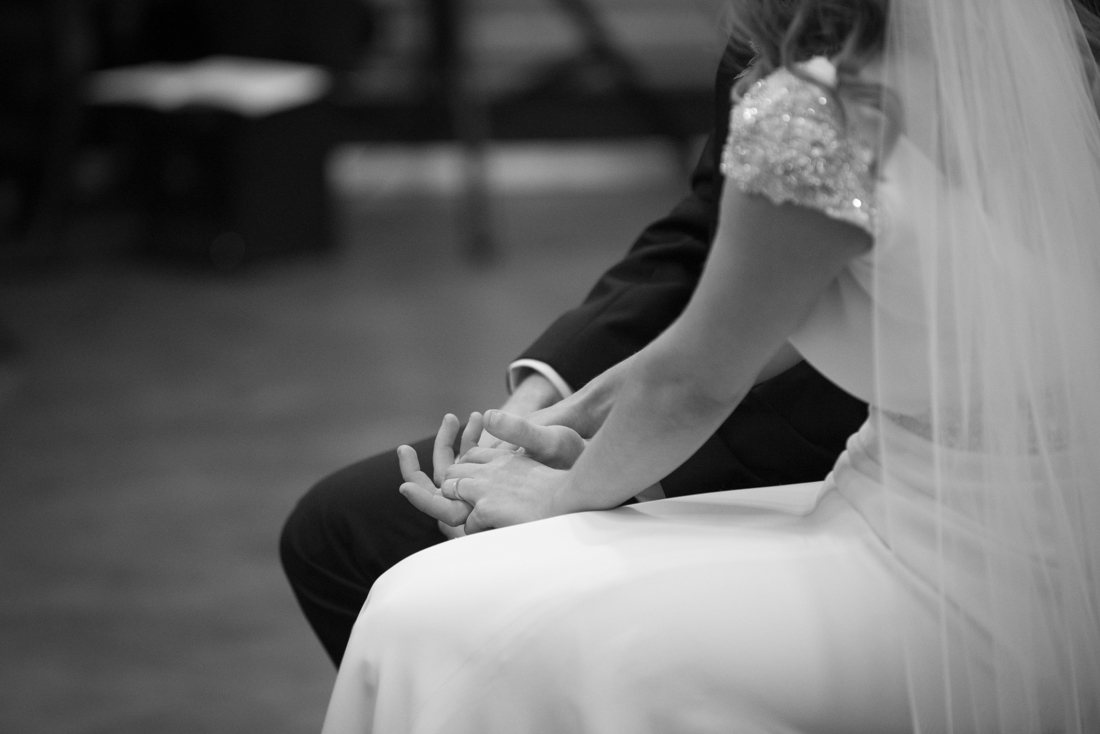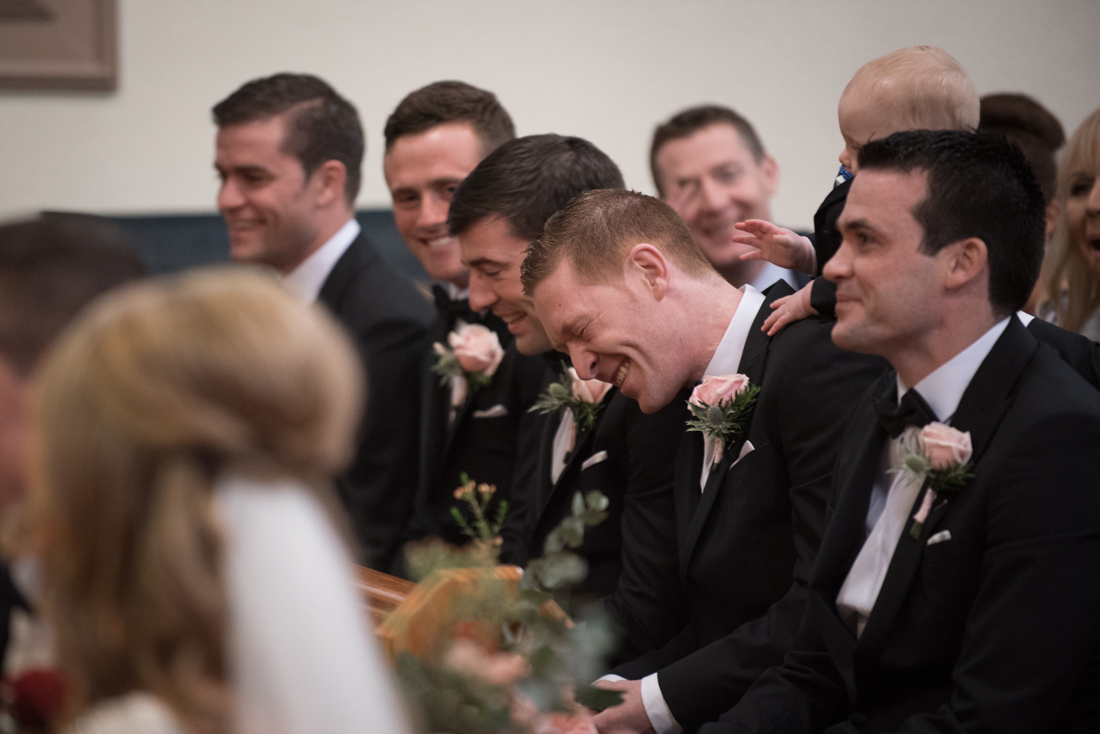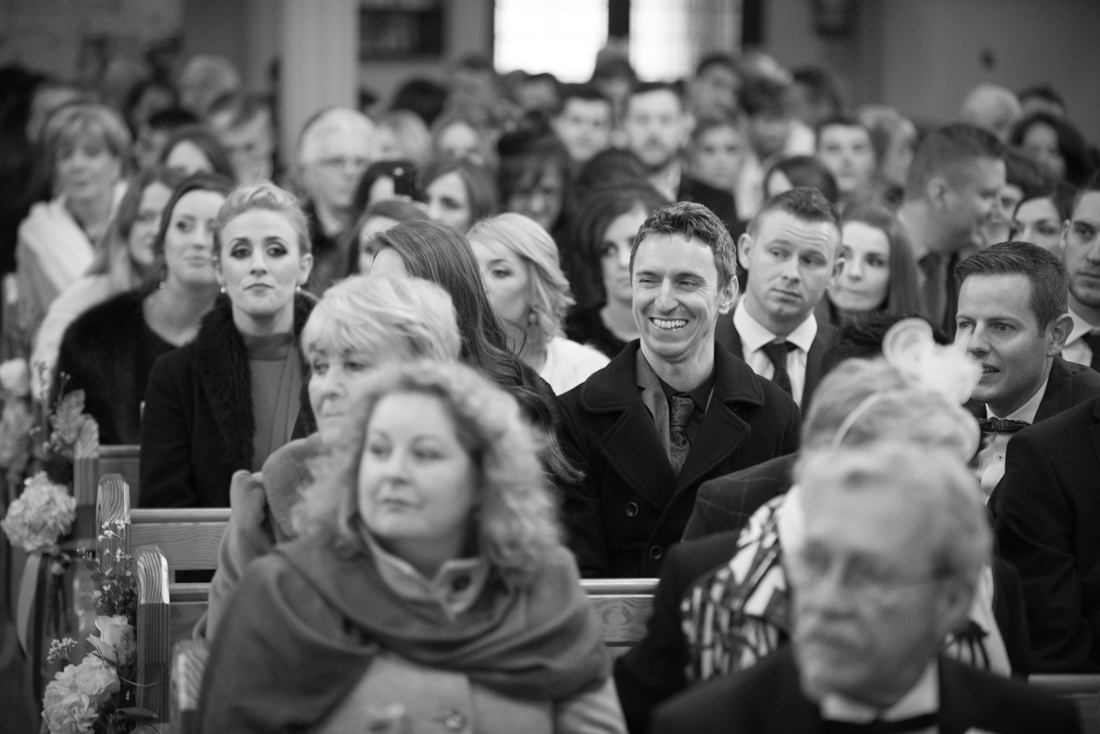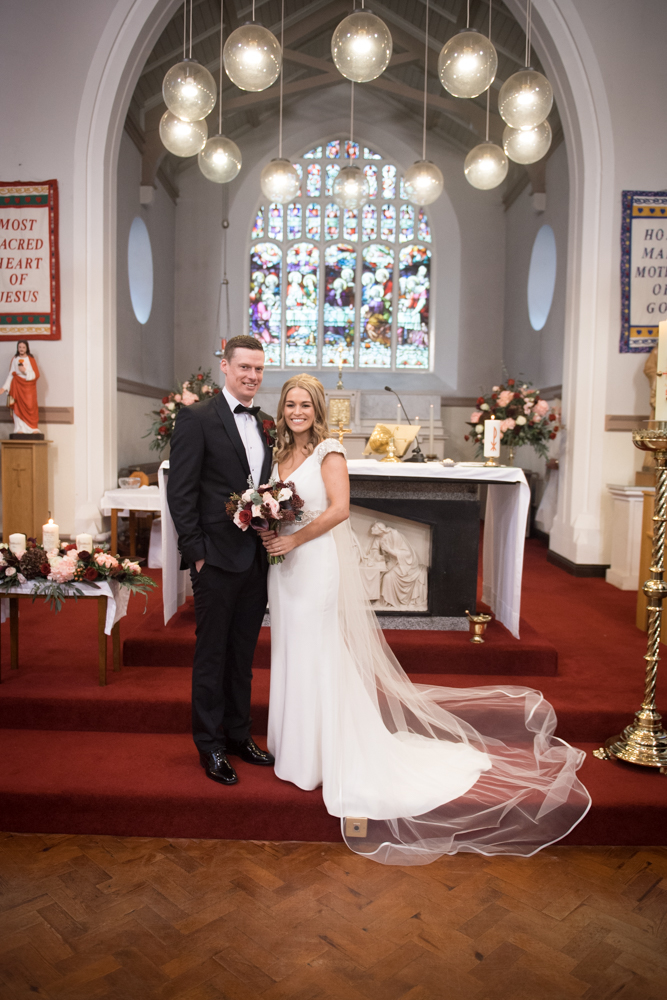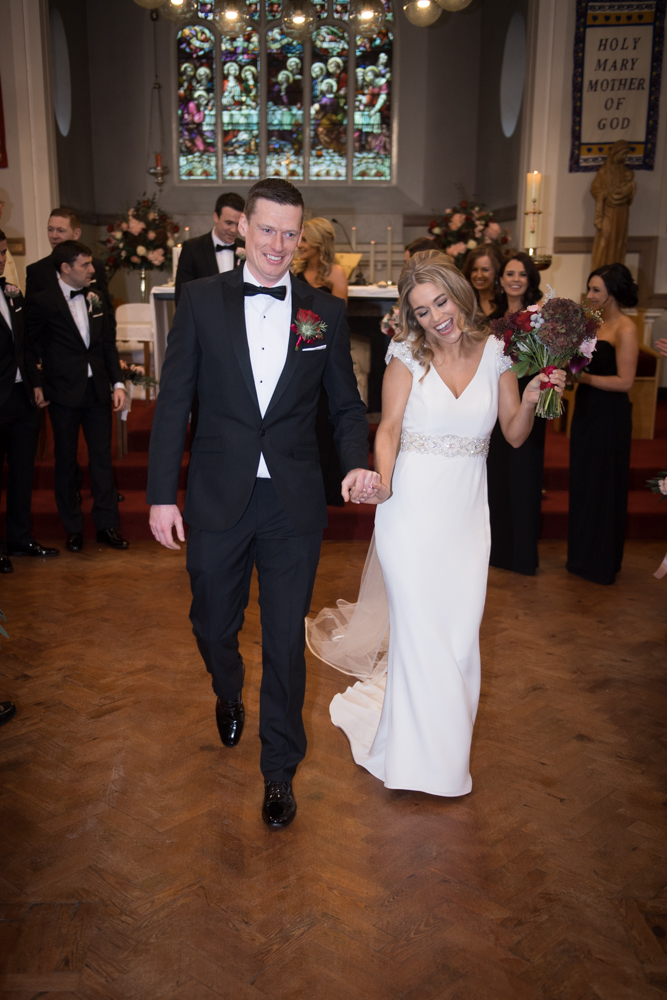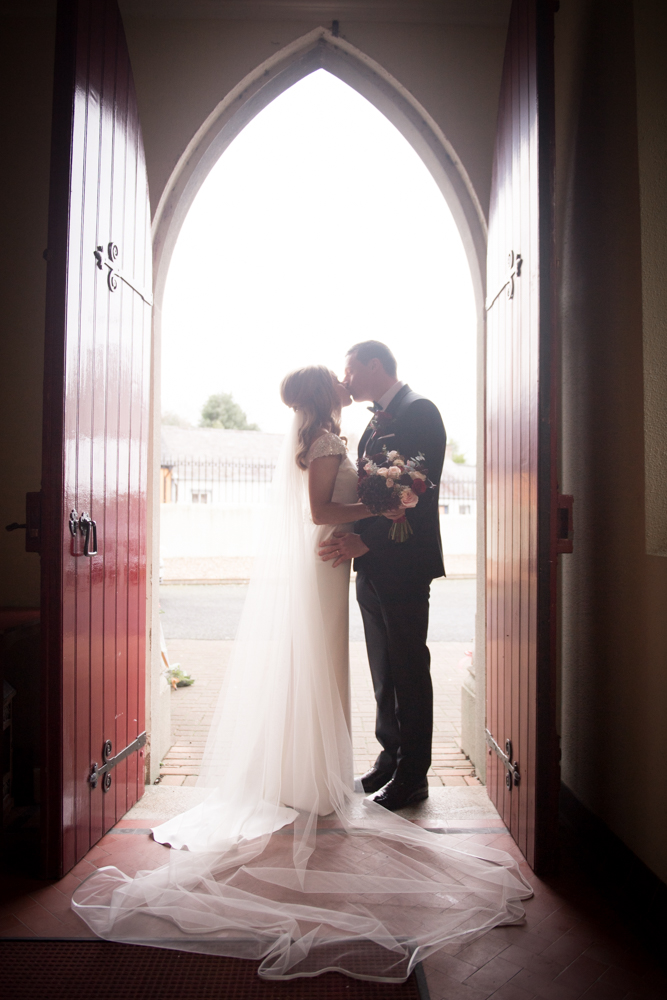 His suit…
The groomsmen, fathers and Will's suits were all from Richie Whelan's  Menswear, Naas.
Brian dealt with Will and the lads and was so helpful, he couldn't do enough to help us. We went with Black tuxedos as we thought it would be nice for the time of year.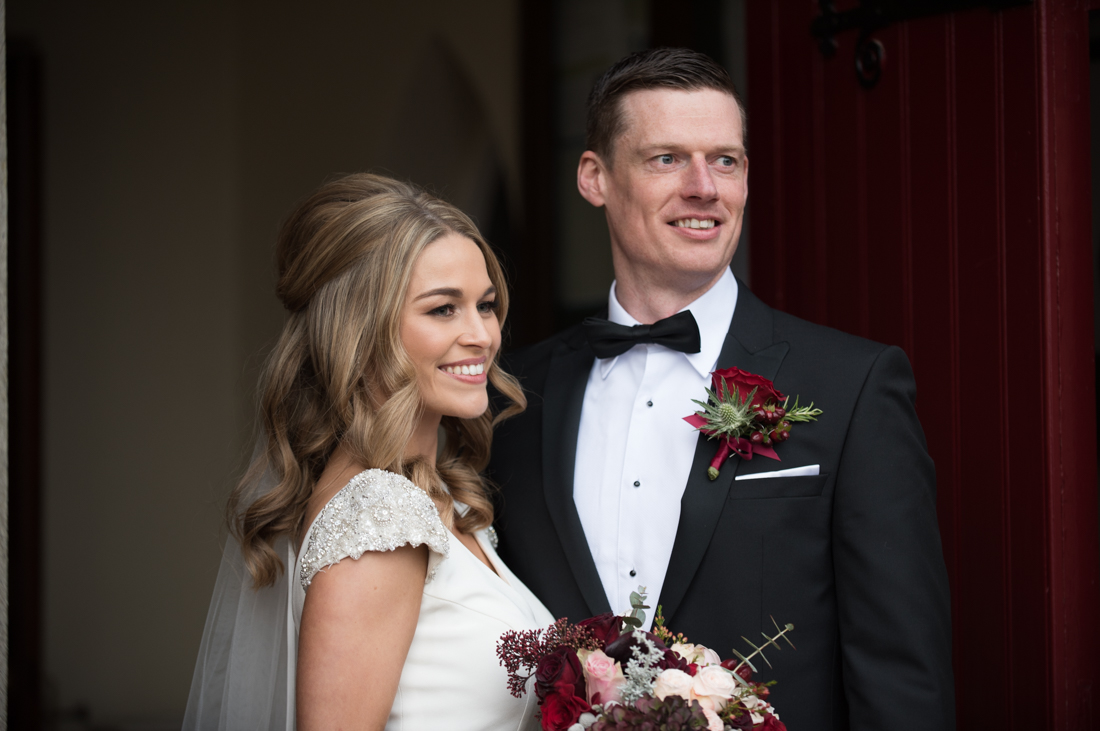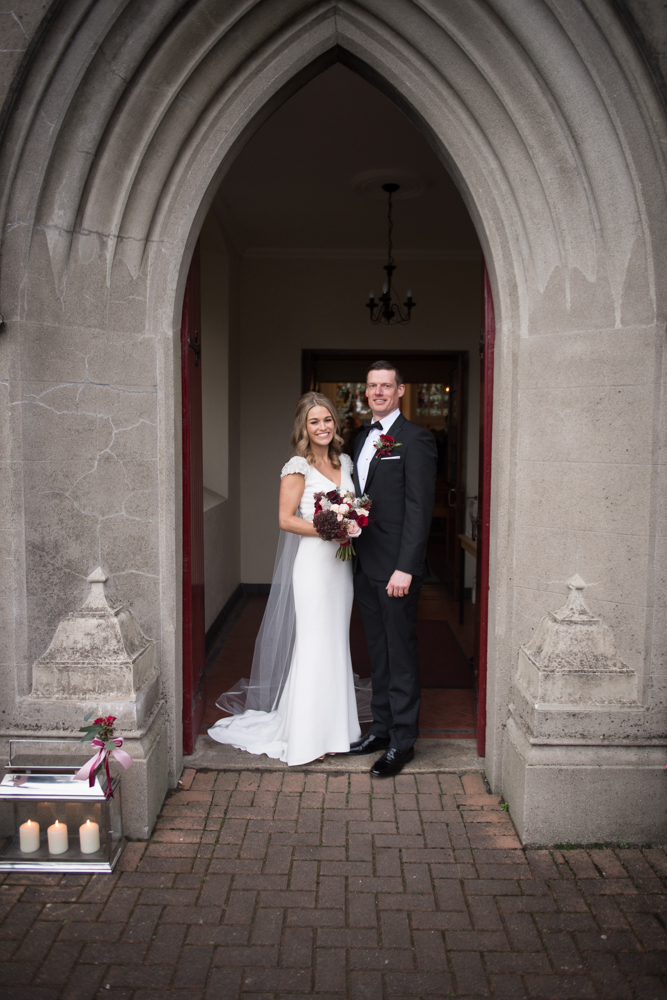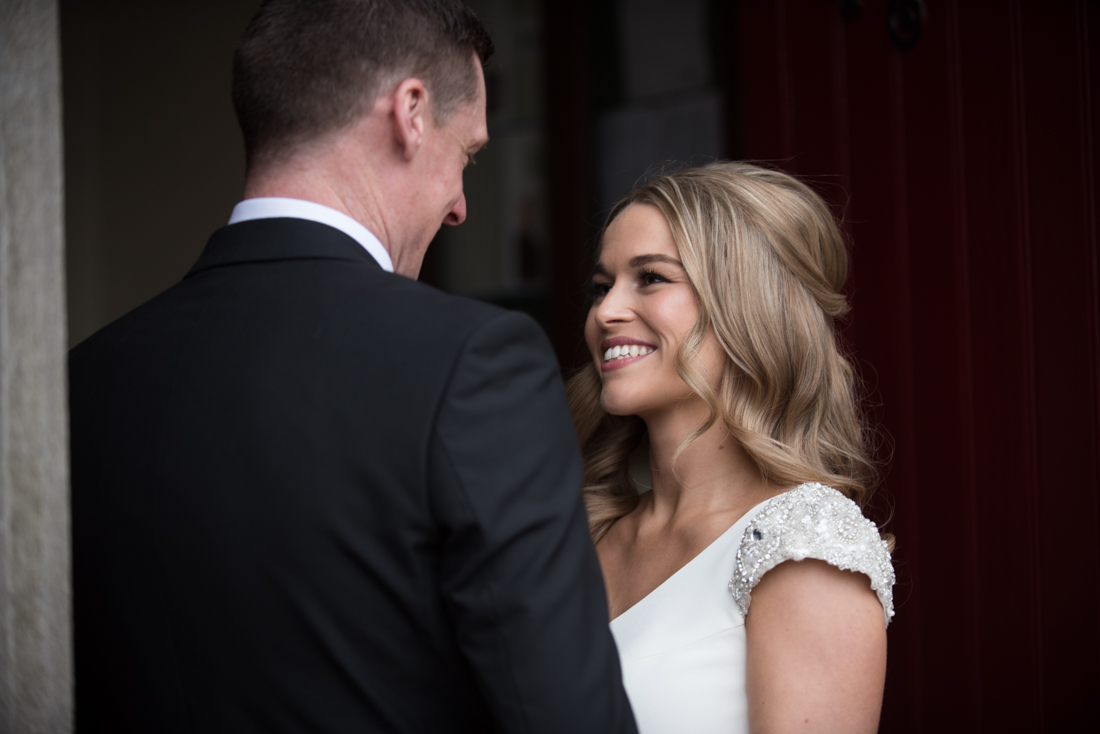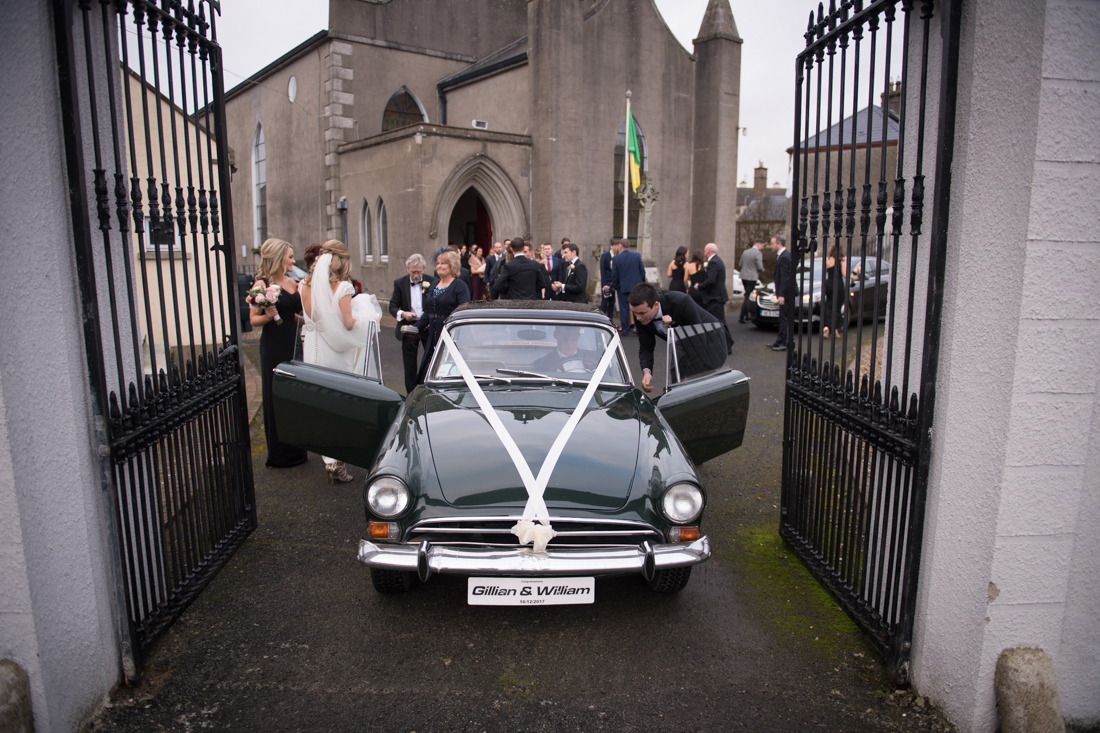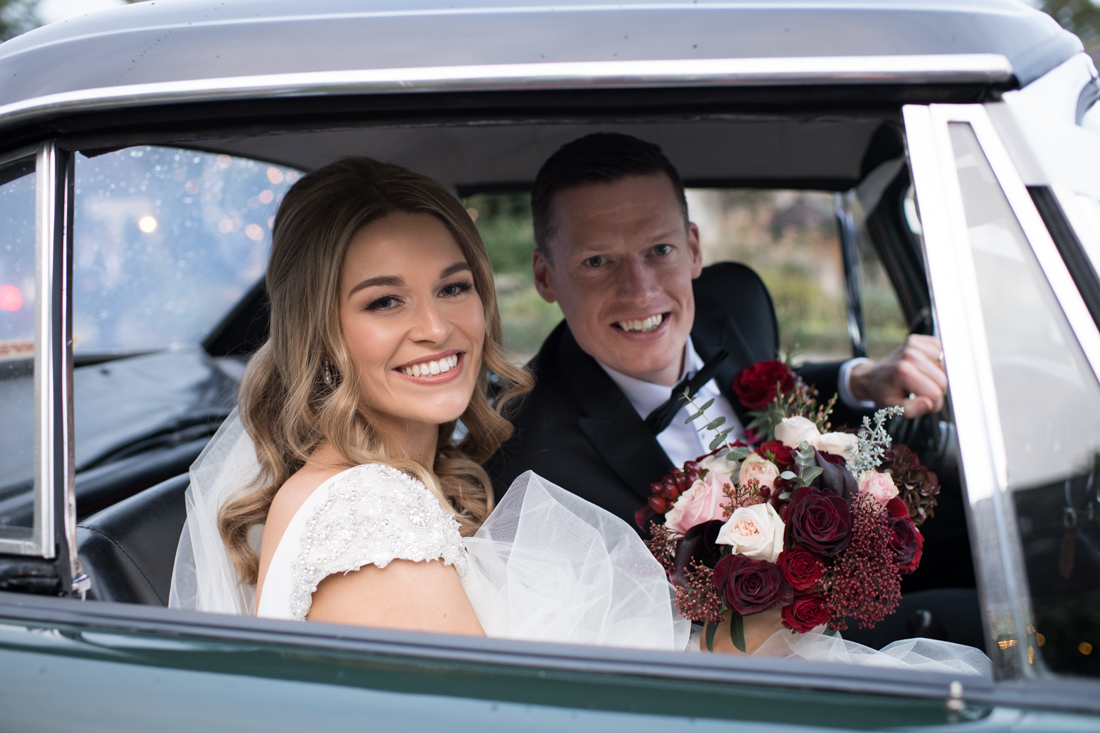 The Planning and Venue
We decided on a Christmas Wedding.   After viewing venues it became clear there was only one place for us.  Rathsallagh Country House was to be our weding venue and we knew with The Fennells we would have beautiful Rathsallagh House wedding photos.
It had everything we would possibly want from a wedding venue.  We got a great feeling from Rathsallagh and looking back we couldn't have been happier on the day. It was beyond our expectations. The Wedding planners Gillian, Catherine, Julie and Steven were so helpful throughout the year. No question was ever too big. They really were amazing.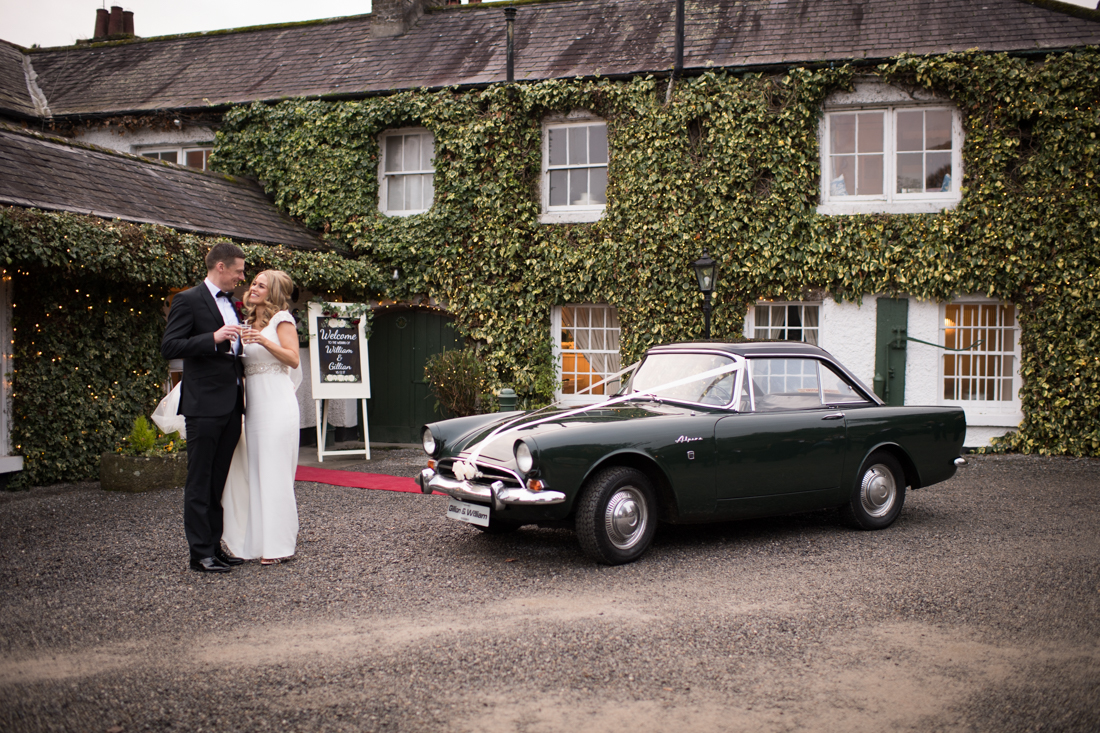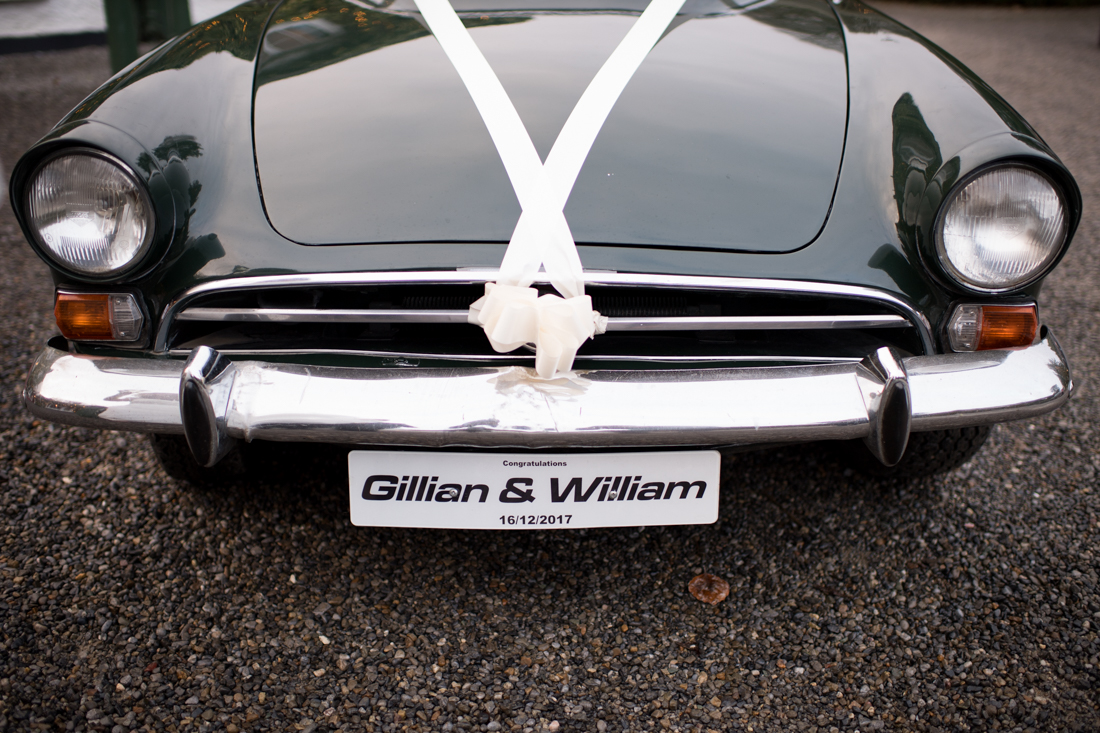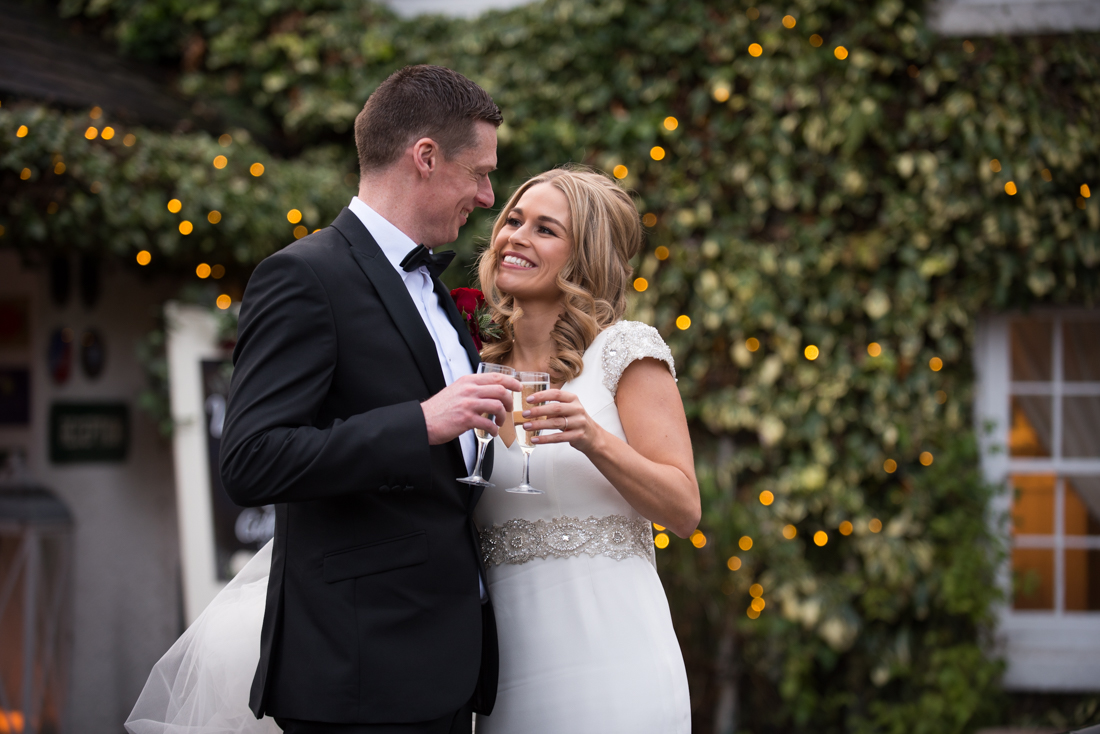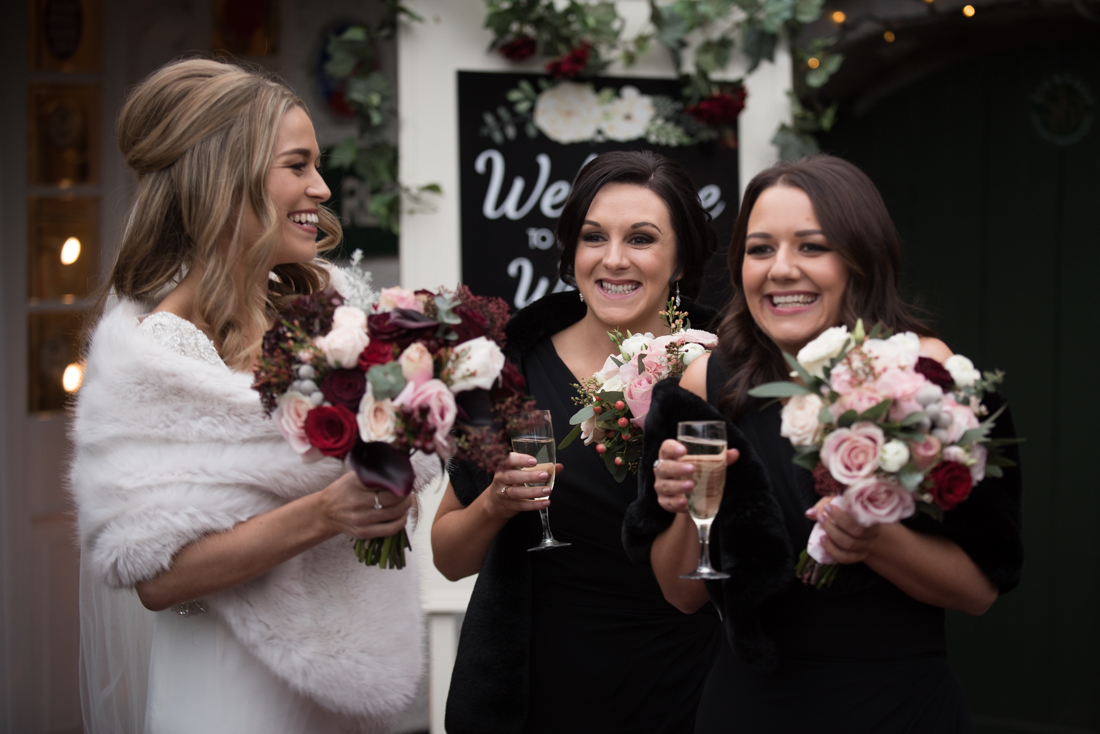 What our bridal party wore…
The boy's suits were from Richie Whealan' s Menswear Naas.
The Bridesmaids were from La Bella Sposa, Swords.  We went with a black, one shoulder dress. The girls looked so beautiful and the dresses were very elegant on the day. Our Bridal party were amazing. We are so lucky to have such amazing friends.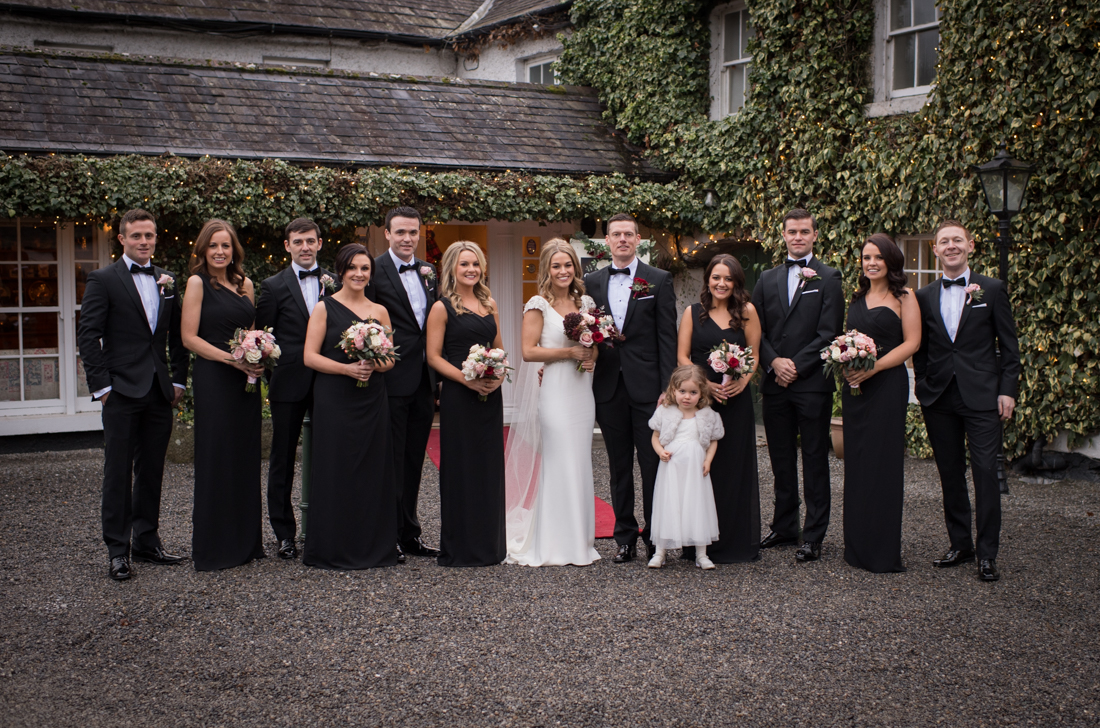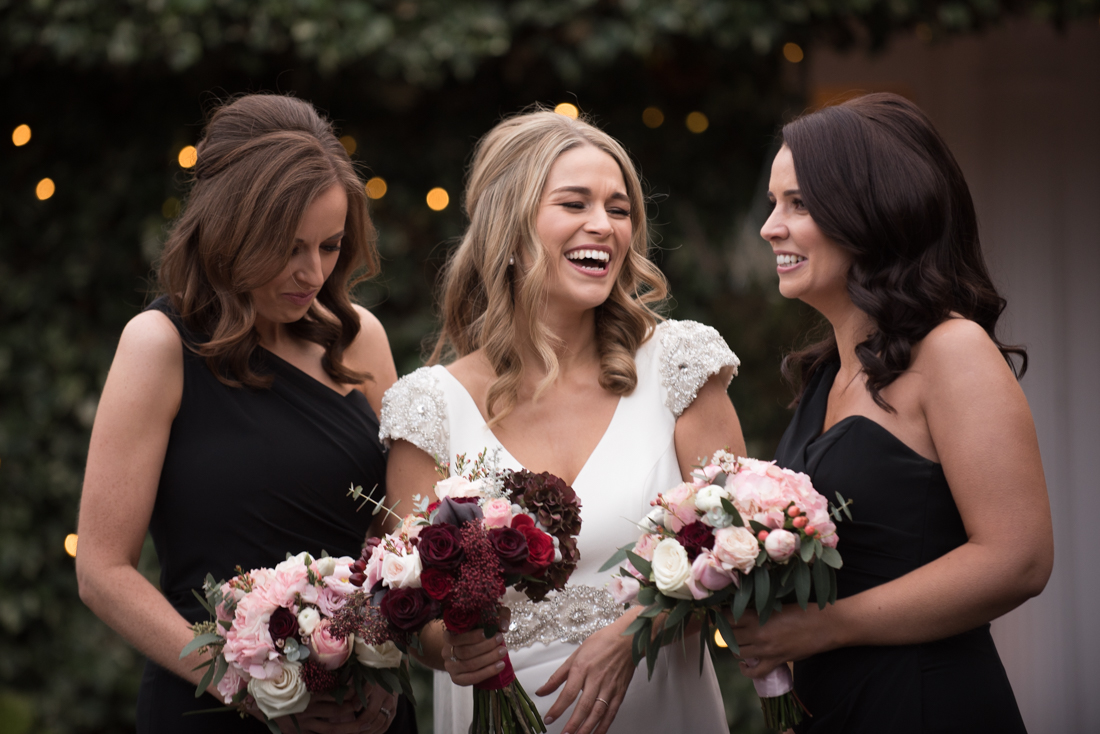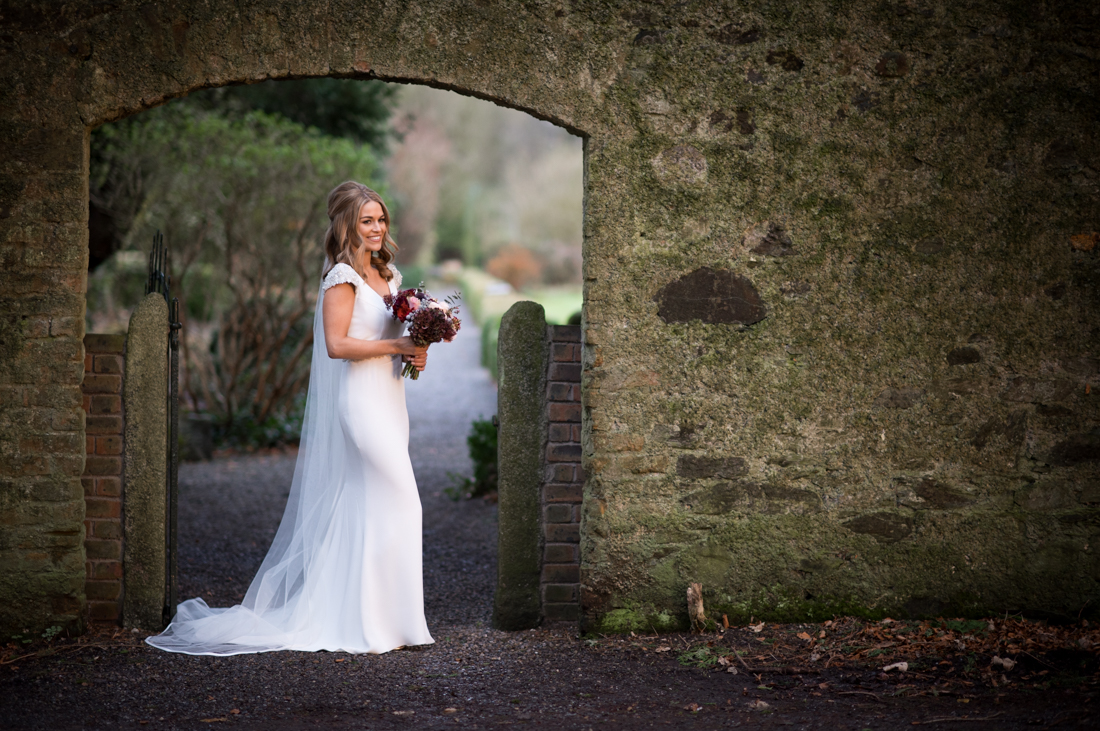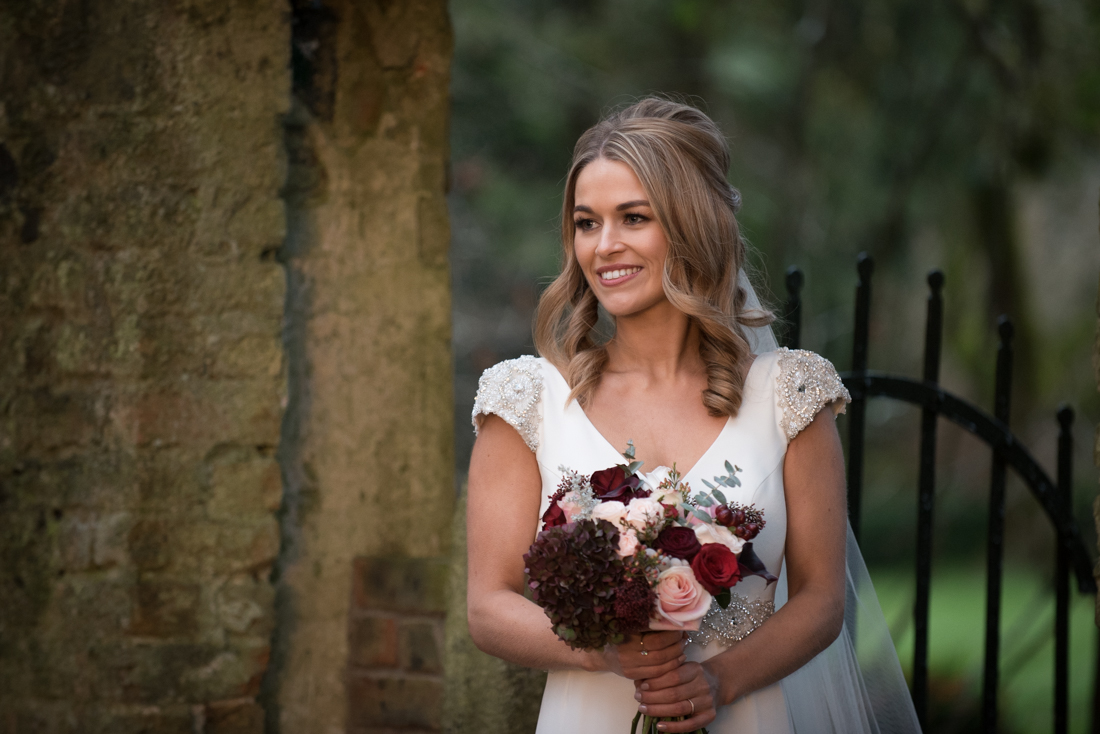 Hair was by by: Aisling Hamill & Make Up: Ailbhe Lynch
I cannot recommend these two ladies enough.  I don't know where to start! They really added to the atmosphere the morning of the wedding.  Aisling Hamill was my hair dresser on the day. She did my bridesmaids hair also. She is extremely talented and her ideas are amazing.   Ailbhe Lynch did our make up. She is super woman. So talented also. Our makeup didn't even need to be touched up as the day went by.
Both ladies are so talented and fun, a winning combination, every brides dream both in planning and on the day.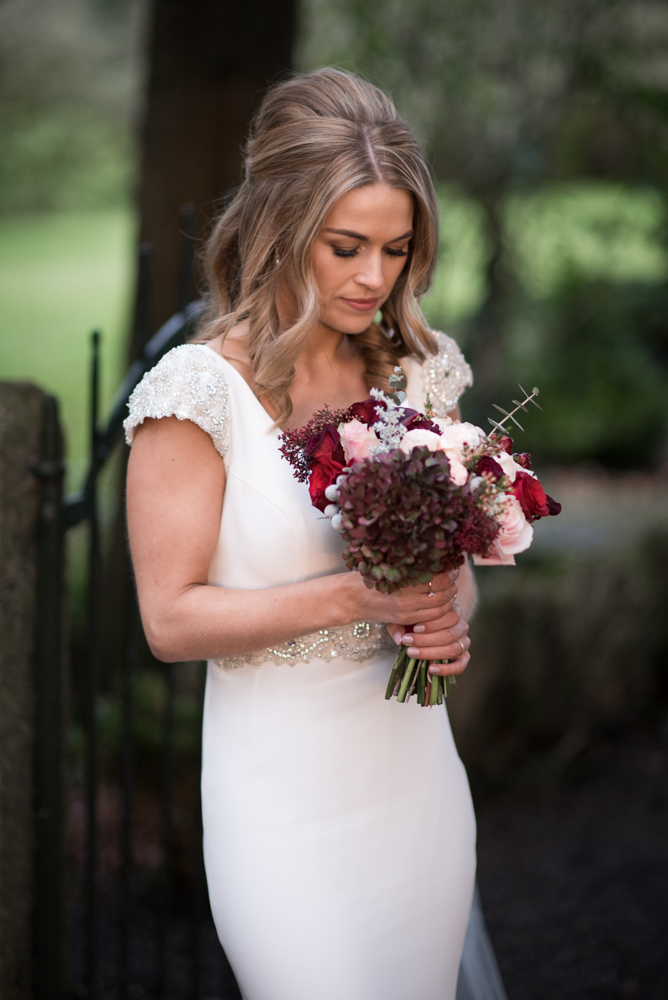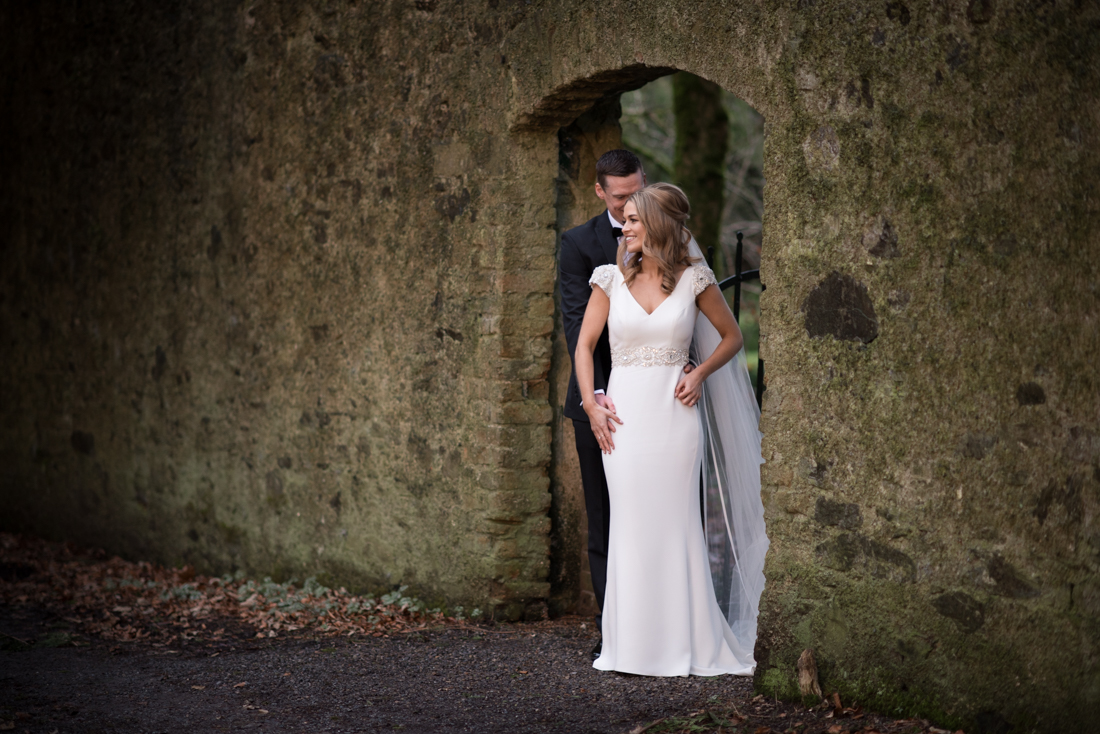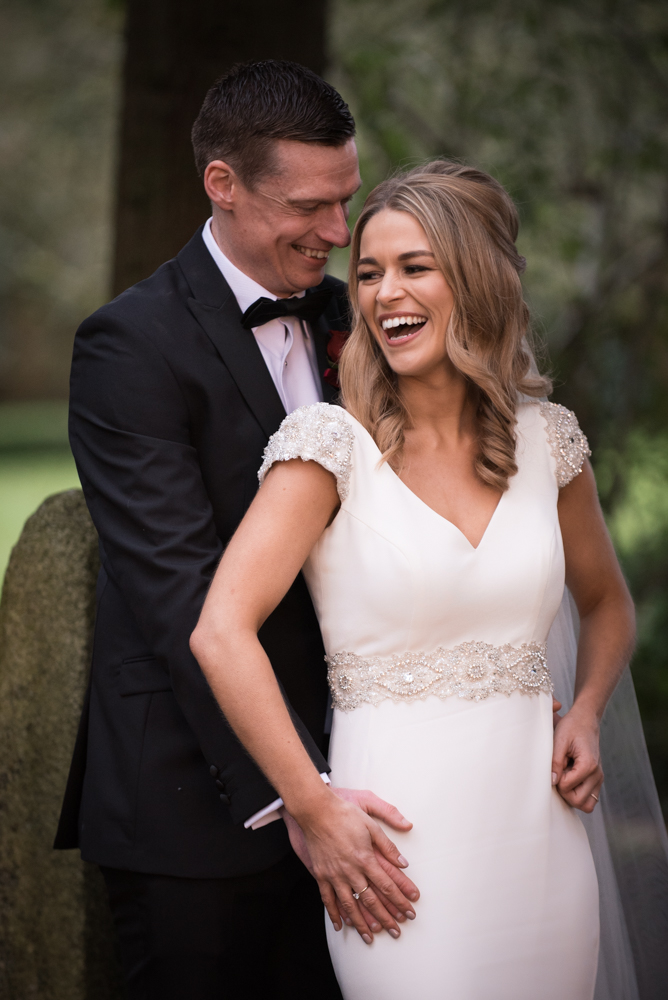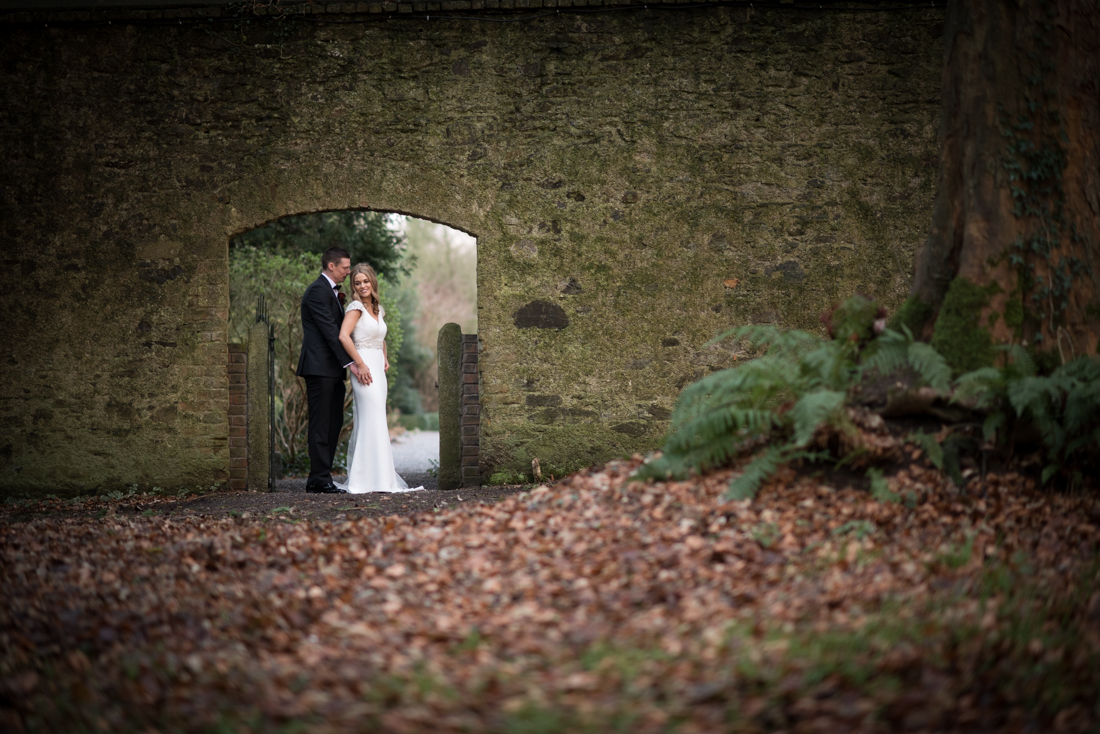 How did you choose your wedding photographers?
We met Mark and Fiona Fennell and we were immediately taken by their work but also by their enthusiasm. They love what they do and this was clear from the very start.  They became part of our day, they giggled with us, put my family at ease and we never once felt hurried or rushed. We also never felt like we missed out on any part of our day.  Their enthusiasm for the photographs was contagious. Both us and our bridal party loved working with them both.  The motto of our bridal party became "We love the Fennells , We do!"  They are just brilliant people aswell as wedding photographers.
After the day has passed, the photographs are all you have left. To Will and I the photographer was an extremely important decision.  We are so grateful we got to work with this talented twosome. Thank you for the memories.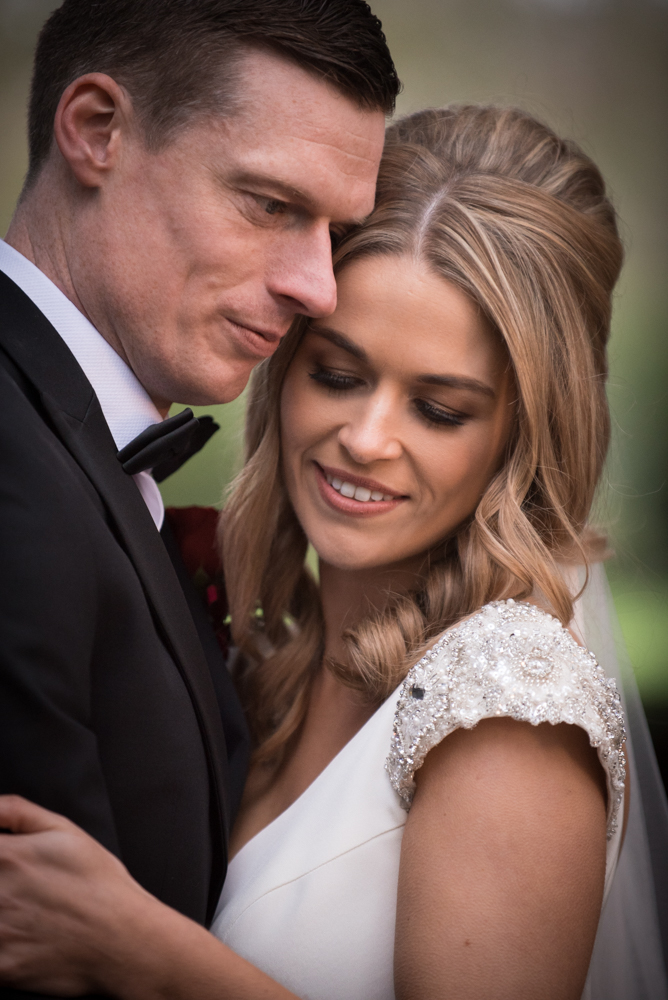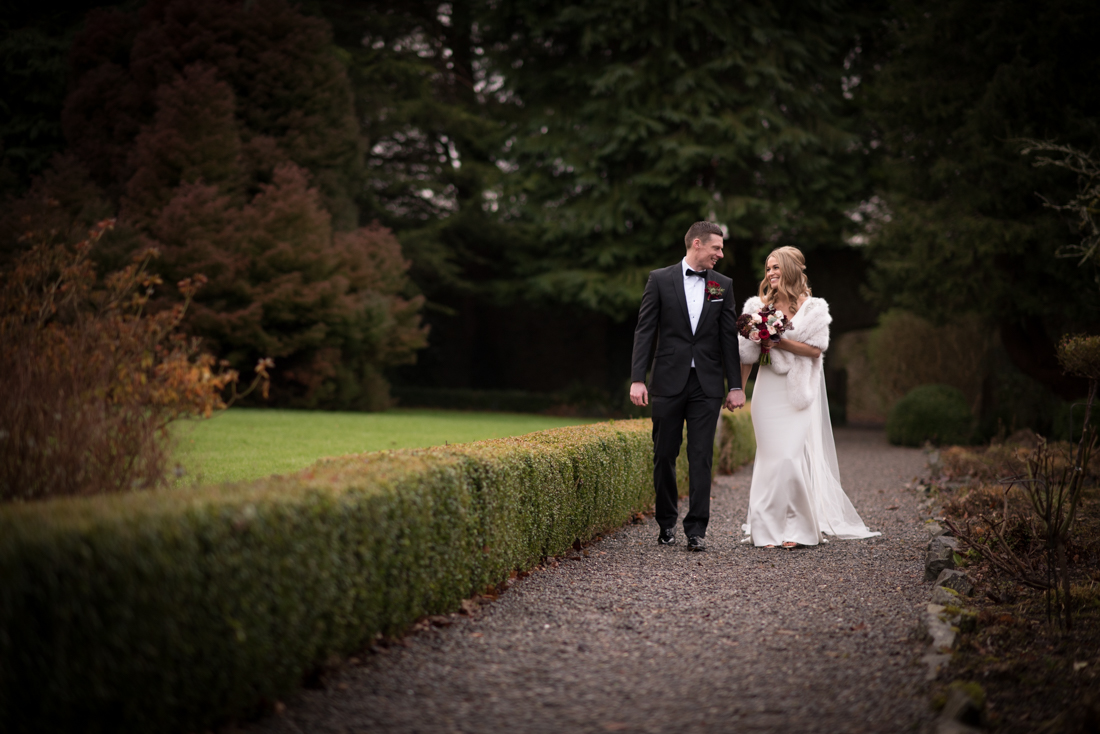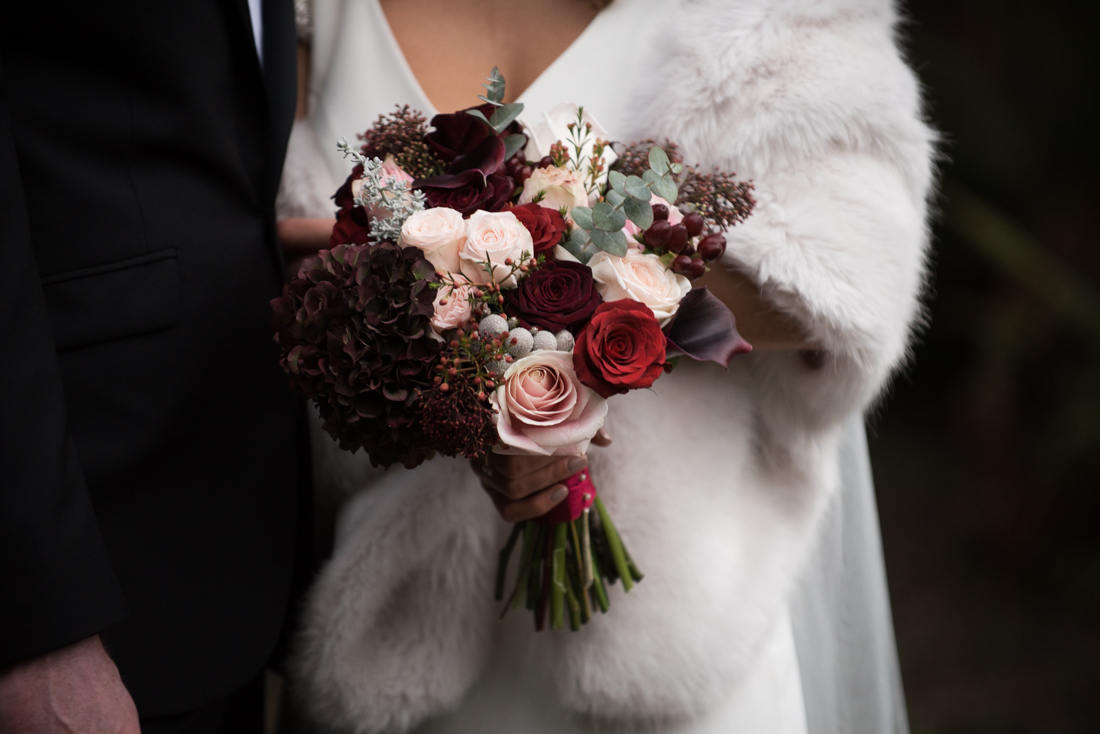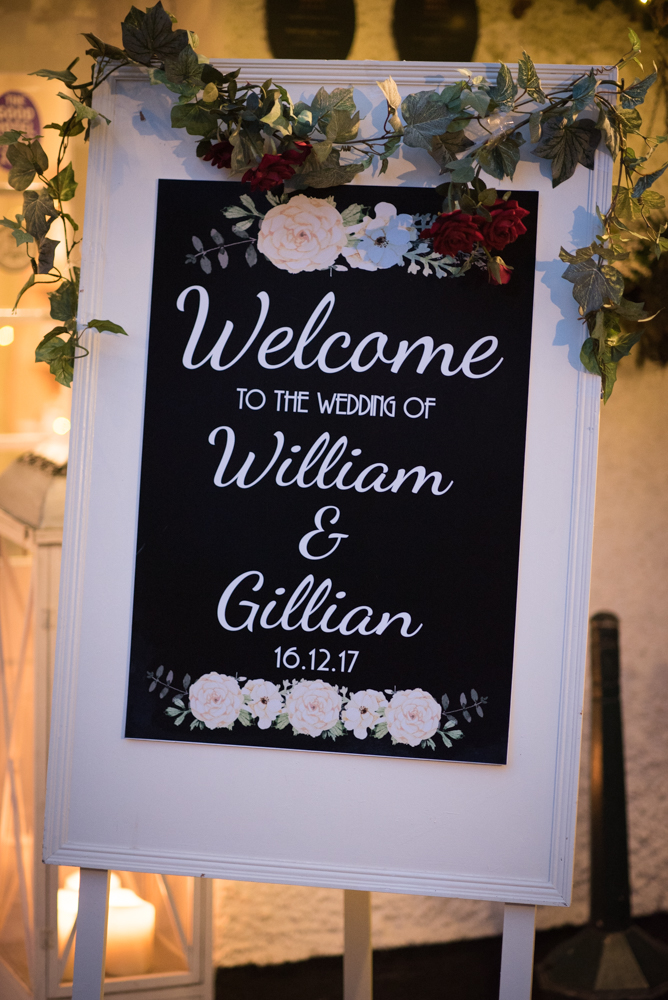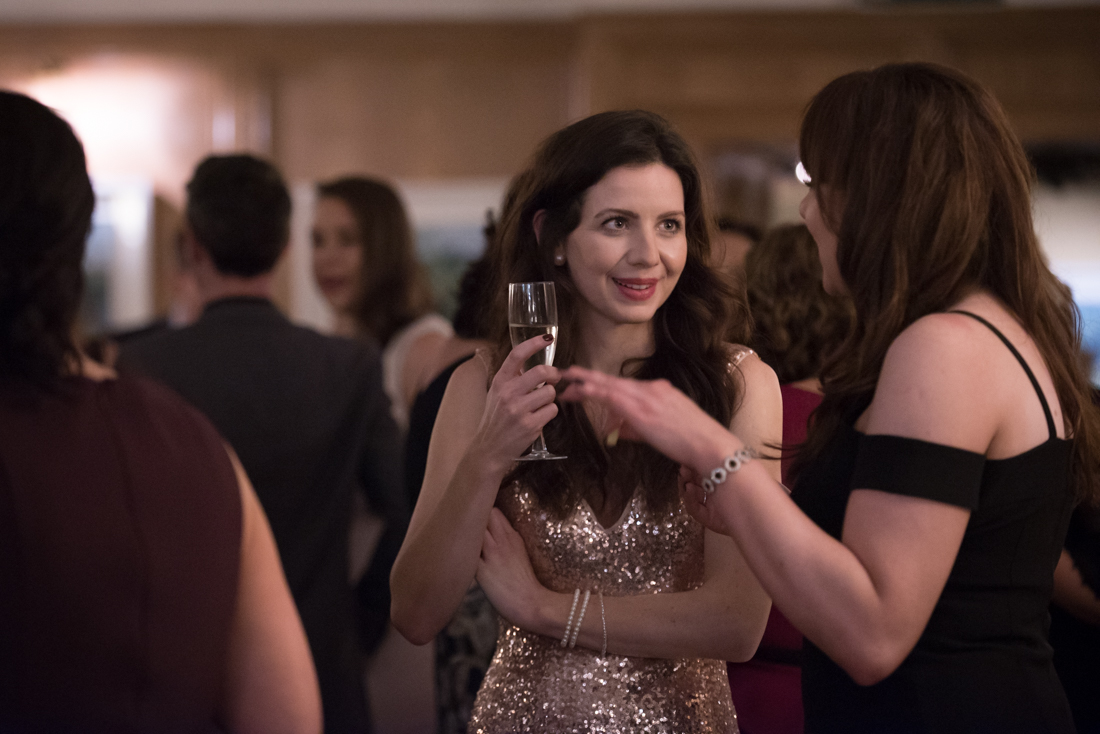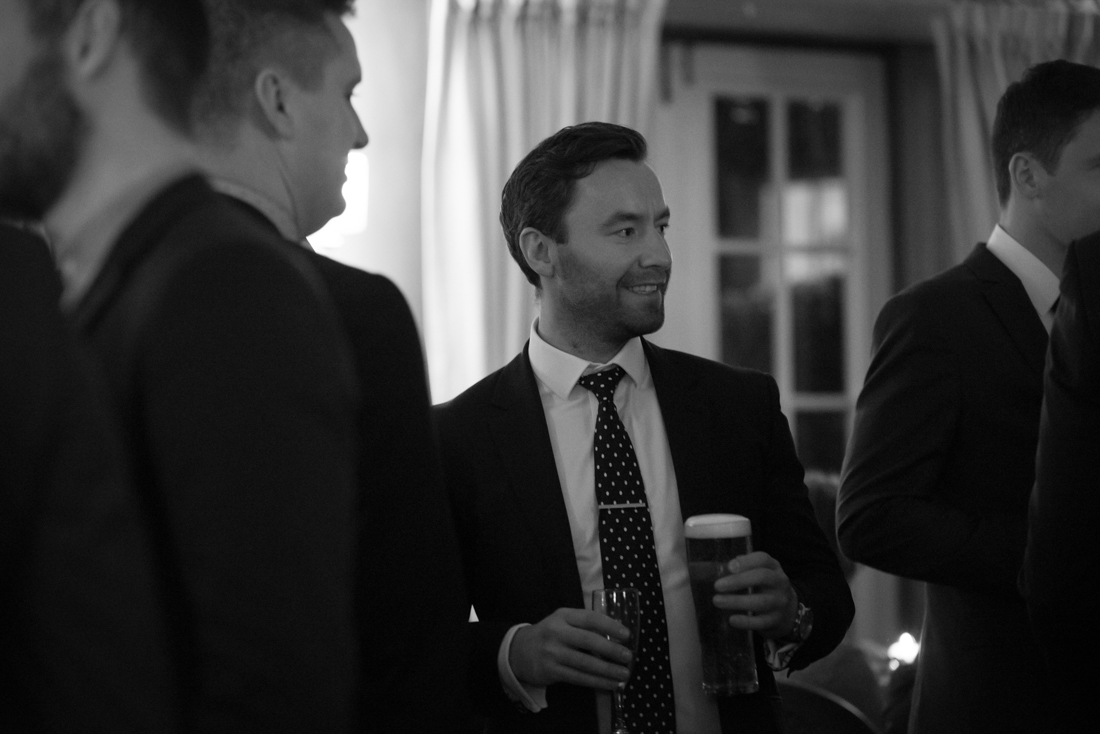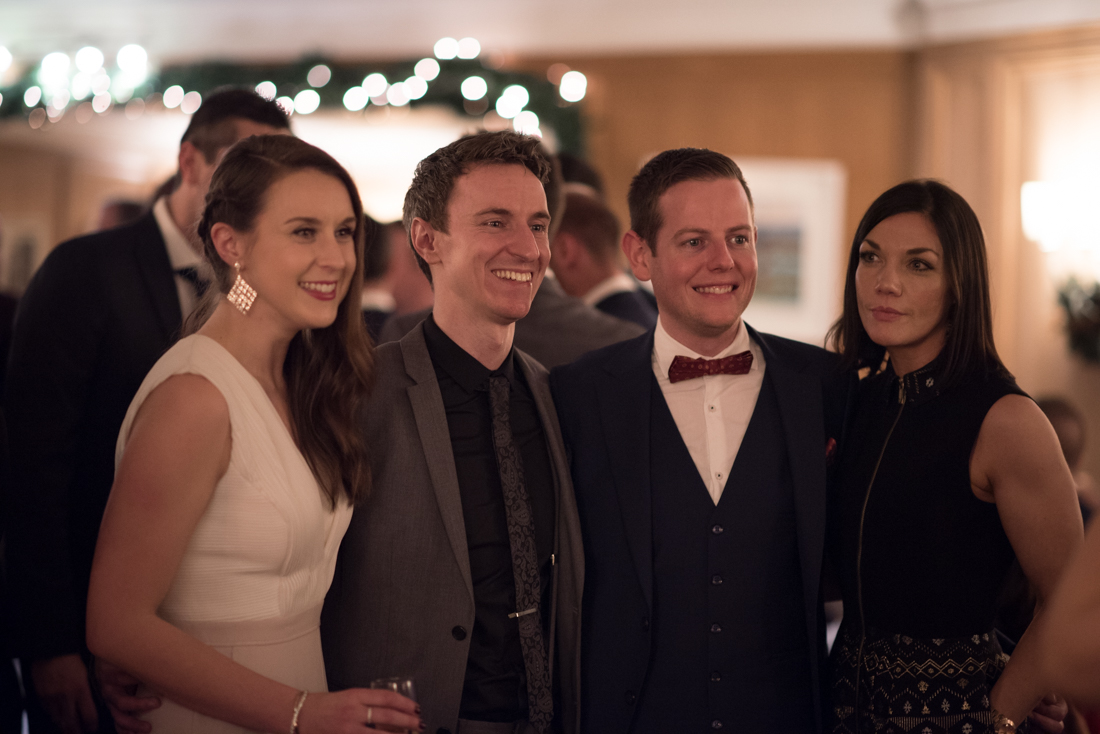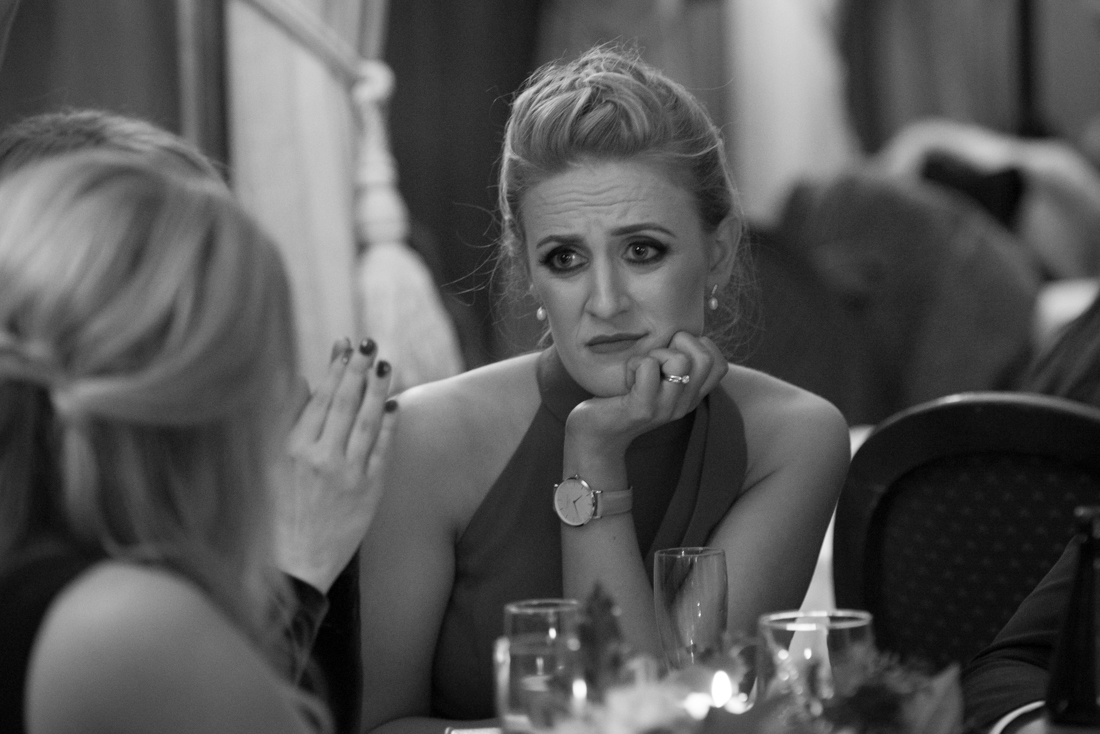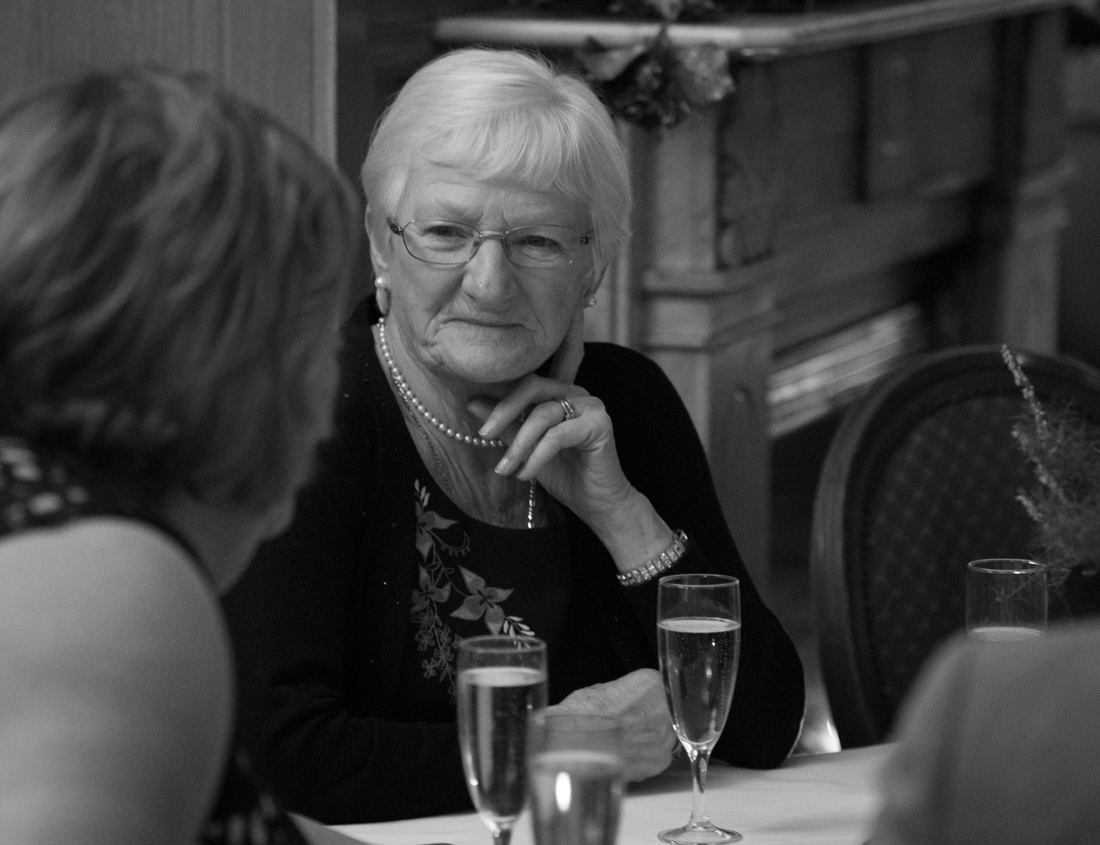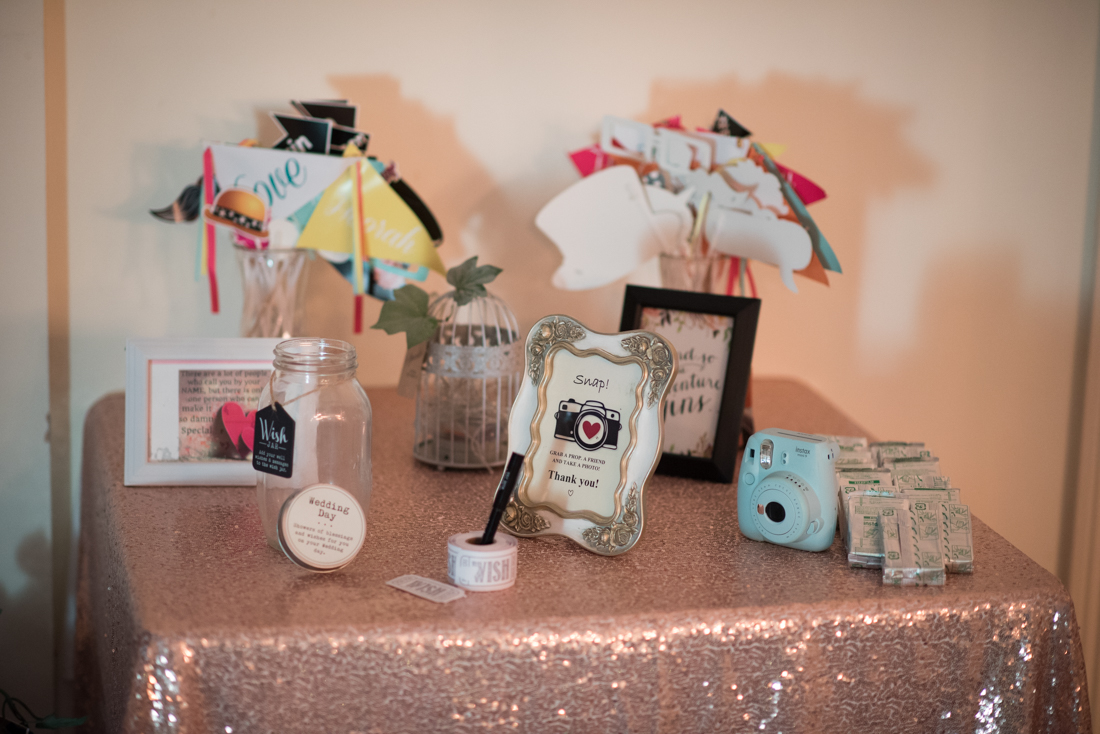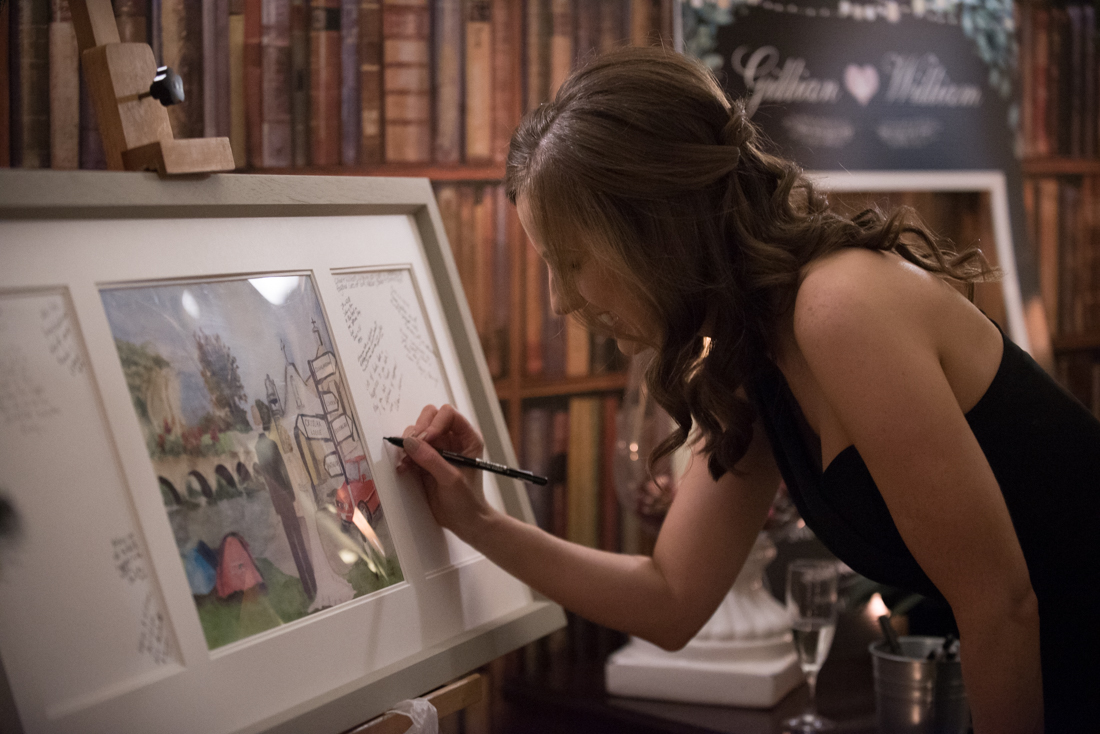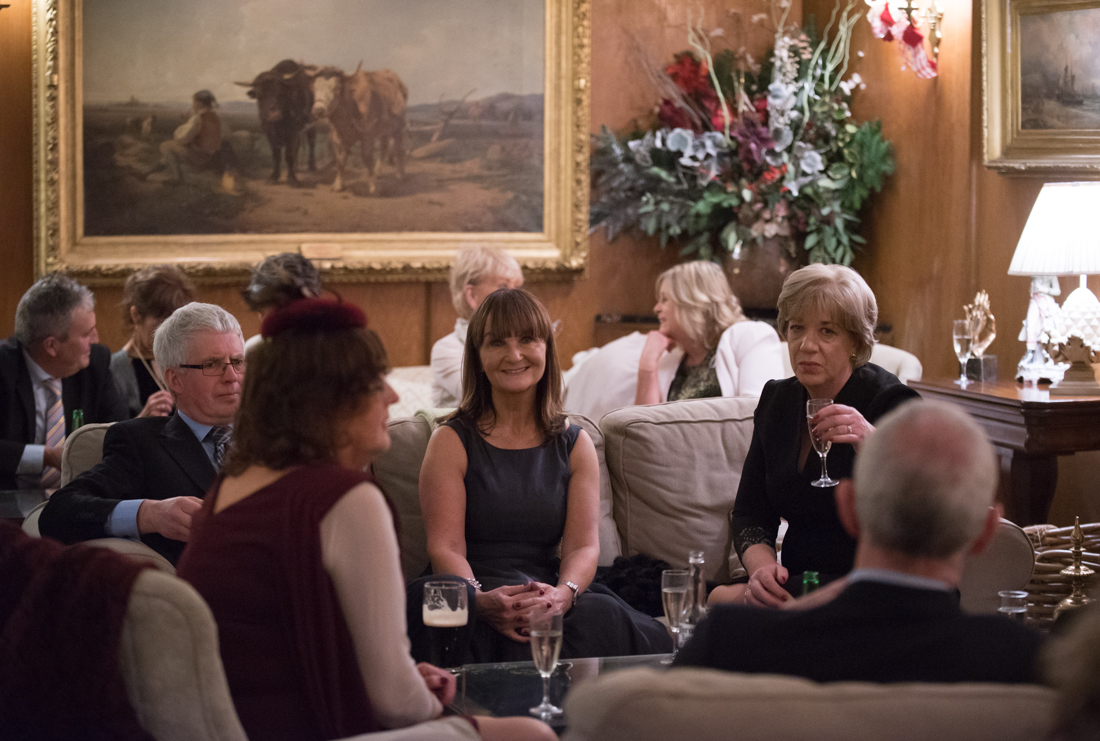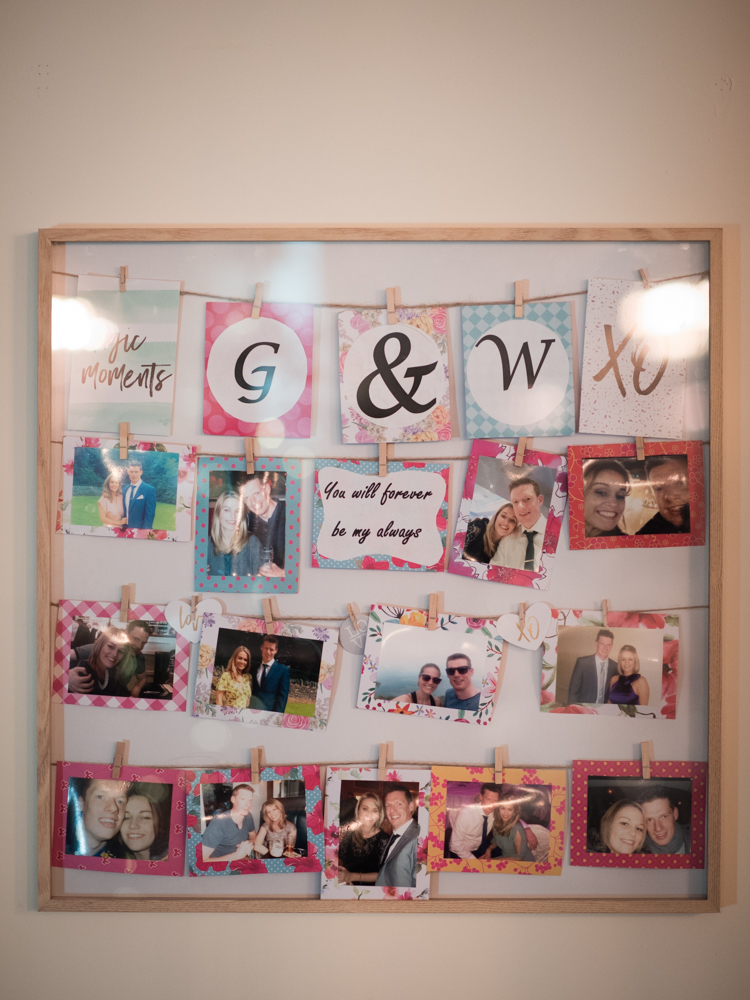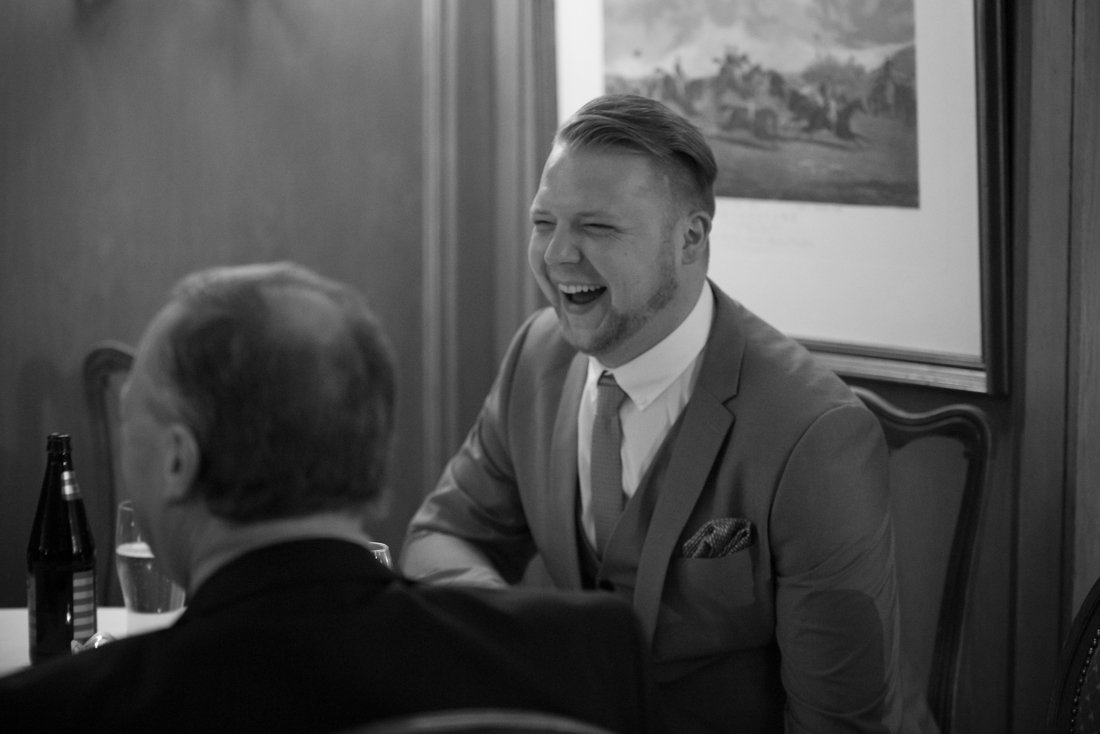 Wedding Colours/Theme:
We worked with Country House Flowers from Celbridge. The flowers blew me away on the day. Claire Brazil helped me plan the colours for the day. She also decorated the tables in the venue. She is so creative. I loved her style. As we had black suits and black dresses, the flowers really needed to pop. She was really a pleasure to work with. I called her my wedding planner as she really helped me throughout the year. It was perfect for our Rathsallagh House wedding theme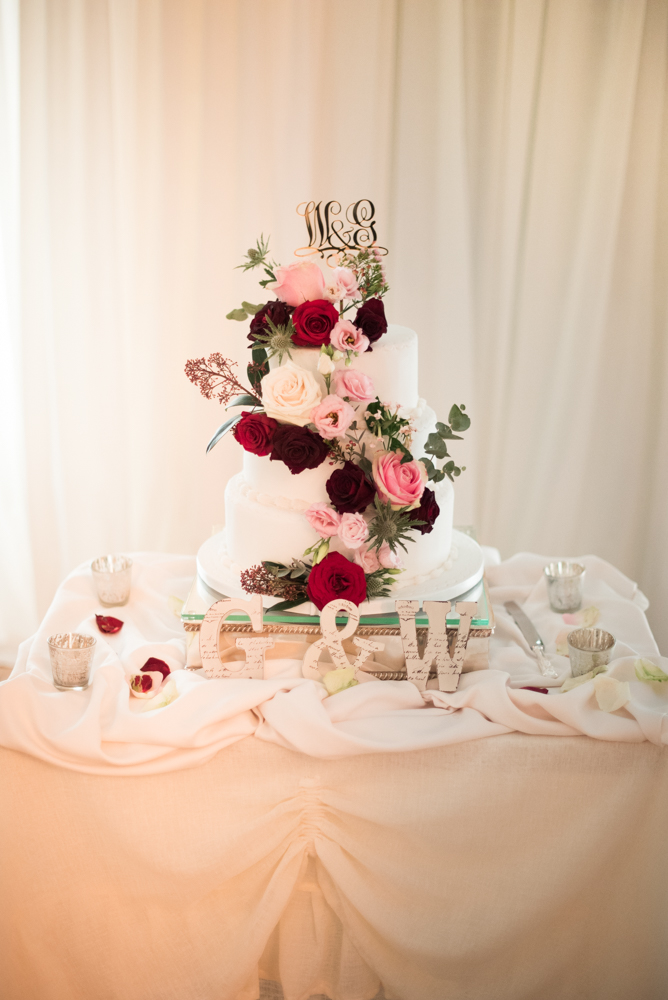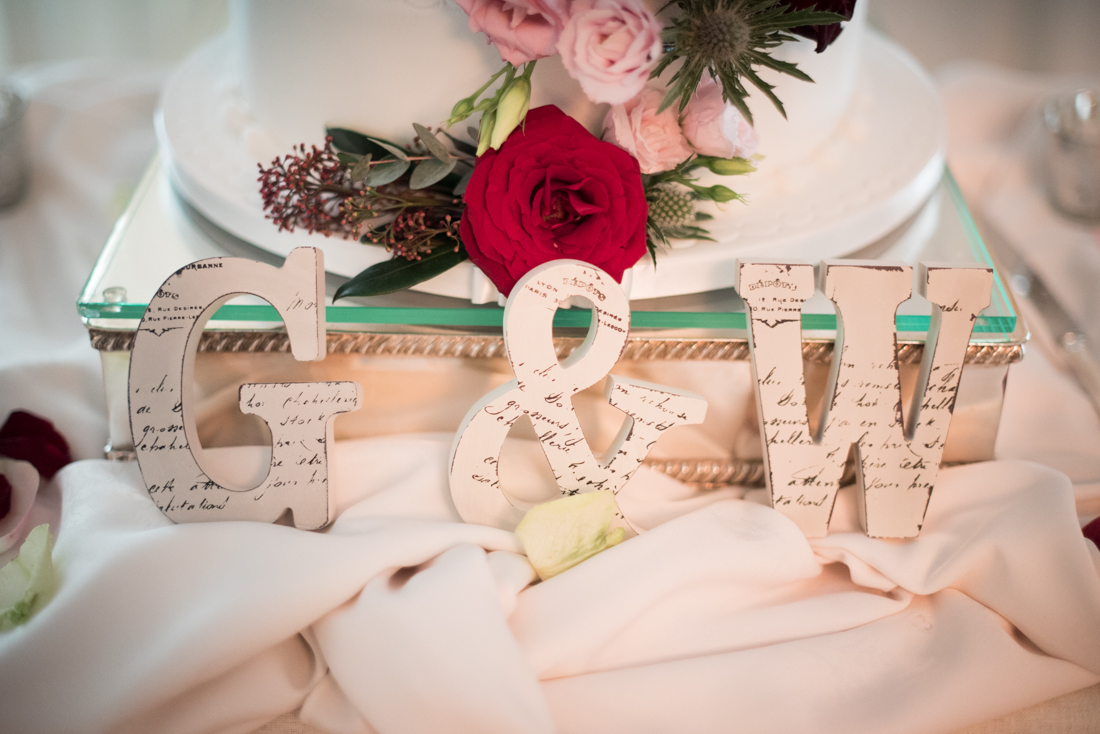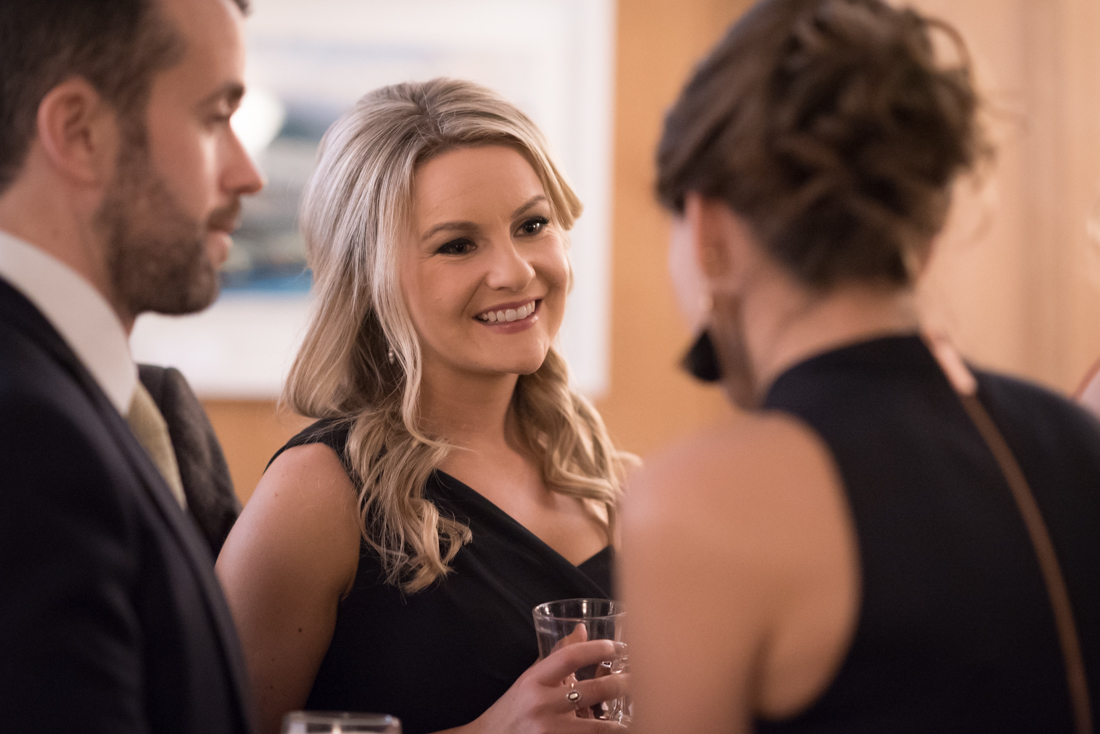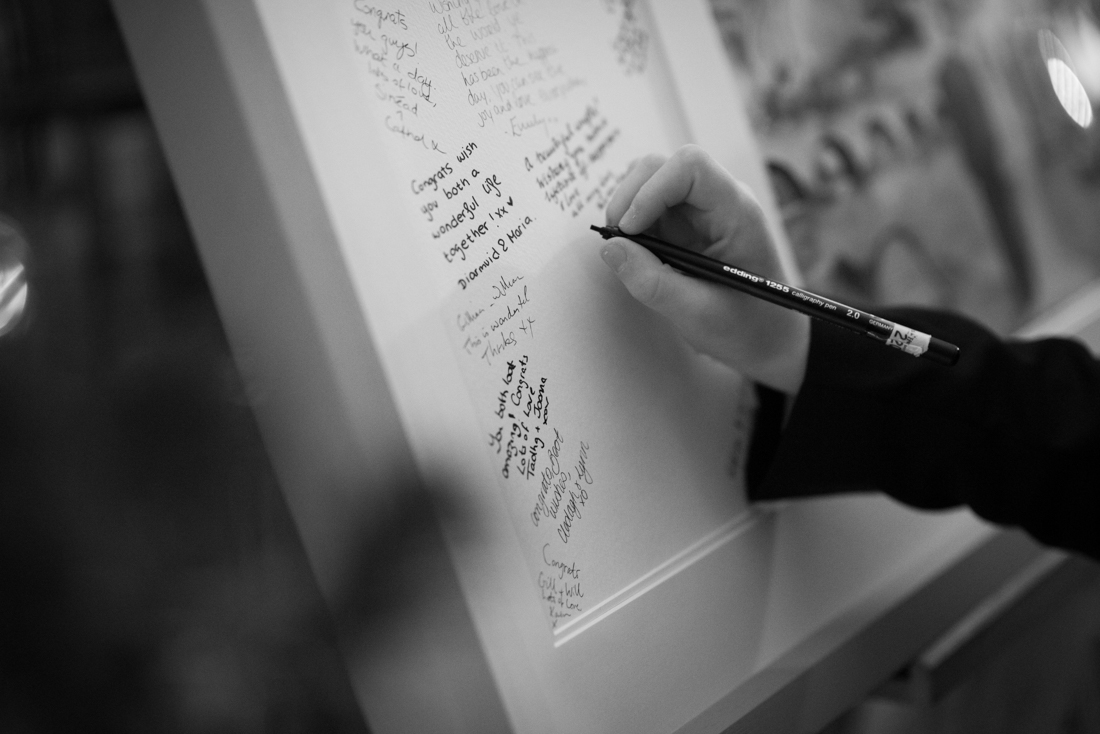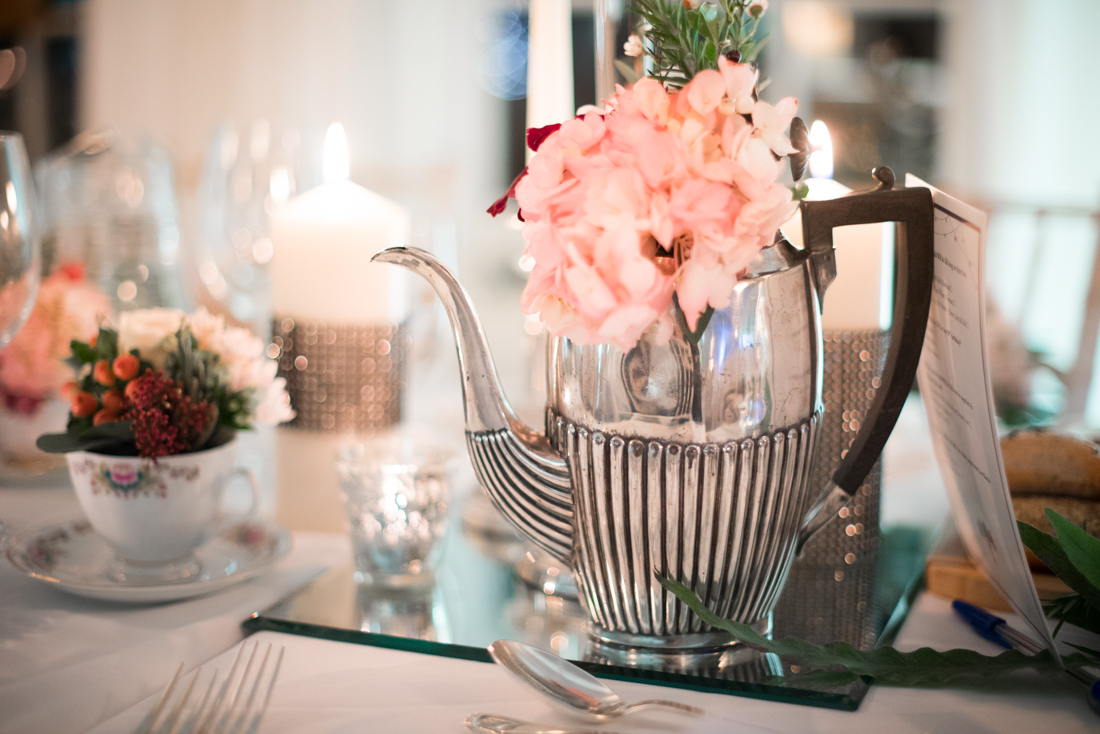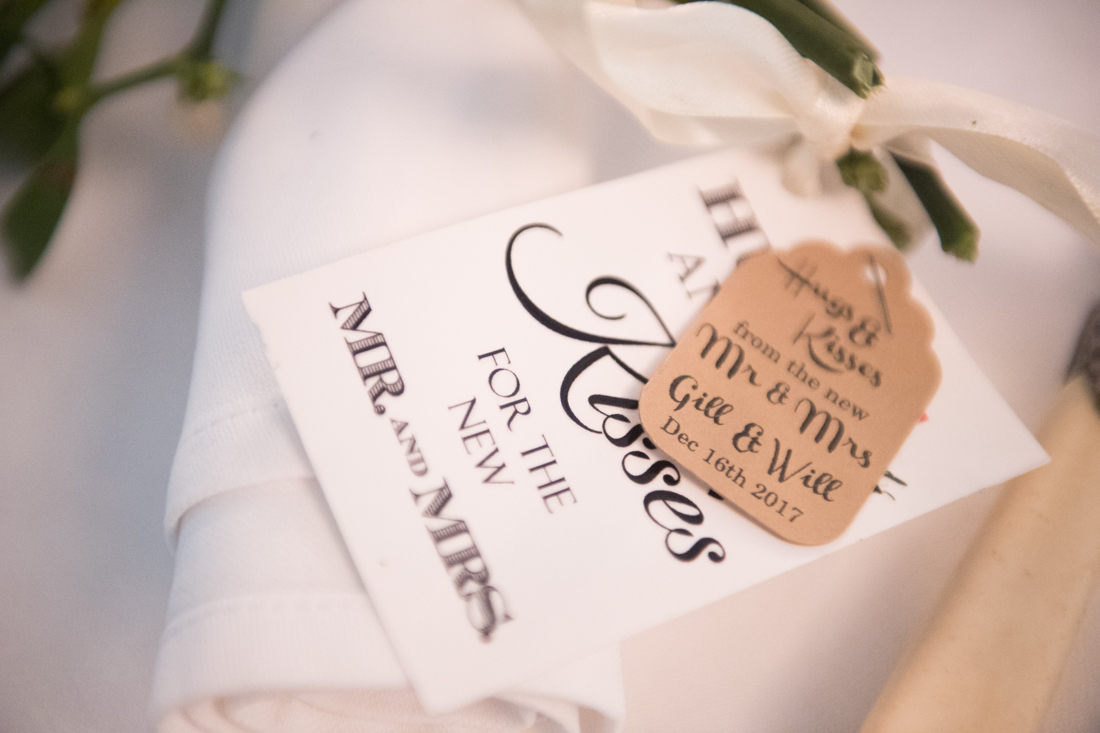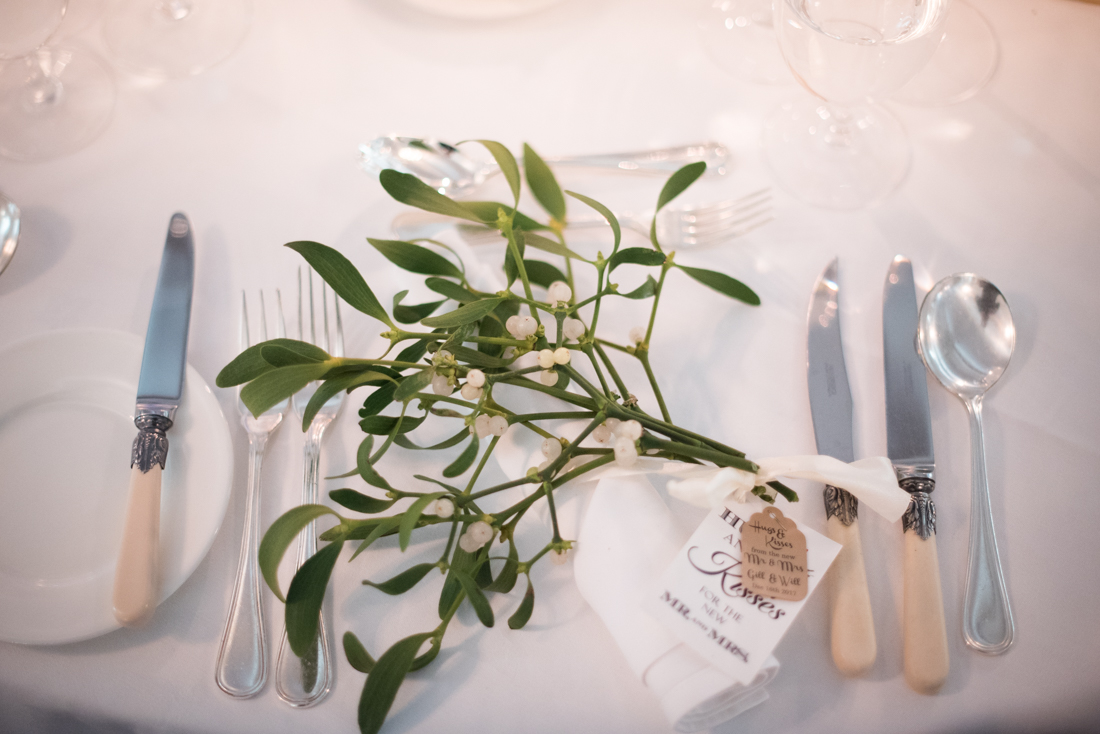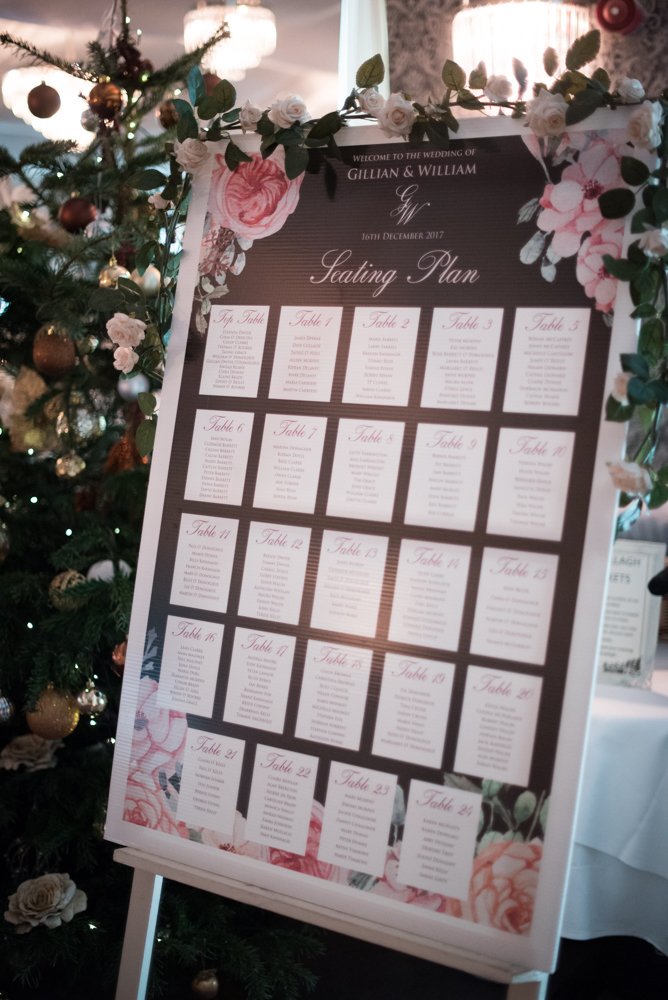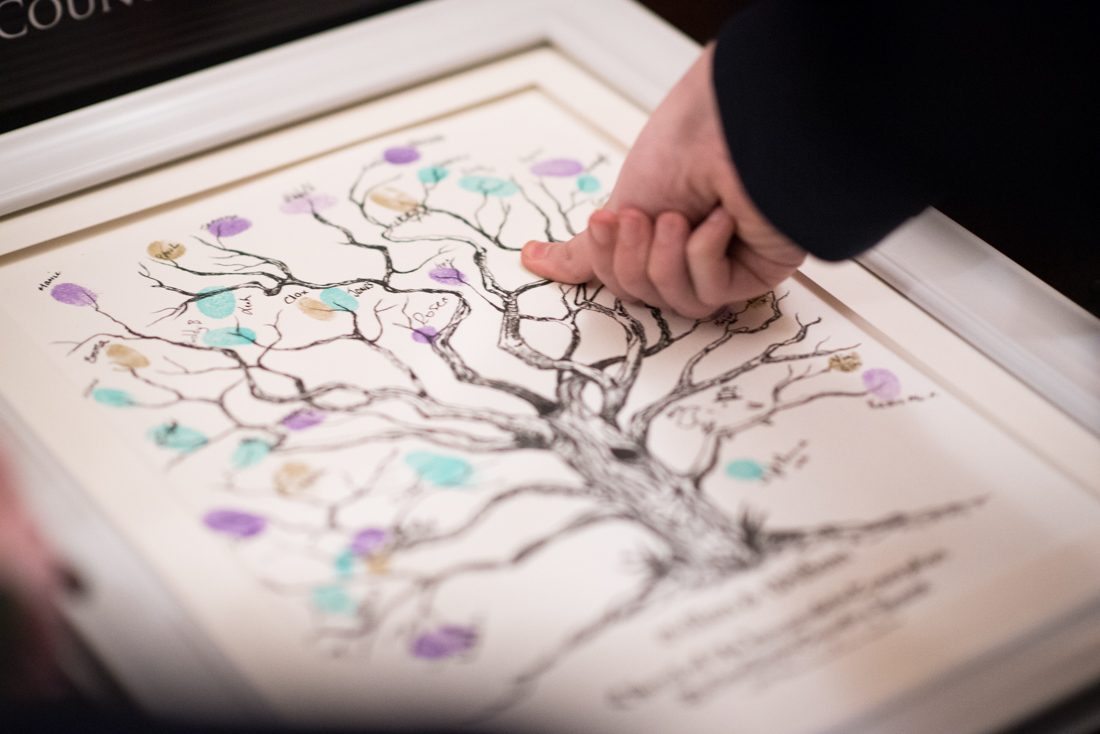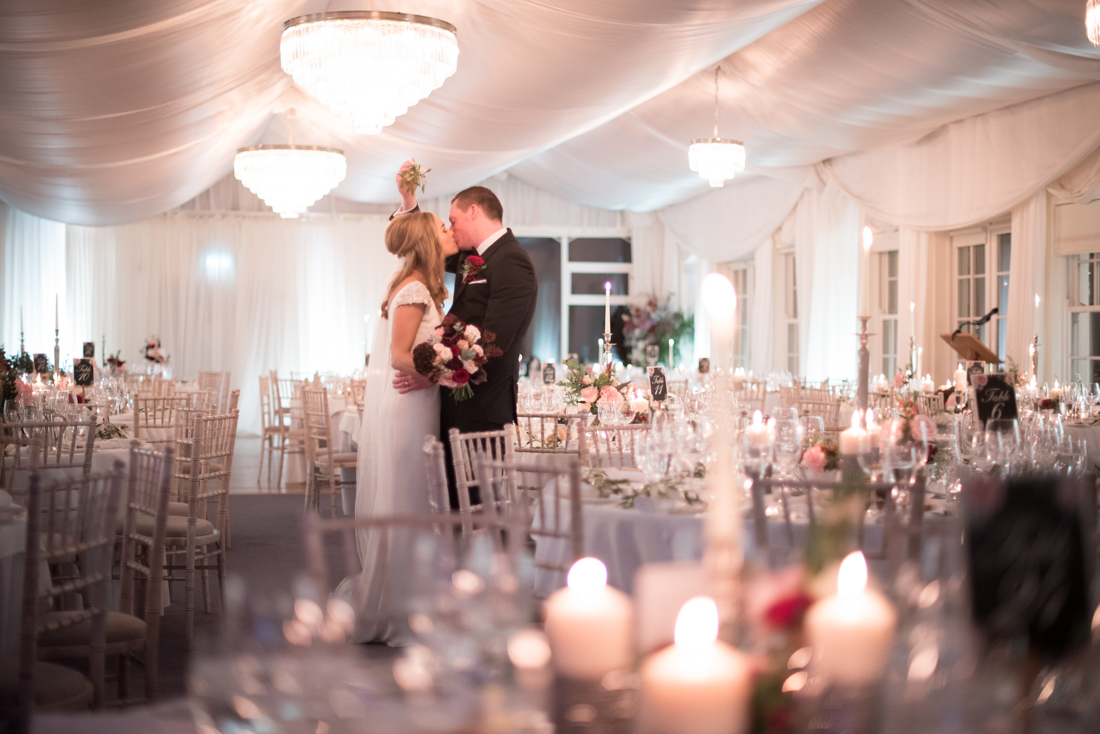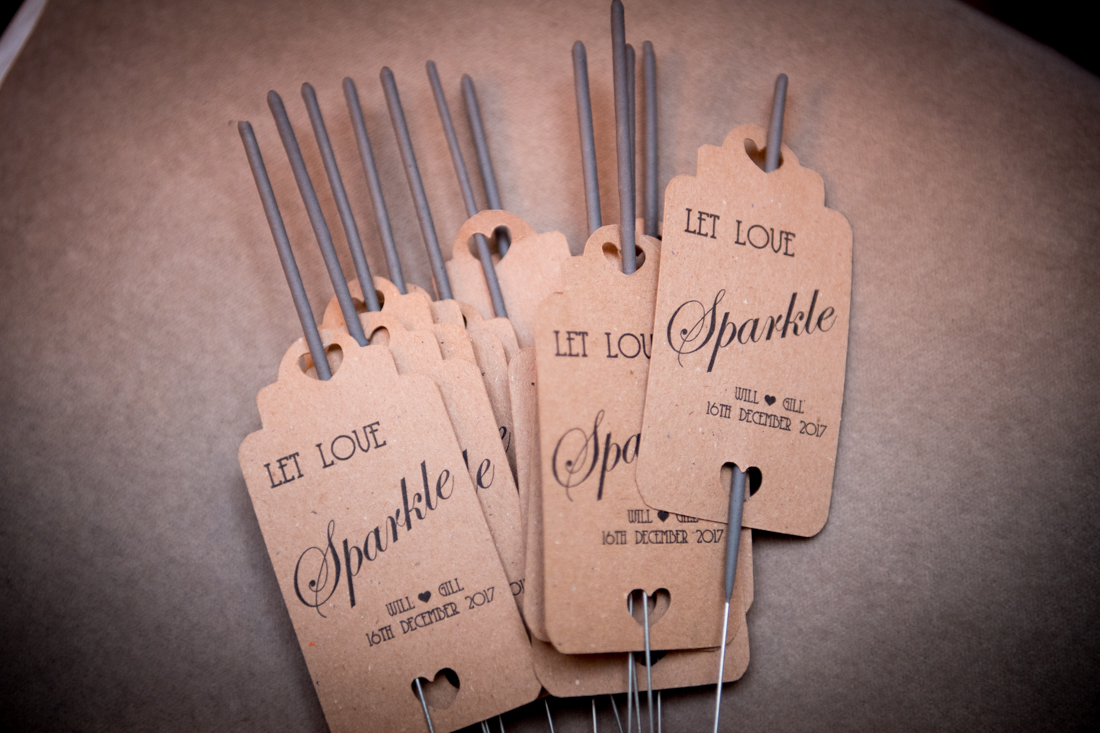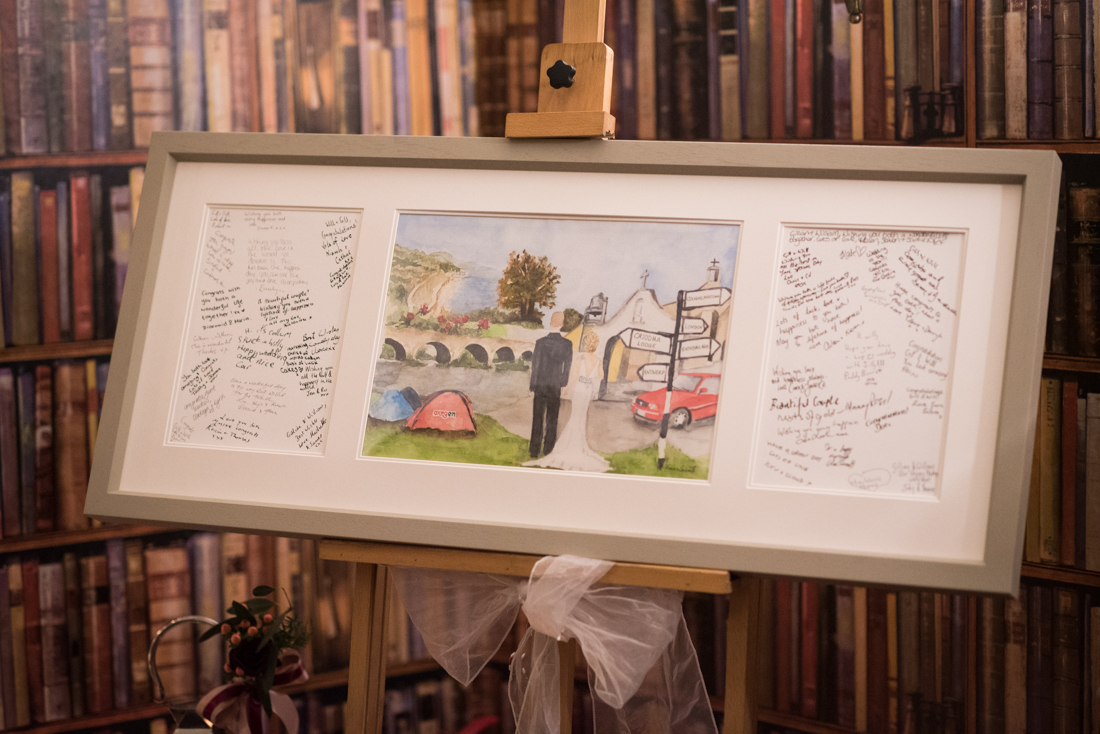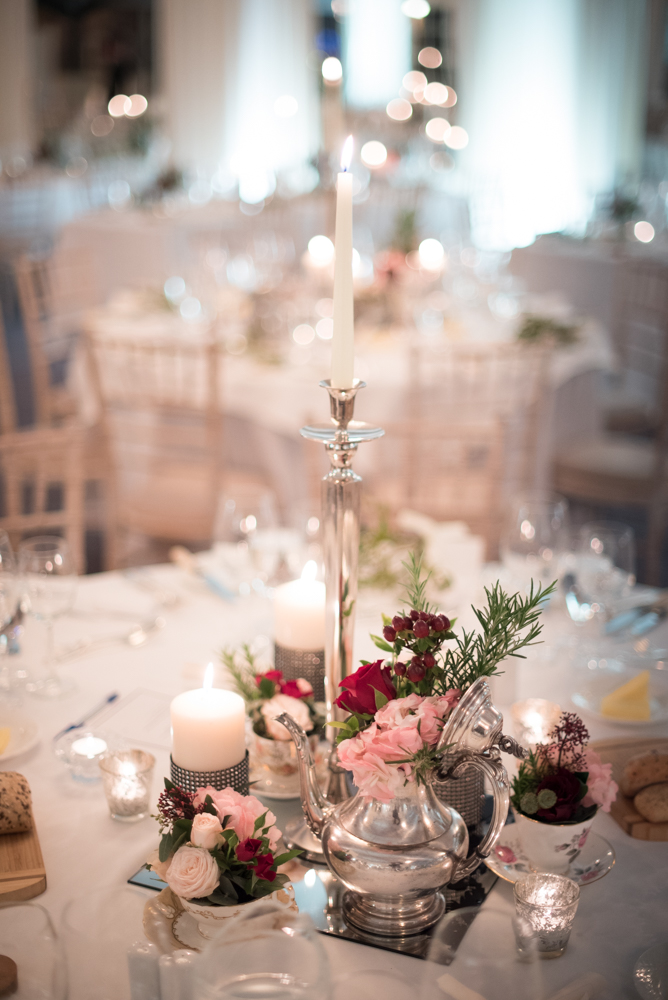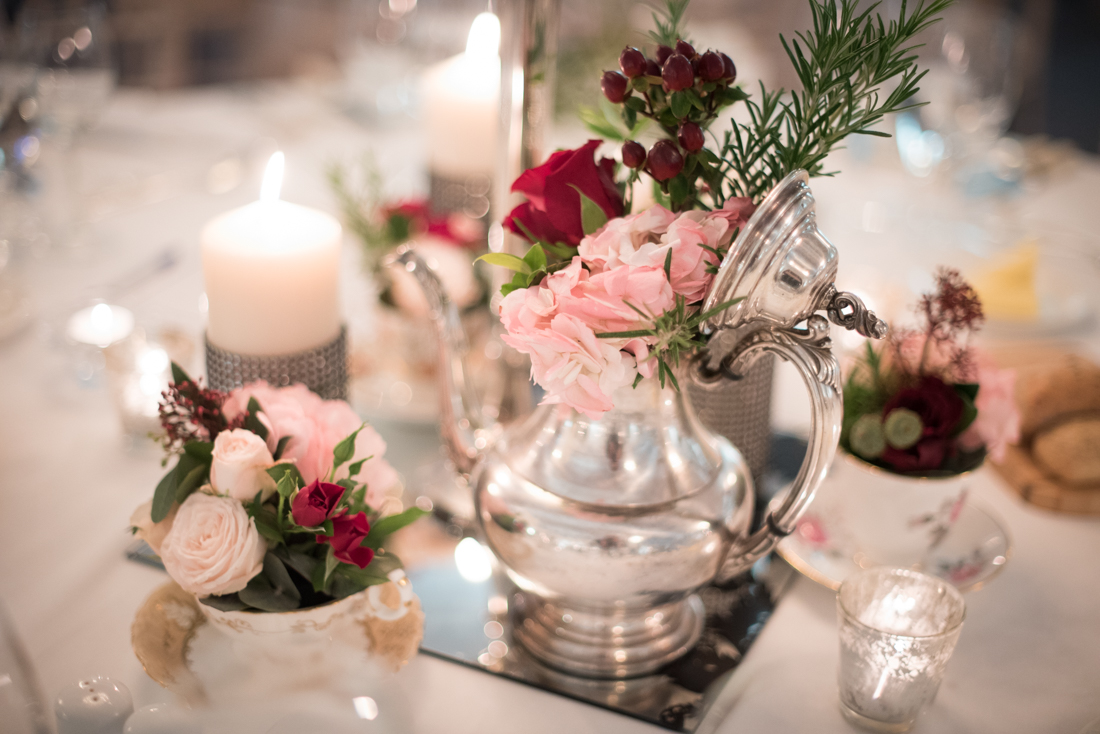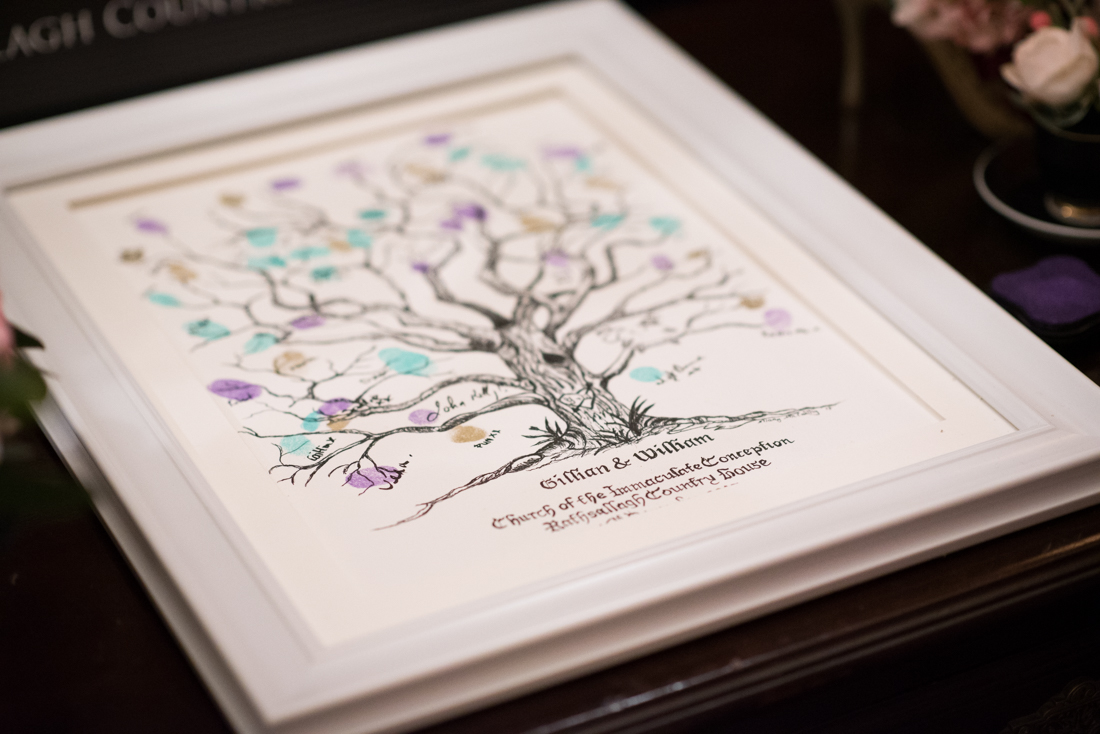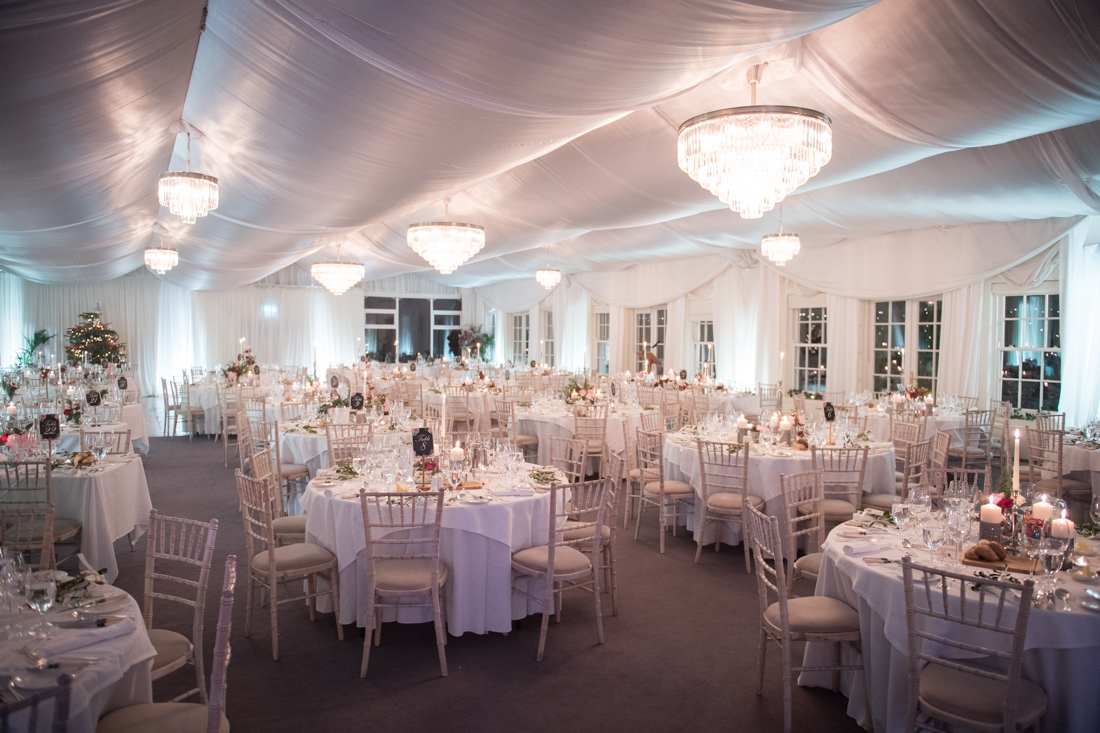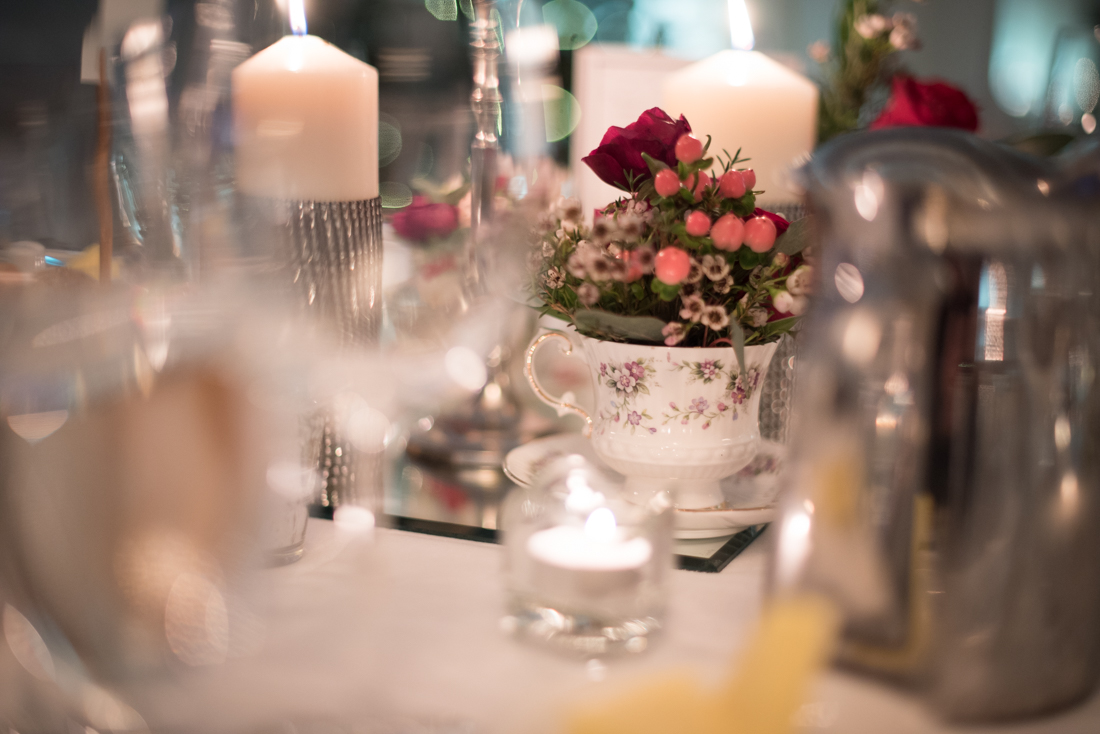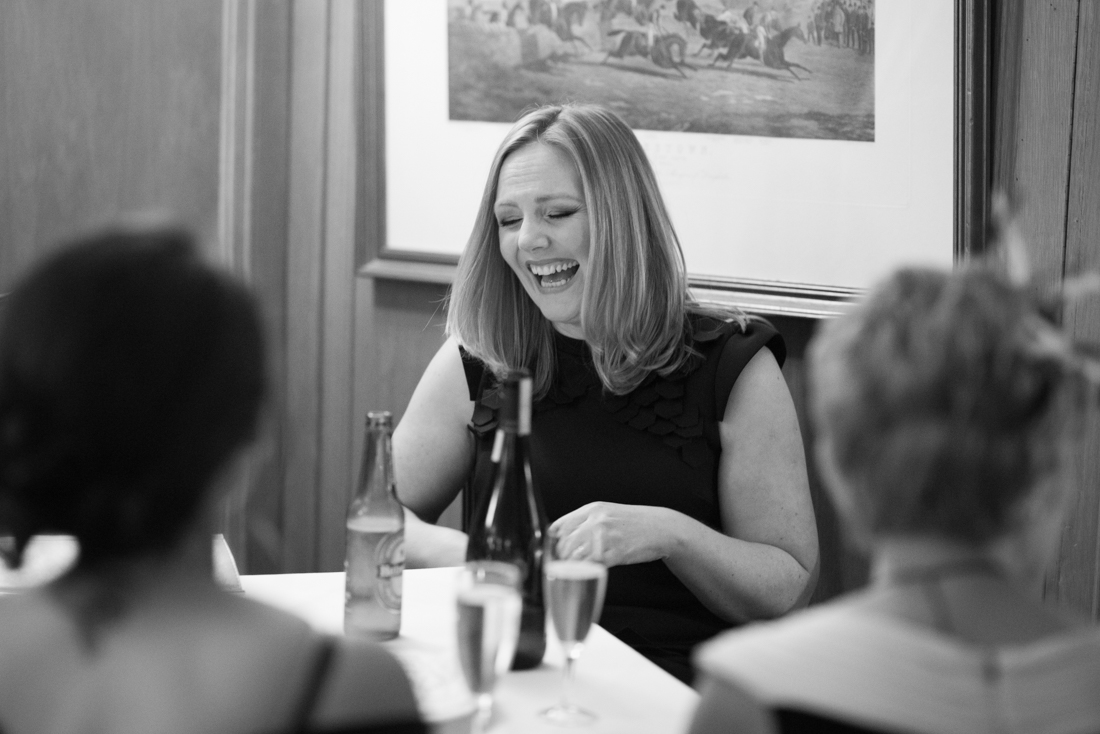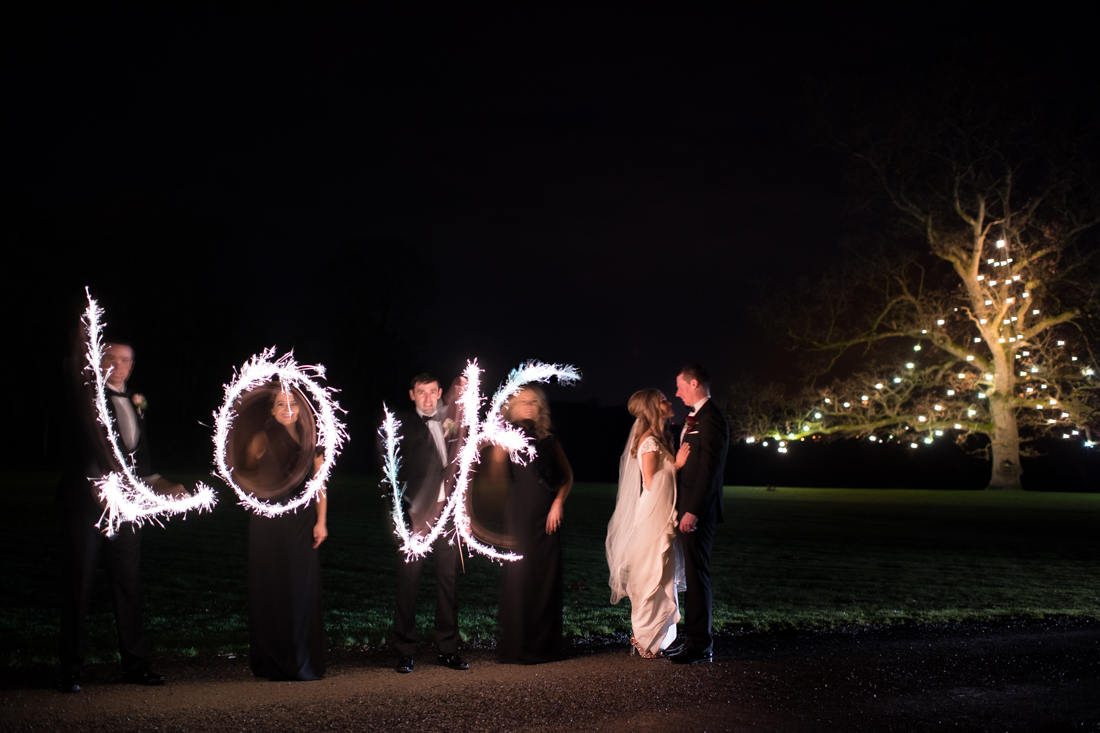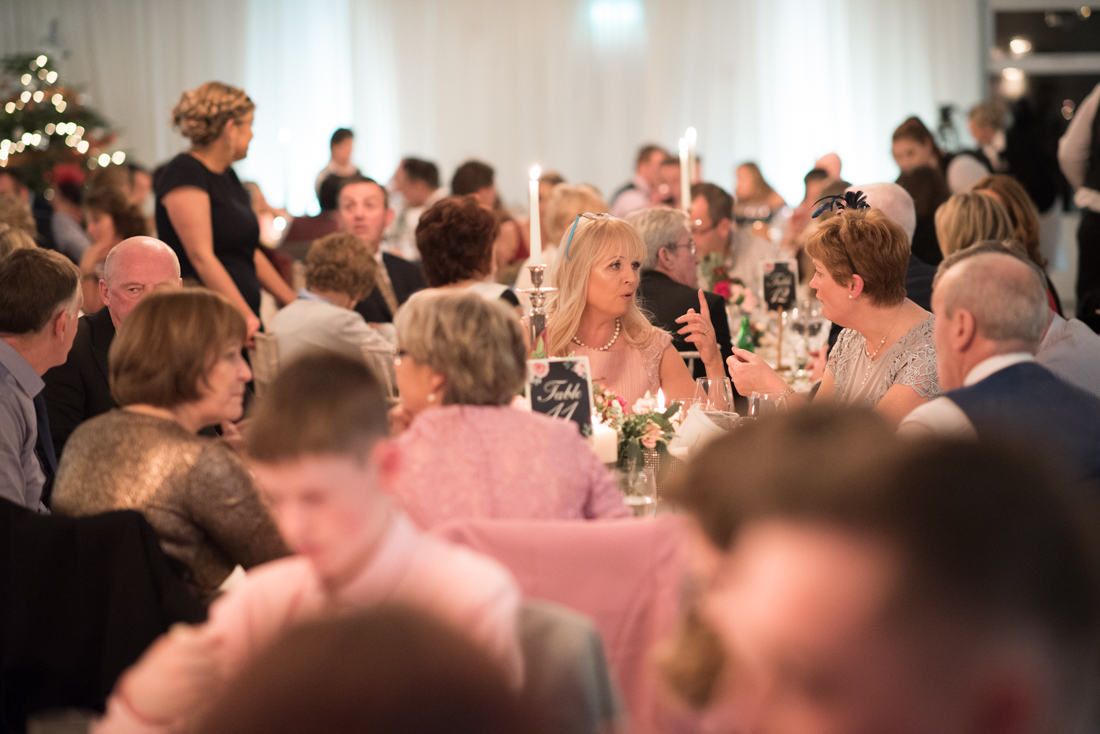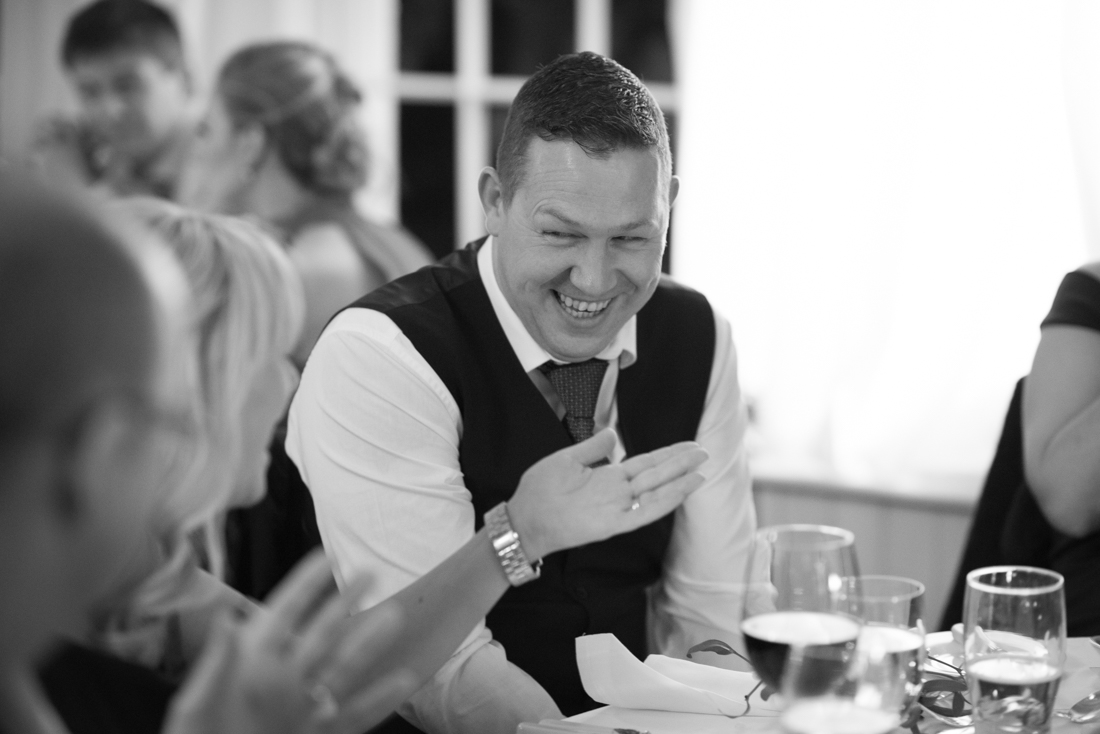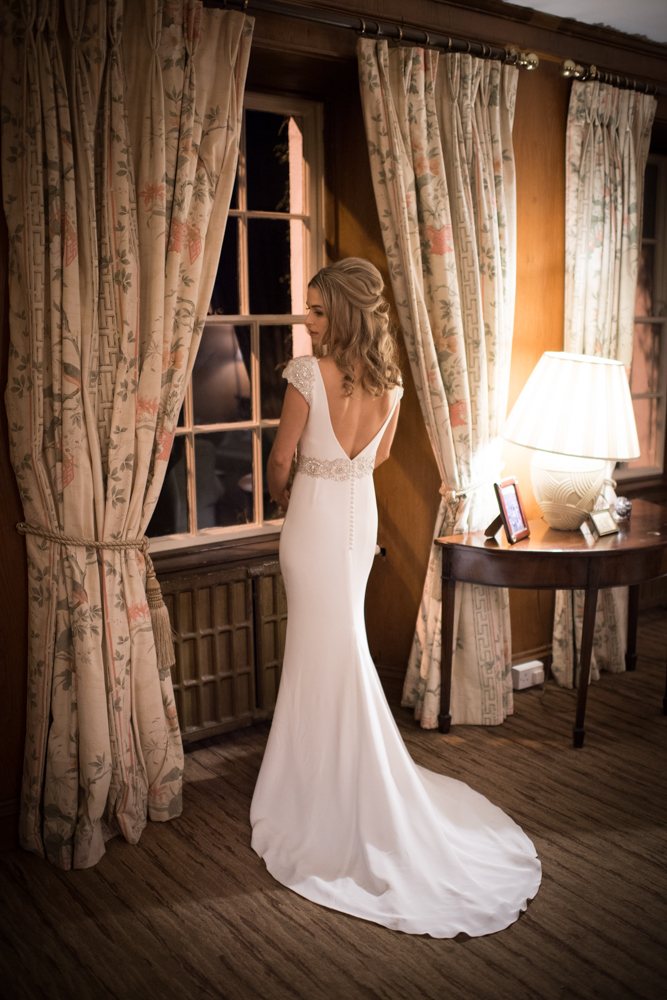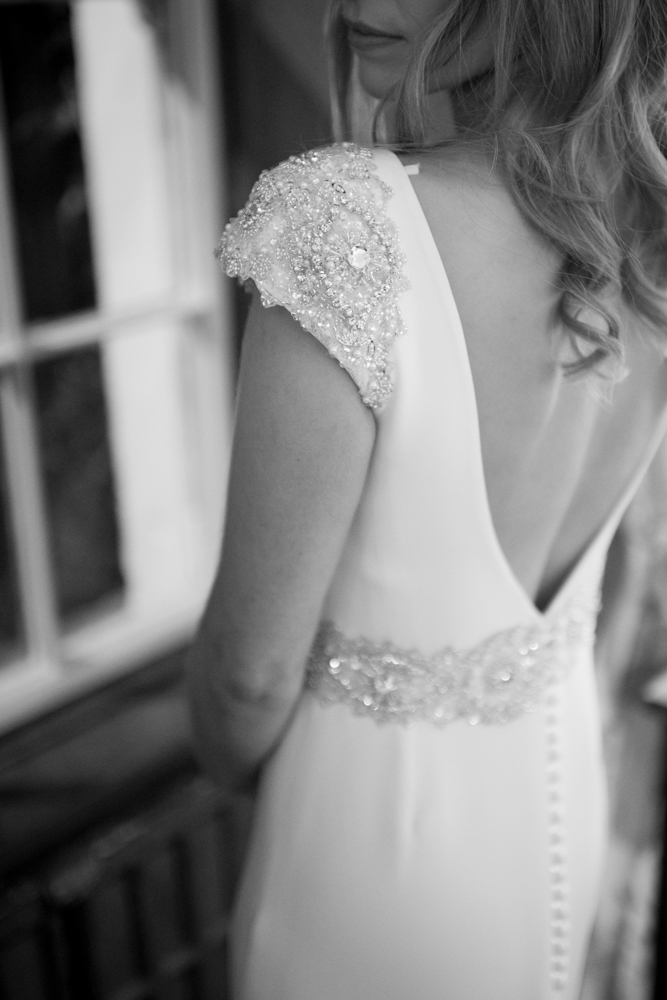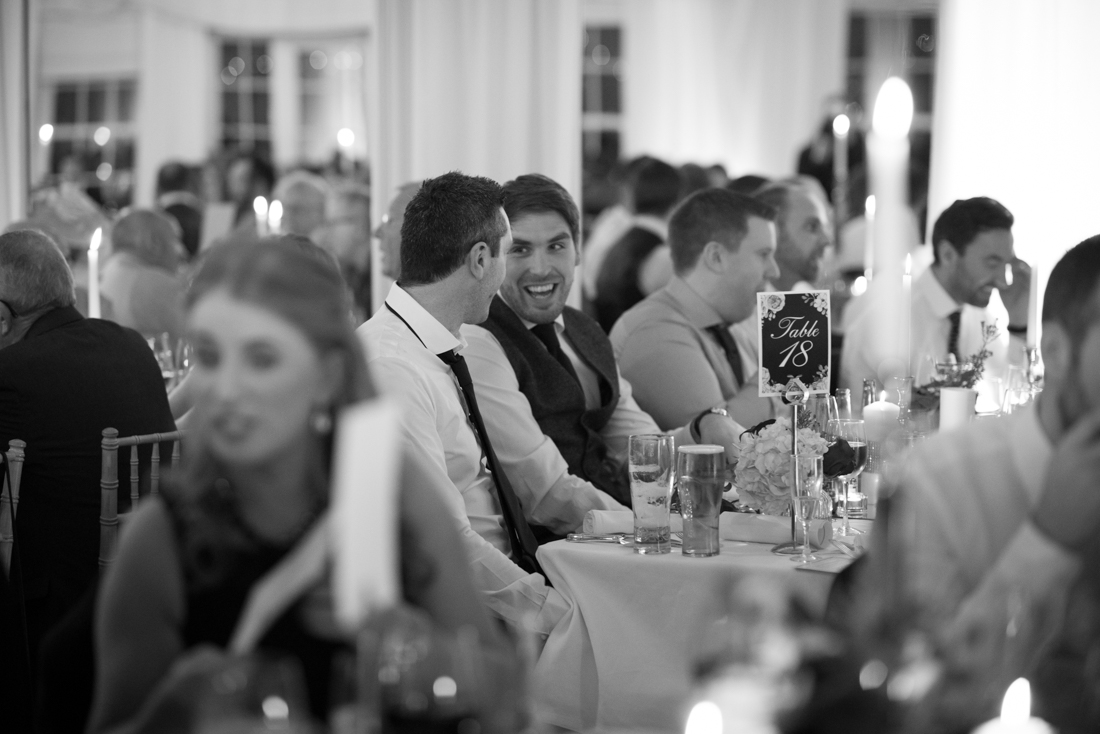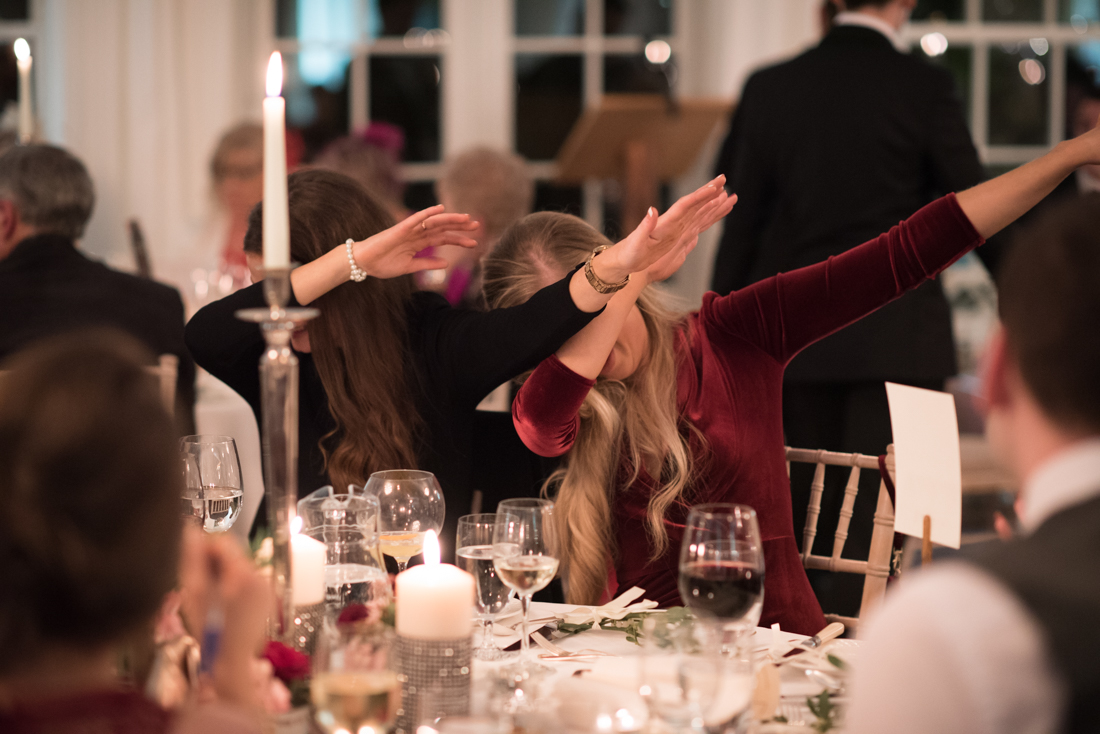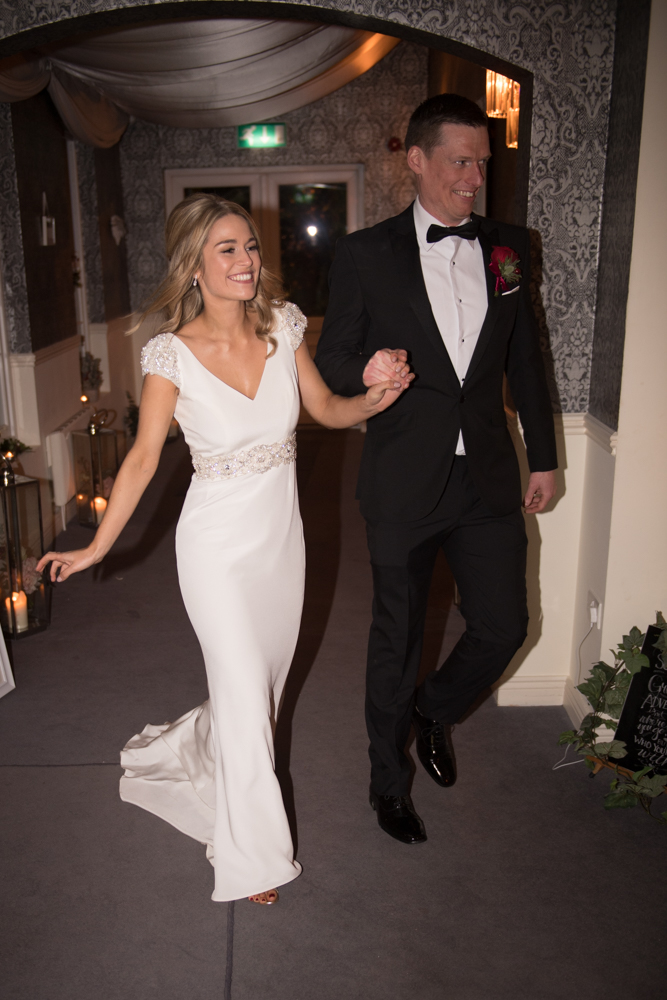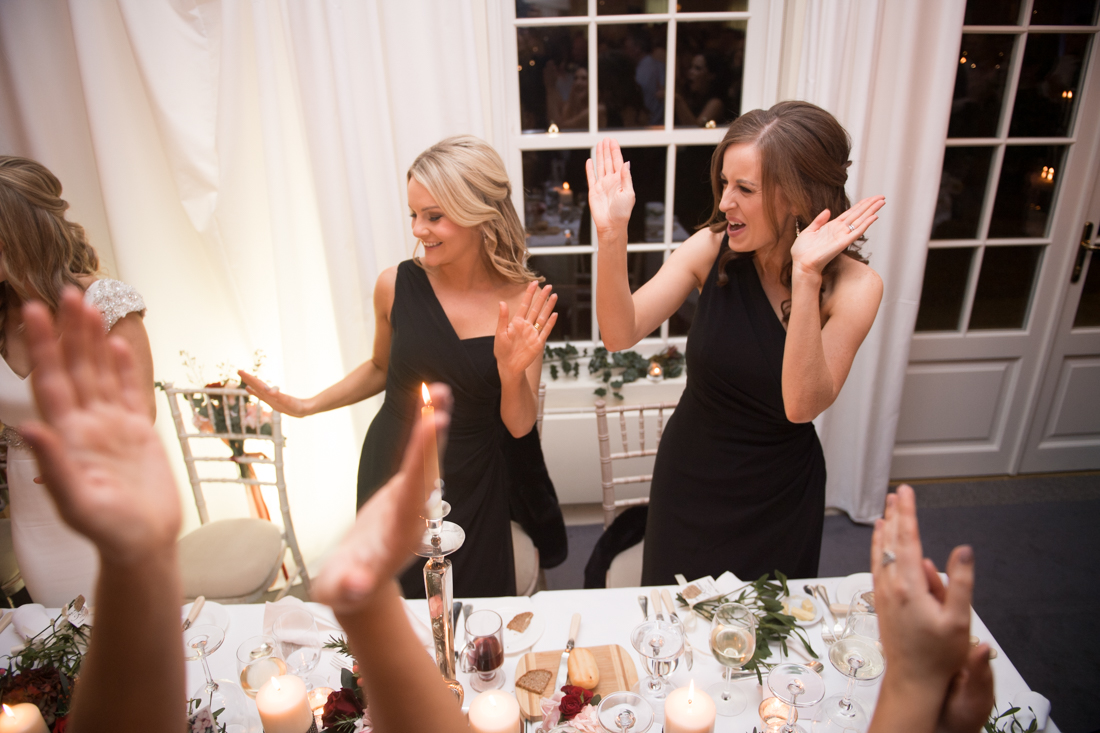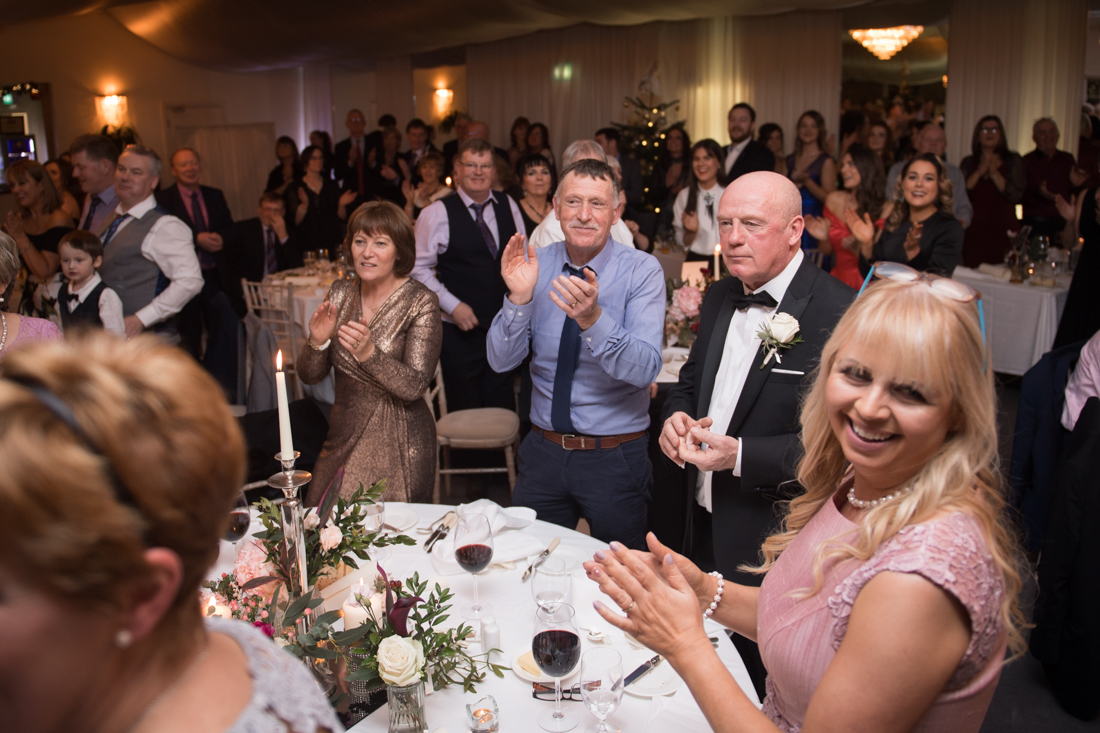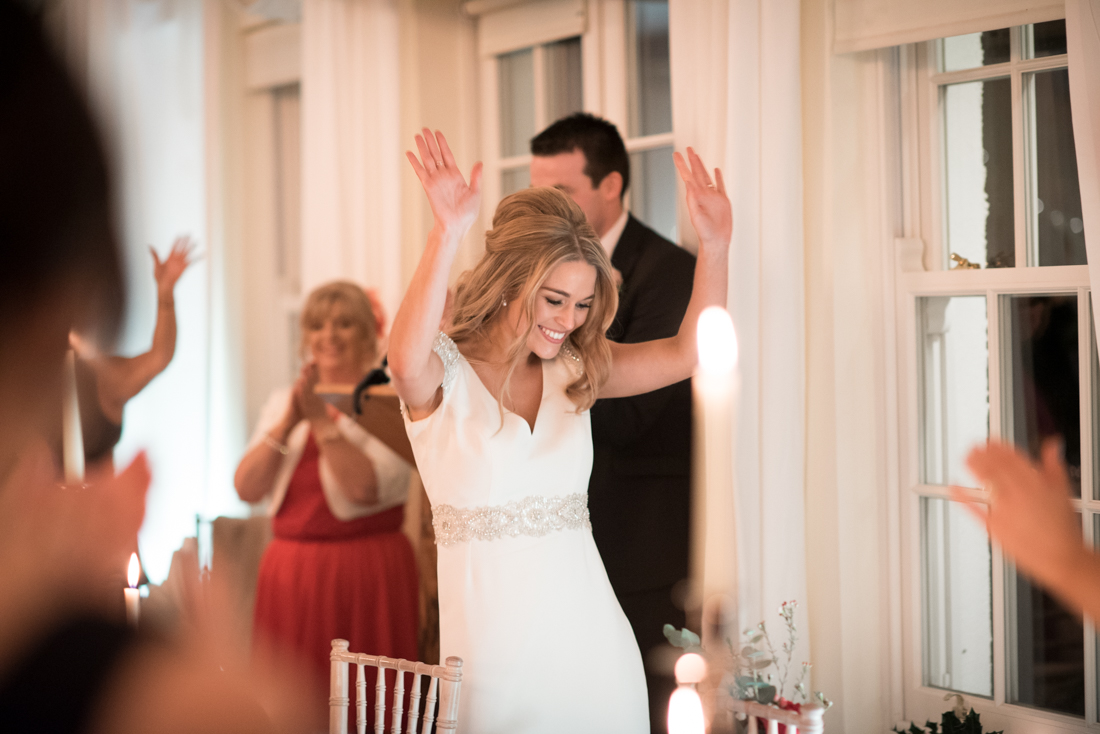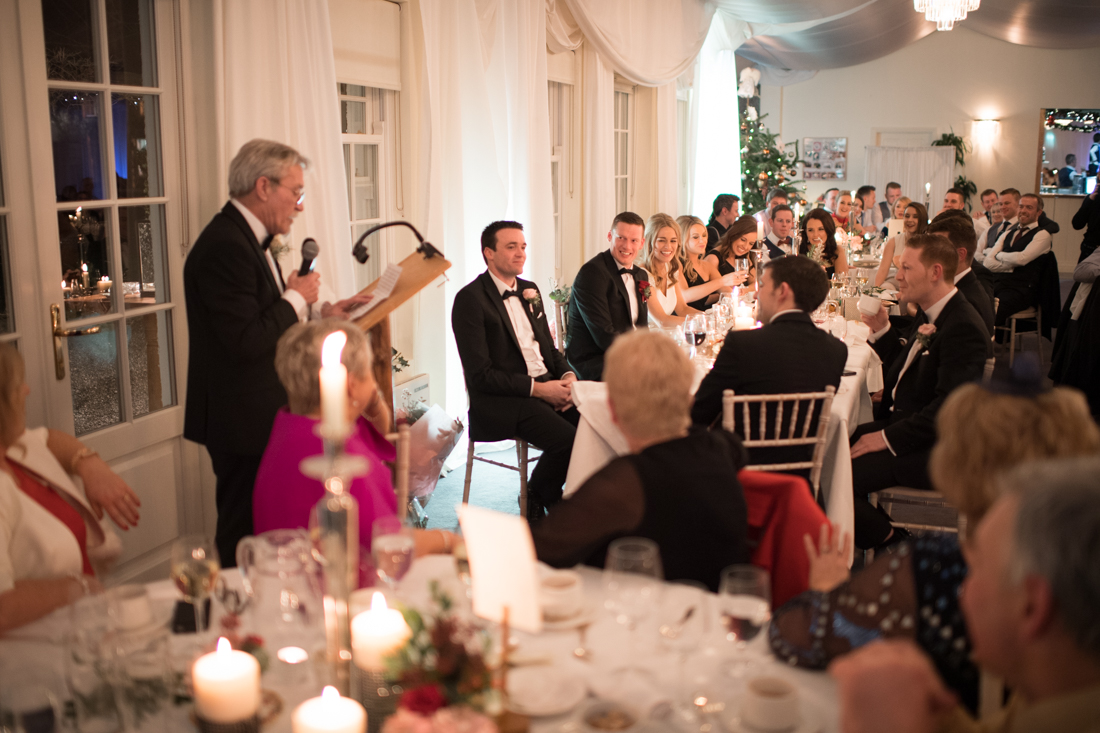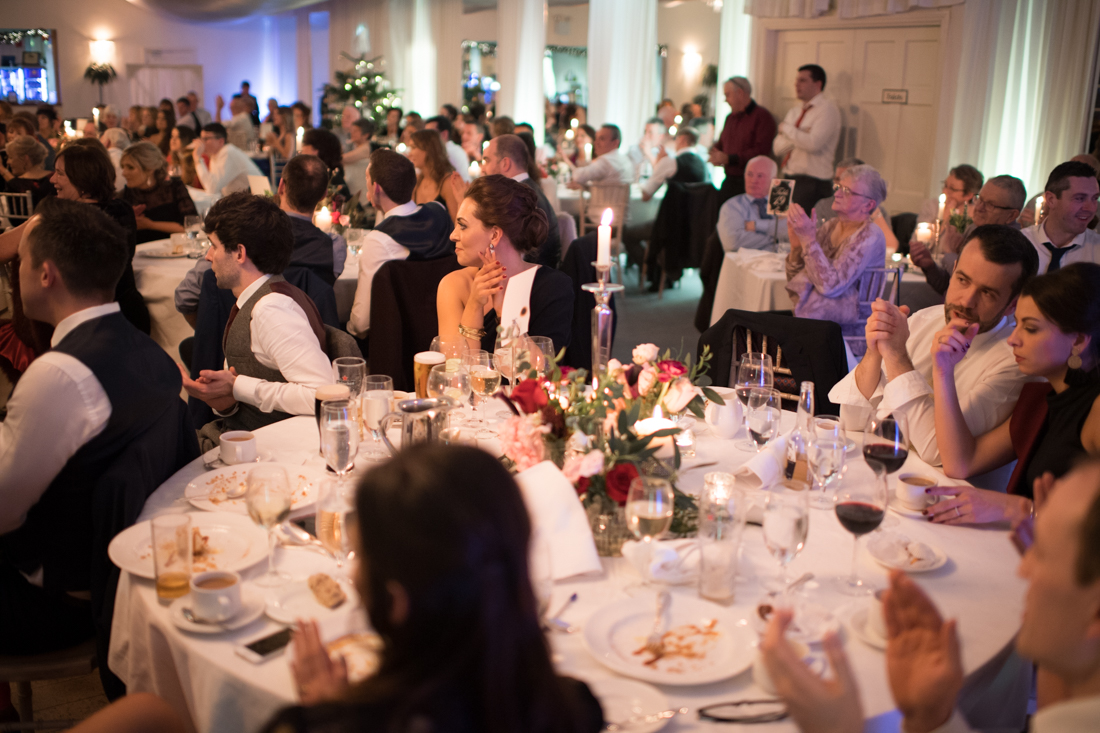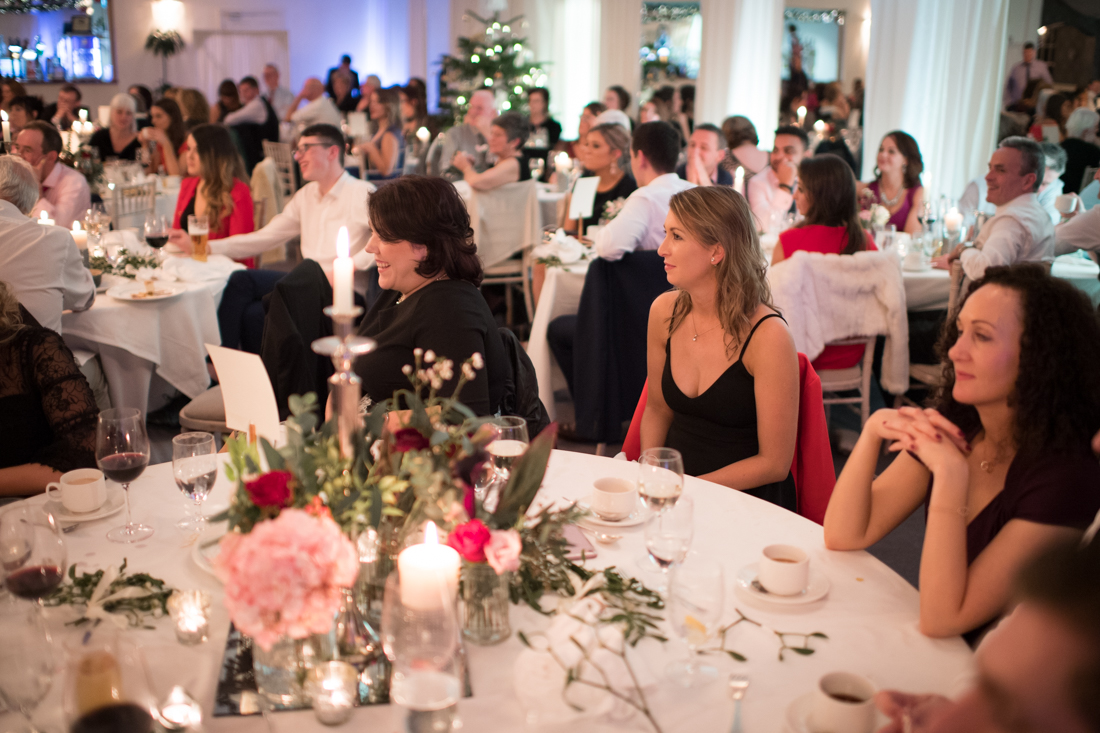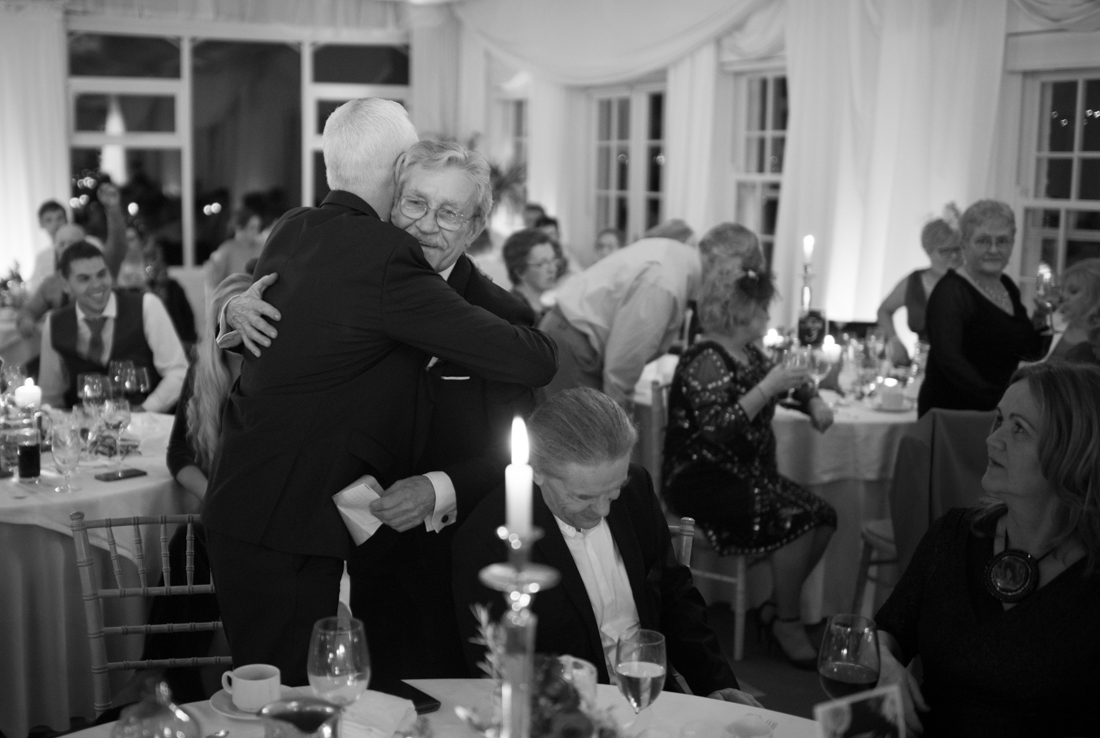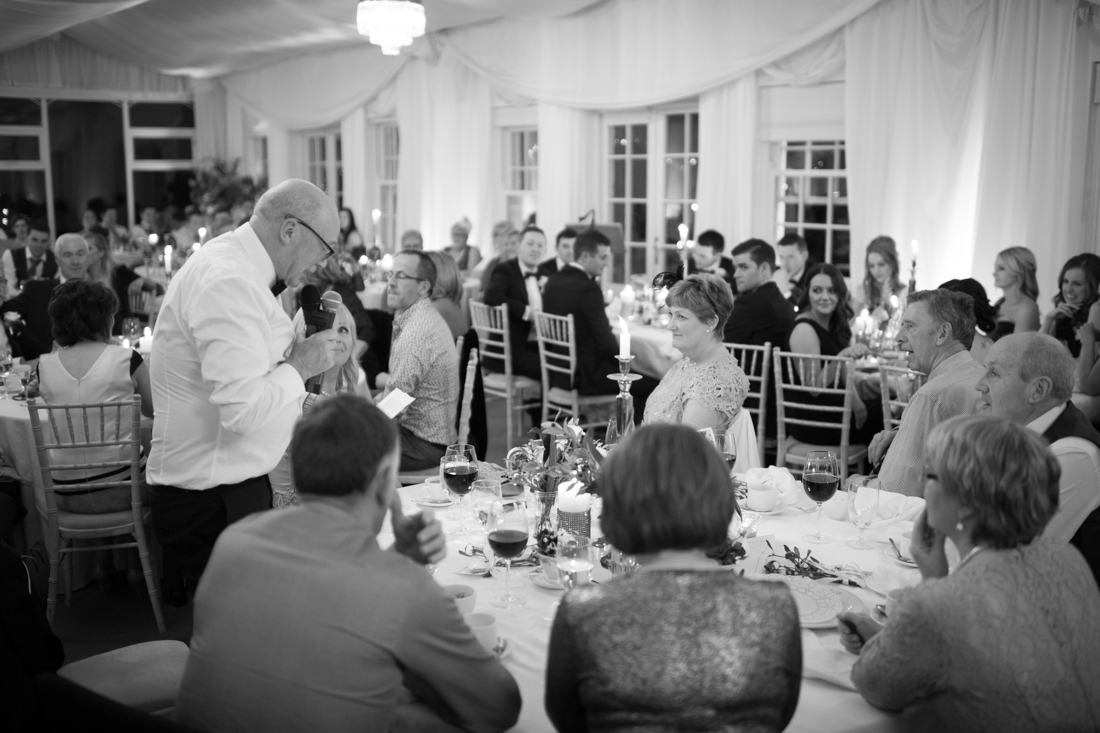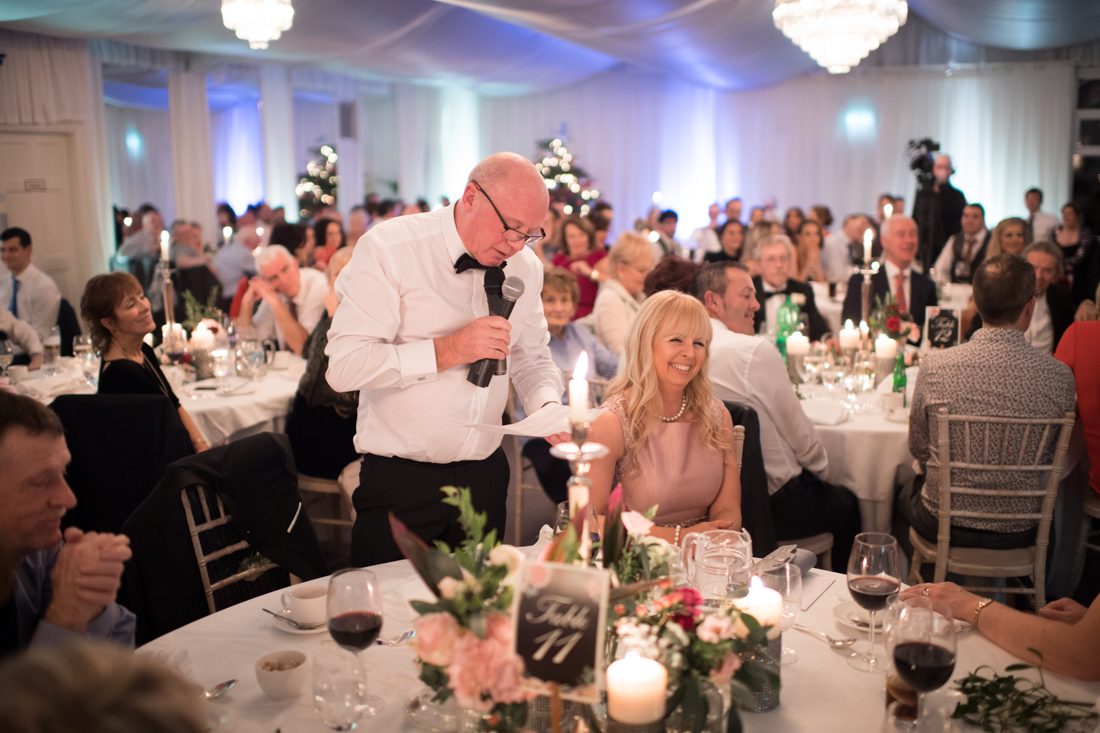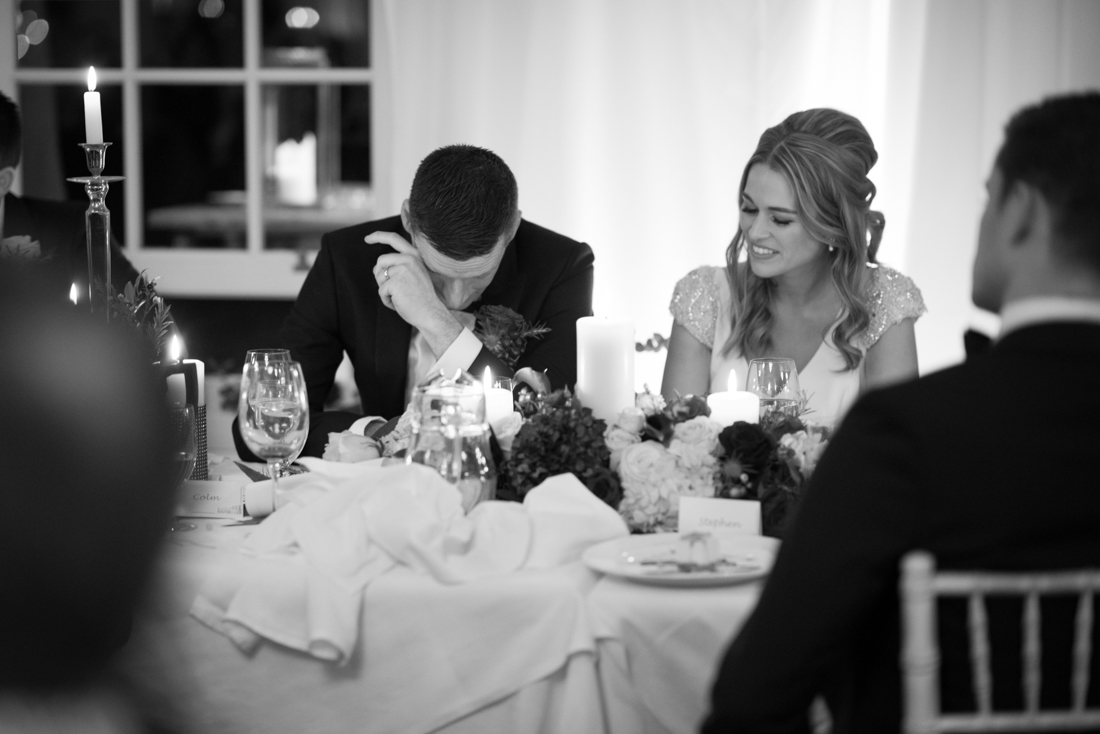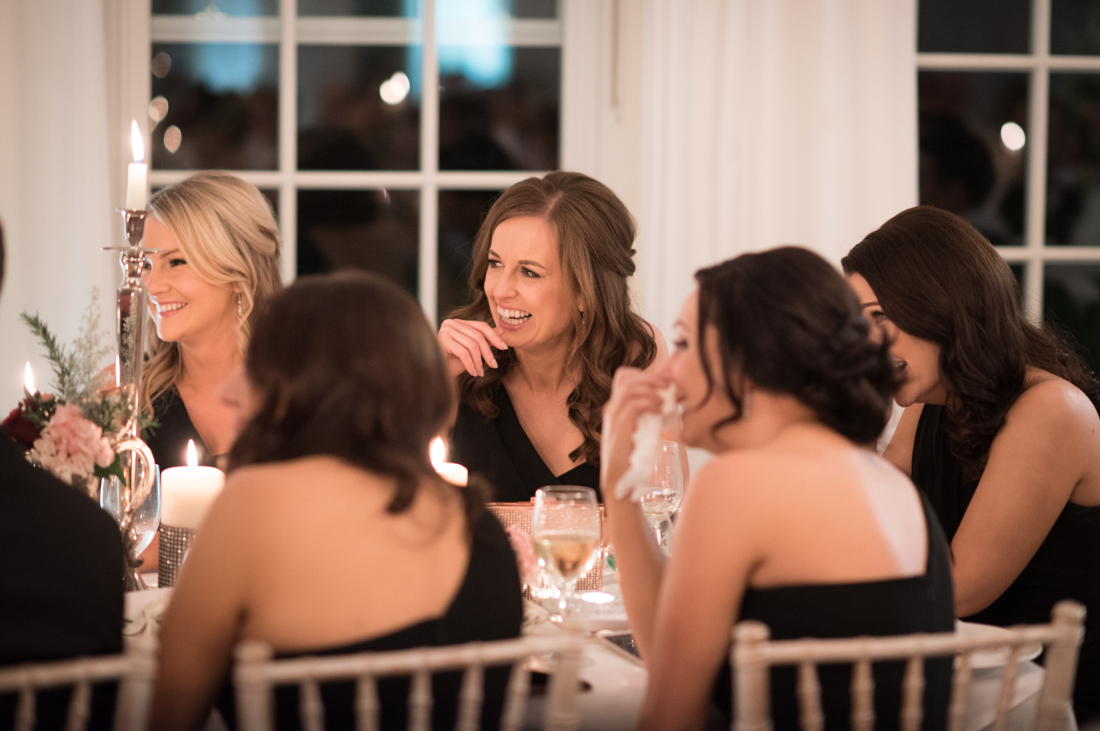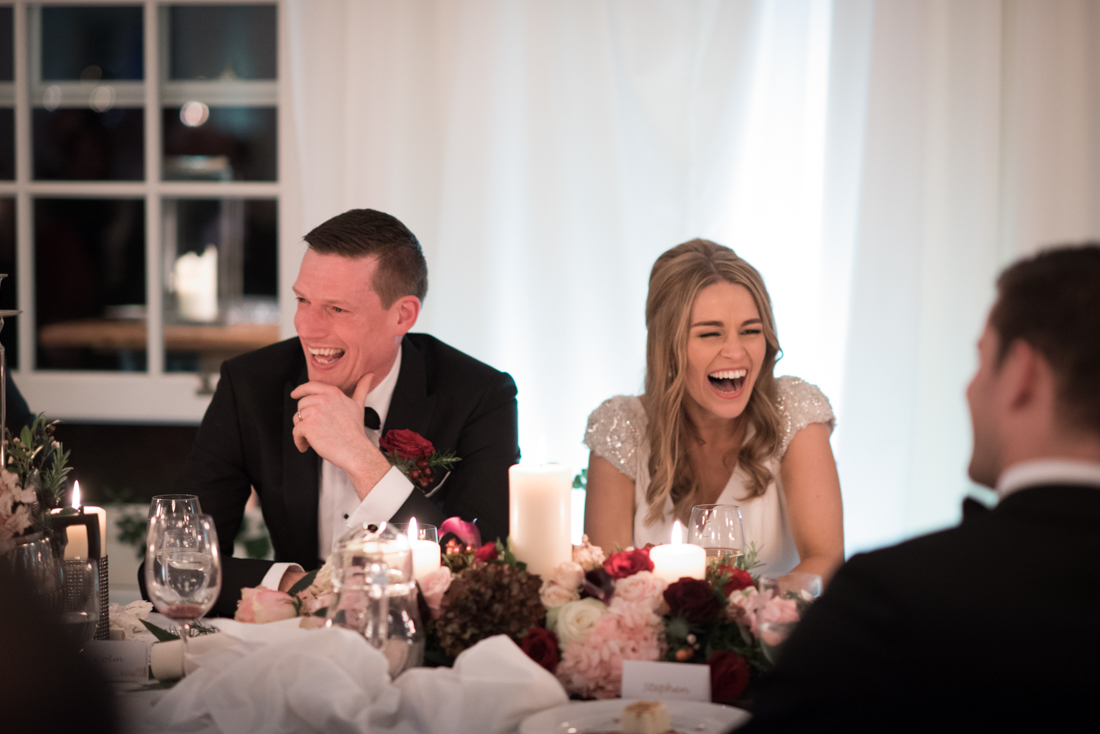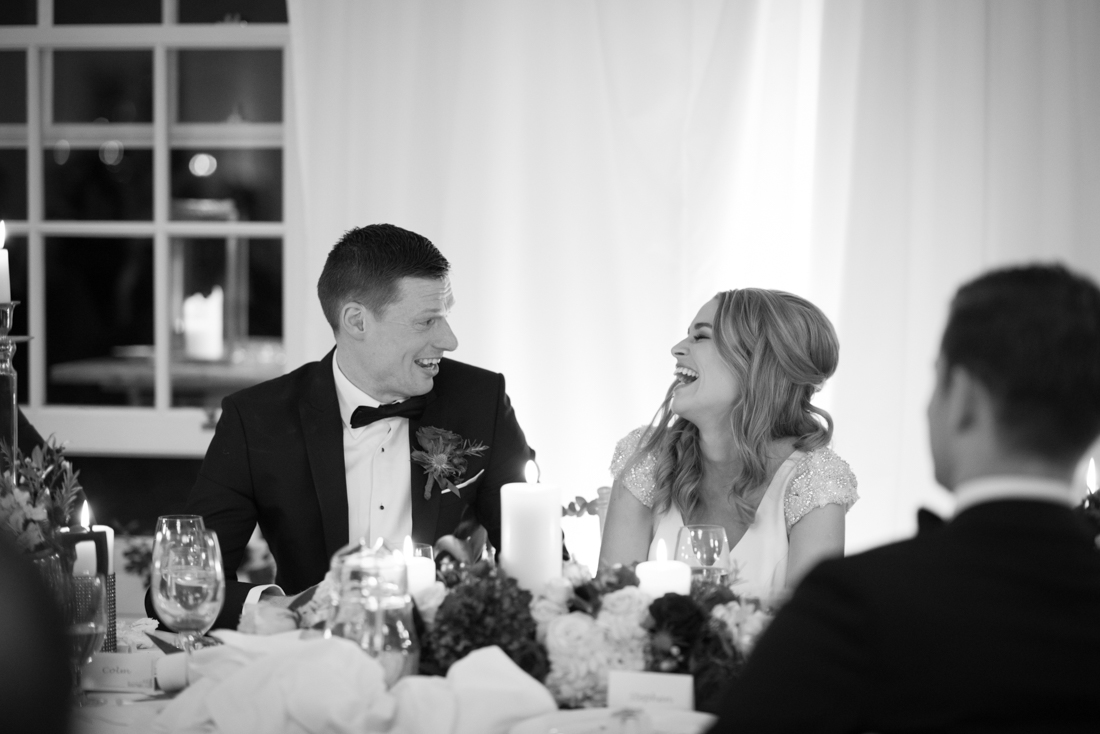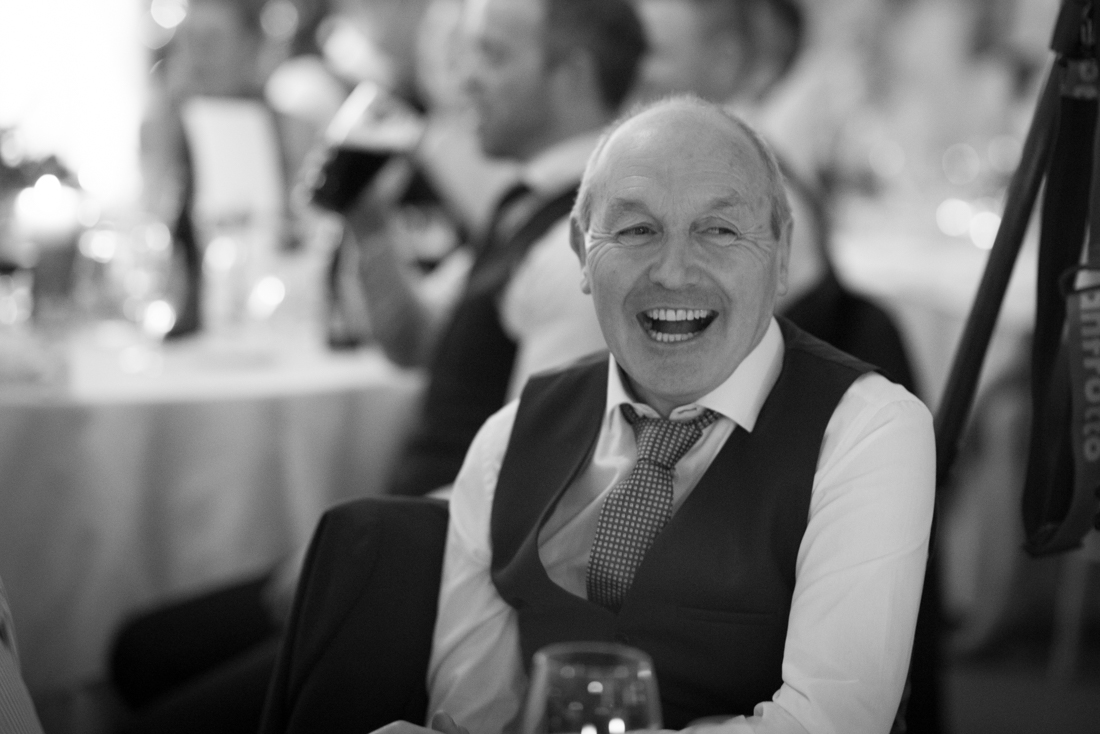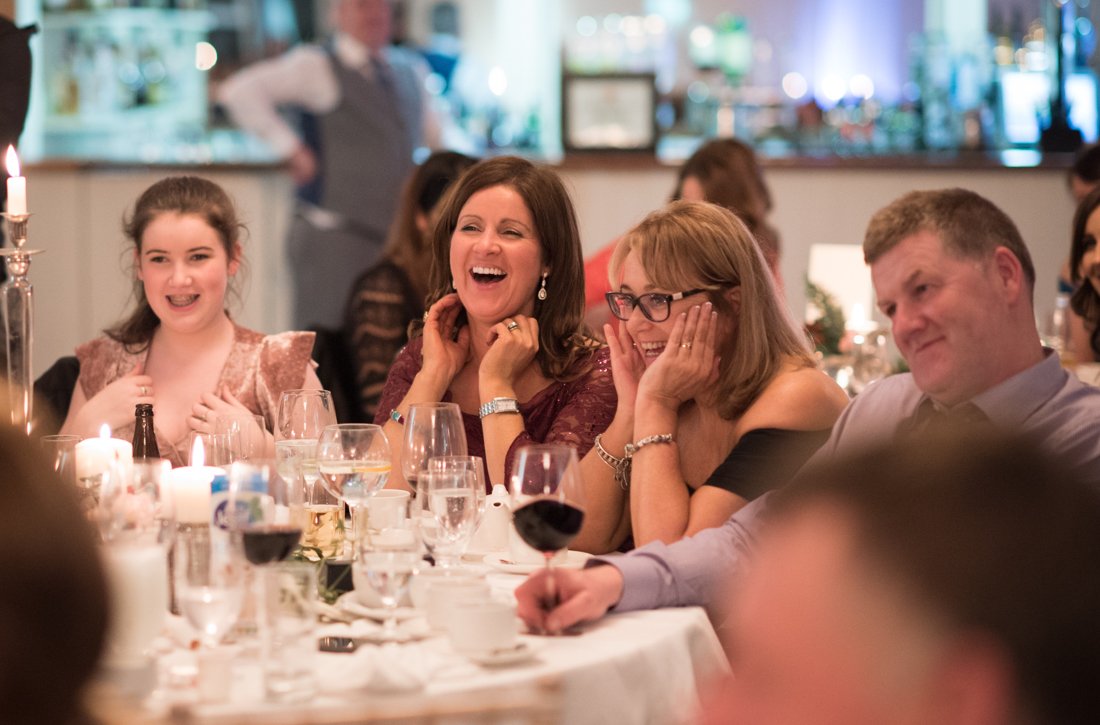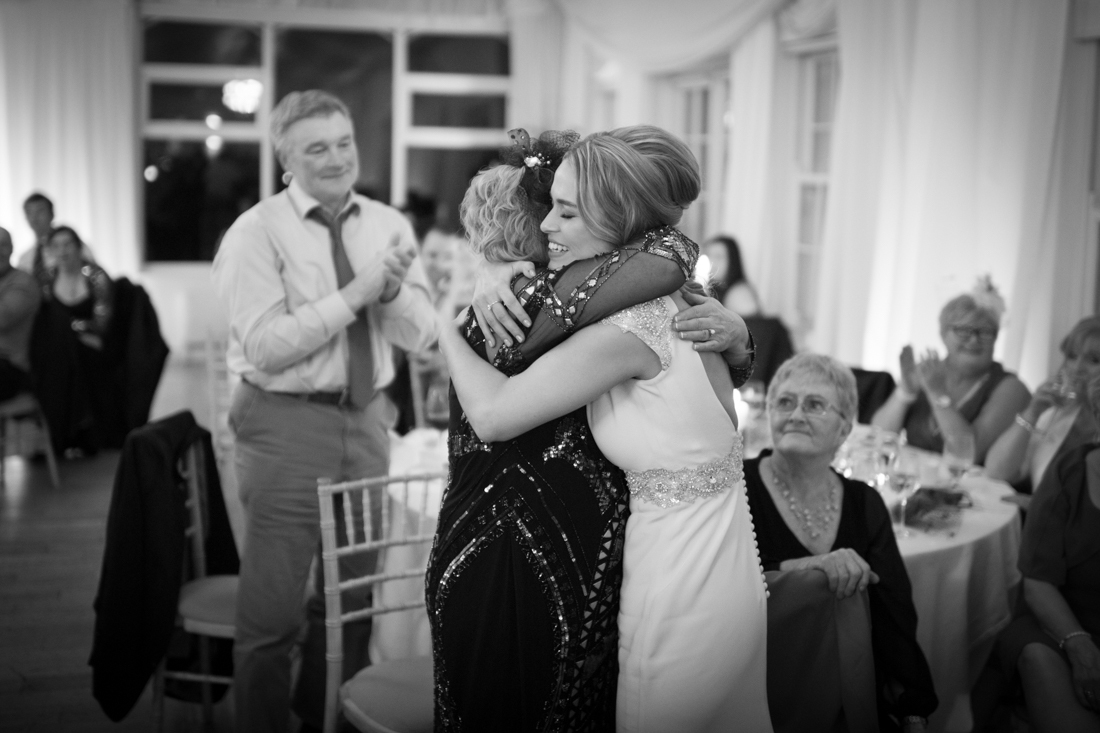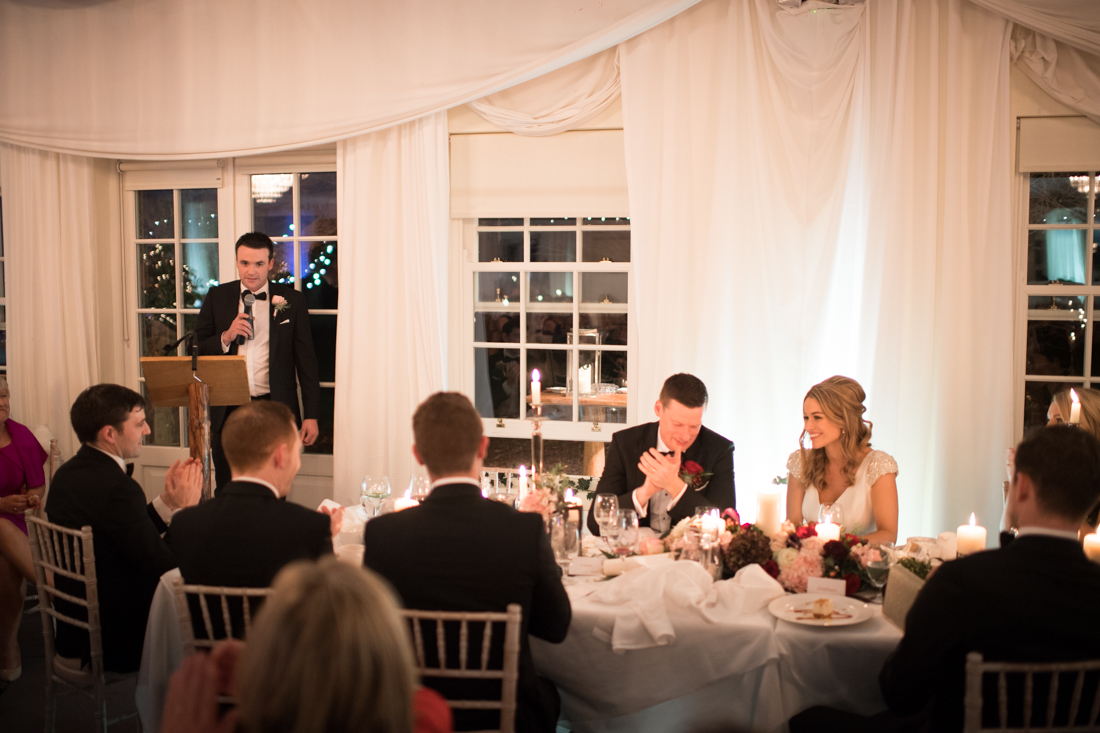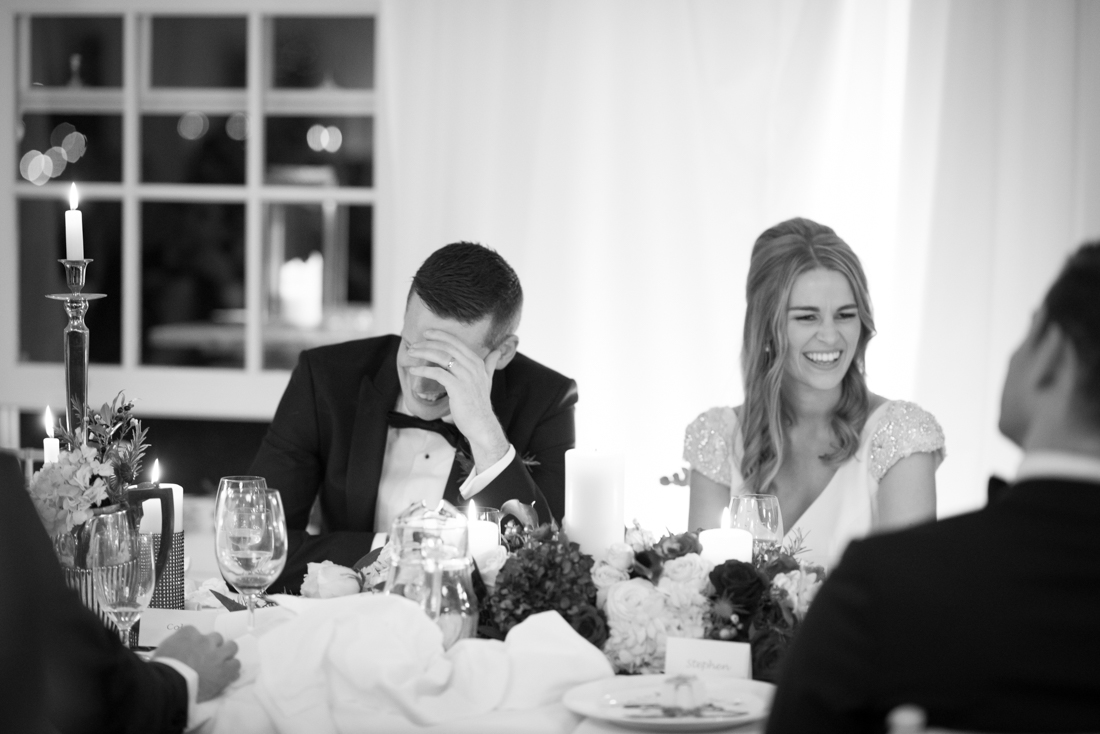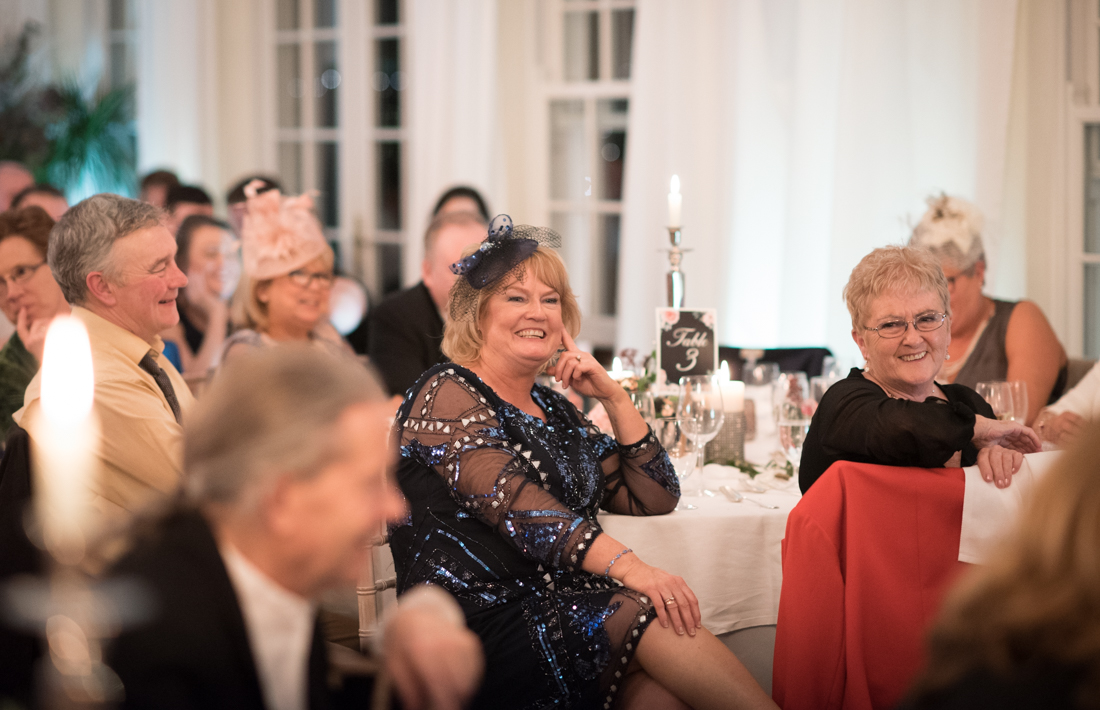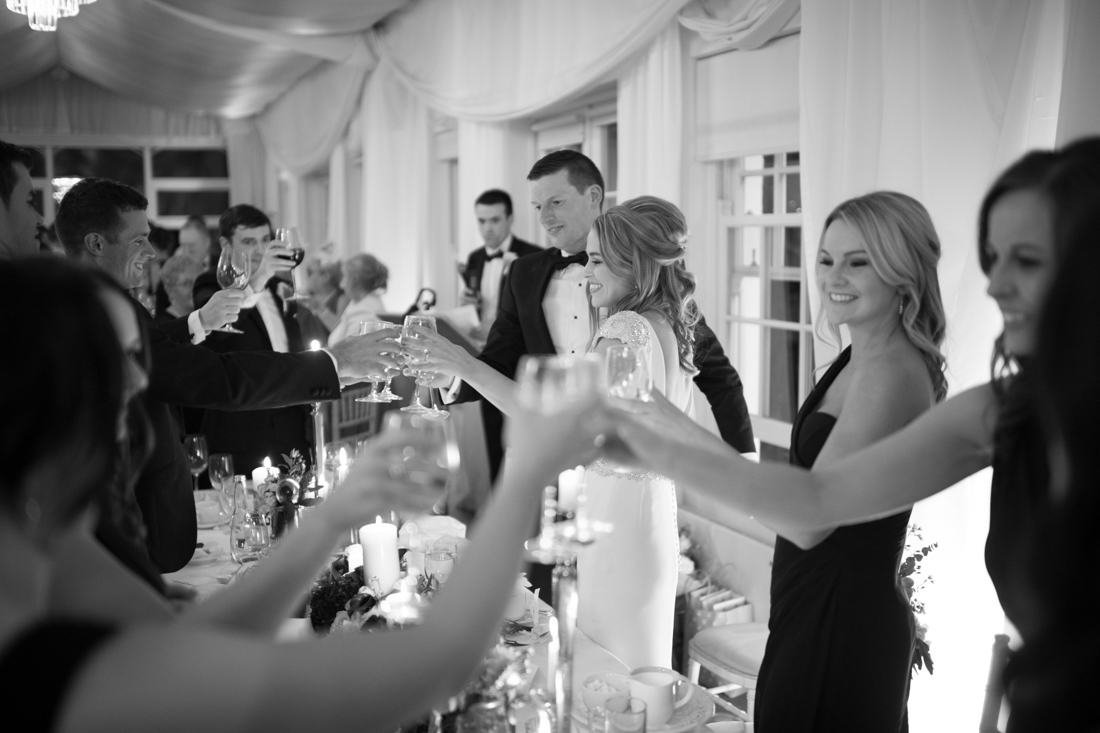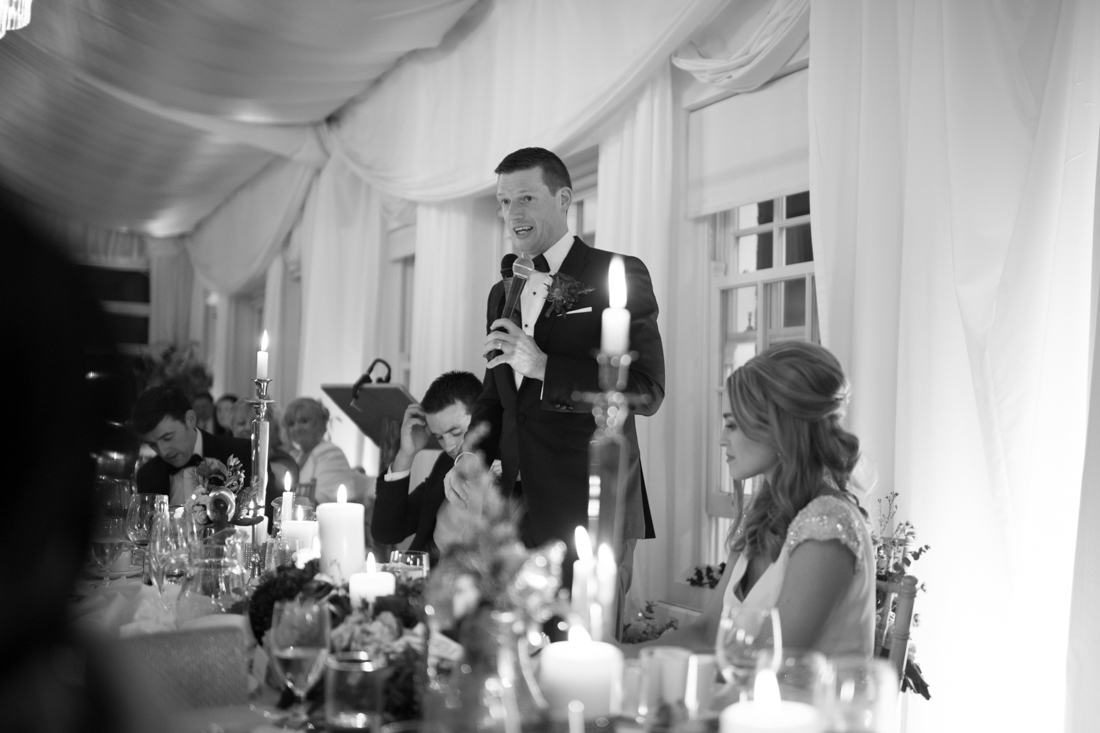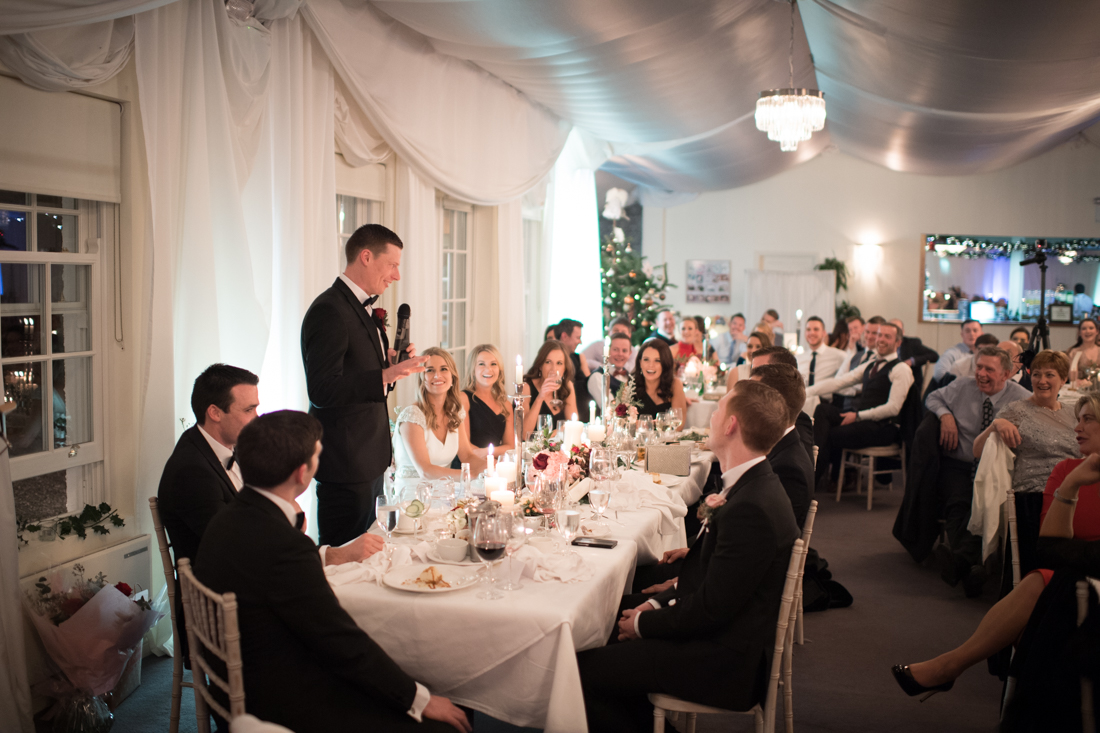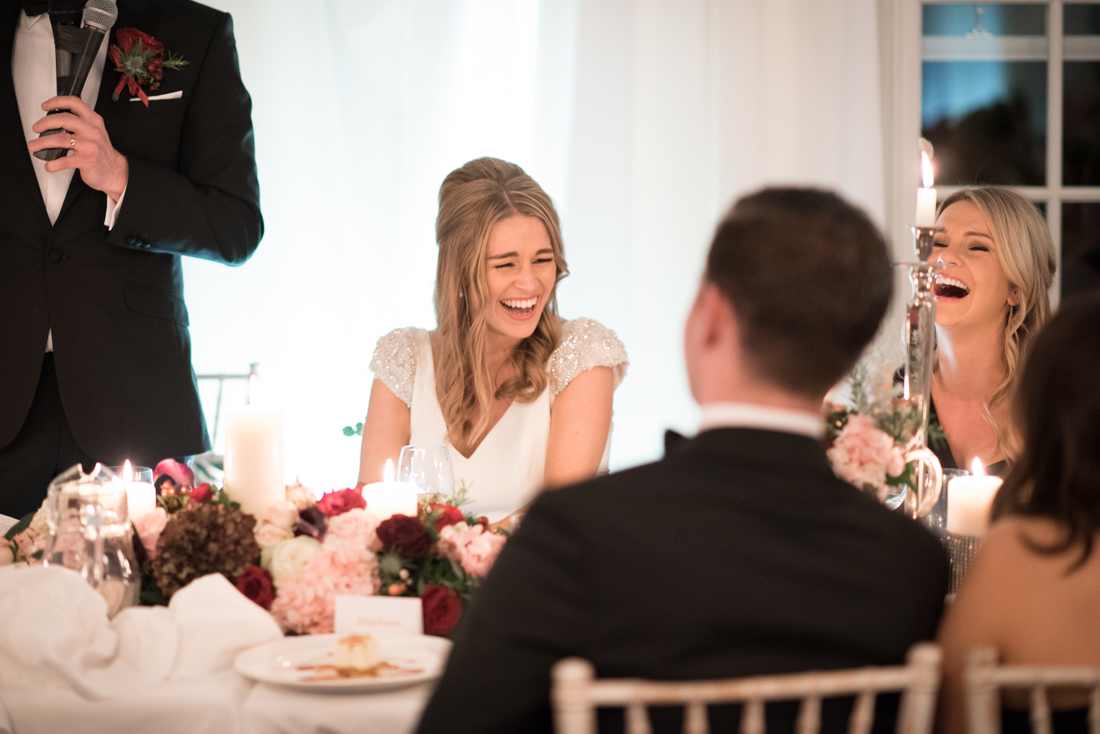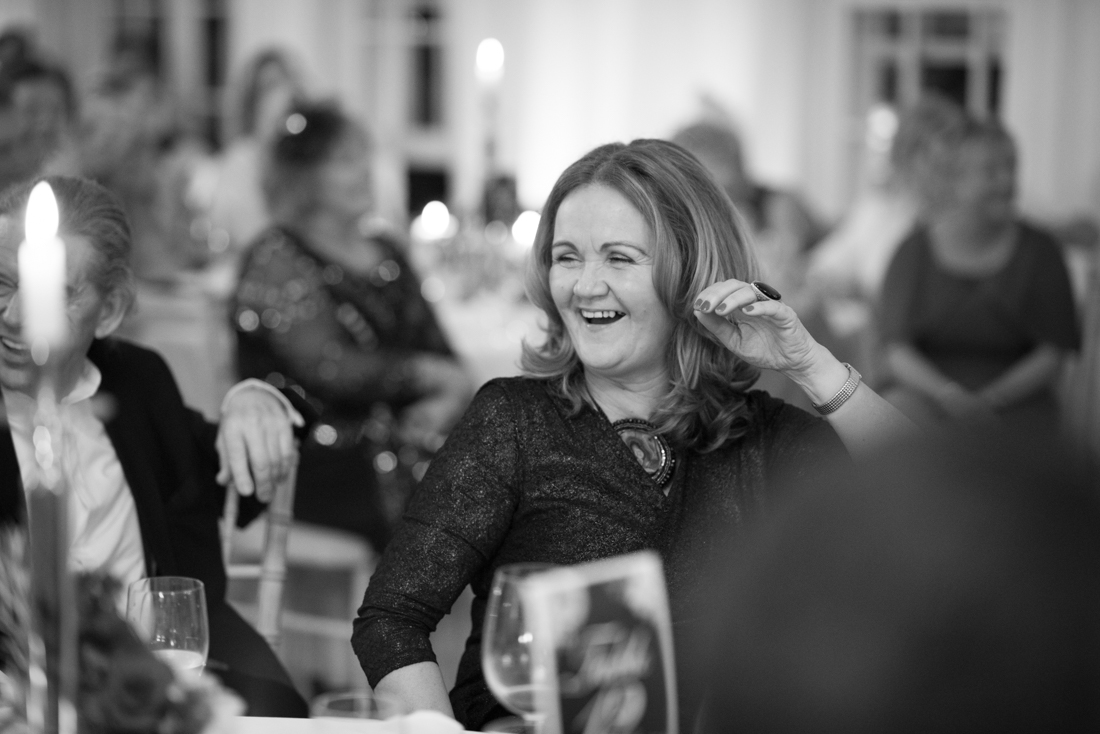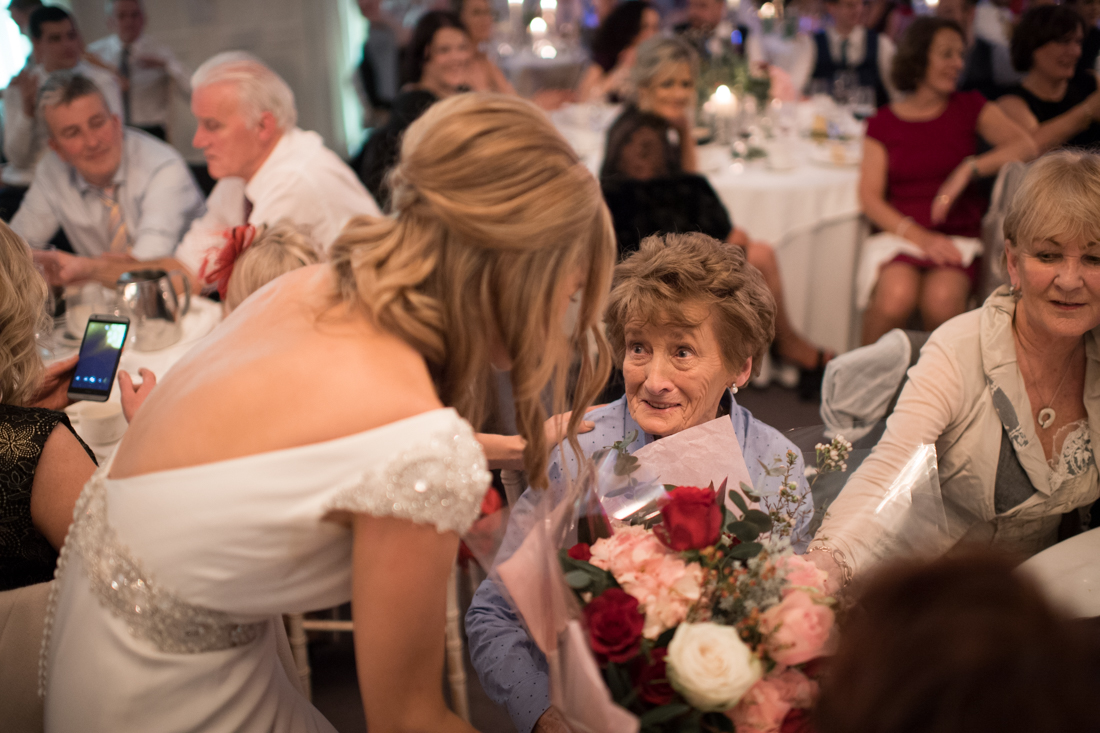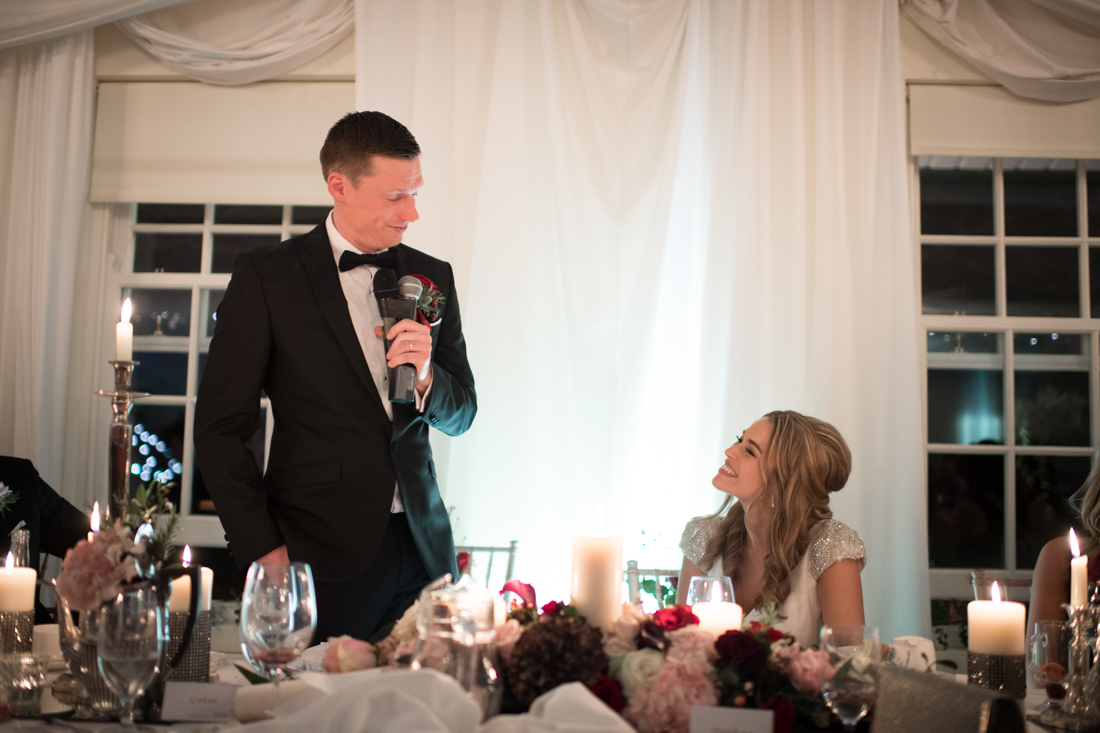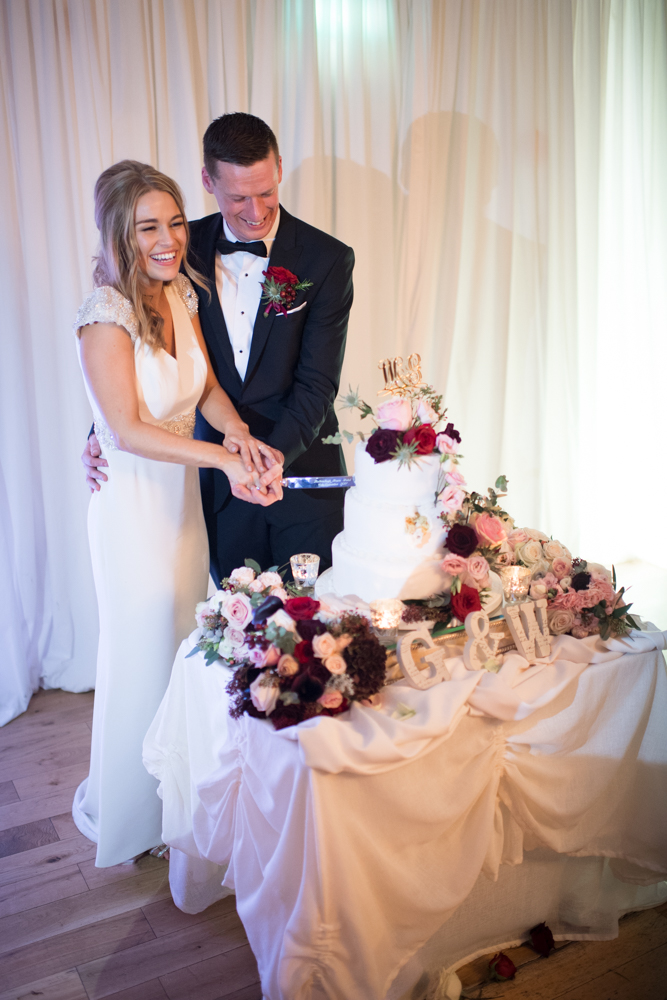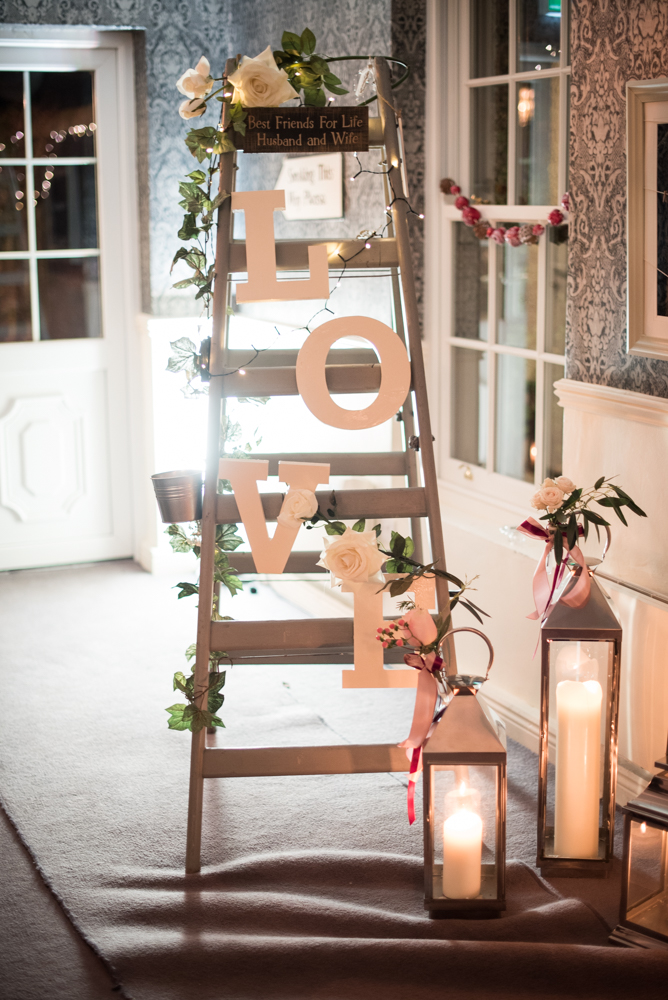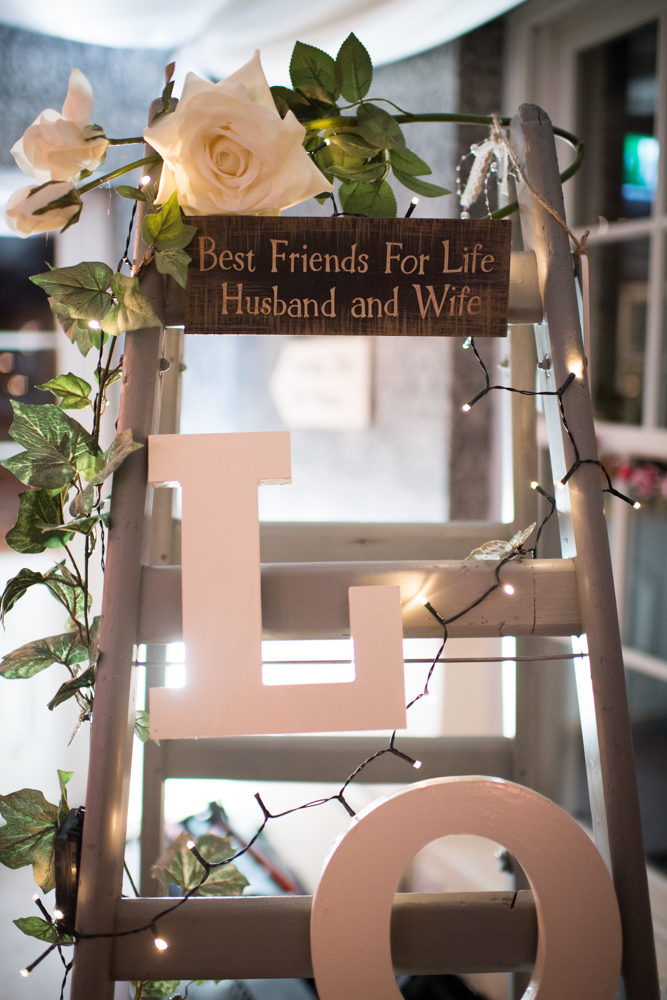 My favourite part of the wedding day…
To choose my favourite part of the day is hard, but the ceremony was really special.  It's also the first time you see everything you've planned come together e.g. flowers, dresses, suits e.t.c. After the ceremony  Will and I had a two seater car. He drove us to Rathsallagh. It was so lovely having that time together straight after the ceremony. We were so giddy and excited about meeting everyone at Rathsallagh but for that drive it was nice just taking it all in before it all kicked off for our Rathsallagh House Wedding 🙂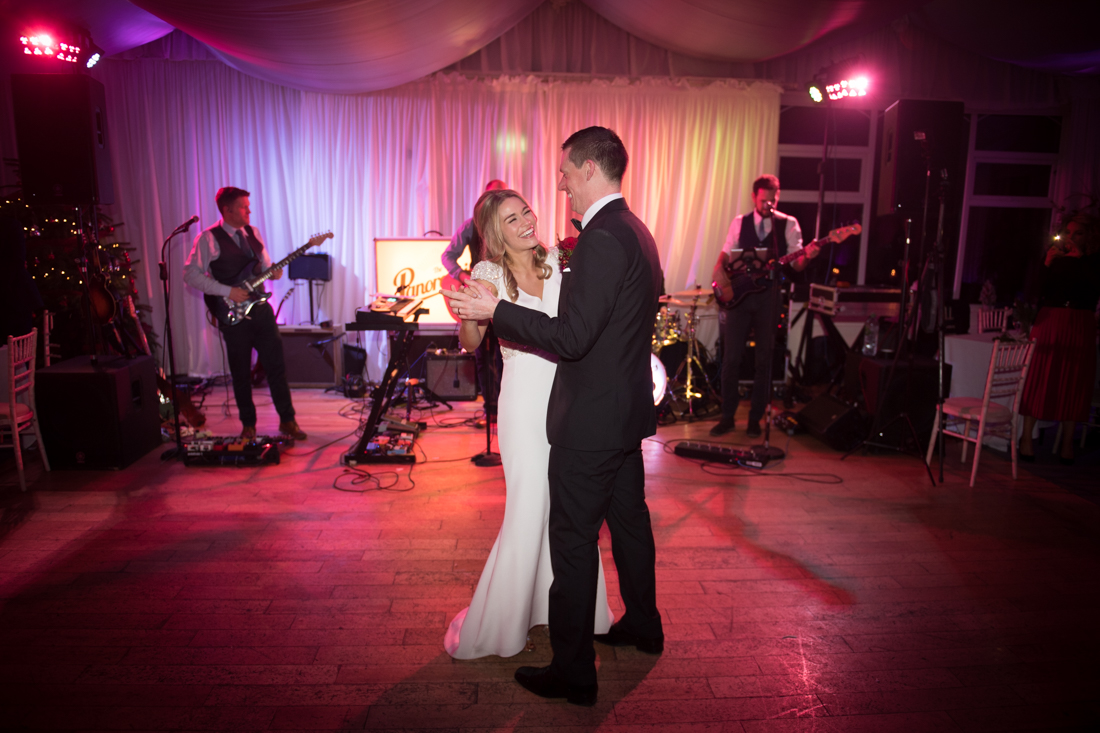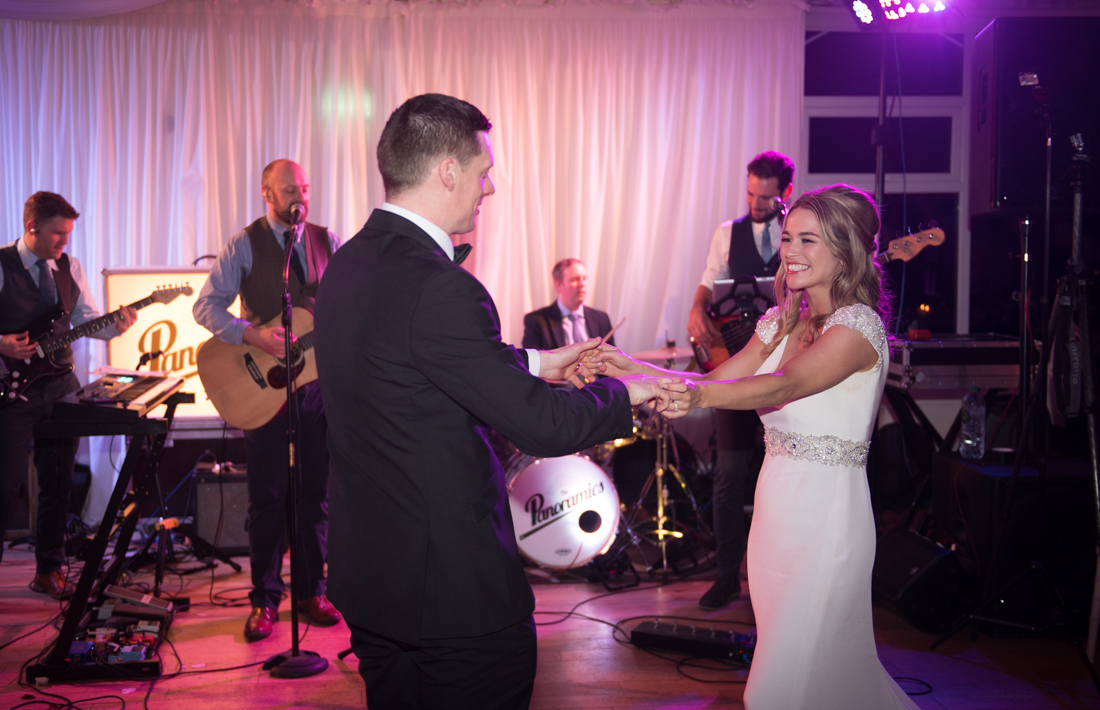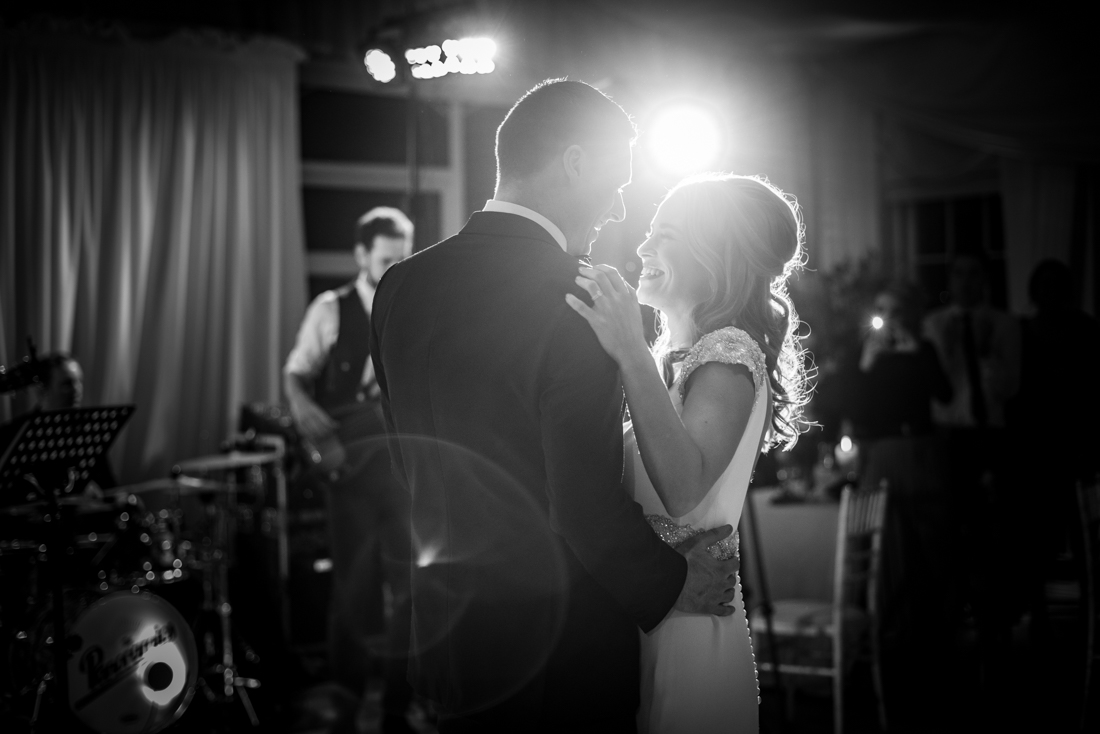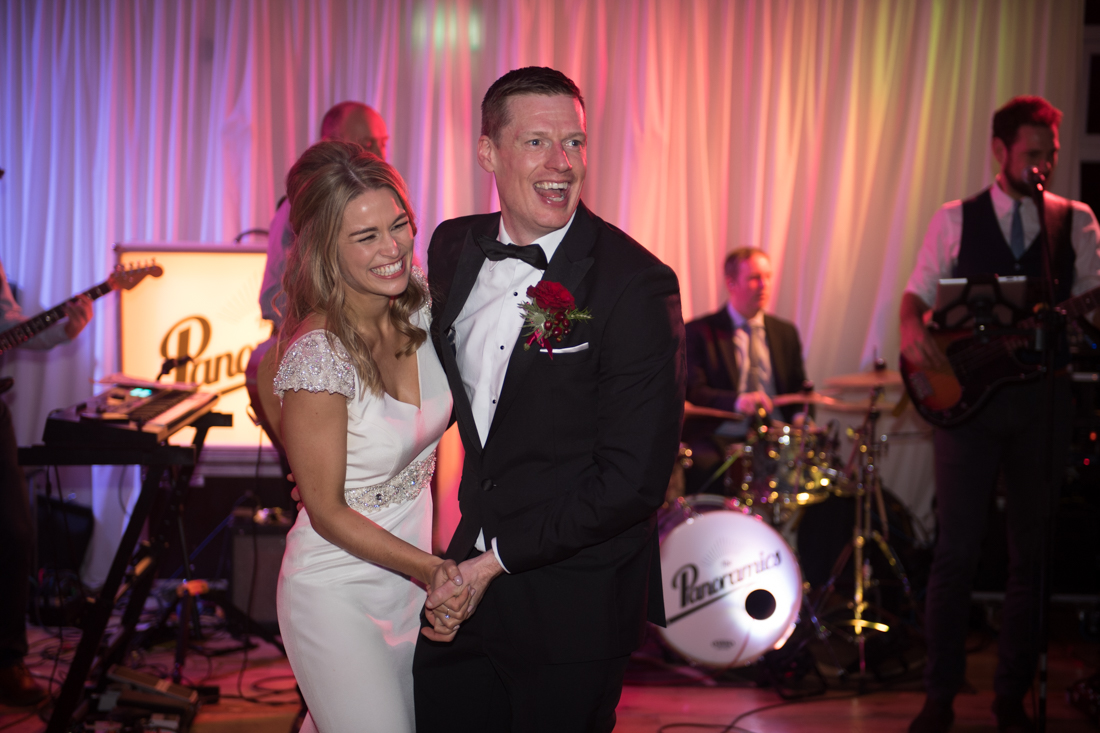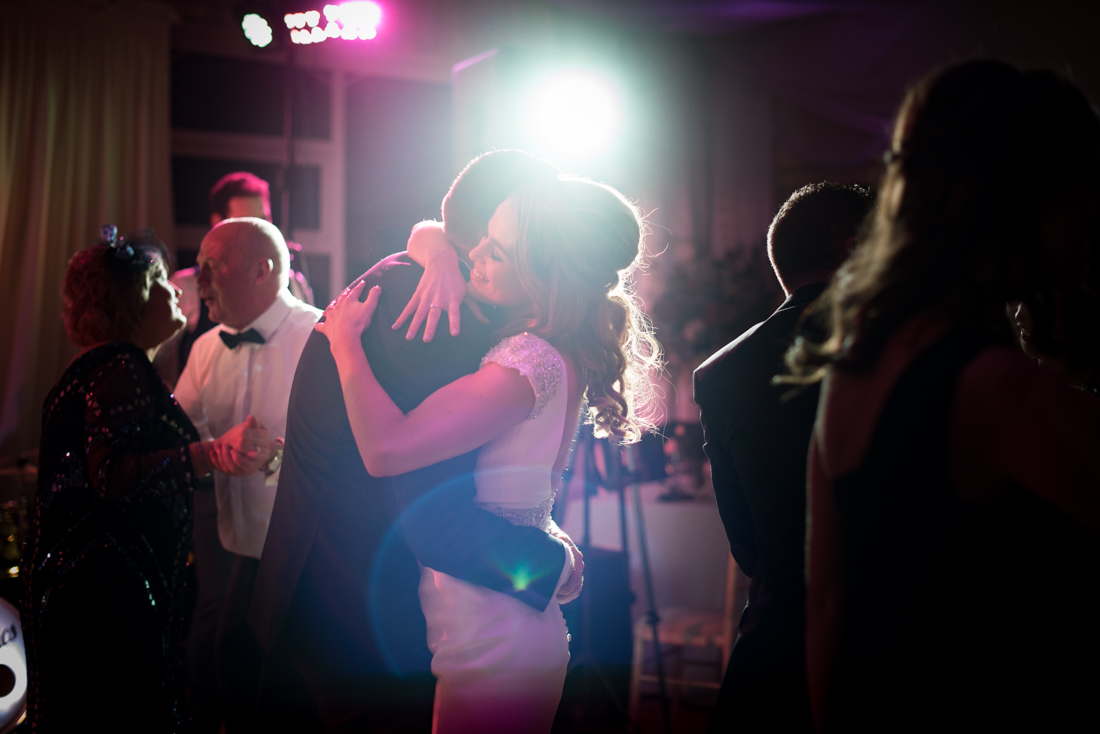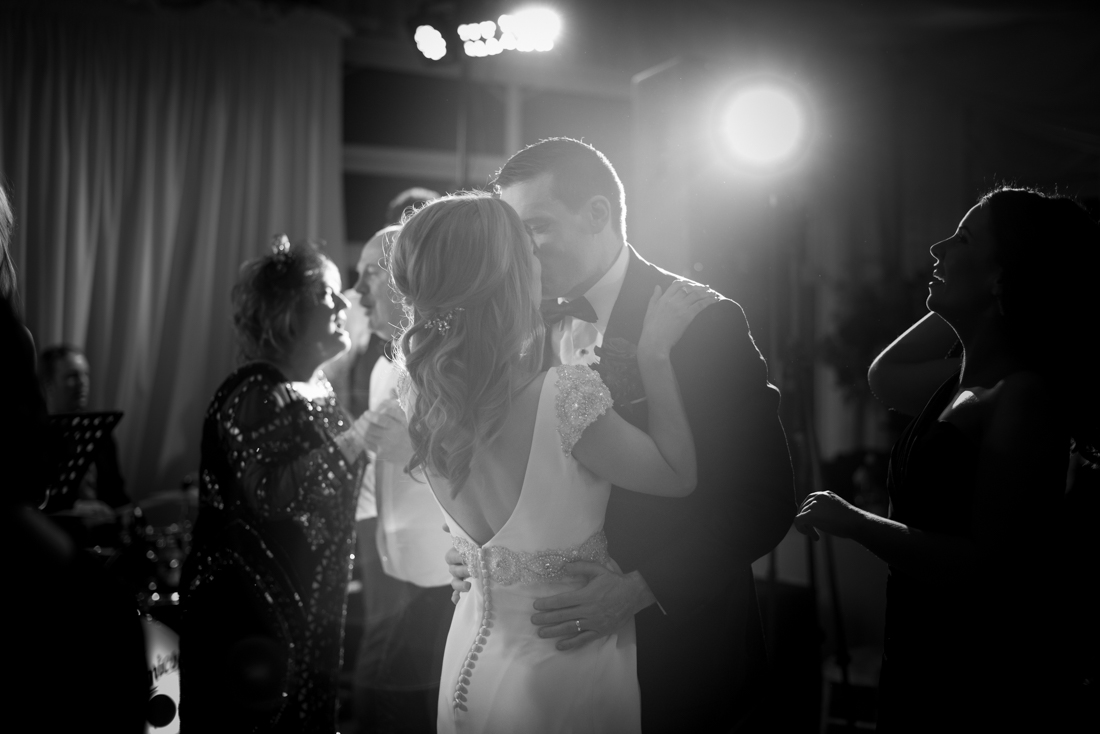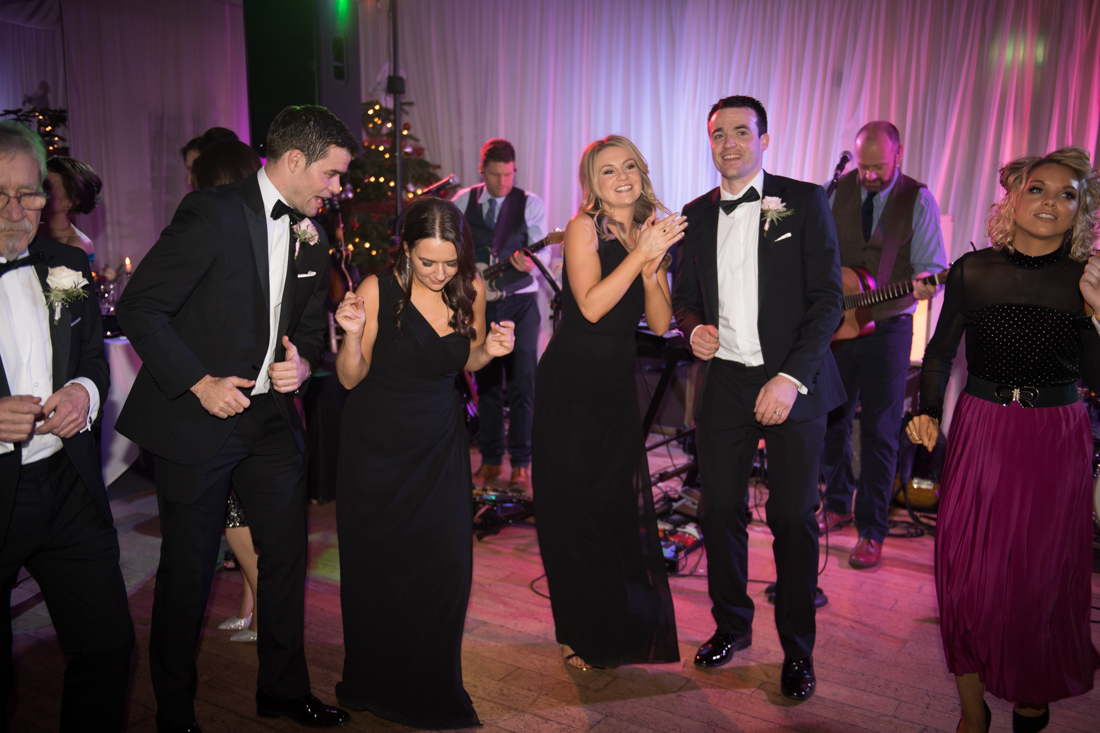 My piece of advice for other brides…
Take it all in, don't sweat the small stuff and try to get a couple of moments together on the day  xx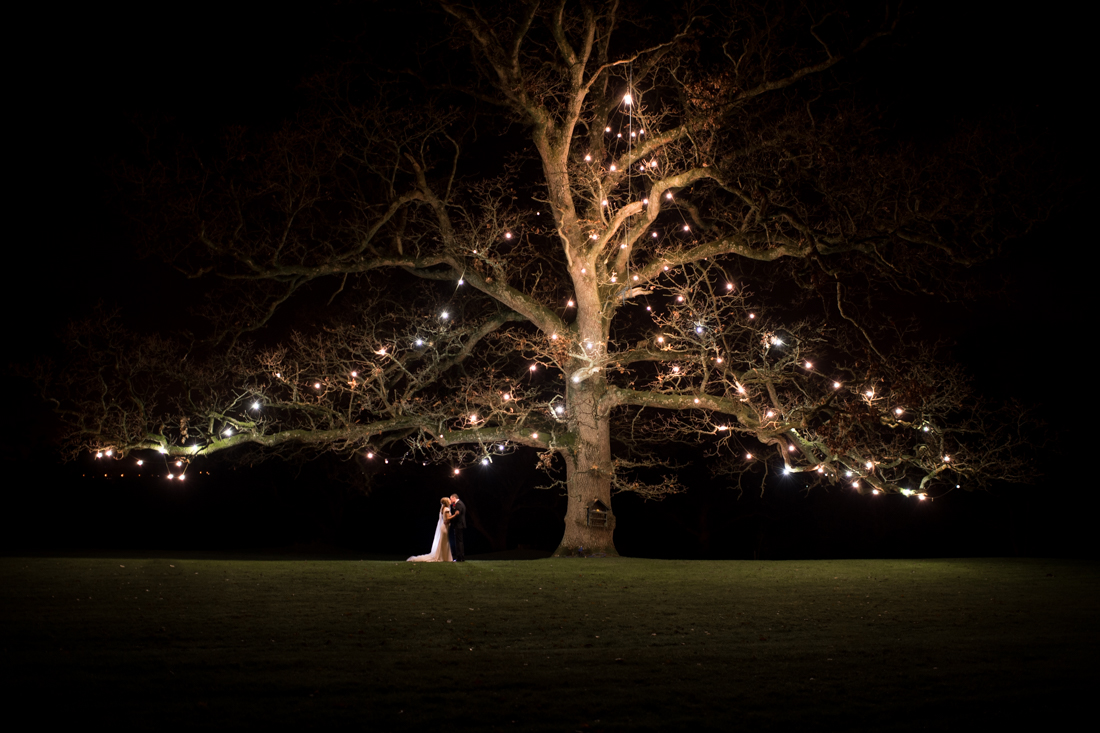 The Suppliers For this Rathsallagh House Wedding
Photography:  The Fennells
Videography: The Fennells
The Dress: Kathy De Stafford
Grooms' suit:  Richie Whelan's Menswear Naas
Rings: Philippe Harold (Antwerp)
Bridesmaids' dresses:  La Bella Sposa
Hair: Aisling Hamill
Make-up: Ailbhe Lynch
Venue: Rathsallagh Country House
Ceremony: Ballymore Eustace Church of the Immaculate Conception
Music: Maynooth Gospel Choir
Flowers: Country House Flowers, Celbridge
Cake: Timeless Cakes 4U
Invites: Flannelly Media Design
---