A Mount Druid Wedding by The Fennells
We had the pleasure of photographing Rebecca and Alan's Mount Druid wedding in July last year. Mount Druid is an alternative wedding venue and it has some really unique attributes. It has a Tin Chapel on site where you can have your wedding ceremony. You can stay in one of their accommodation rooms which are certainly cool and quirky. They have yurt huts and you can even sleep in a converted bus. We asked Rebecca and Alan all about their wedding which they have kindly shared below.
How did you both meet?
Alan and I met eleven years ago in Crete. We were both on holidays with friends staying in the same resort. On the first night we met we really hit it off but unfortunately the next day Alan landed himself in hospital. I was secretly disappointed as I didn't know if I would see him again.
Shortly after we landed home, I got an invite to Alan's 20th Birthday. It's amazing to think that we had to go all the way to Crete to meet when we grew up only 15mins away from each other. After a BBQ and a few pints of dutch courage in the famous BarCode, Alan went in for the kiss! I'm a firm believer that 'everything happens when you least expect it'!
Tell us all about the wedding proposal…
Alan & I got engaged at Christmas at home in Ireland. On Christmas morning we woke up and Alan asked if I wanted to open one of my gifts. He said it was just something small and he wanted to give it to me before everyone woke up and went downstairs. I was sitting in my Elf pyjamas and thought nothing of it. When I looked around Alan was down on one knee with the biggest smile and he asked me to marry him.
Alan had designed my beautiful ring with Cara jewellers in Dubai. He planned to pop the question at home at Christmas as it's my favourite time of the year, surrounded by family & friends to celebrate. It was also my niece, Sophie's first Christmas which made it extra special in our house. It was perfect!
Who did your hair and makeup?
My bridesmaids and I had the 'dream team' getting ready on the morning. Our hair was styled by Aisling Hamill and the amazing Natasha Ray did our makeup. We had a fun, chilled morning with champagne for breakfast.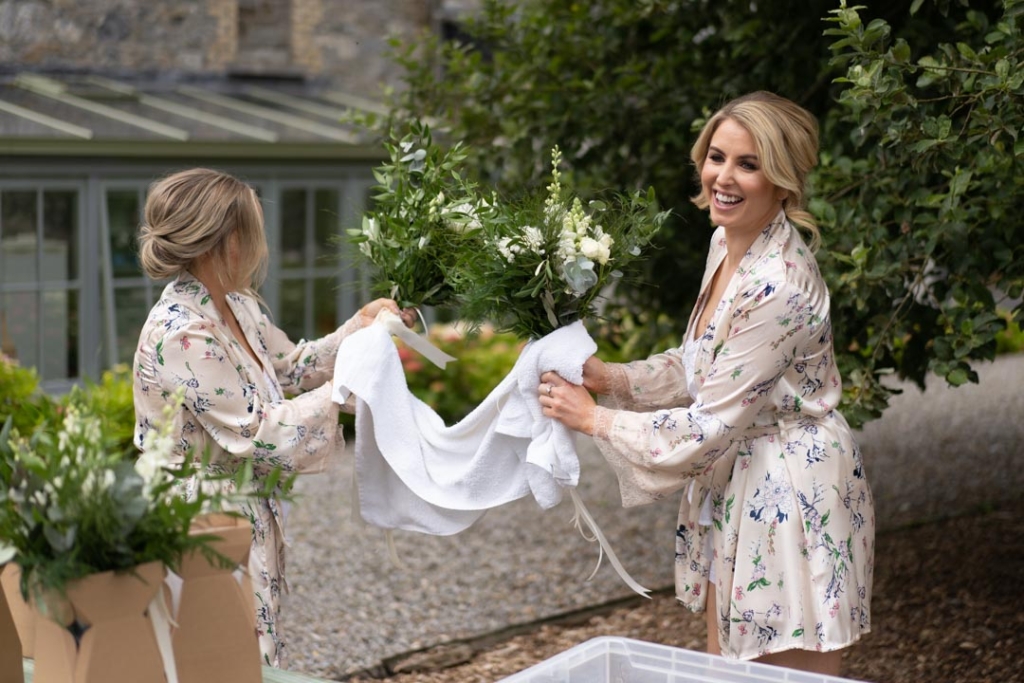 How did your wedding planning go?
Prior to our wedding day in July, Alan and I got legally married in Dubai. We flew our parents over for a beautiful intimate ceremony.
We both knew we wanted to celebrate our wedding day surrounded by our close family & friends in Ireland as 'there's no place like home!'
Myself and Alan knew from day one that we wanted a relaxed celebration with lots of fun, one big party!! We weren't too fussed about tradition or doing things just for the sake of it so we decided to do things our way.
Your wedding dress was beautiful, where did you get it?
I never had that vision of my wedding dress growing up so when I was choosing the design, I just knew I wanted something different and made for dancing. My wedding dress was custom made by Edel Tuite. Edel had made my sister's wedding dress three years ago and I had no doubt she was going to make mine.
Why did you choose Mount Druid as your Wedding Venue?
We both fell in love with Mount Druid the first time we visited. It was so different to any other venue we had been to. The Barn had bundles of character, vintage furniture and wooden beams. The Tin Chapel blew us away; it was like something out of a story book.
Mount Druid is set amongst beautiful forestry which has many quirky yurts and wooden huts hidden for the guests to stay in and the endless trails of fairy lights that surrounded it. We wanted our guests to experience something different and love it just as much as we did.
Where did Alan get his suit?
Alan's suit was custom made by Sartor Tailors in Dubai. He went for a three-piece suit with a light grey jacket and waistcoat, white shirt and black slim-fit trousers. The suit was accompanied by a black skinny tie with white polka dots. The suit was embroidered with both of our names and the date of the wedding on the inside, which was a nice personal touch.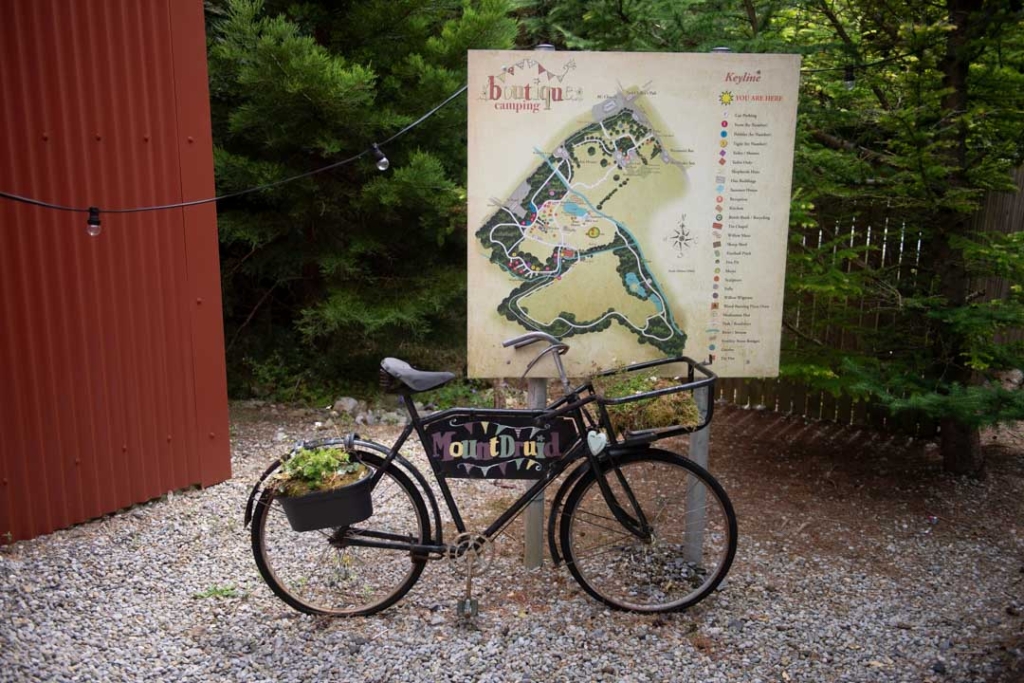 What were your wedding theme colours?
Mixtures of greenery and white flowers was our colour scheme. We wanted to bring as much of our love for nature and the outdoors, inside. At the entrance into the Tin Chapel we had a vintage tandem bicycle overflowing with loose wild flowers from its basket which set the scene that awaited us inside! The Chapel aisle was lined in tall white cherry blossom trees and a beautiful ivory carpet runner that led me to the top to meet Alan. I will never forget how I felt when I saw the Tin Chapel transformed. It was absolutely magical!
After our ceremony, the blossom trees were moved to The Barn where the meal and dancing took place. We loved this idea as it felt like the story / theme was continuing right the way through the day from start to finish.
Where did you get the Groomsmen's suits?
The Groomsmen's suits were also custom made by Sartor Tailors in Dubai. They matched Alan's suit with the lads opting for different ties. We also got the suit jackets embroidered with the Groomsmen name and date of the wedding on the inside. Not only did we love this little personal touch, but it also made sure that the lads didn't lose their jackets! (lol)
How did you choose your photographer?
We follow The Fennells on Instagram and could see how amazing their work is. Apart from how good they both are at their job, it was Mark and Fiona's personality that really sold us on choosing them. They are both so much fun to be around and they both just make you feel so at ease and relaxed. The Fennells made our day and we really couldn't recommend them highly enough.
Where did you buy the Bridesmaids dresses?
I decided to go with versatile bridesmaid dresses for the girls. I wanted them to love and most importantly feel comfortable in their dresses. The girls chose what style of dress they wanted. I picked beautiful sage green material and got the dresses made in Dubai.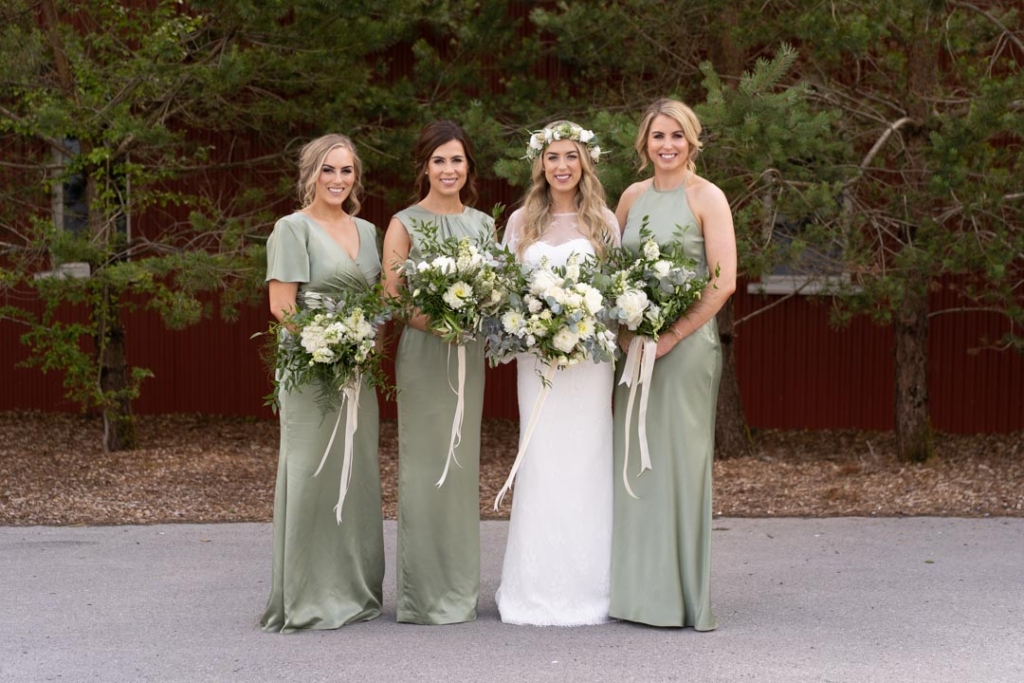 What was your wedding menu like at Mount Druid?
Keeping with the relaxed theme of the wedding, we opted for the BBQ option that Mount Druid have. We had heard great things about the food at Mount Druid and they definitely lived up to the reviews. From the delicious pork belly to the fresh vegetables that are grown on site at Mount Druid.
We had Irish dancers perform after the BBQ. I did Irish dancing growing up and love watching them perform; it still gives me goose bumps after all these years. It was great entertainment for after the meal and gave everyone a chance to let the food settle before hitting the dance floor.
Did you have a Day Two celebration?
Yes we did and there was definitely a few sore heads the day after the wedding including Alan and myself (lol). We continued the celebrations at the roof top bar in The Marker Hotel in Dublin. It was nice to show guests who travelled to Ireland for the first time, the beautiful views of Dublin city.
Tell us more about your Mount Druid wedding and how you decorated it…
Once we got over the excitement of our engagement, we began to search for our dream venue.  We wanted our Big Day to reflect our own individual style. Our wedding theme was a wild / natural / rustic type vibe coupled with great food and a chic – festival style party. 
What was your favourite part of your Mount Druid wedding?
We were blessed with so many highlights throughout the day. One memory that stands out for us, is when Mount Druid announced Alan and I as the new Mr & Mrs Sweeney for the first time, seeing everyone's big smiles as we danced into the Barn to one of our favourite songs. Everyone was on their feet singing while swinging their napkins in the air, including my Granny & Grandad. This is a memory we will cherish forever.
Where did you go for your honeymoon?
We stayed in Ireland for a few days after the wedding to catch up with family & friends and reminisce on the big day before flying back to Dubai. With our suitcases packed, we headed back to the airport the next day to fly to Zanzibar in Tanzania Africa for our 'mini-moon'.
It was a well needed break after all the madness and we had a few days of relaxation on the beach. We packed our wedding cards to read in our little hammock and took this opportunely to explore some of the beautiful island.
Zanibar was the perfect place to unwind and enjoy our first trip together as husband & wife. We plan to continue our honeymoon and travel this side of the world while we are still living in the UAE. We haven't decided when we'll be travelling yet but we can't wait for our next adventure!
Any piece of advice for any other Brides?
It can be difficult and frustrating at times to plan a wedding from a different country. I believe choosing the right suppliers who are professional and who have experience in the wedding industry was a massive help and made us feel at ease.
Try not to listen to people telling you what you should or shouldn't do, it's your special day so do whatever makes you happy.
Lastly, take a glass of champagne and a few minutes with your new hubby to enjoy the moment and soak it all up. I know it sounds cliché but it was the best day of our lives!
Thank you to Rebecca and Alan for having us as your Mount Druid wedding photographers. We really had a great day with you all and you made us really feel a part of your wedding day.
Wedding Suppliers for this Mount Druid Wedding:
Photographer: The Fennells
Videographer: The Fennells
Venue: Mount Druid
Ceremony: The Tin Chapel at Mount Druid
Wedding Dress: Edel Tuite
Flower Crown: Sass and Halo
Grooms Suit: Sartor tailors, Dubai
Make-up: Natasha Ray
Hair: Aisling Hamill
Cake: Grooms sister
Treats & sweet jars: Treat Boutique Dublin
Ceremony & Reception Musician: Dough Sheridan
Rings: Cara, Dubai
Music band: The Beat Boutique
Saxaphone Player: DJ & Sax
Irish dancers: Celtic Rhythm Irish Dancers
Vintage Volkswagen Campervan: Volksweddings
Invites: Norma & Dorothy