Amazing flower inspiration in todays blog by Joeanna Caffrey Flowers.
We had the pleasure of being the official wedding photographers and videographers for the lovely Joeanna Caffrey and Paul Harvey on their wedding day at the beautiful Virginia Park Lodge. It was incredible what Joeanna Caffrey Flowers achieved, and a honour to capture such a super day. For the full story read on and get the full story from Joeanna. We call this story…When a Gardener meets a Florist.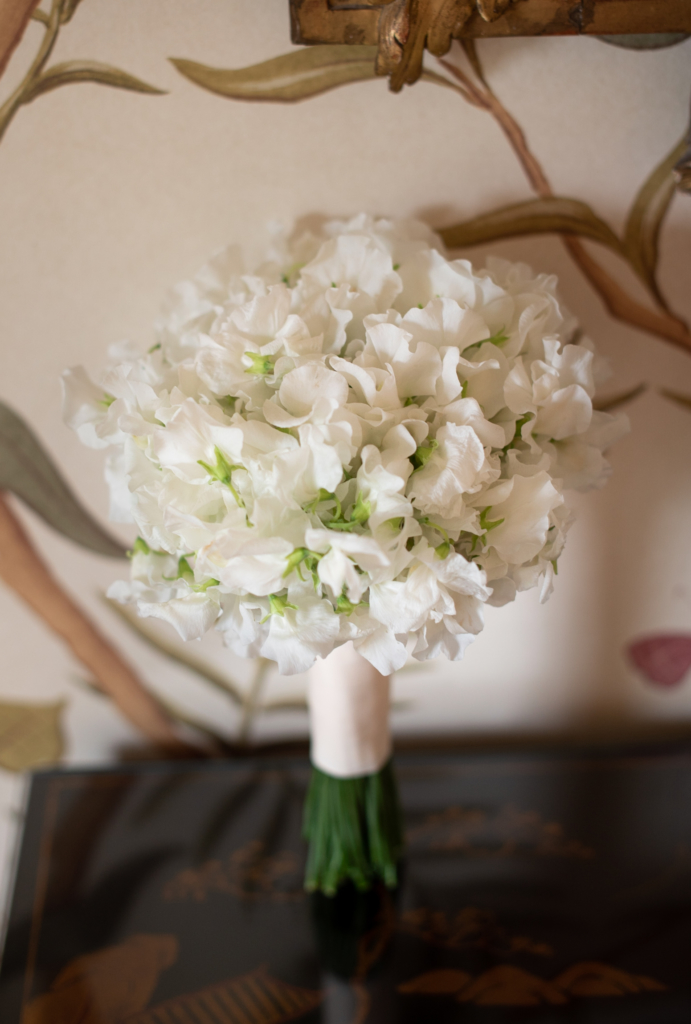 Joeanna Caffrey's bouquet was designed and supplied by Joeanna Caffrey Flowers.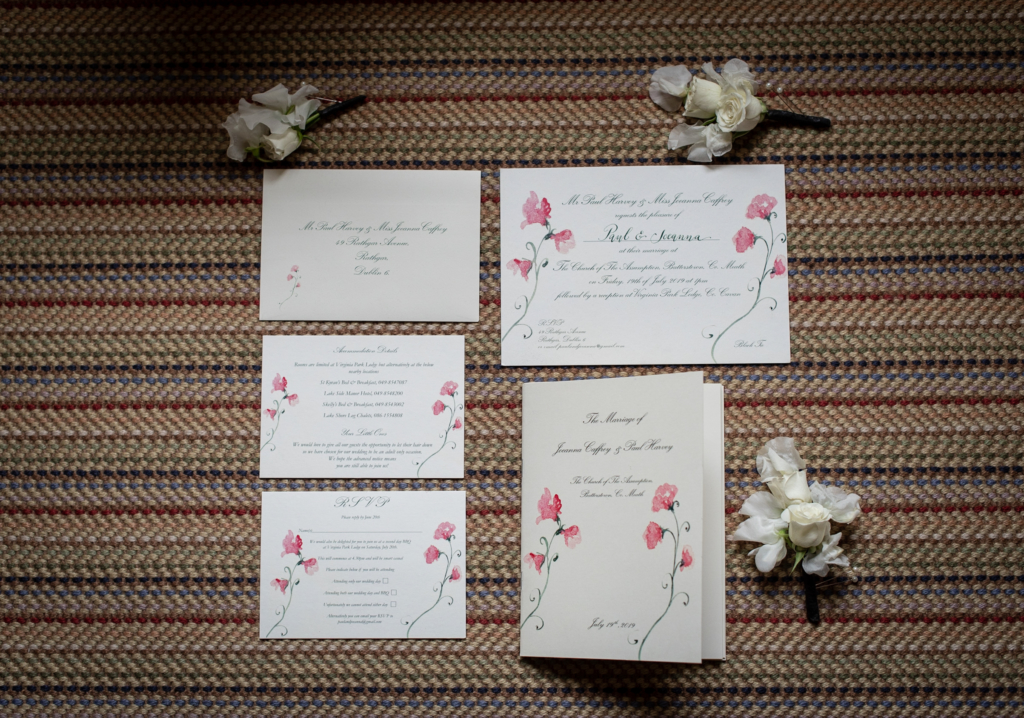 When a Gardener meets a florist..
Paul and I met 5 years ago and the connection was instant, we also had our livelihoods in common, I couldn't believe it when he told me he owned a garden centre with me a florist!! We dated for a few months but it was not until 2 years ago when we finally got together. We bumped into each other on a night out in town in September 2017 and have never been apart since. Joeanna Caffrey Flowers meets Windy Ridge. The rest is history as they say.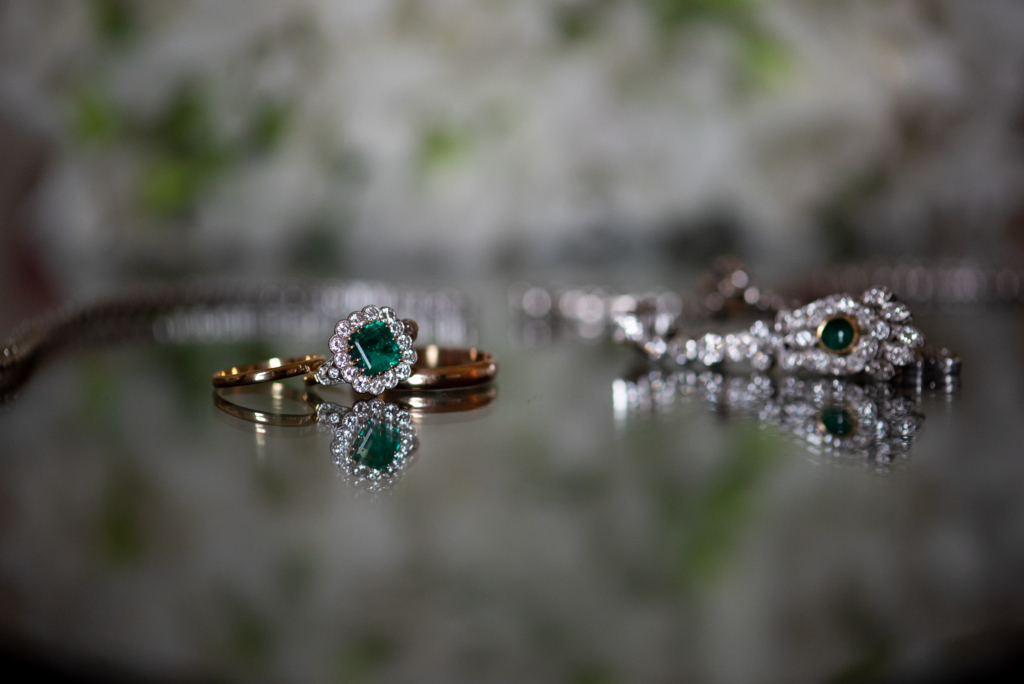 Photography by The Fennells wedding photography and film. Flowers by Joeanna Caffrey Flowers.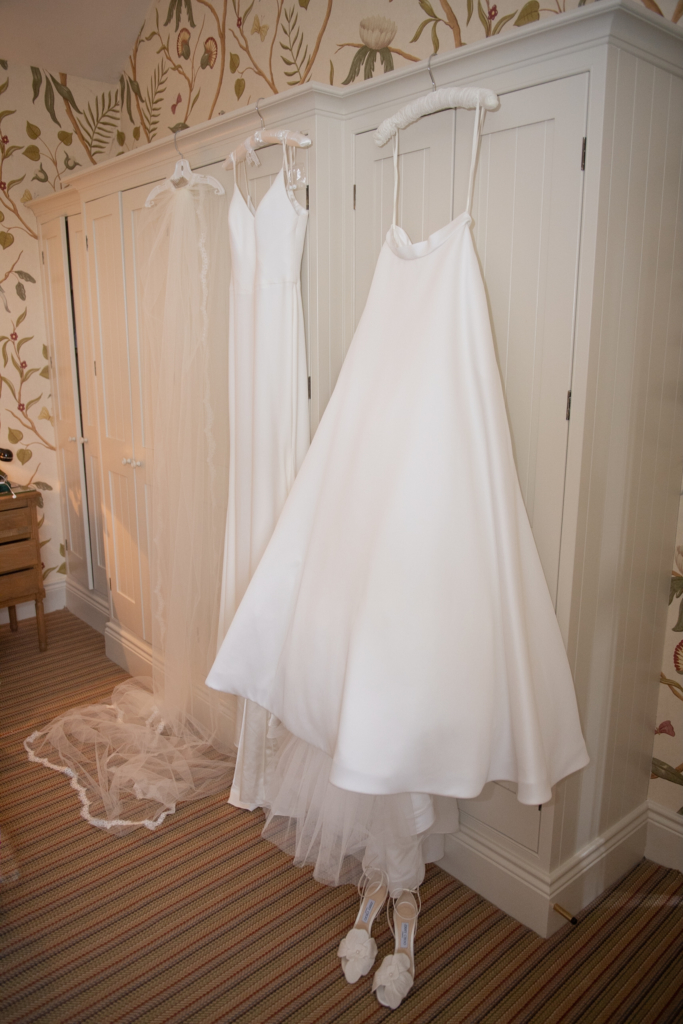 The Engagement
It was January 25th, this year (2019), Paul and I had just arrived back from holiday to South America. He completely caught me by surprise. We were getting ready to go out and I stumbled into the sitting room of our house where I was greeted by 100's of lighting candles and flowers and Paul in the middle of them. He started to read out a list of …The reasons why he wanted to marry me…I was of course on the floor with tears of happiness, he then got down on one knee and asked me to be his wife.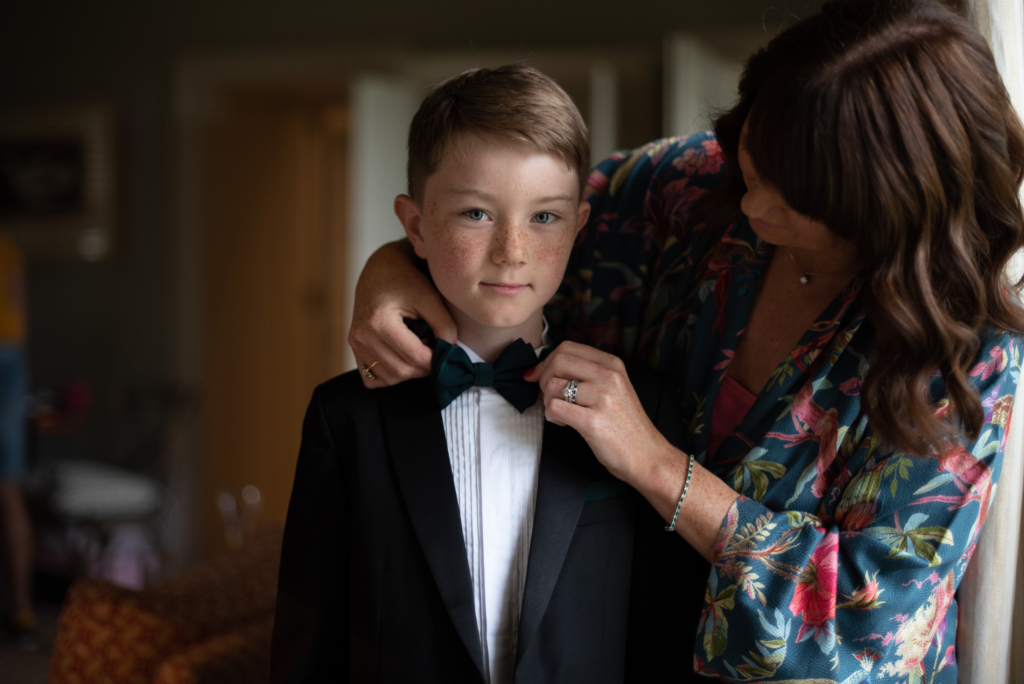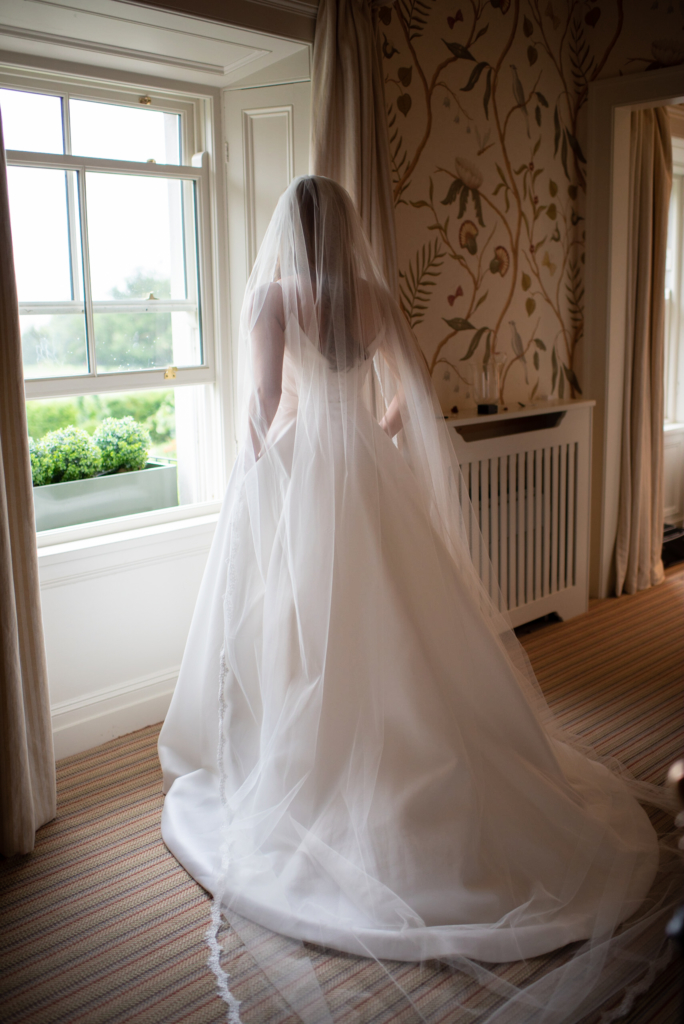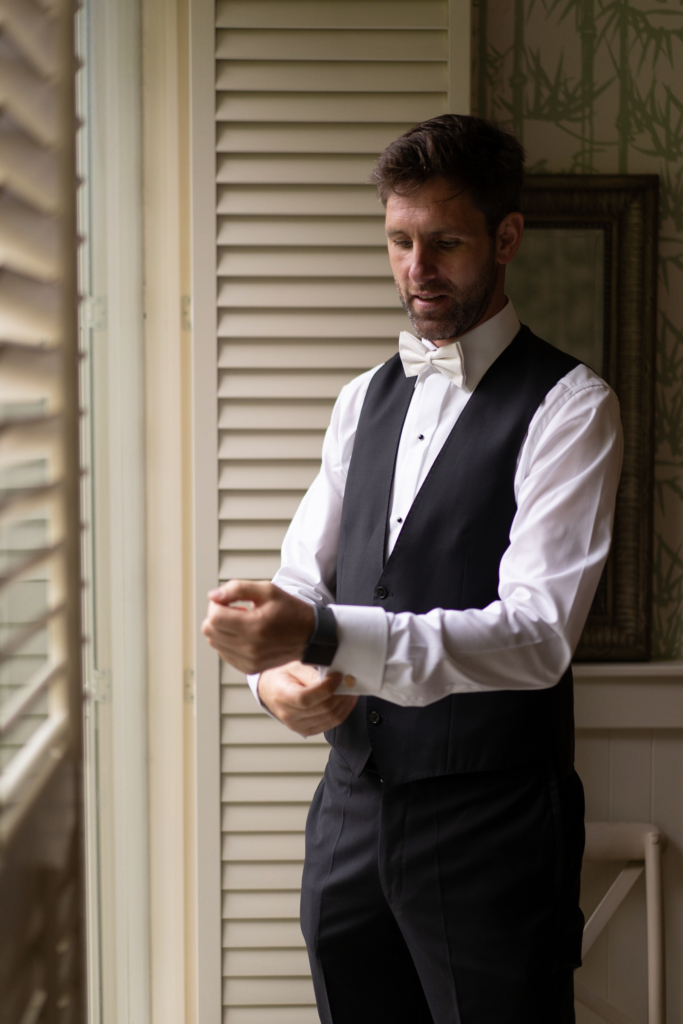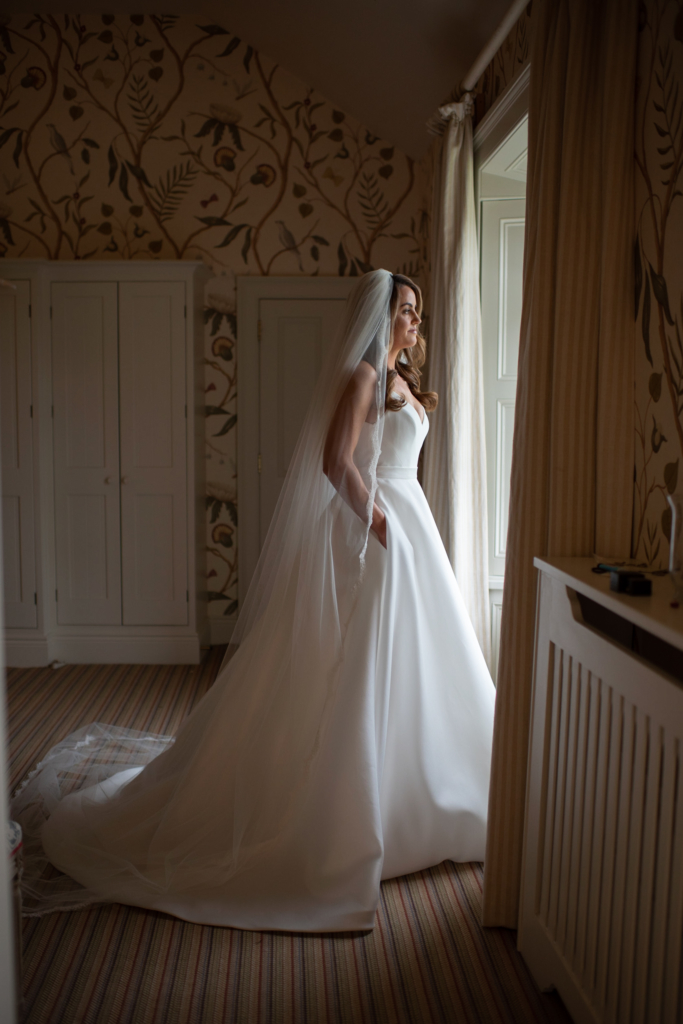 The Planning…
Owning my 3 flower shops at Avoca, Rathcoole, Dunboyne and Kilmacanogue along with running a large nationwide wedding business, aswell as Paul owning Windyridge garden centre, made our planning maybe a little easier than most. I am very familiar with all the wedding venues and suppliers in Ireland so called the venues and suppliers I liked straight away. I was lucky in that I dod not have to research any of that. We only had 5 months to plan but once I had the main suppliers booked I then organized the flowers and dressing myself.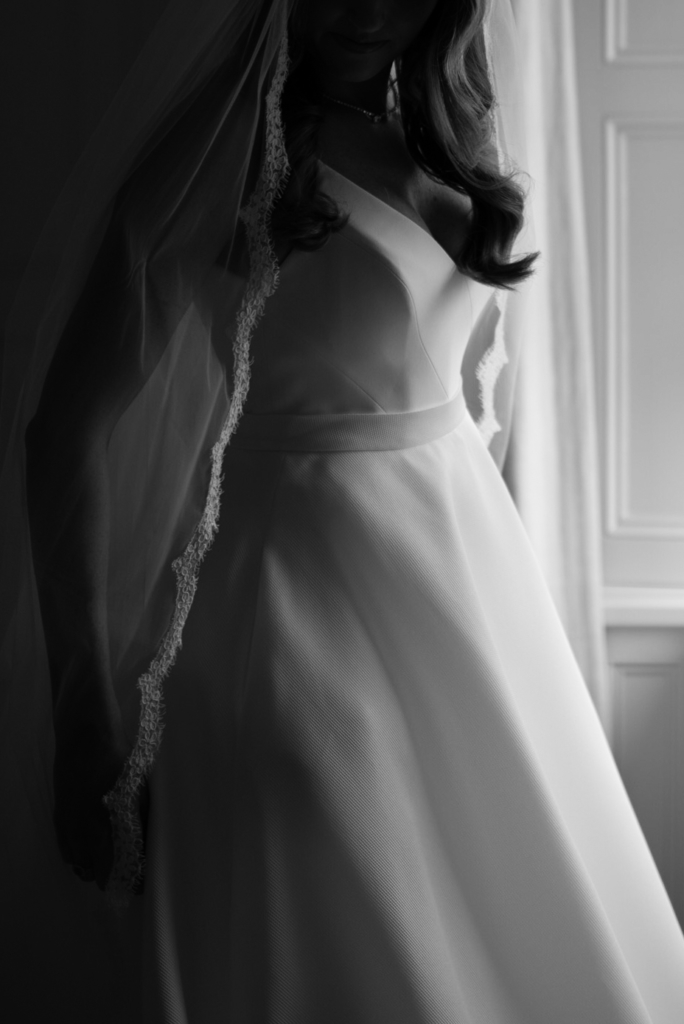 We chose our photographer because…
The Fennells are absolutely excellent at what they do, they made us feel at ease from the moment they arrived on the morning of our wedding. I was so excited when they told me they were available for our date, their pictures and how they capture a day and those special moments is unlike anybody else. They also provided the videographer for our wedding which made it easier for us.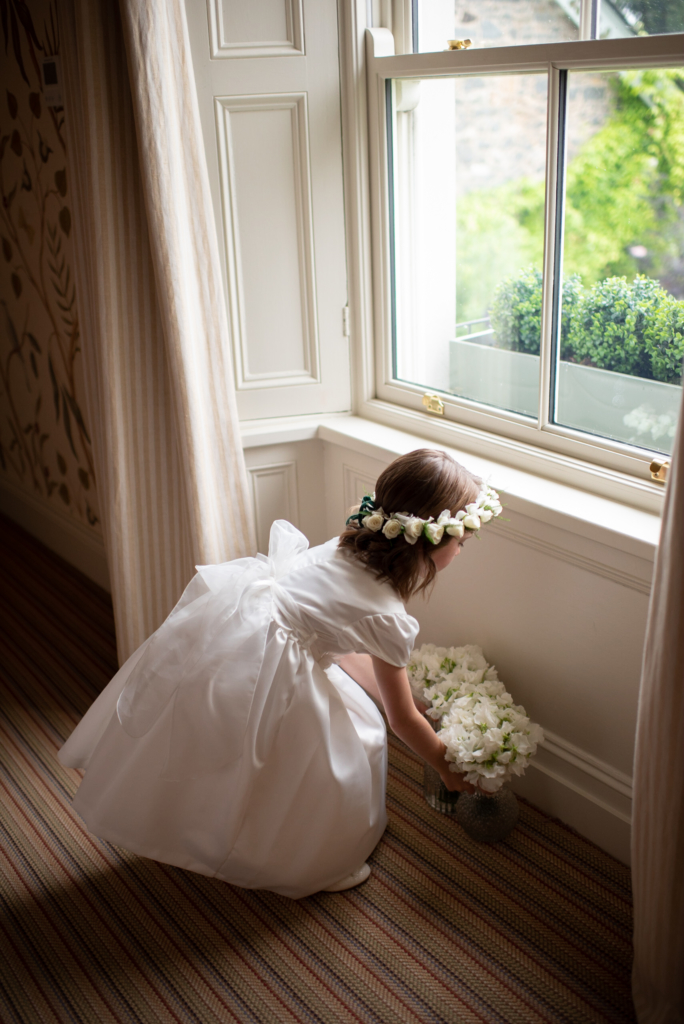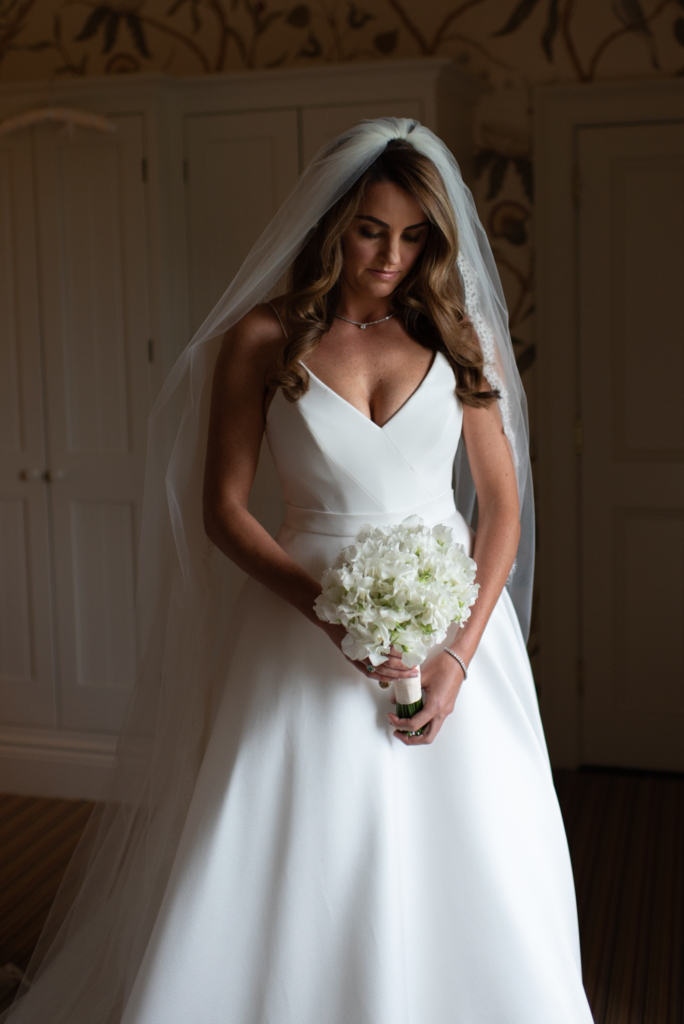 Our wedding theme/colours…
The underlying theme throughout the day was a palette of deep green. My engagement ring is an antique Emerald, this, along with the wild foliage incorporated into our flowers, our bridesmaid dress, the dicky bows the groomsmen wore, our vintage car and the linens at the venue, green was the base colour for every detail. I decided on a white and ivory 'Wild Country Meadow' theme for our bridal party and church flowers and a very vibrant colourful "Enchanted Garden" theme for Virginia Park Lodge.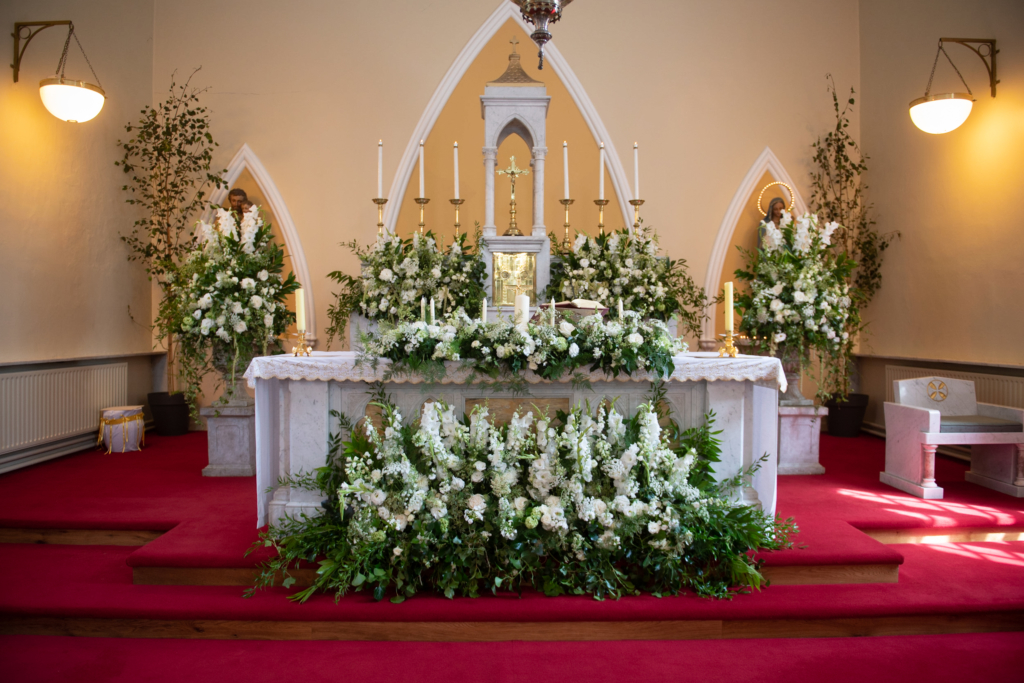 All of the flowers were supplied and arranged by Joeanna Caffrey Flowers.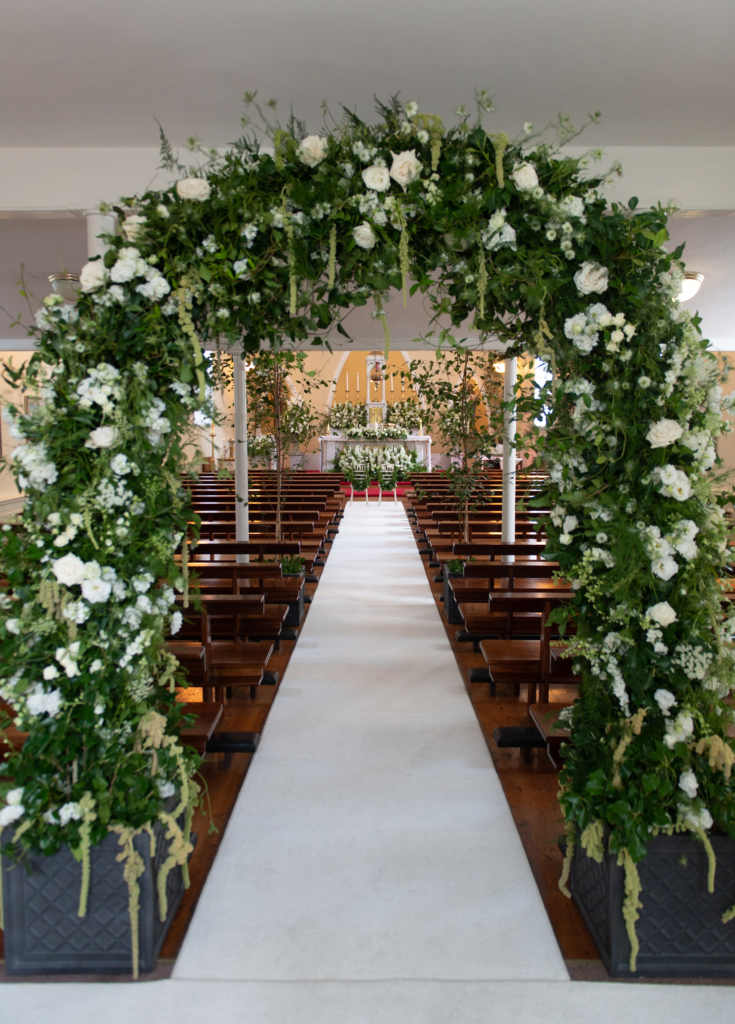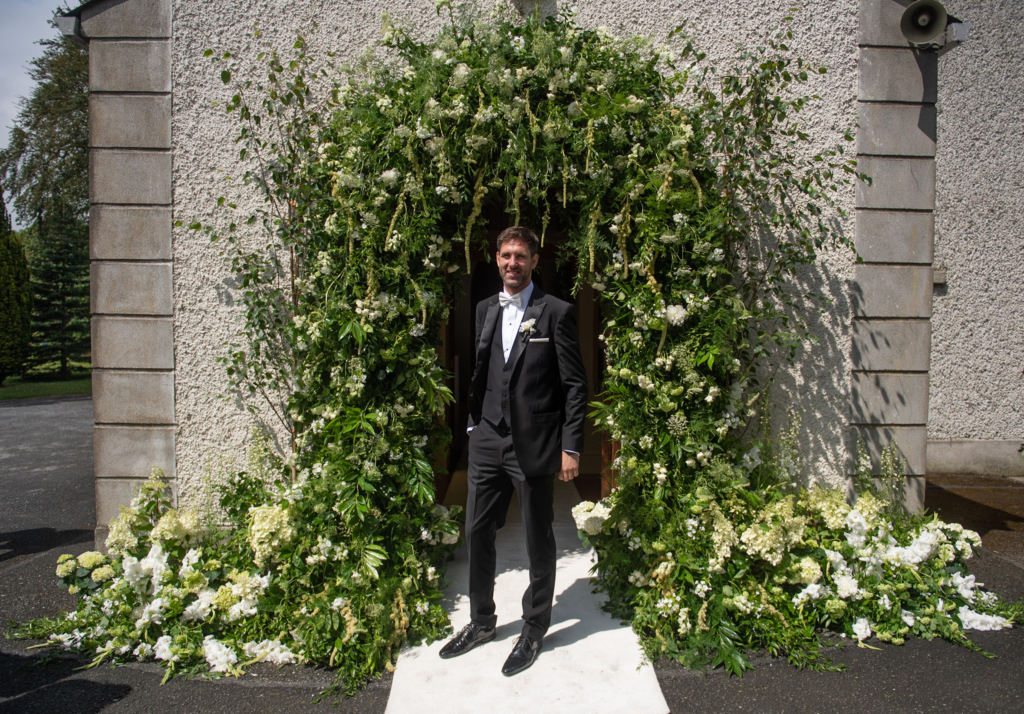 His Suit…
Paul is 6 foot 7 so he had a custom made black tuxedo with a waist coat and ivory dicky bow of raw silk to match my gown.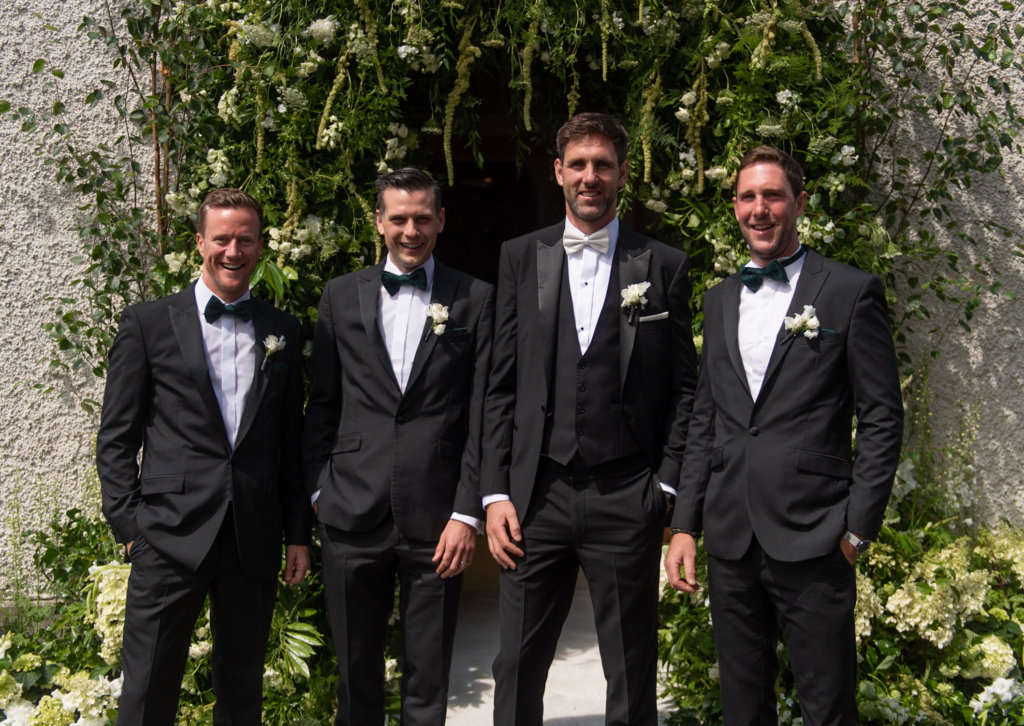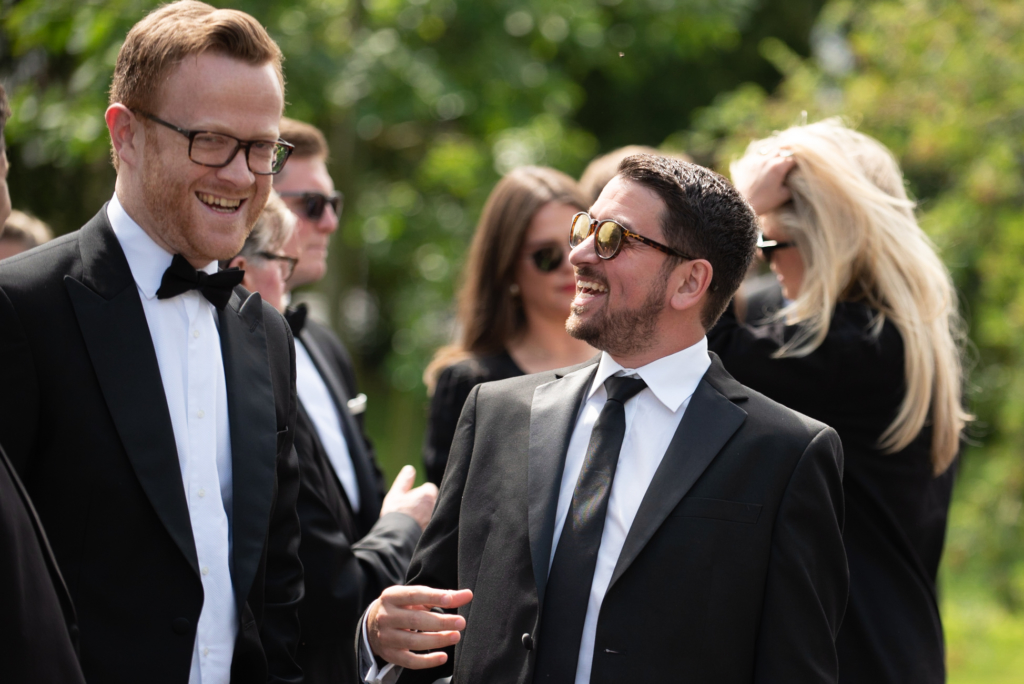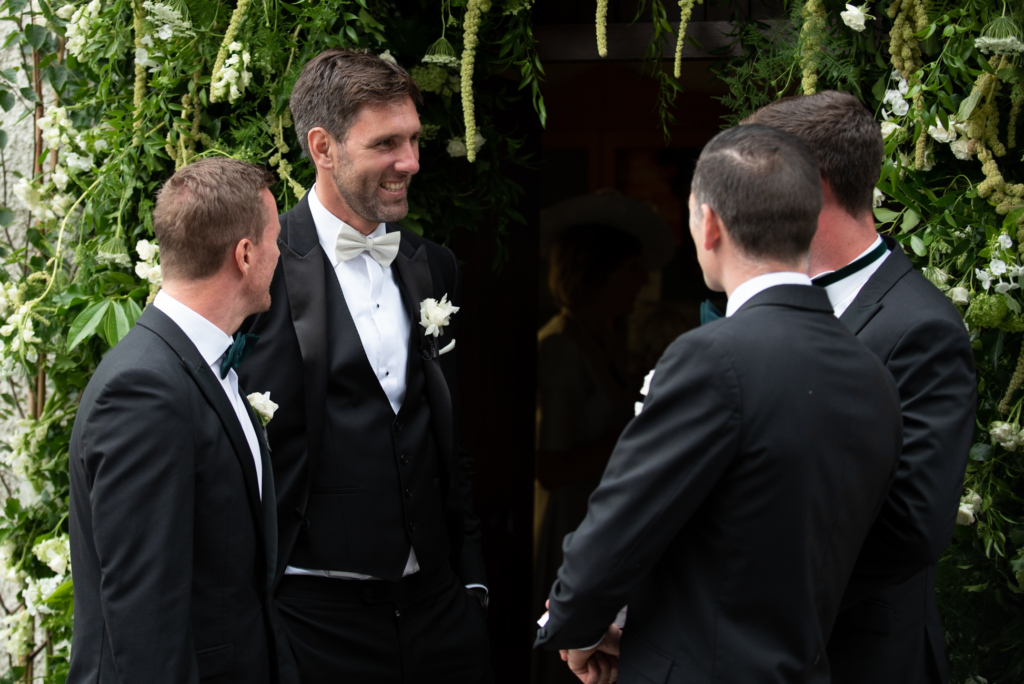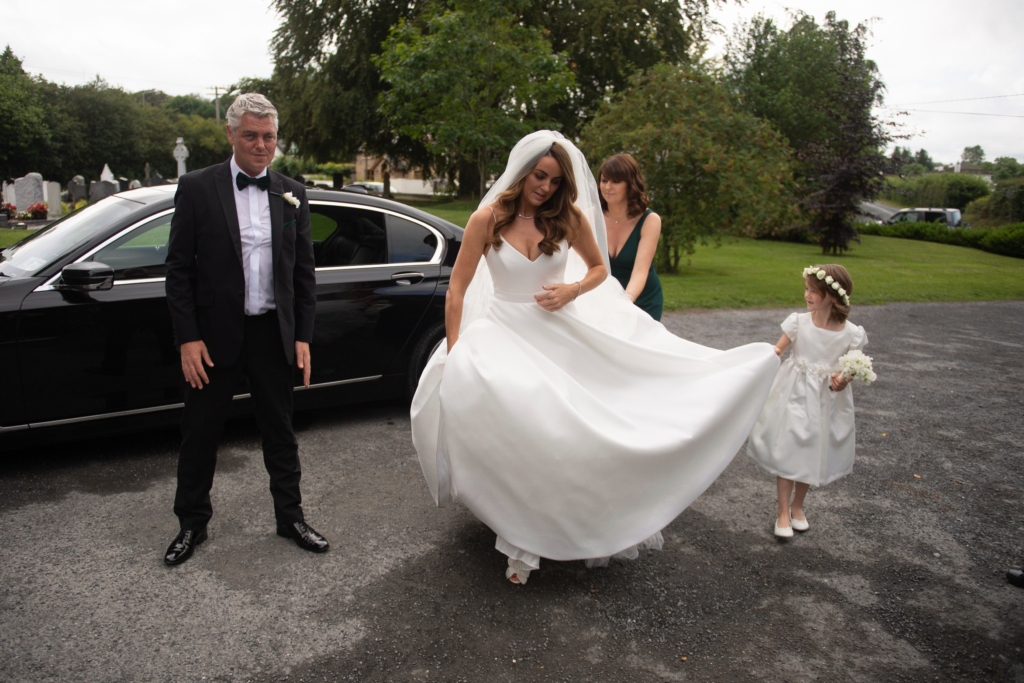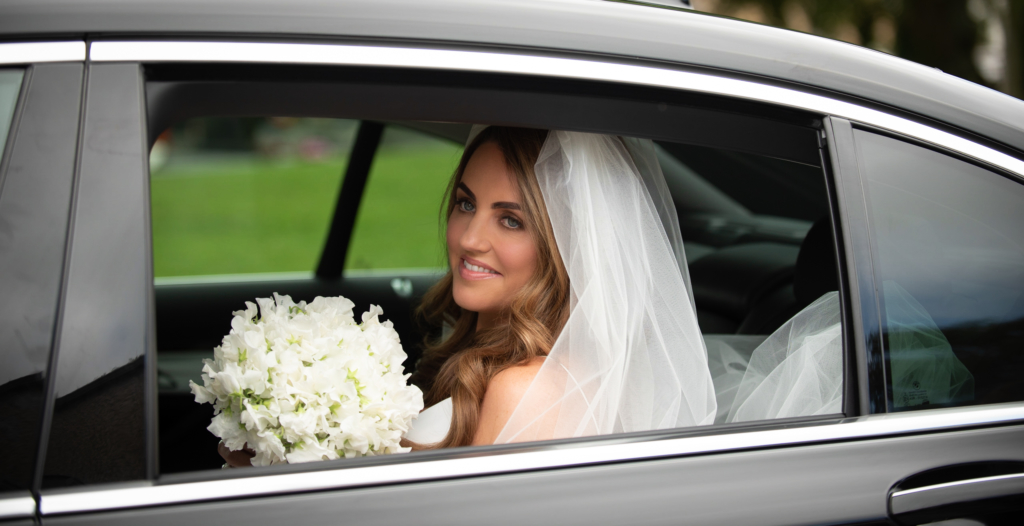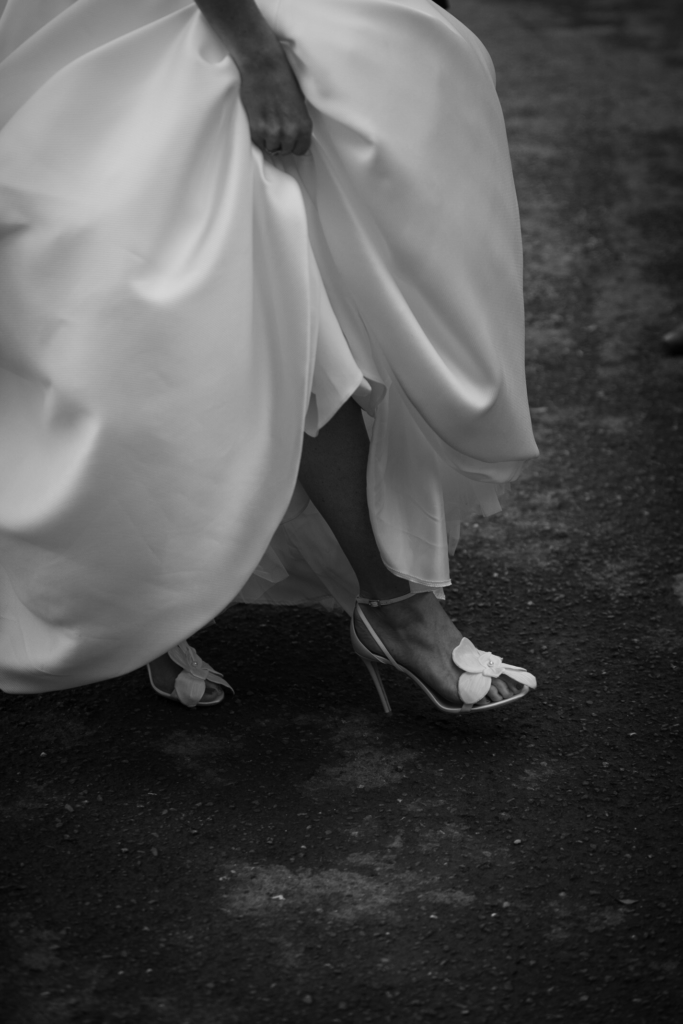 Photography by The Fennells wedding photography and film. Flowers by Joeanna Caffrey Flowers.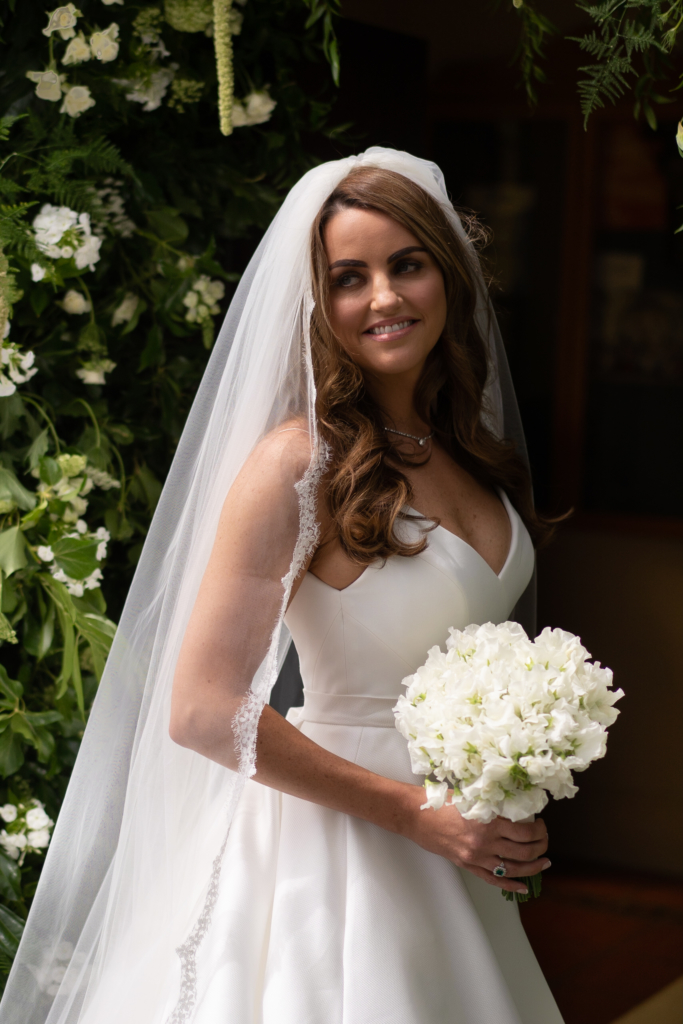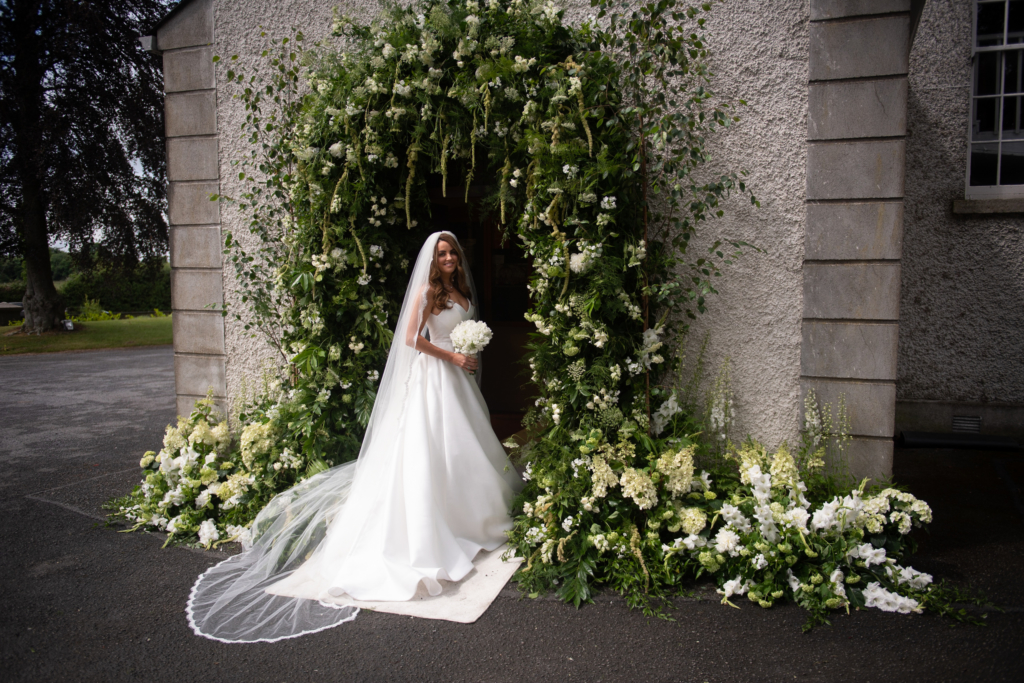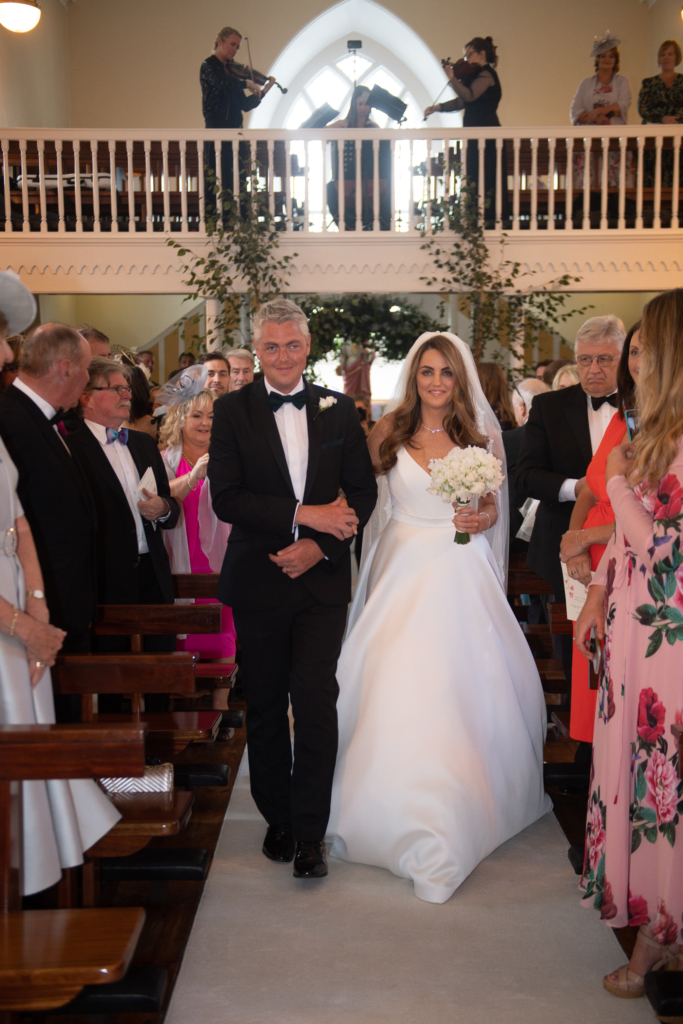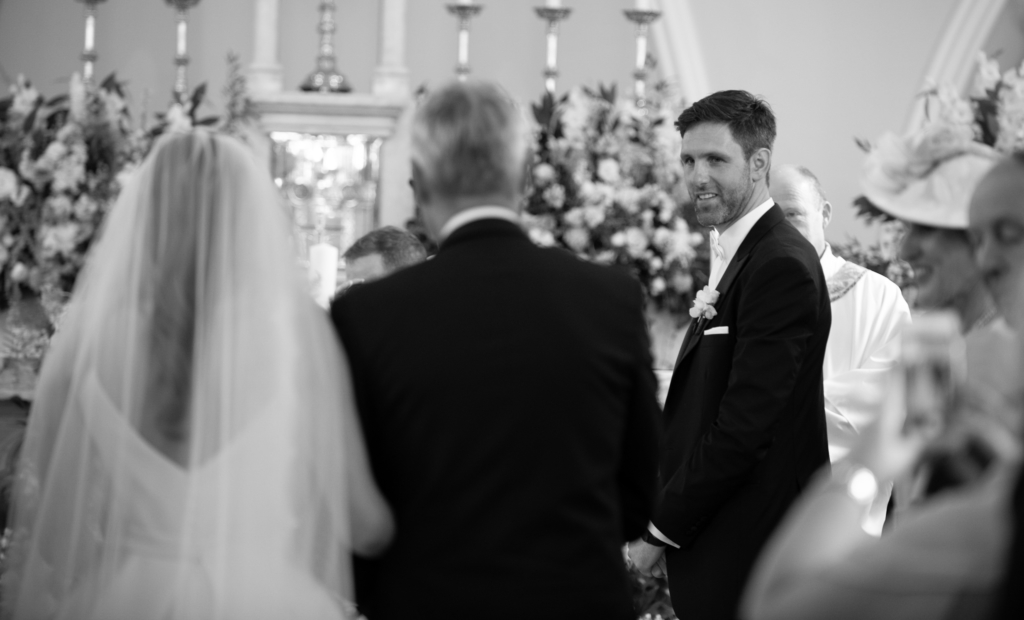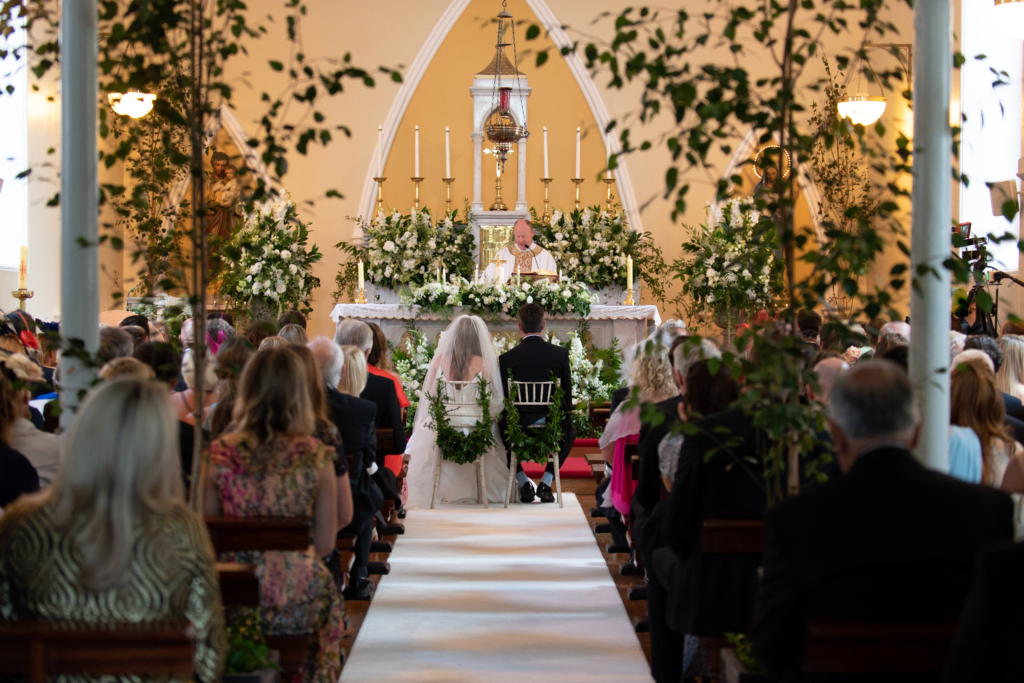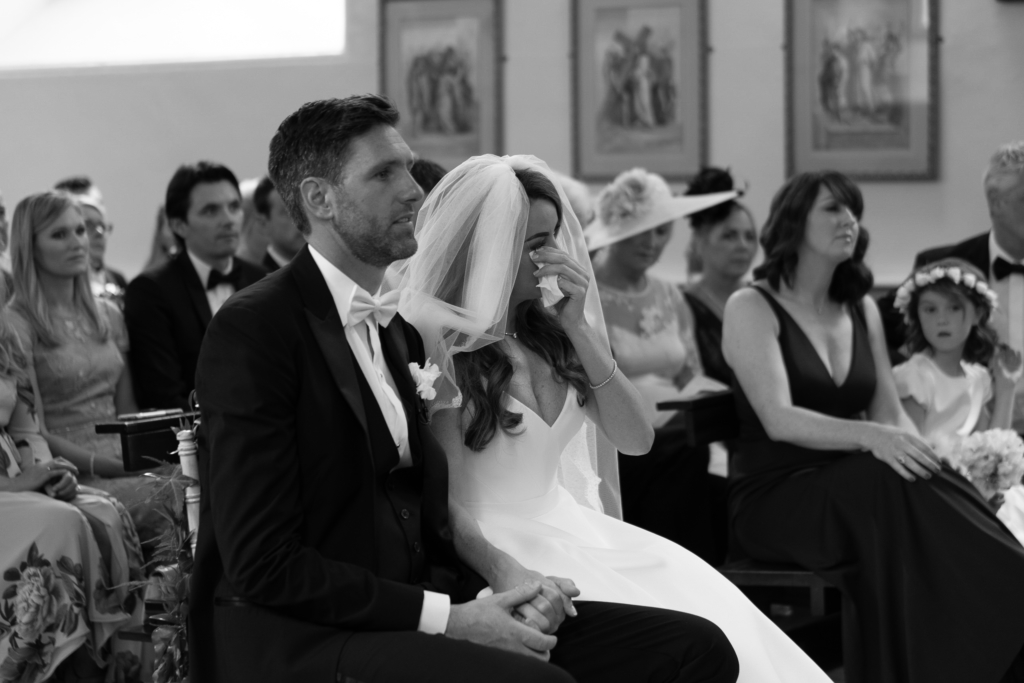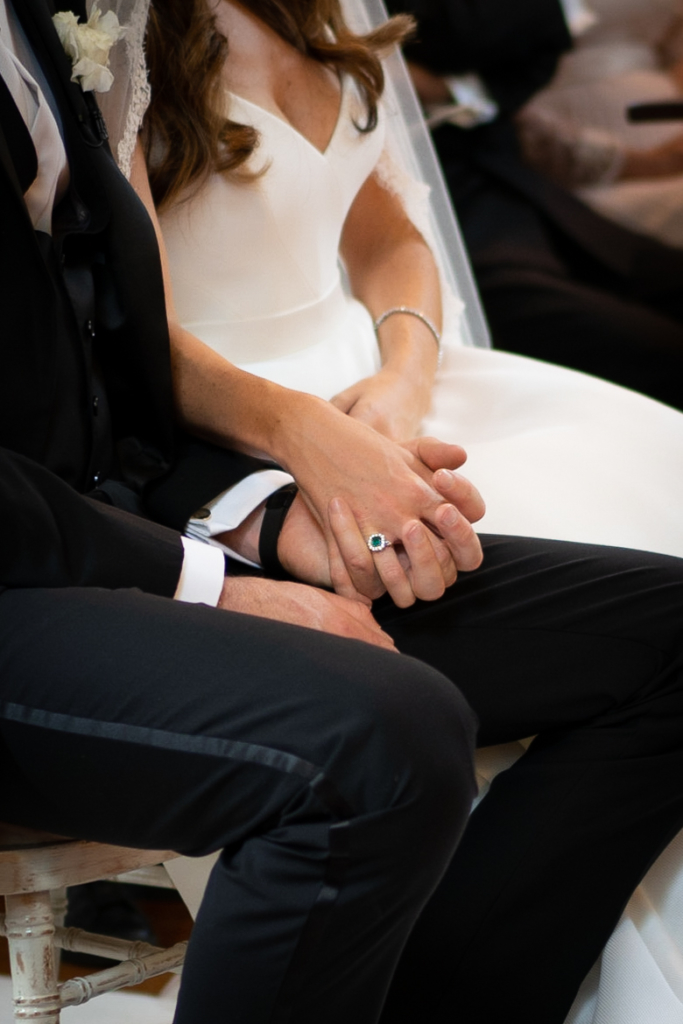 Photography by The Fennells wedding photography and film. Flowers by Joeanna Caffrey Flowers.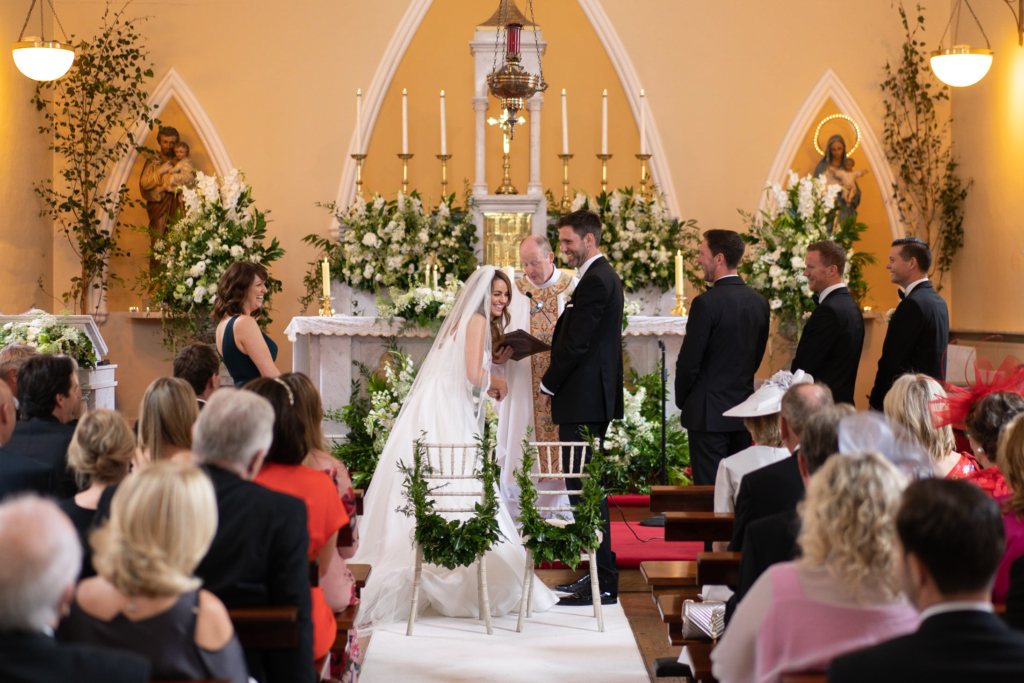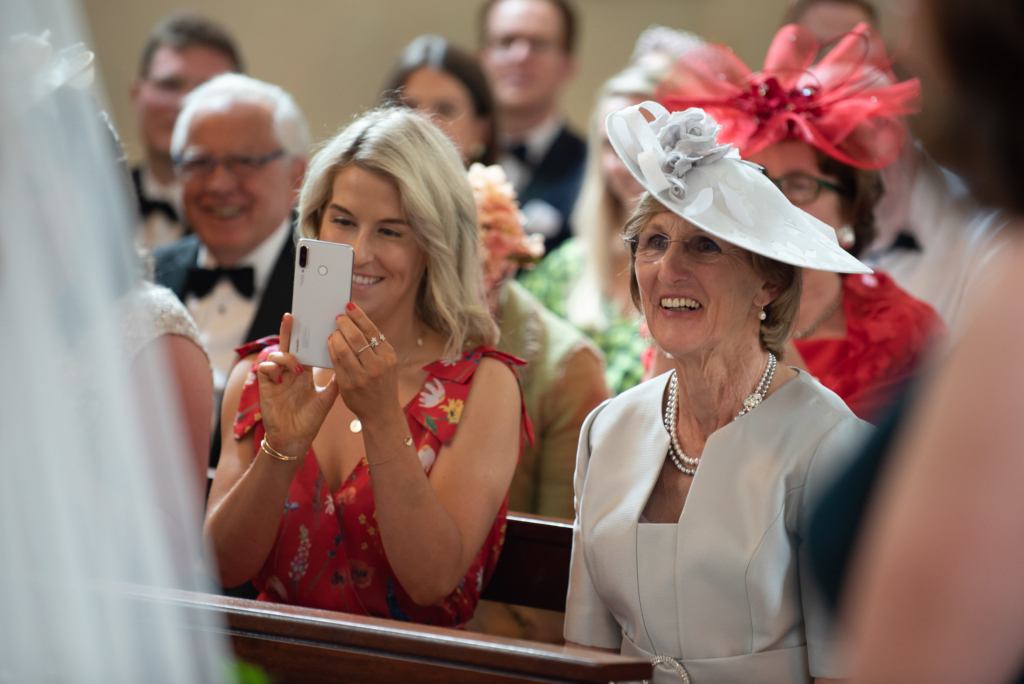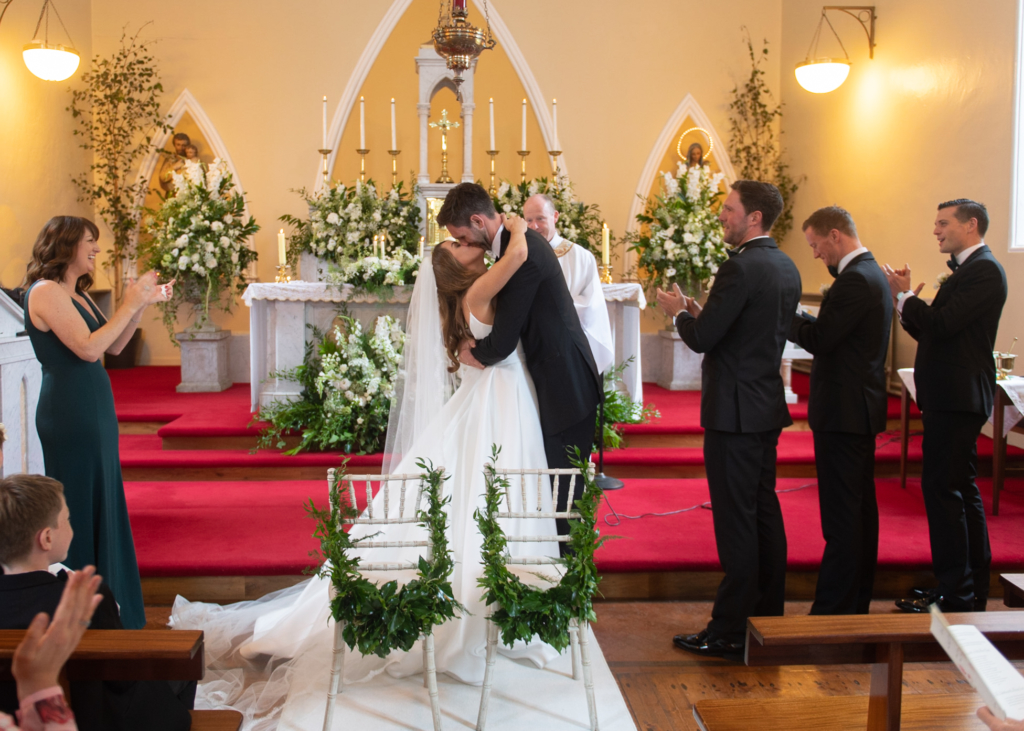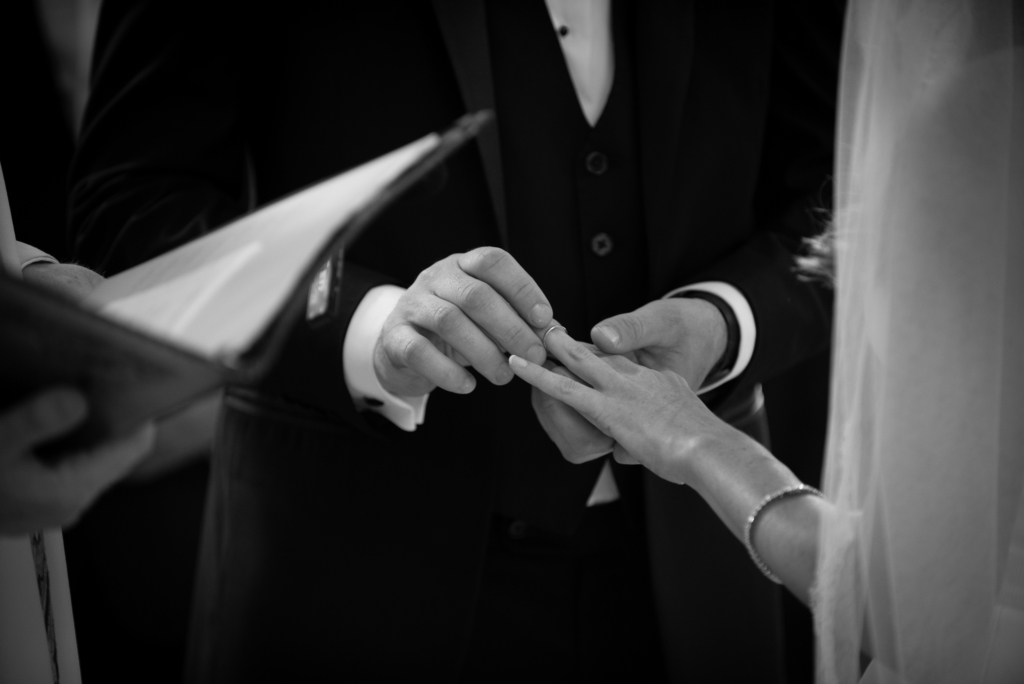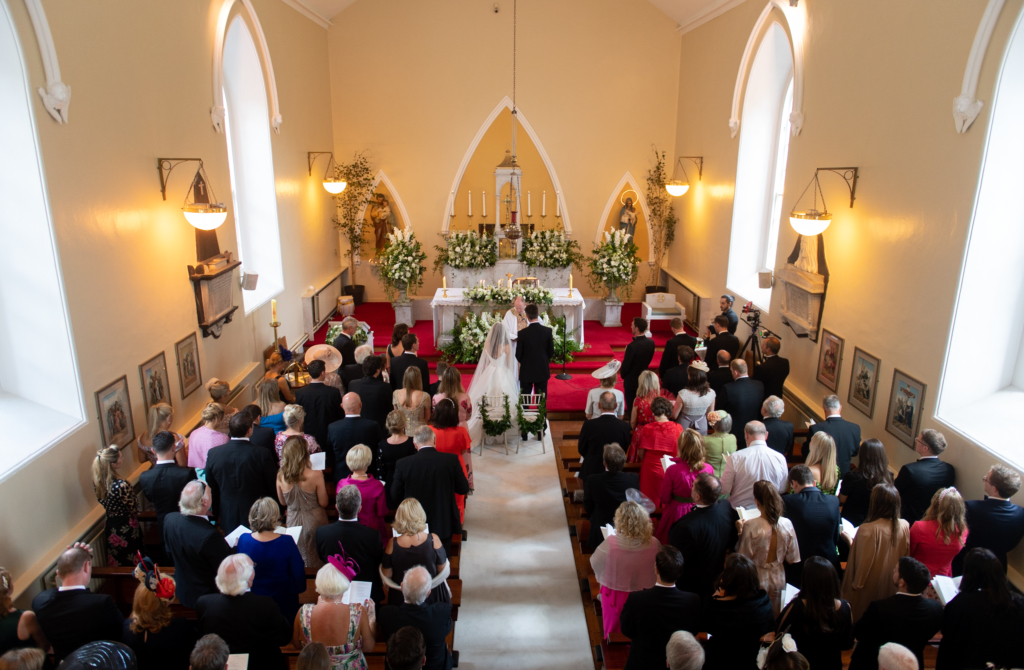 Our ceremony…
For the church I chose all white and ivory flowers with wild greenery, we did a mix of wild style flowers and also incorporated Silver Birch trees and Jasmine Arches. I chose beautifully scented white sweet pea for all our bridal party flowers as it has always been one of my favorites.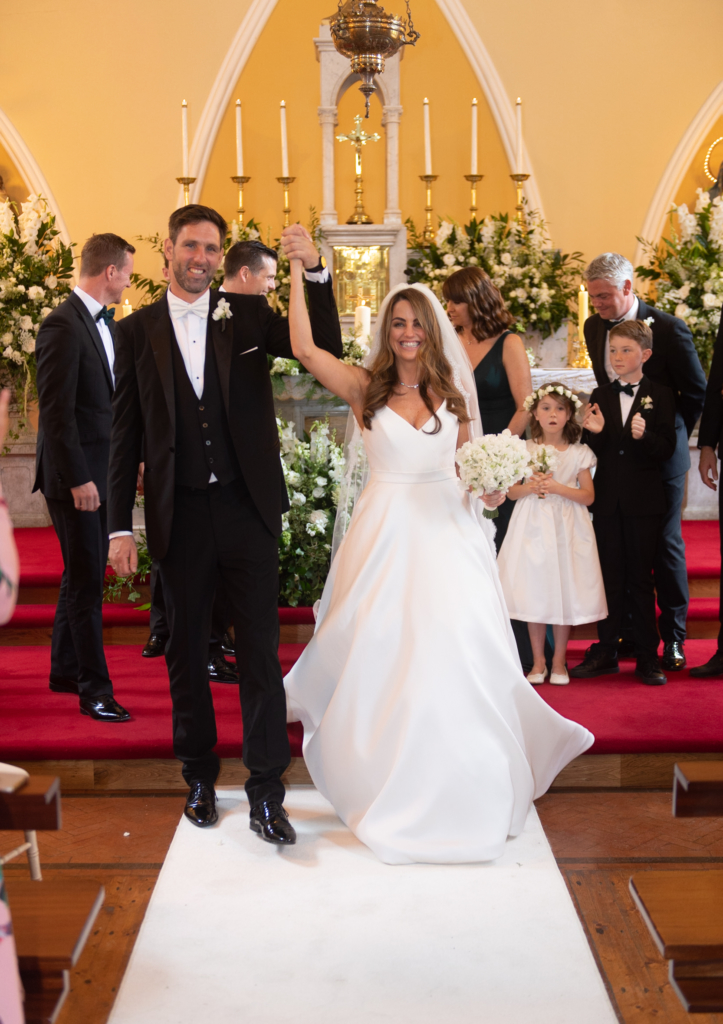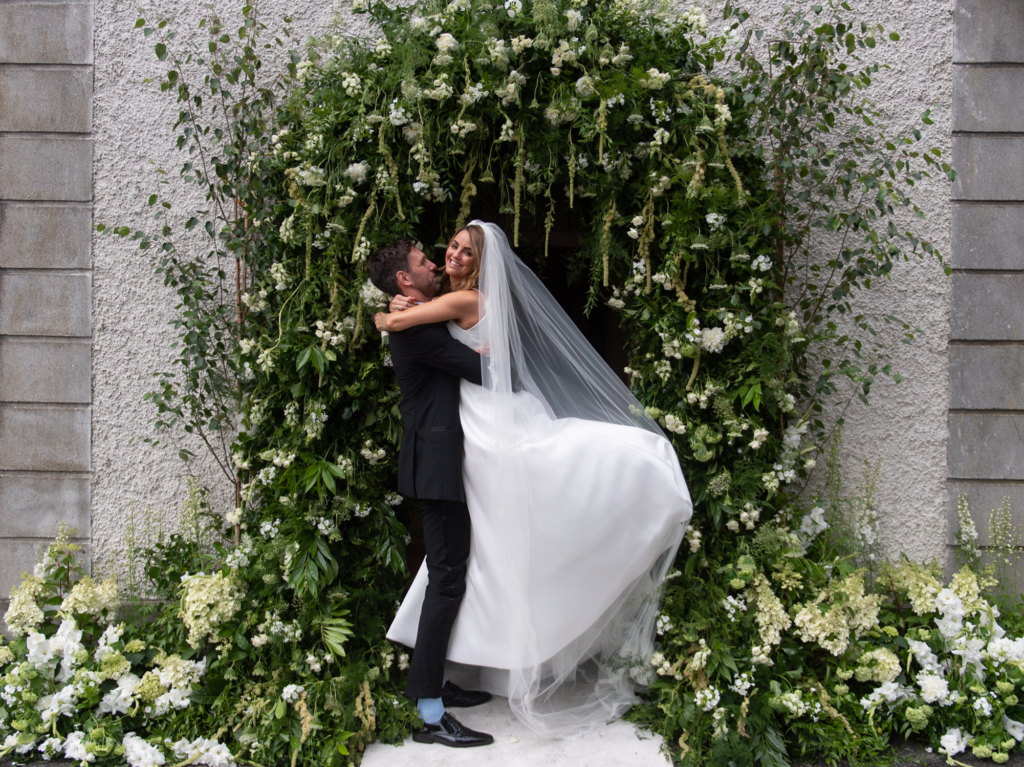 This incredible flower arch for Joeanna Caffrey's wedding was supplied by Joeanna Caffrey Flowers.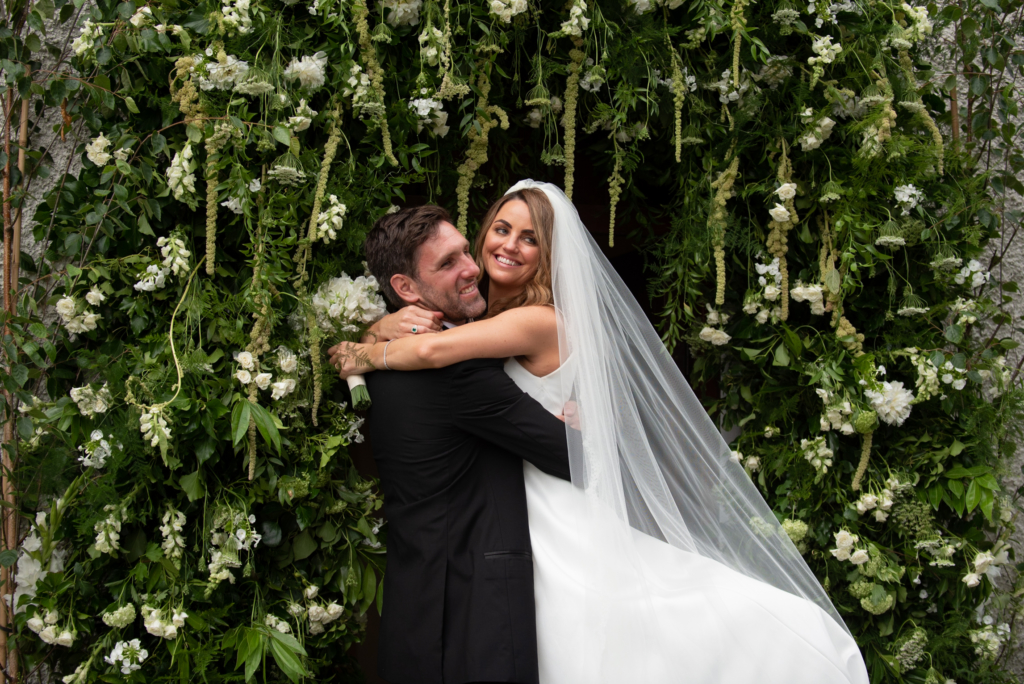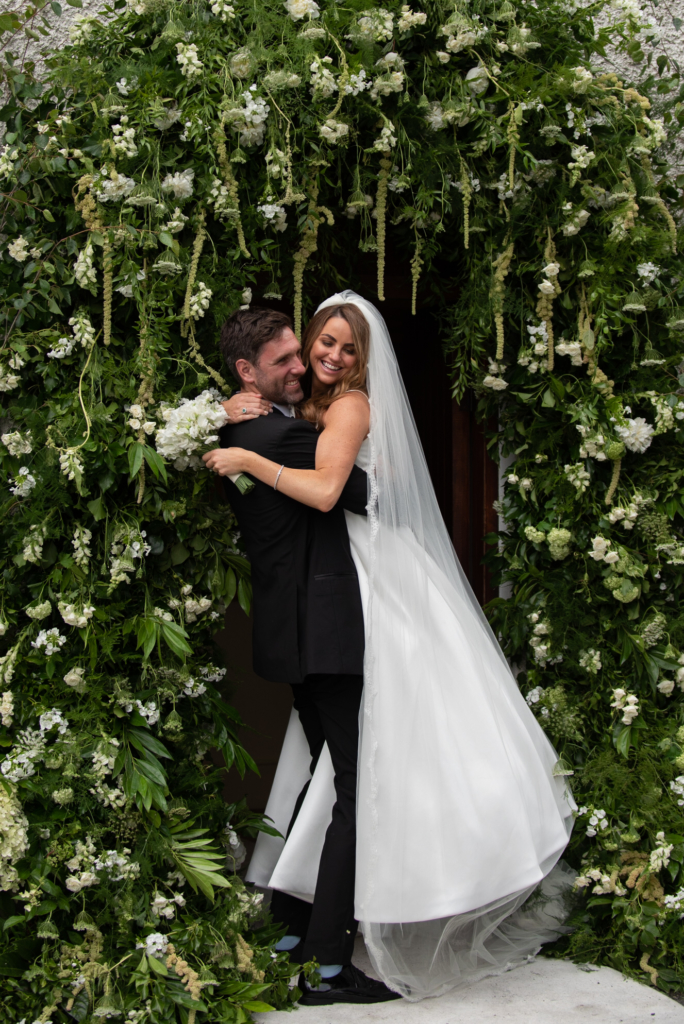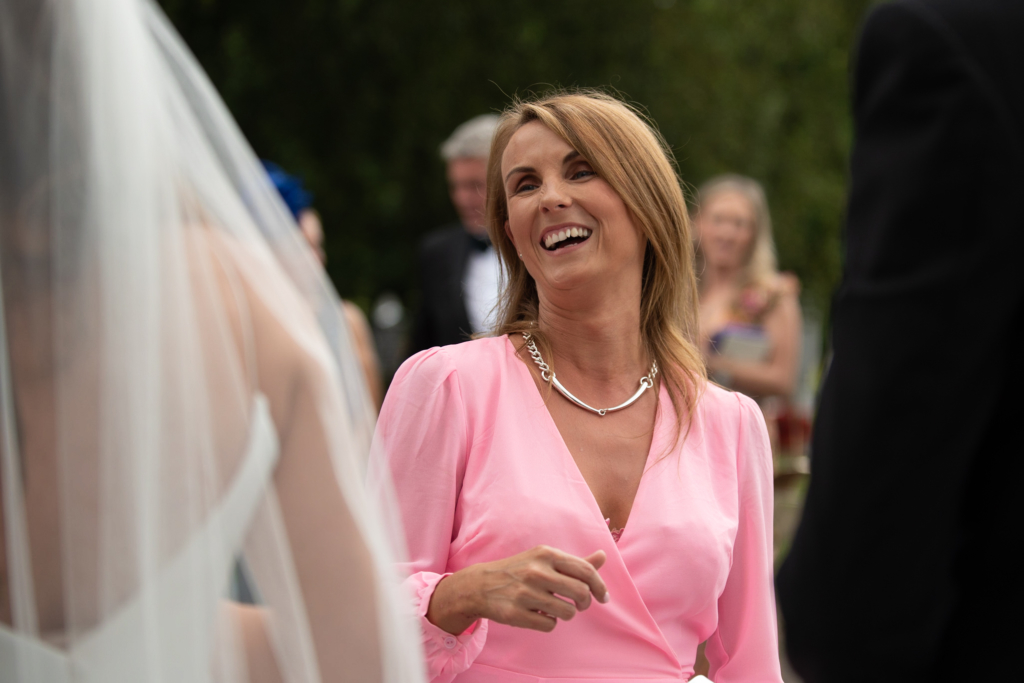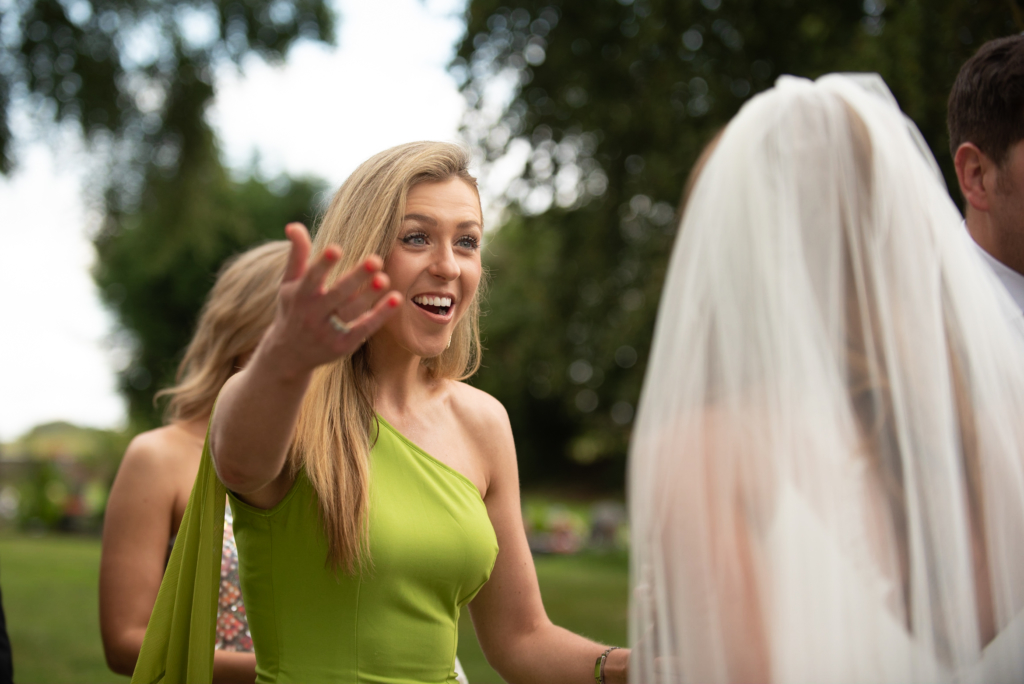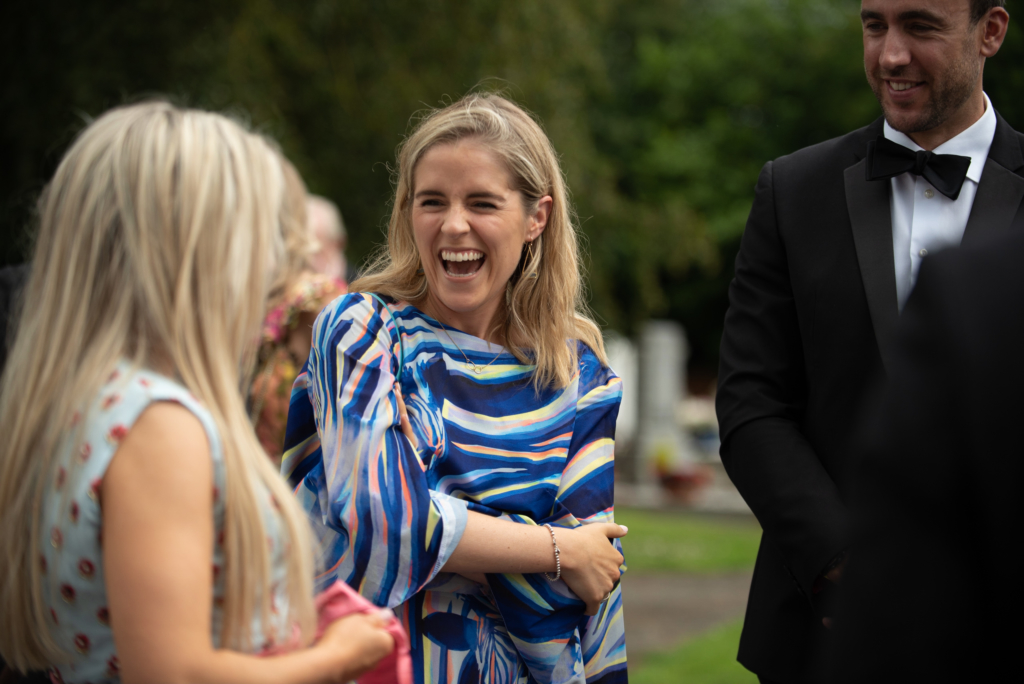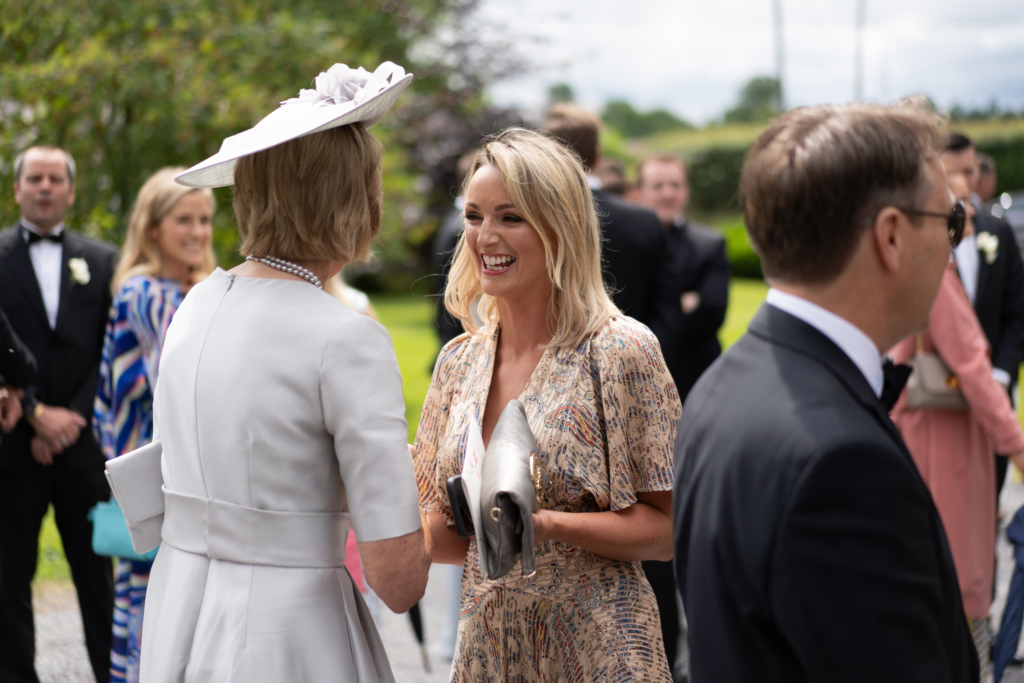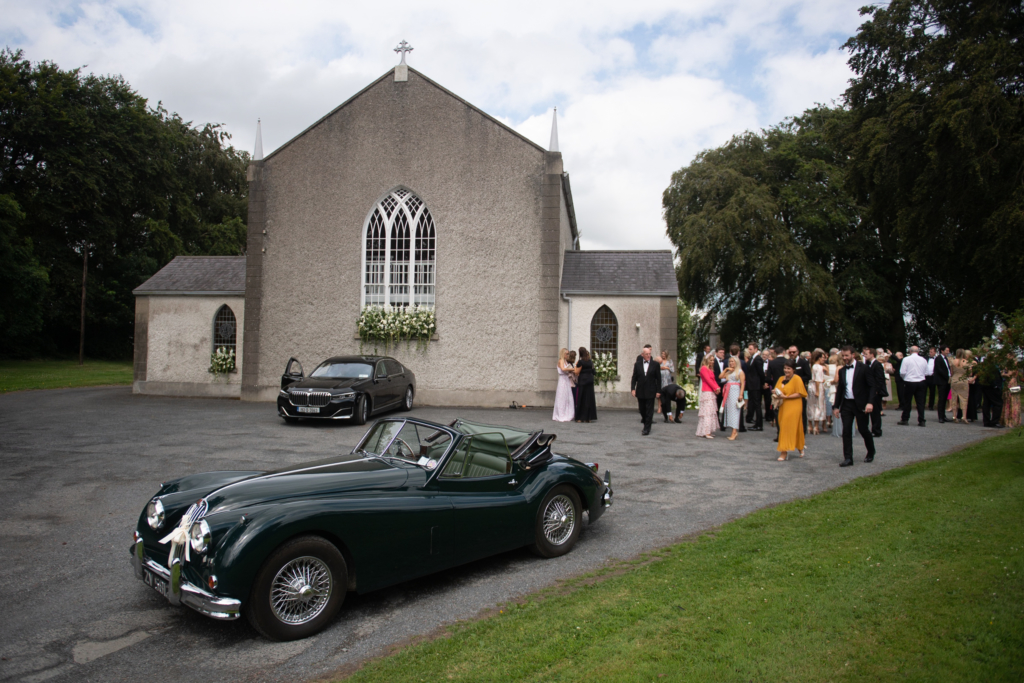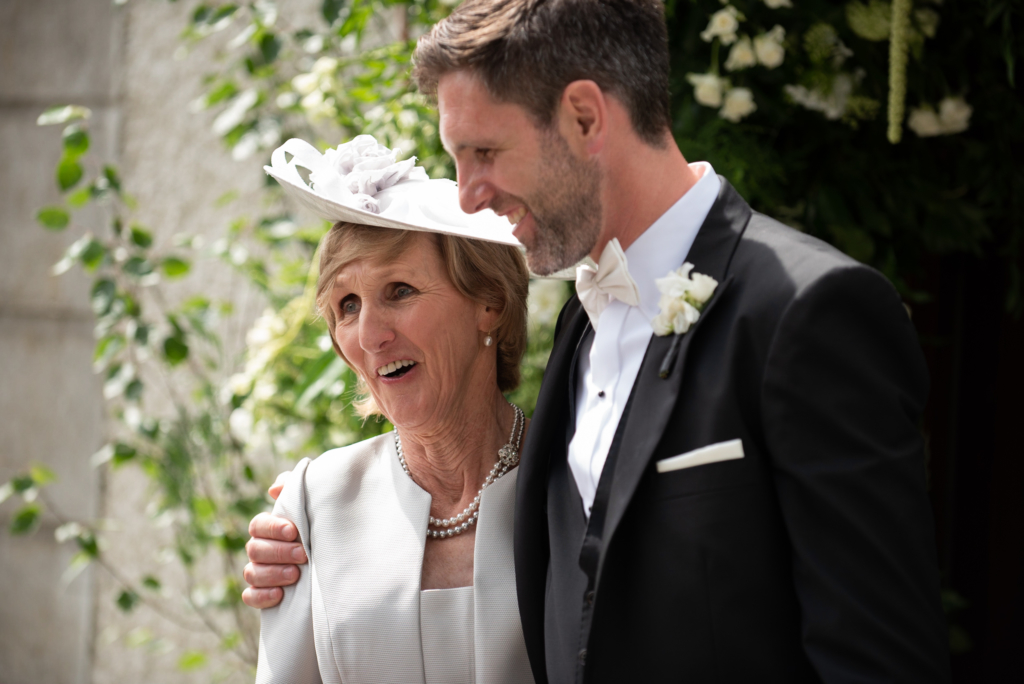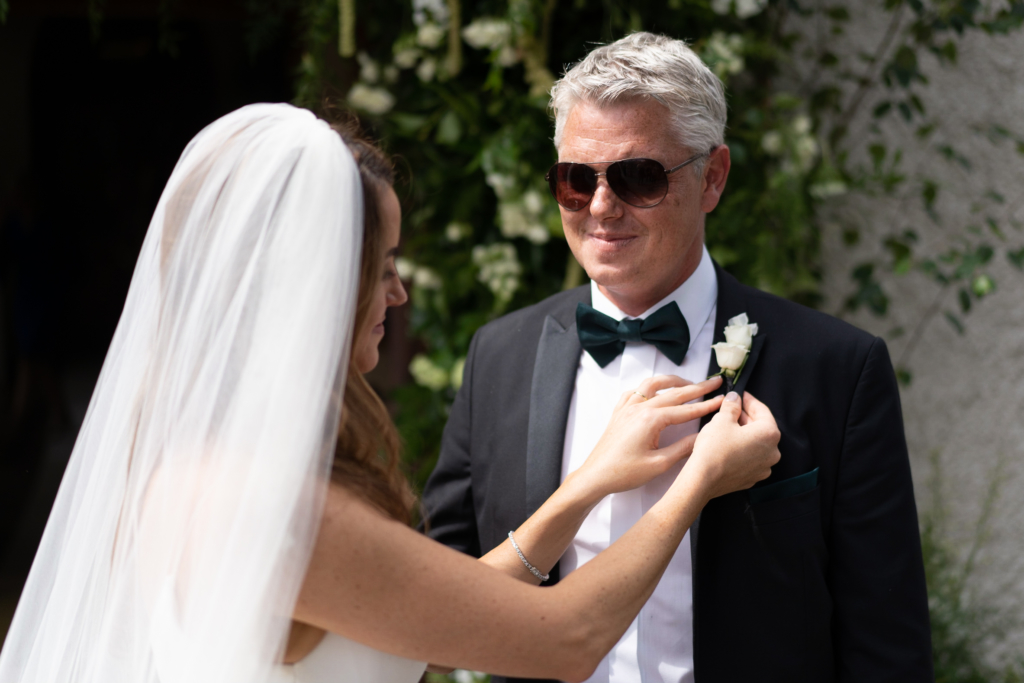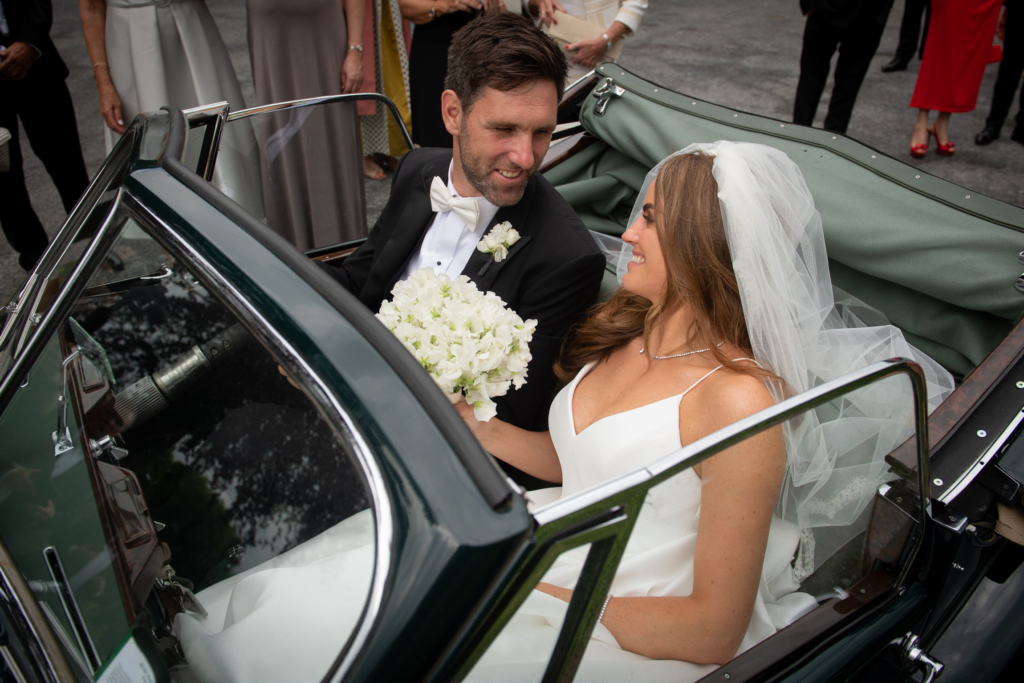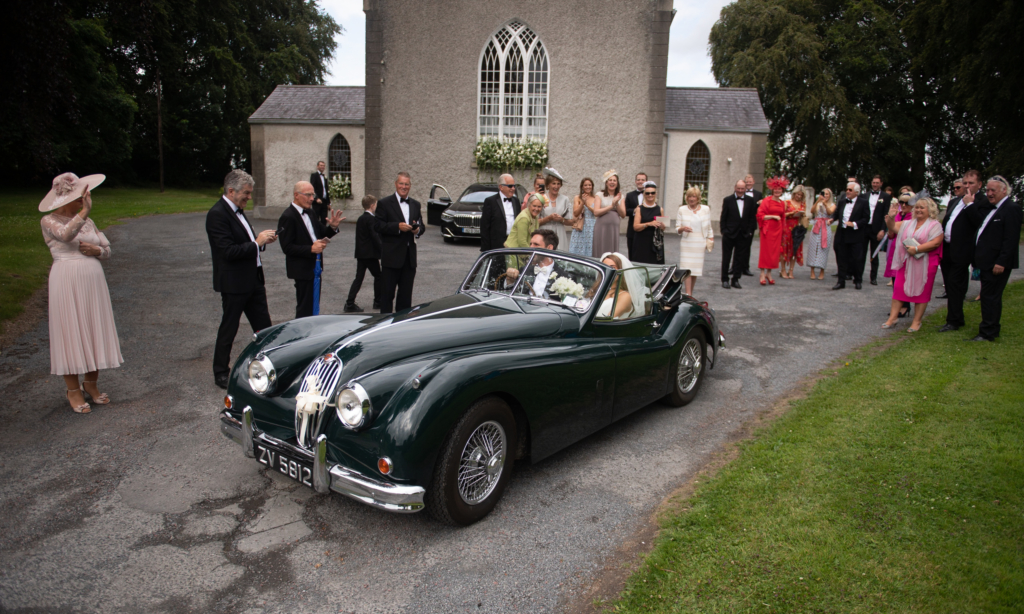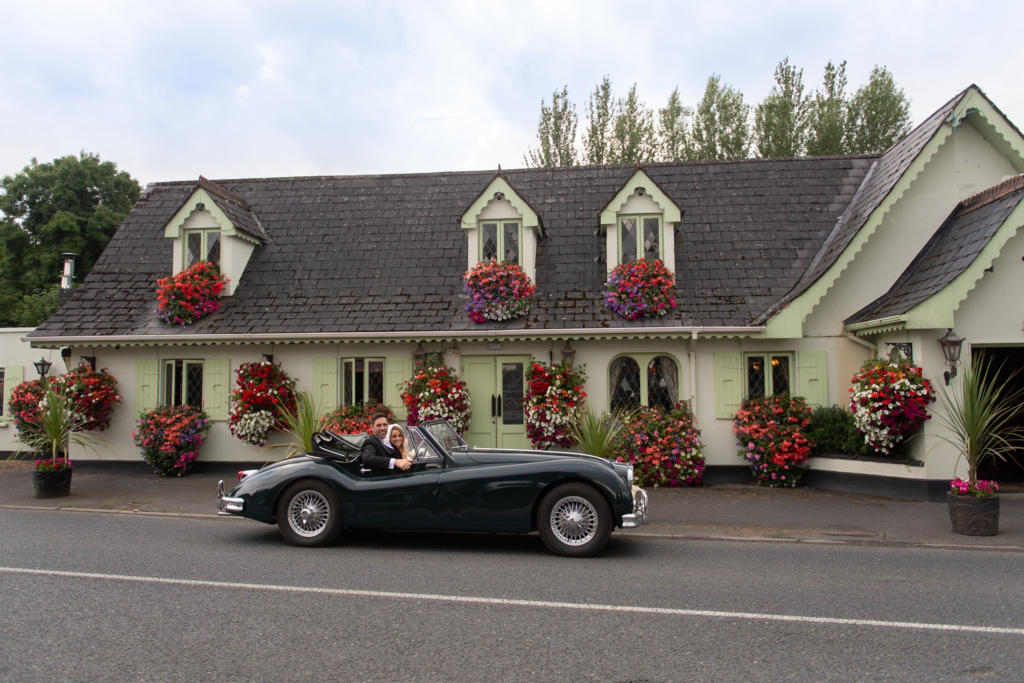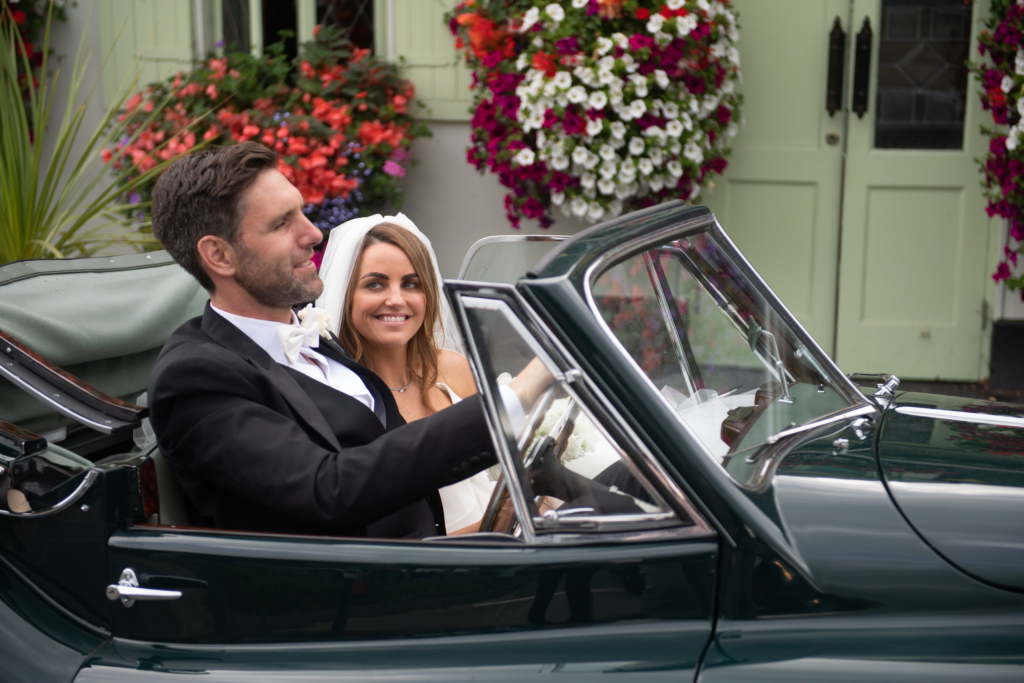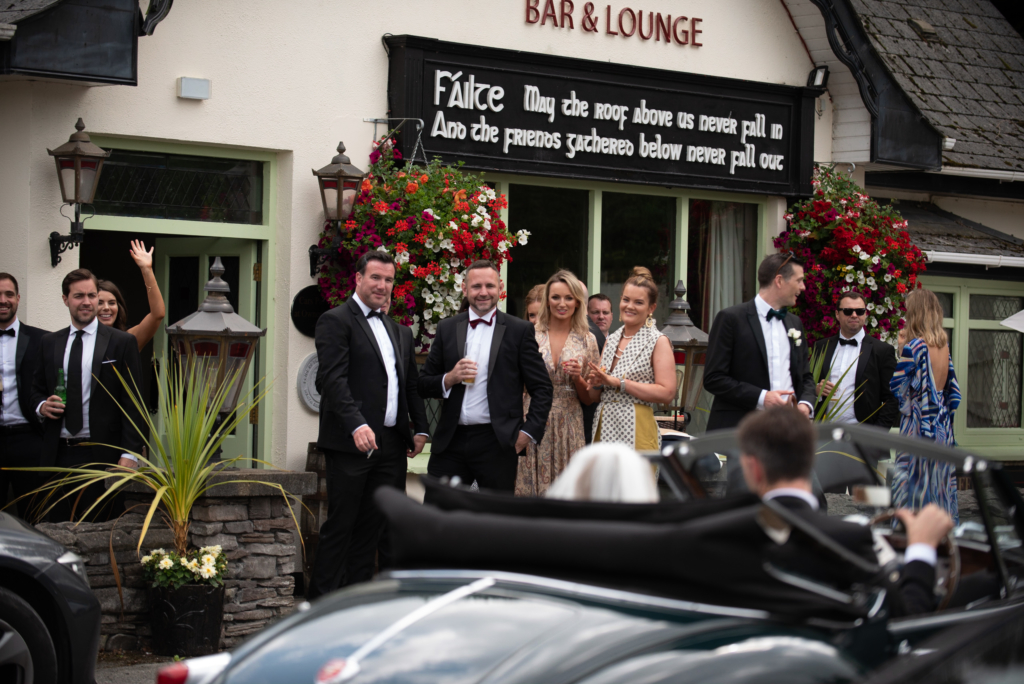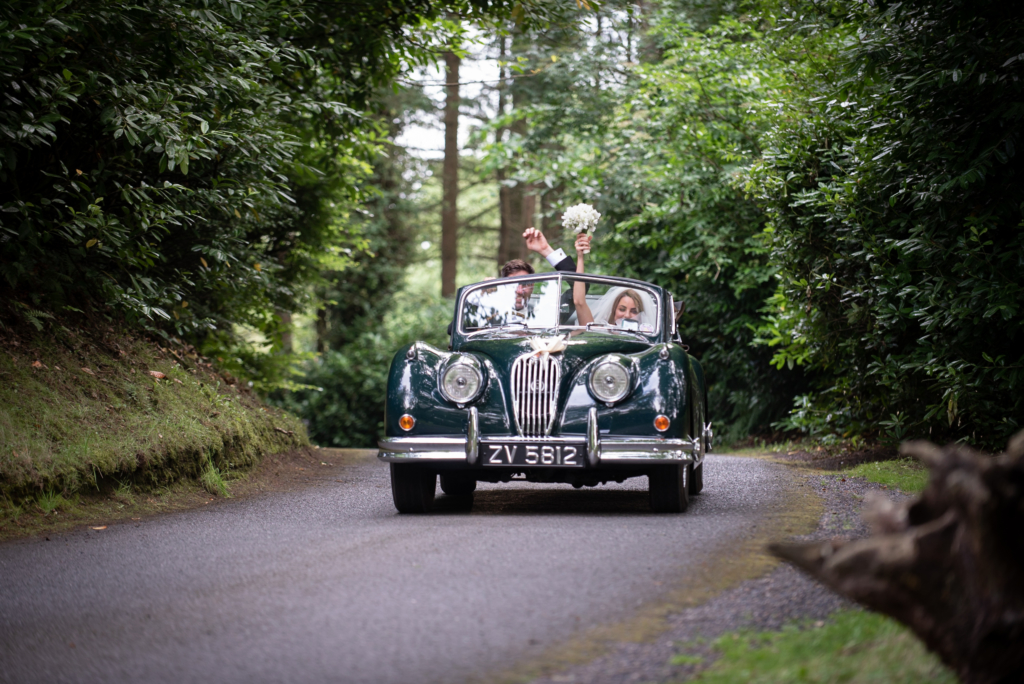 The Venue and how was it decorated…
For the venue, I tried to bring the outside inside…. The pavilion at Virginia Park has a beautiful view of the gardens and wild shrubbery outside the windows and I really endeavored to incorporate this into our palette. I chose deep green velvet linens and napkins and sourced the exact same deep green colour dinner candles. We had a mix of rich silver charger plates and silver frames with hand written calligraphy table and place names, these were also written in deep green ink. I incorporated earthy elements such as plantation style dark wood birdcages, birds and rustic containers for my flowers. Every single detail was extremely vital to the whole look I wanted to achieve. As they say it is all in the detail. This was all finished off with romantic candlelight.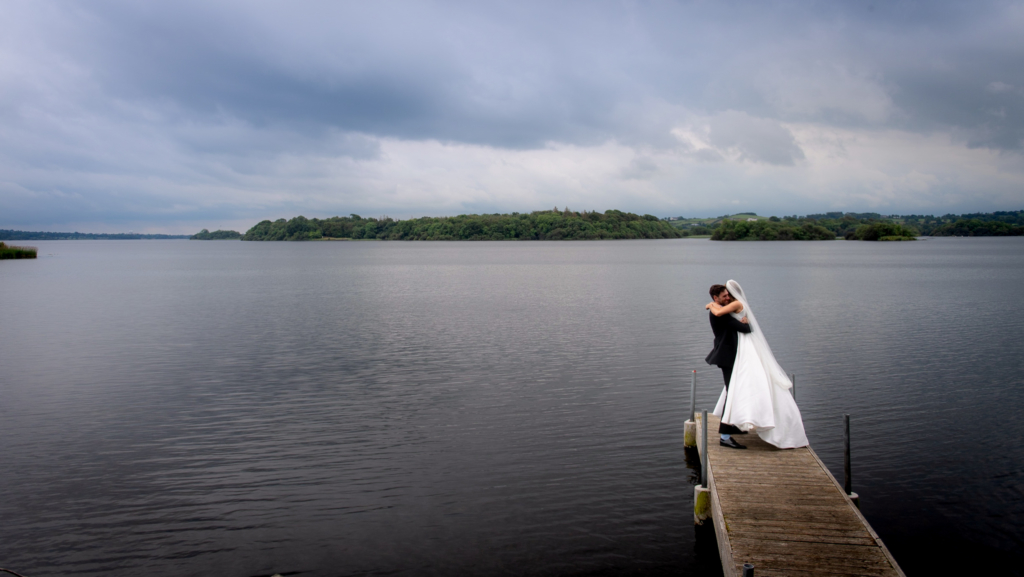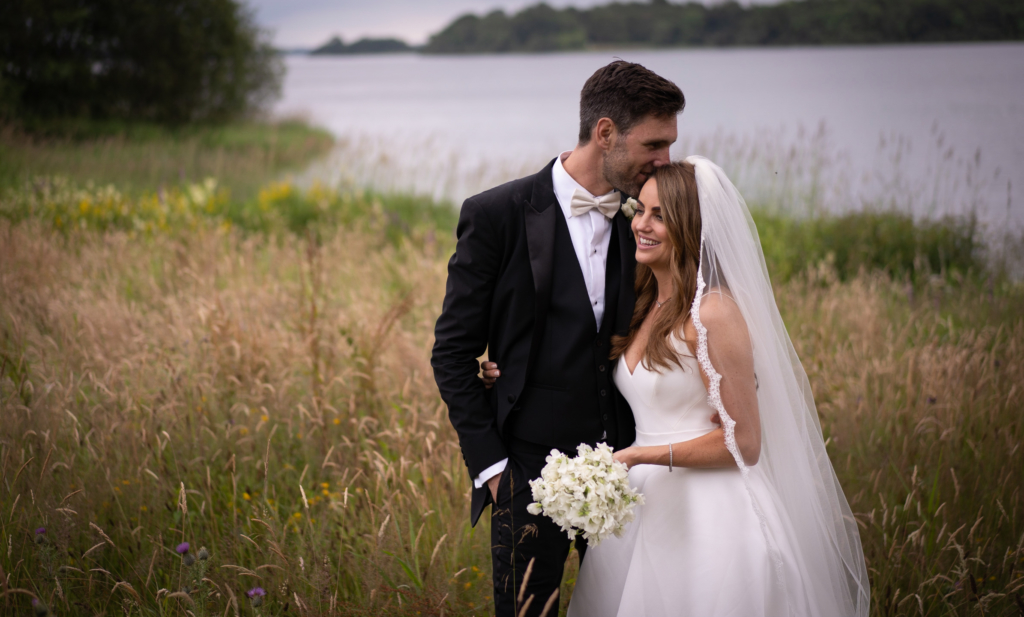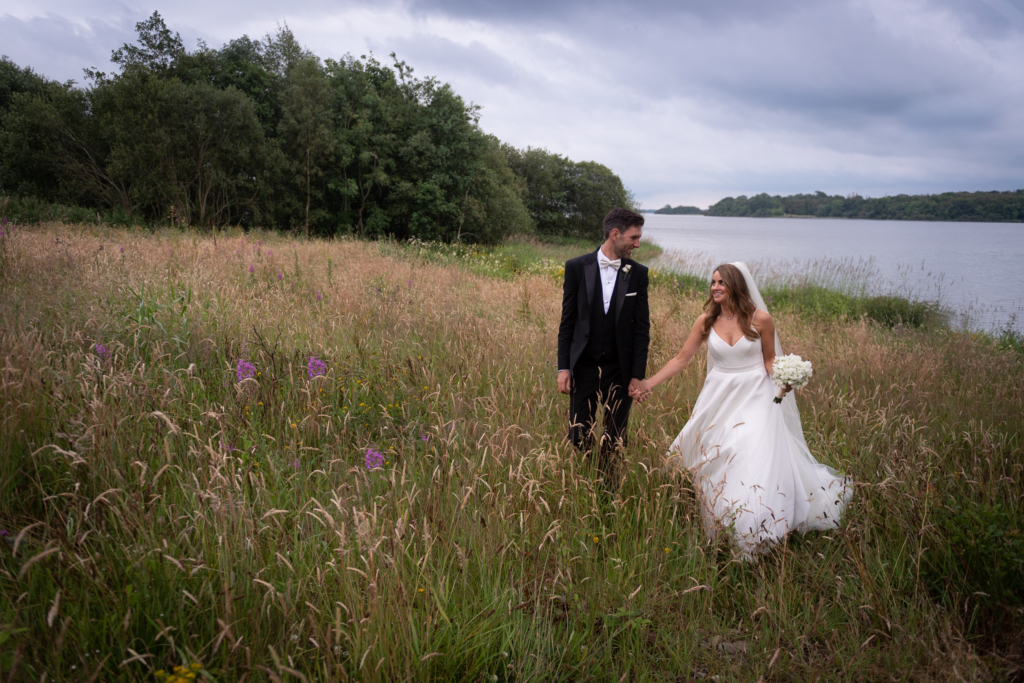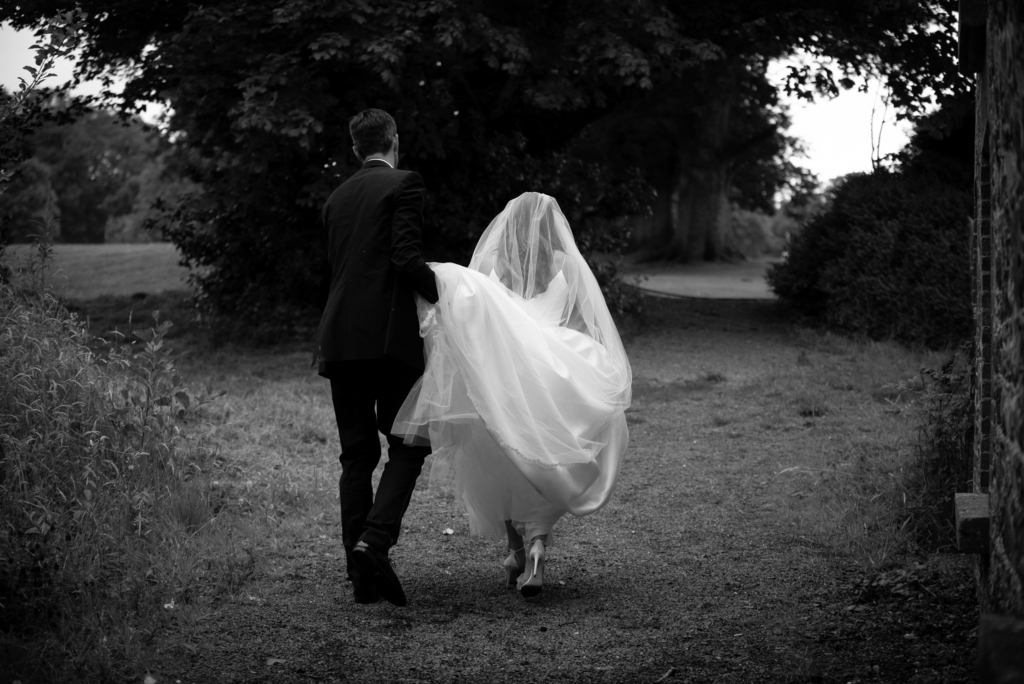 My dress…
Upon meeting Sharon and her team at Sharon Hoey, Dublin, they made my decision extremely easy. I tried on 2 beautiful dresses I adored in her store, the first was a very simple sleek ivory gown and the second a beautiful dress with a full skirt. I was really looking for a mix of the two, a sleek gown with a bespoke skirt to wear to the church. Sharon made my wishes come true combining the two gowns for me. I removed the skirt just before I entered the dining room for dinner. My look was finished with a floor length veil with a Chantilly lace trim.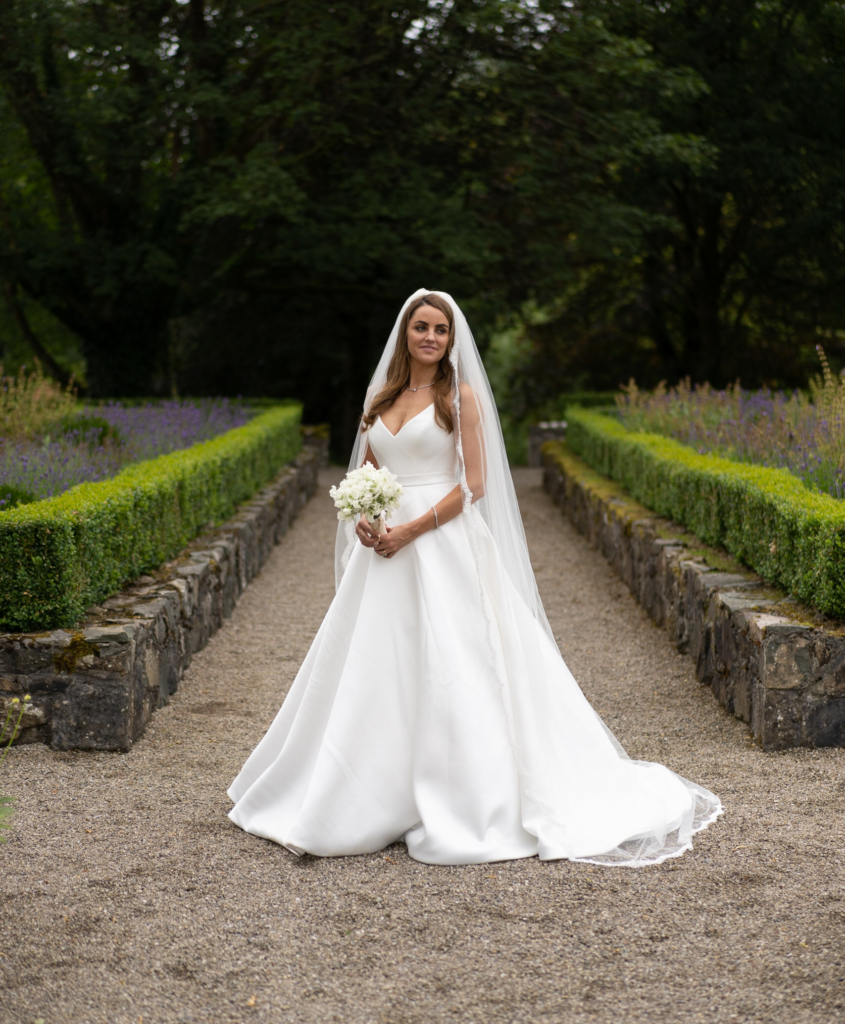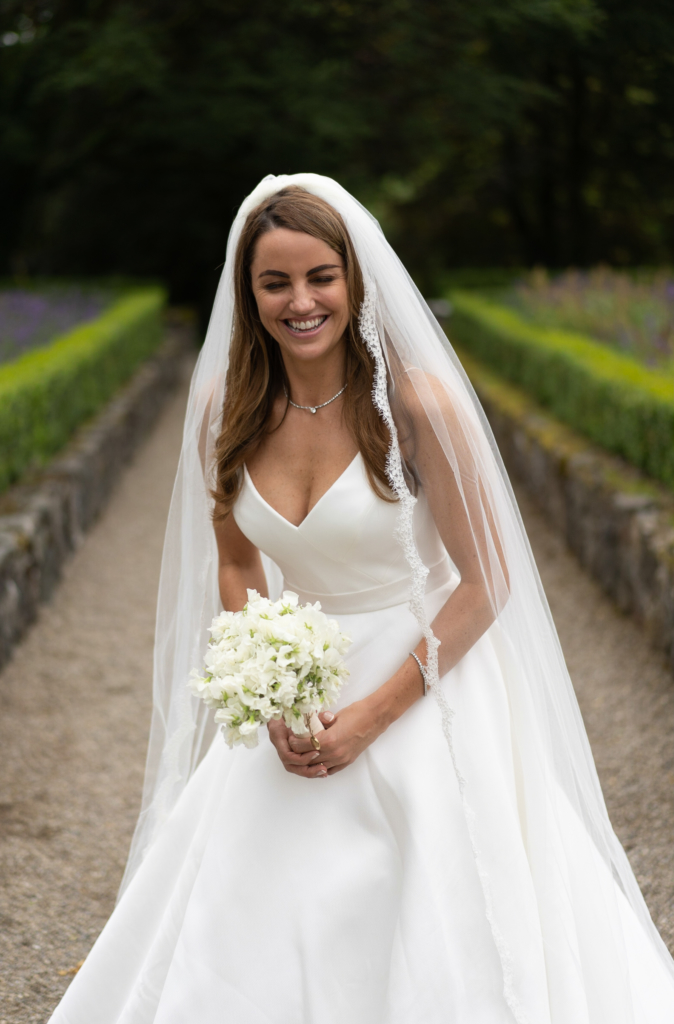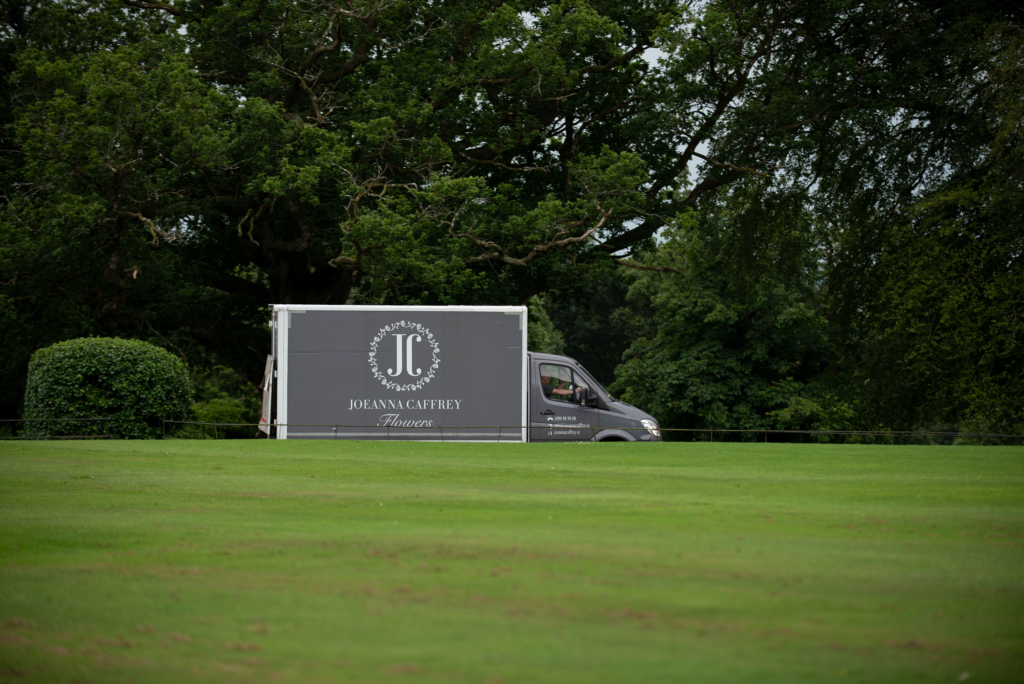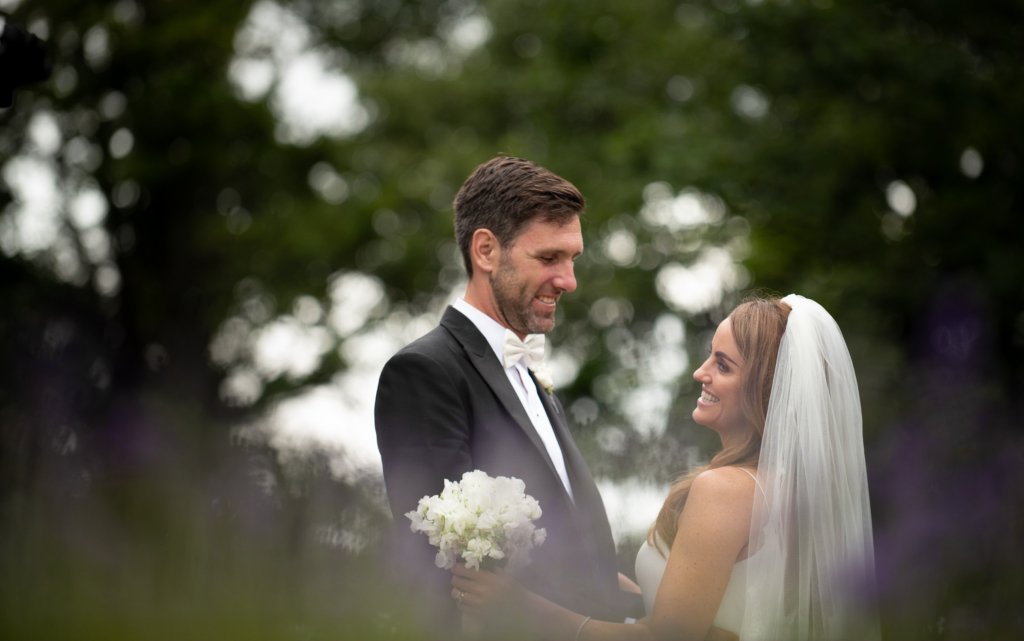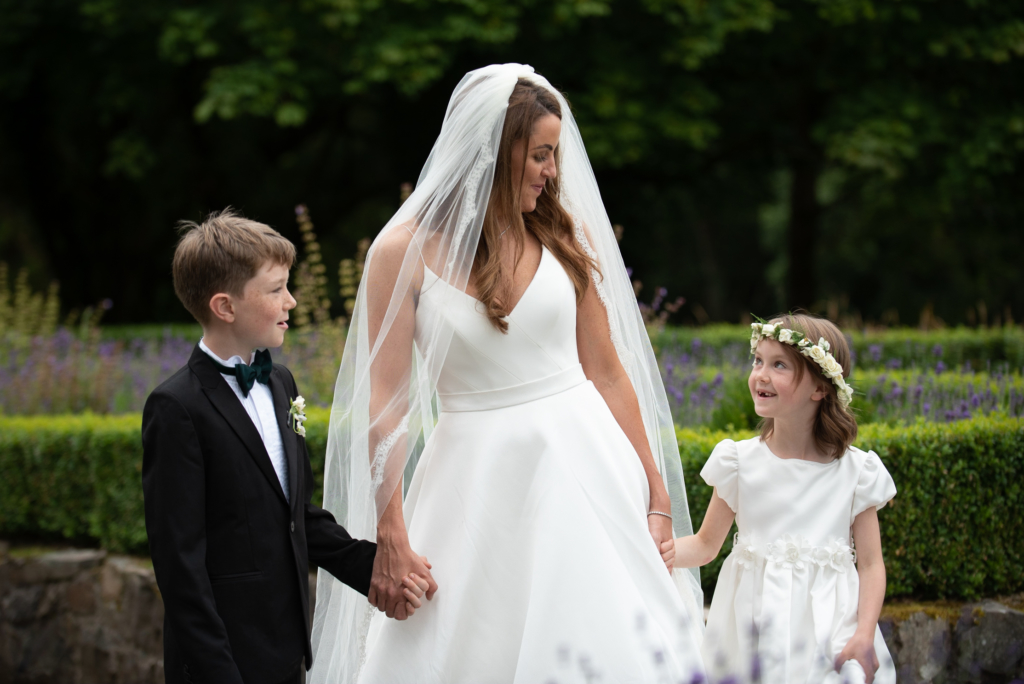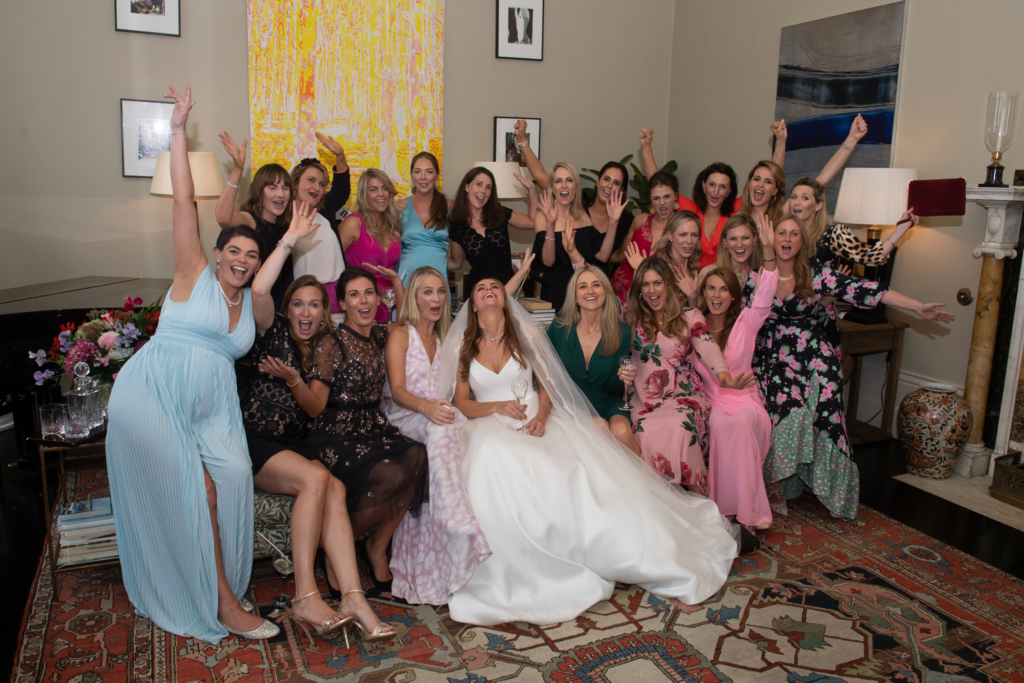 We chose our venue because…
Virginia Park Lodge was always on my wish list. Not only it's beauty but we adored the fact that you take it over and it is yours for your wedding day with all your guests. It felt like a second home to us, Deirdre Corrigan and her team at Virginia Park made our day so very special for us. It was also close enough to get married in the village where I grew up, Batterstown, Co. Meath, this was also a huge draw for us.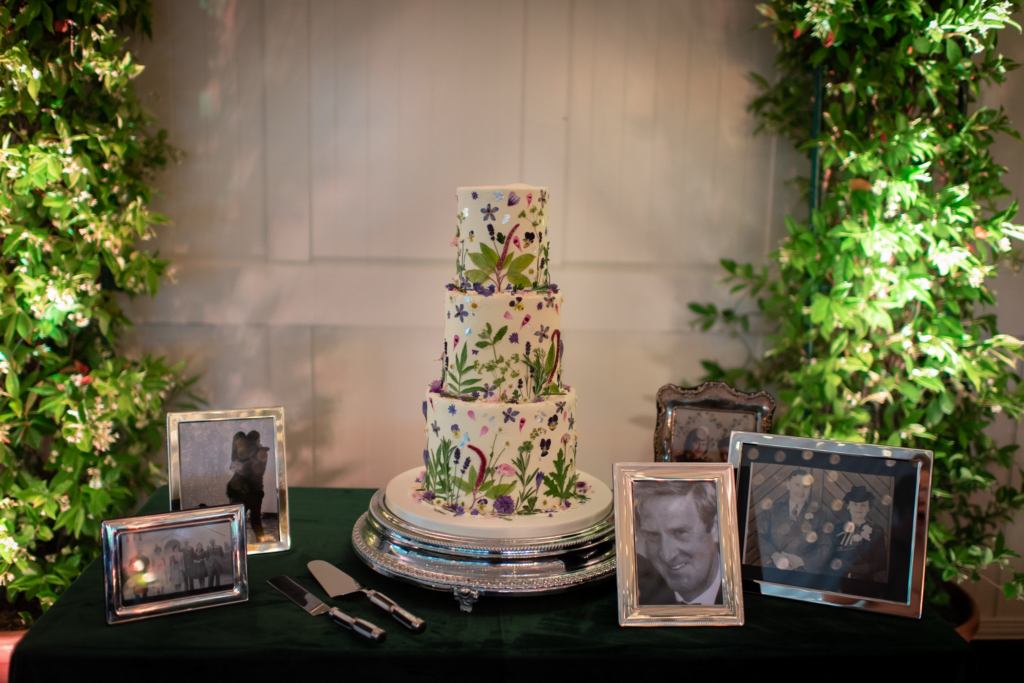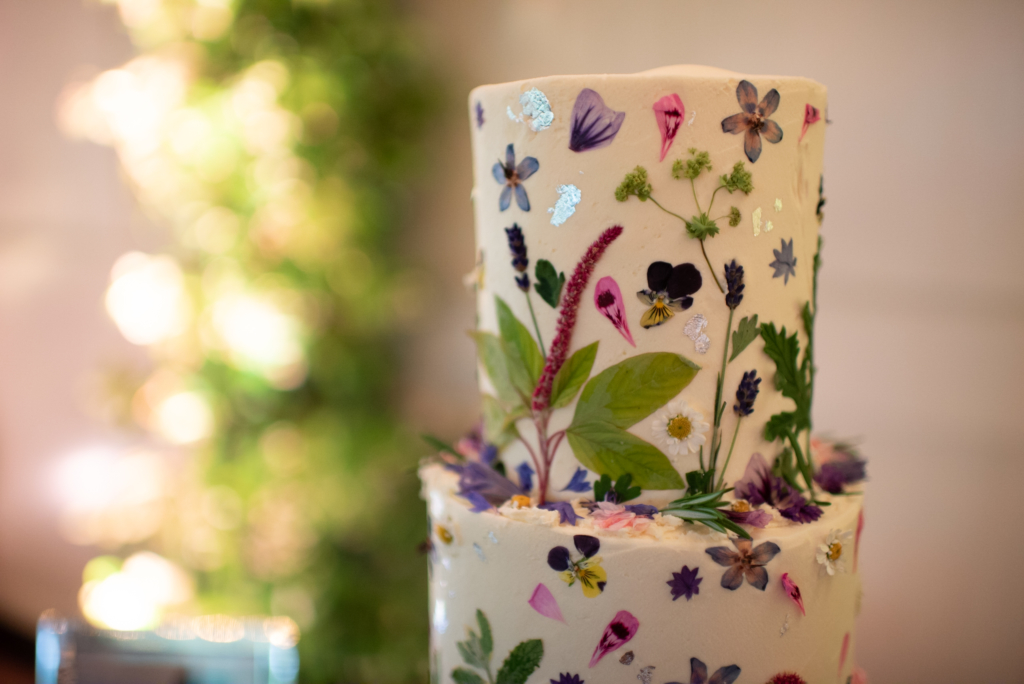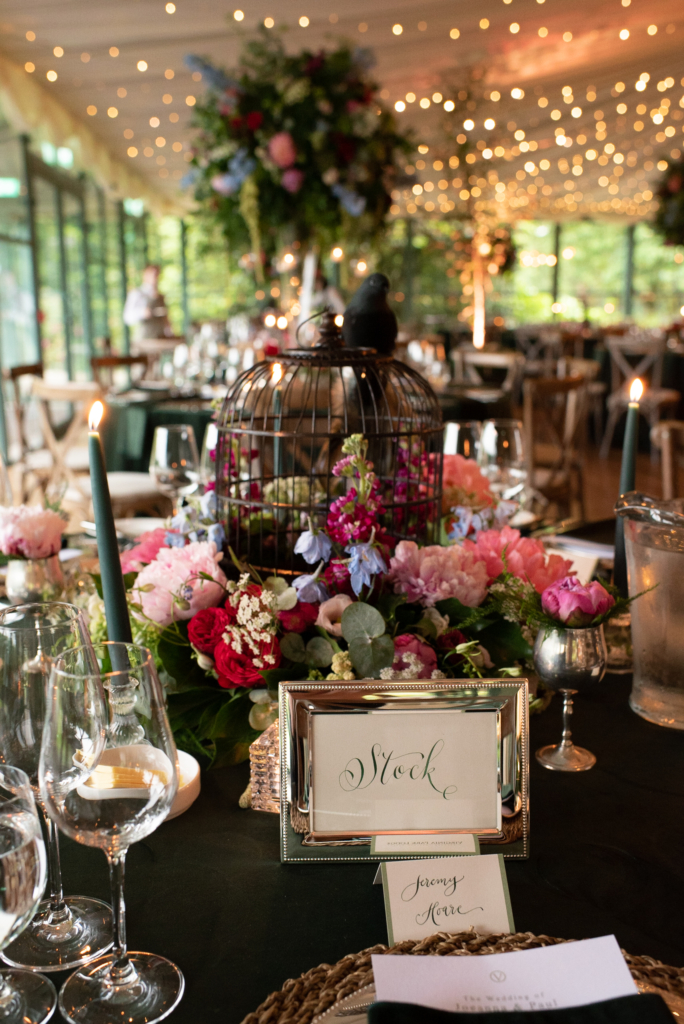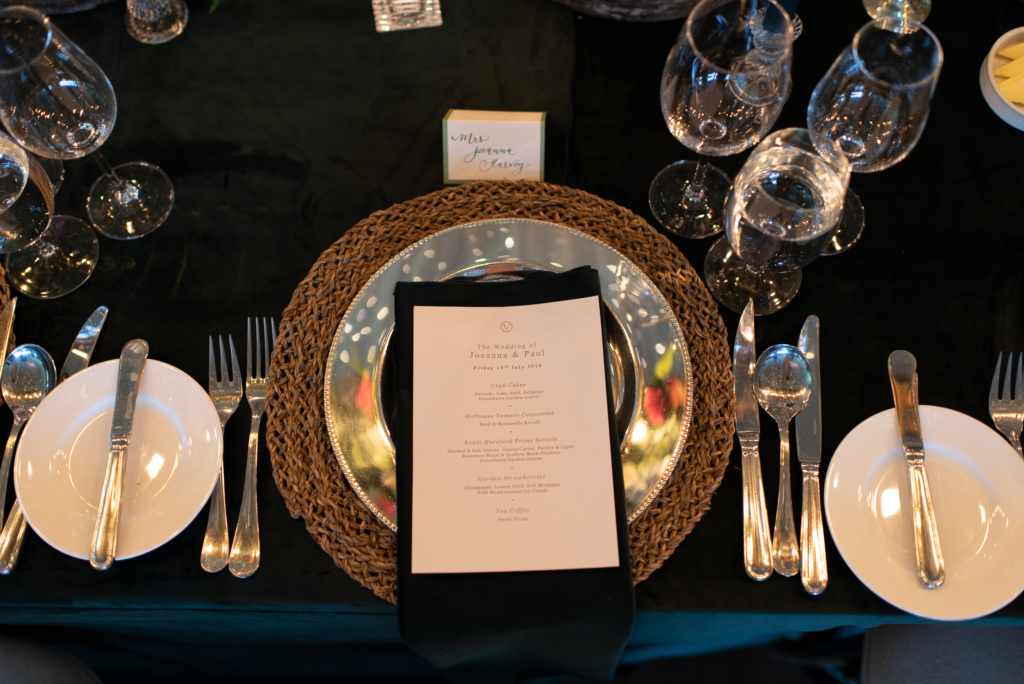 Our menu…
Richard Corrigan is the owner and head chef of Virginia Park Lodge so we were definitely in safe hands. We had a beautiful starter of crab cakes followed by a hot house tomatoe consommé, beef and finished with a lemon posset, meringue and fresh strawberries.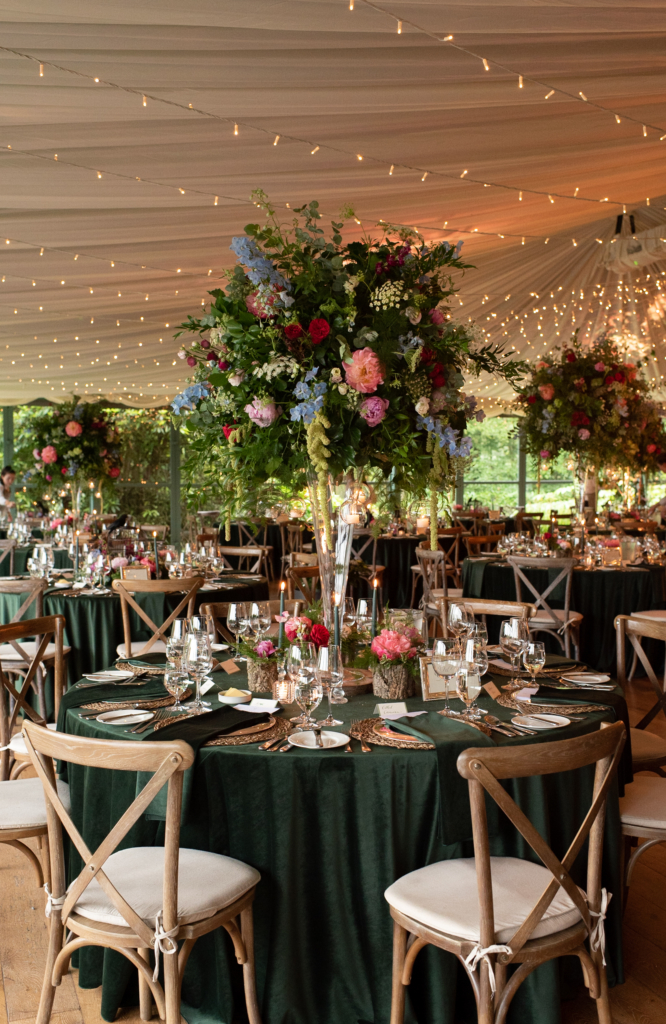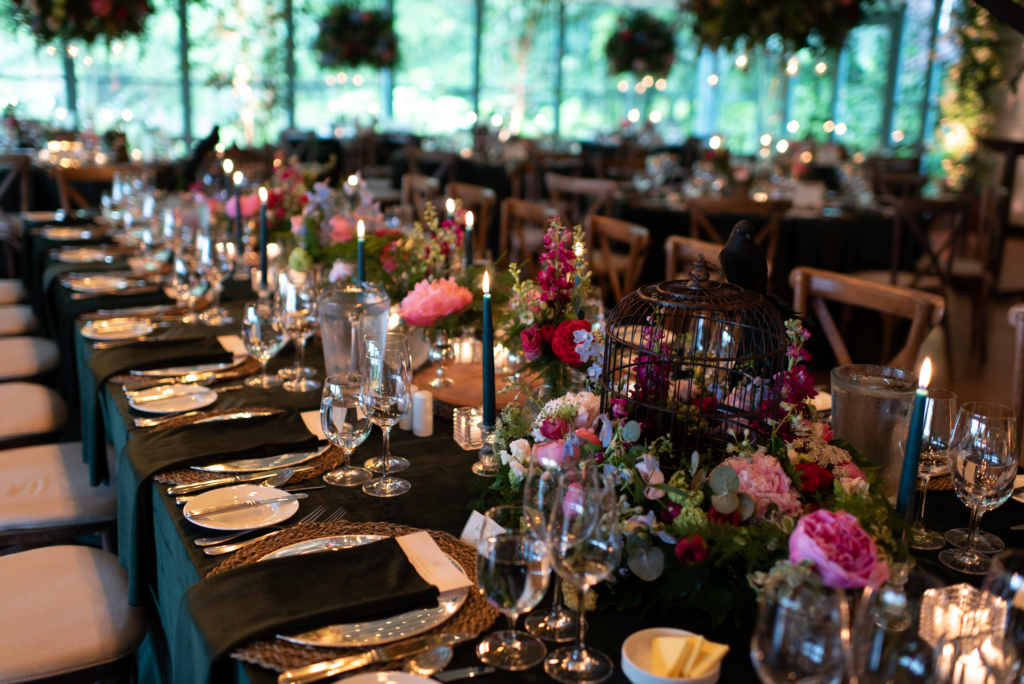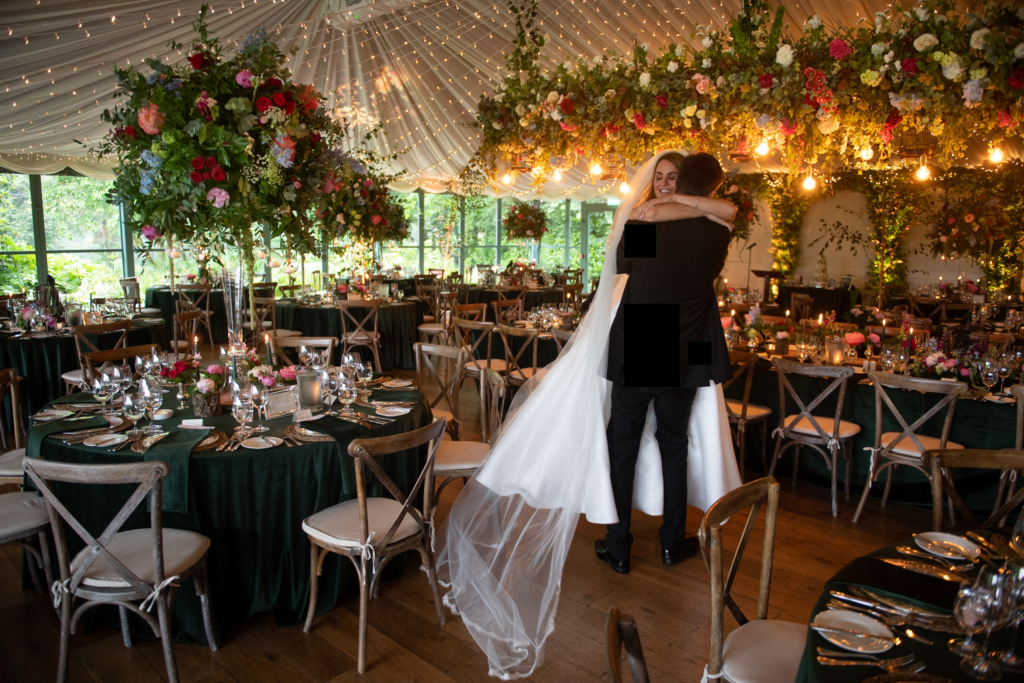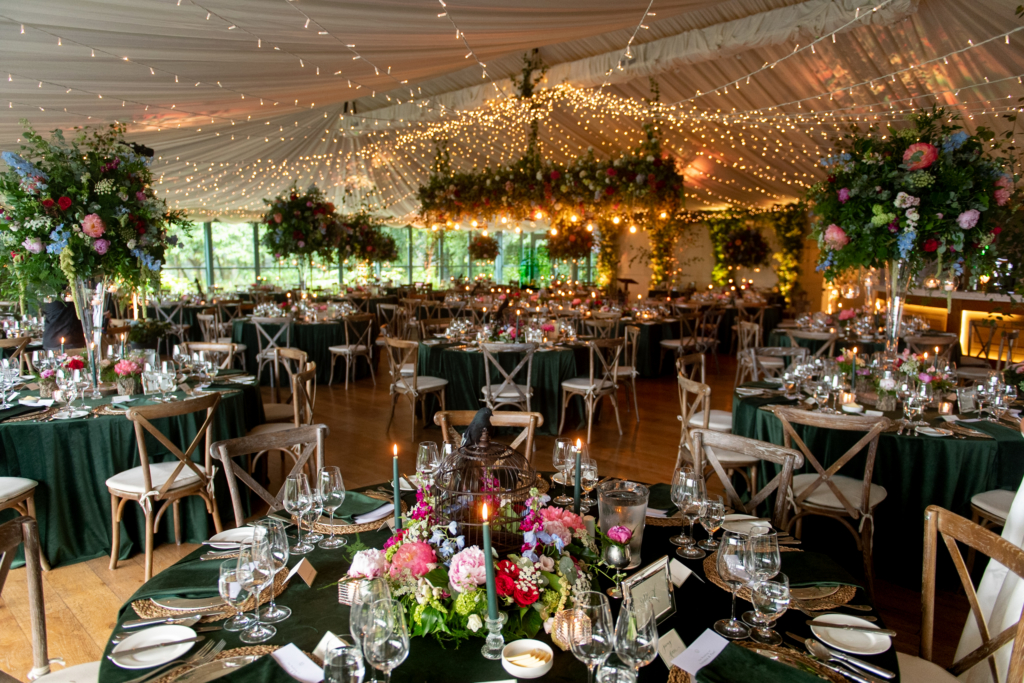 Photography by The Fennells wedding photography and film. Room decor by Joeanna Caffrey Flowers.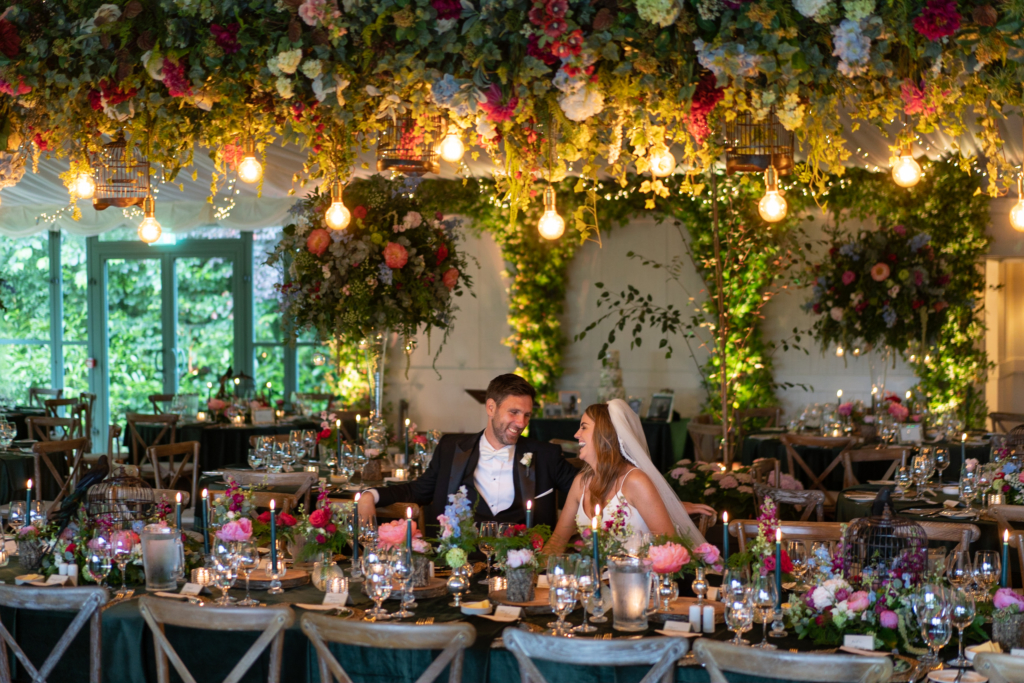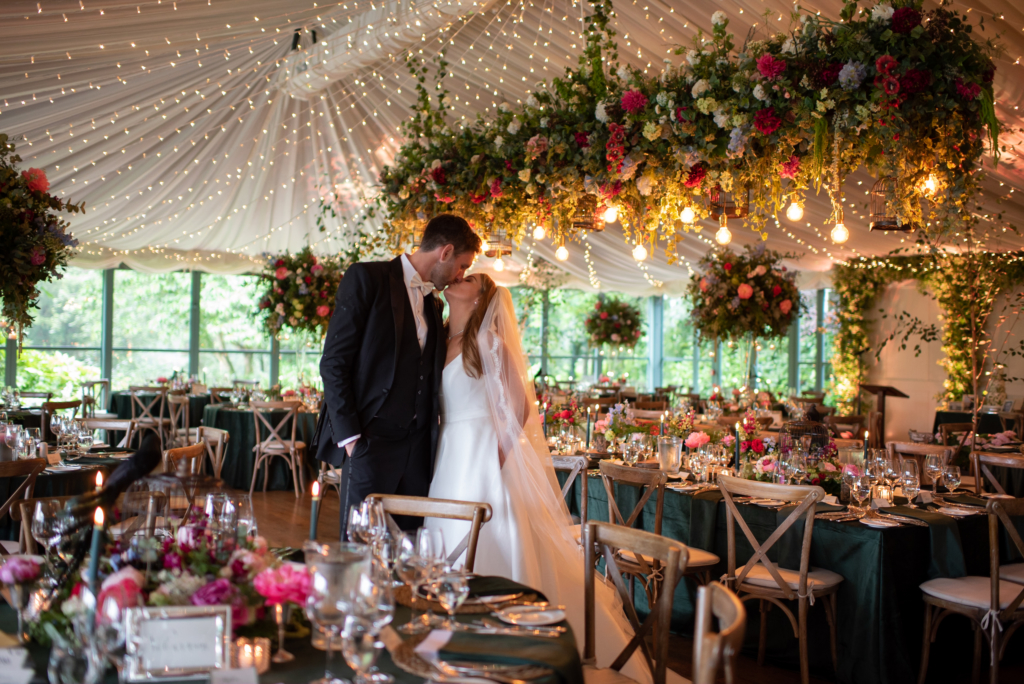 Our honeymoon…
We went to Croatia straight after the wedding which was so beautiful and will travel further a field later in the year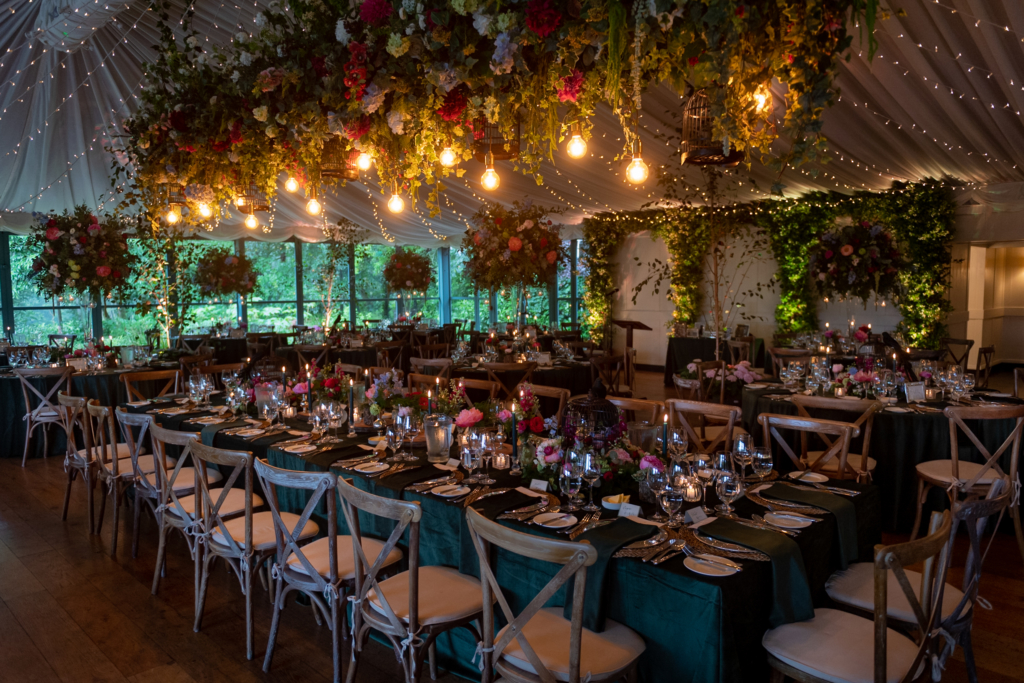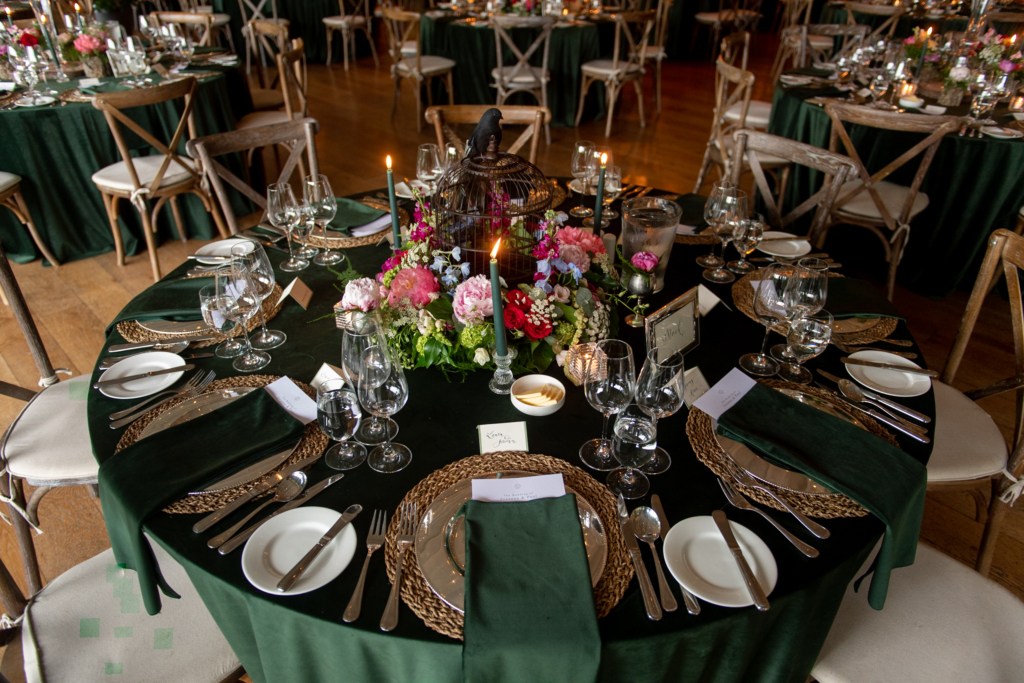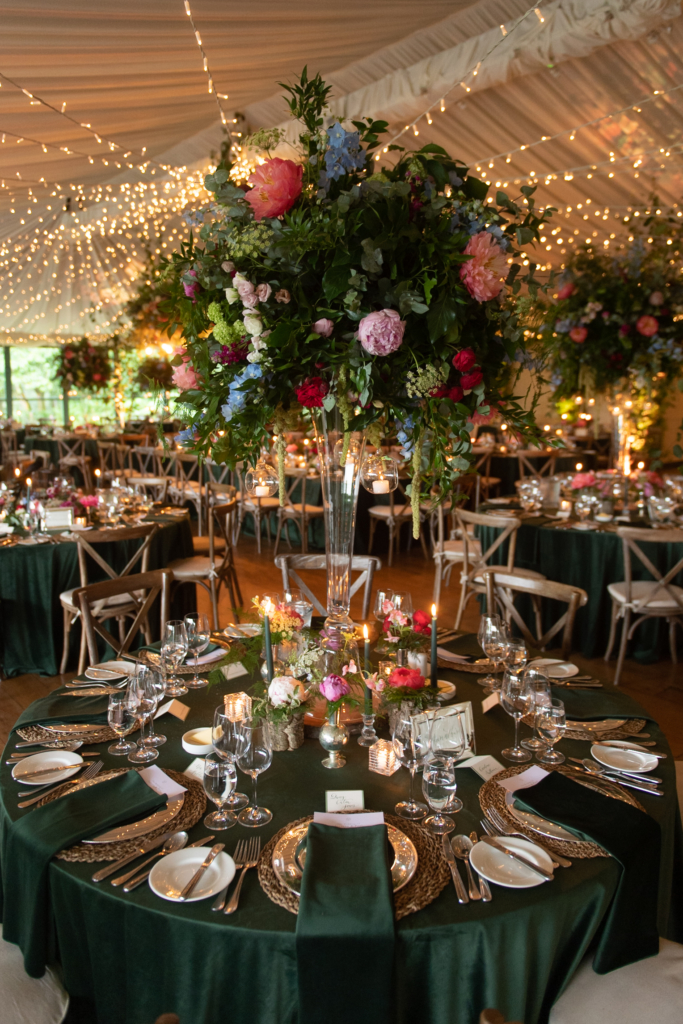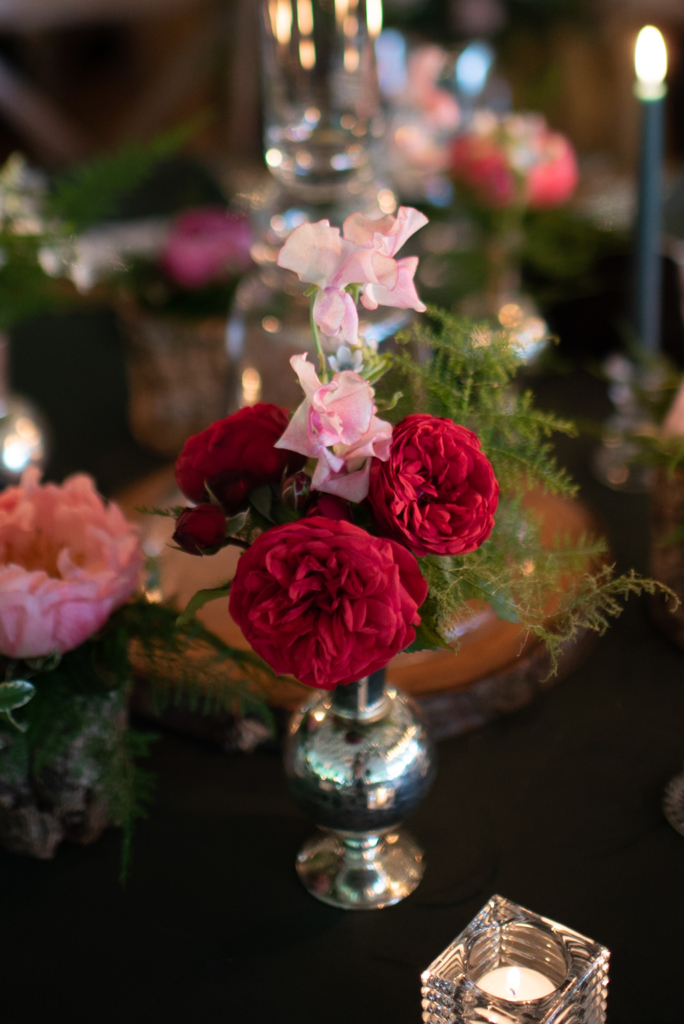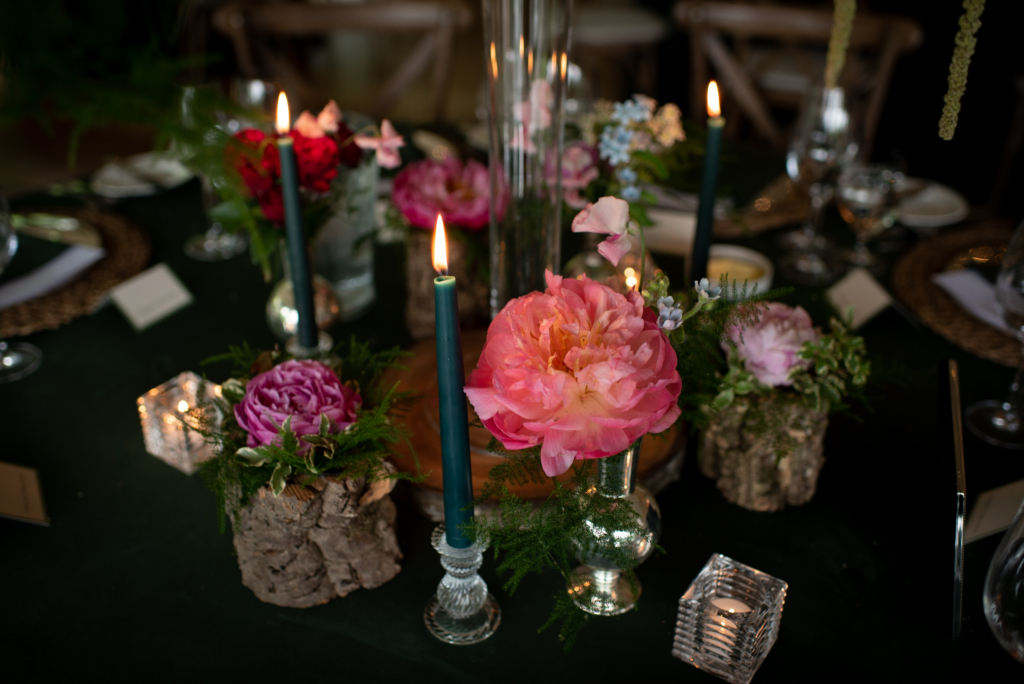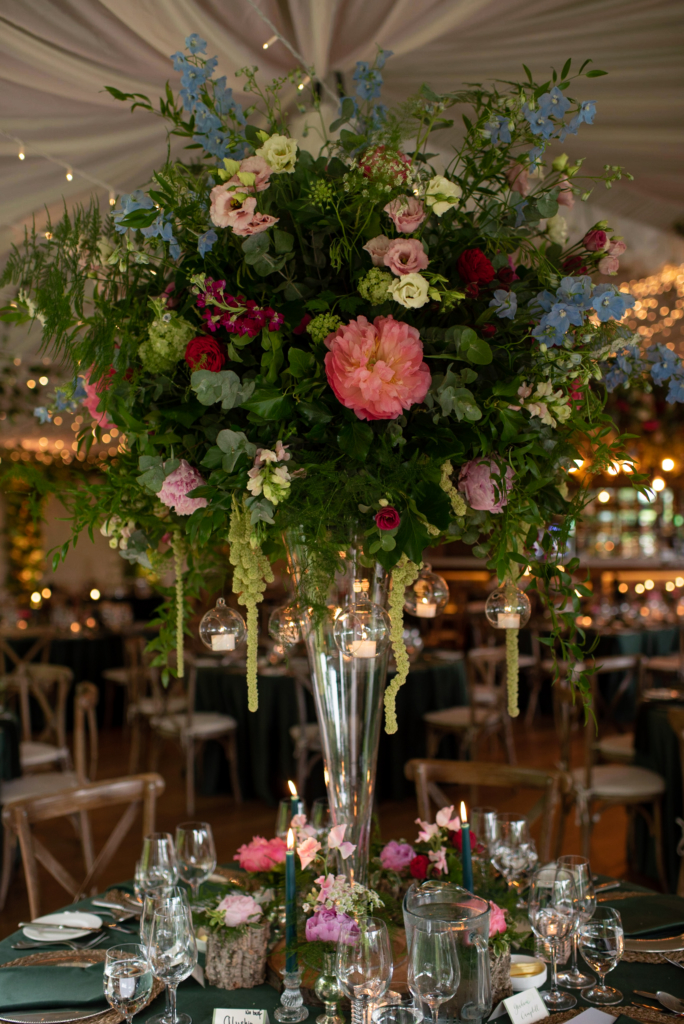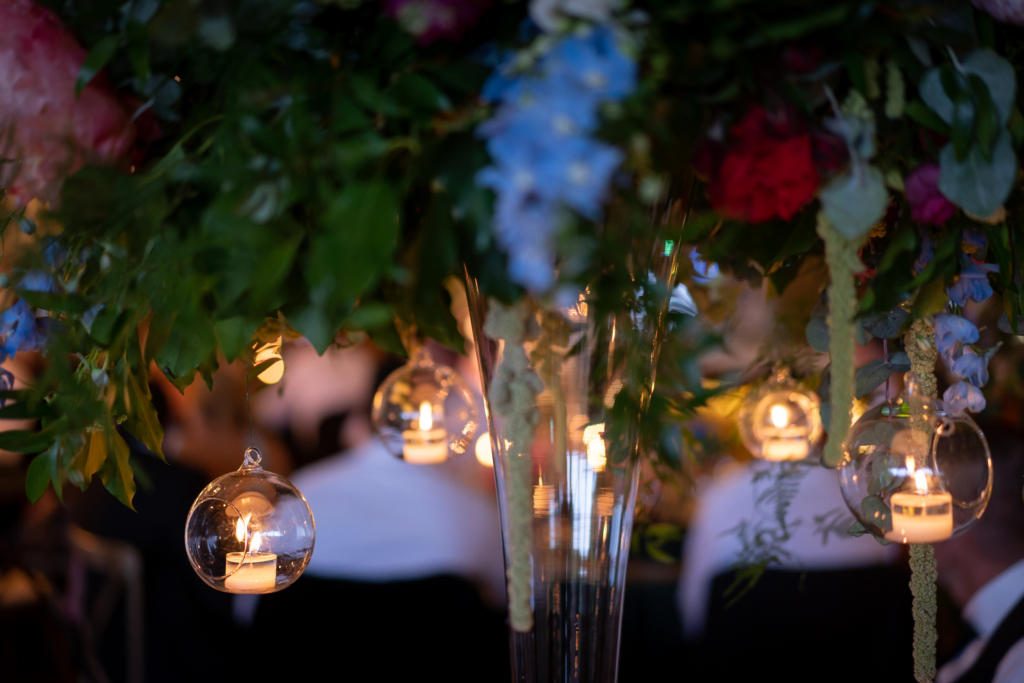 My favourite part of the wedding day…
Marrying Paul was my favourite part of the day in the little church where I grew up. It was so special.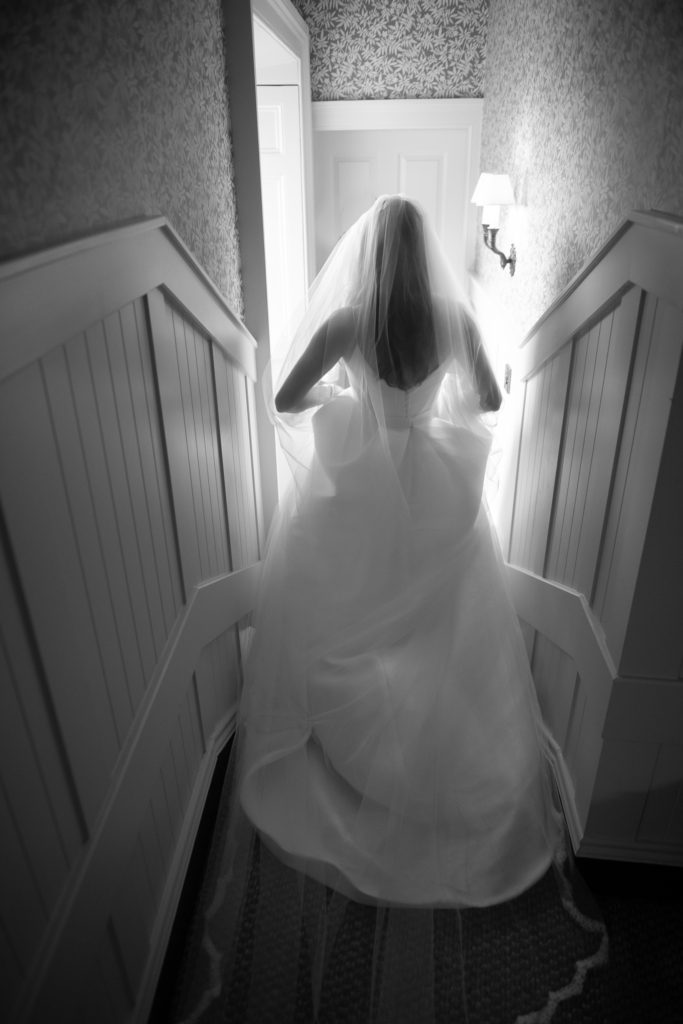 What our bridal party wore…
Black tie was the dress code for the wedding. Deep forest green was the base colour for every detail of our wedding. Our bridesmaid dress was a deep green floor length dress from Covet in The Powerscourt towncentre, the dicky bows the groomsmen wore were a deep green velvet with their black tuxedo's.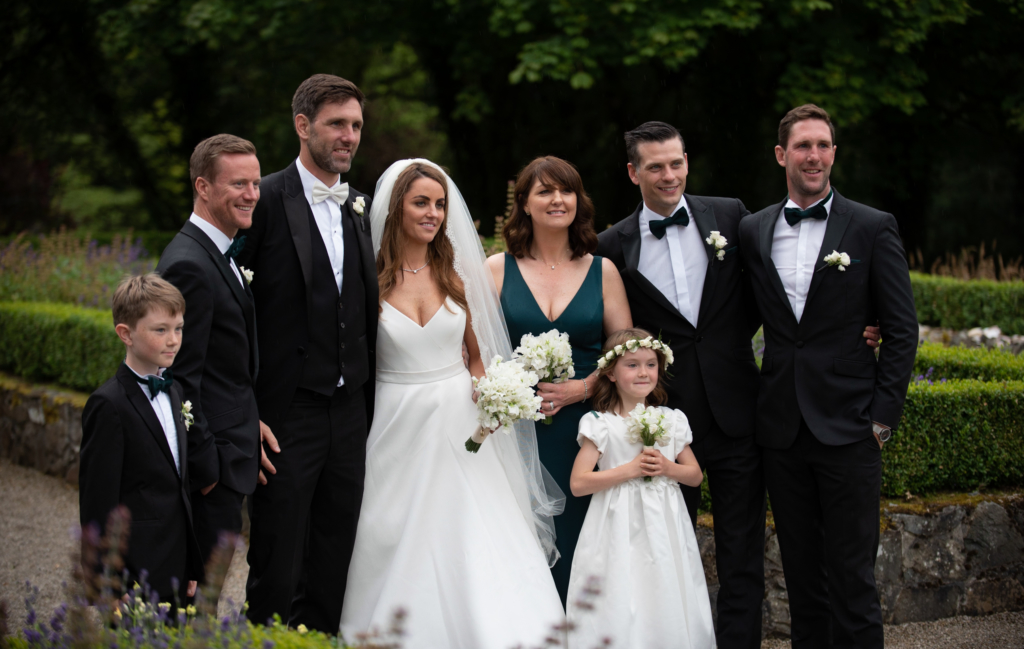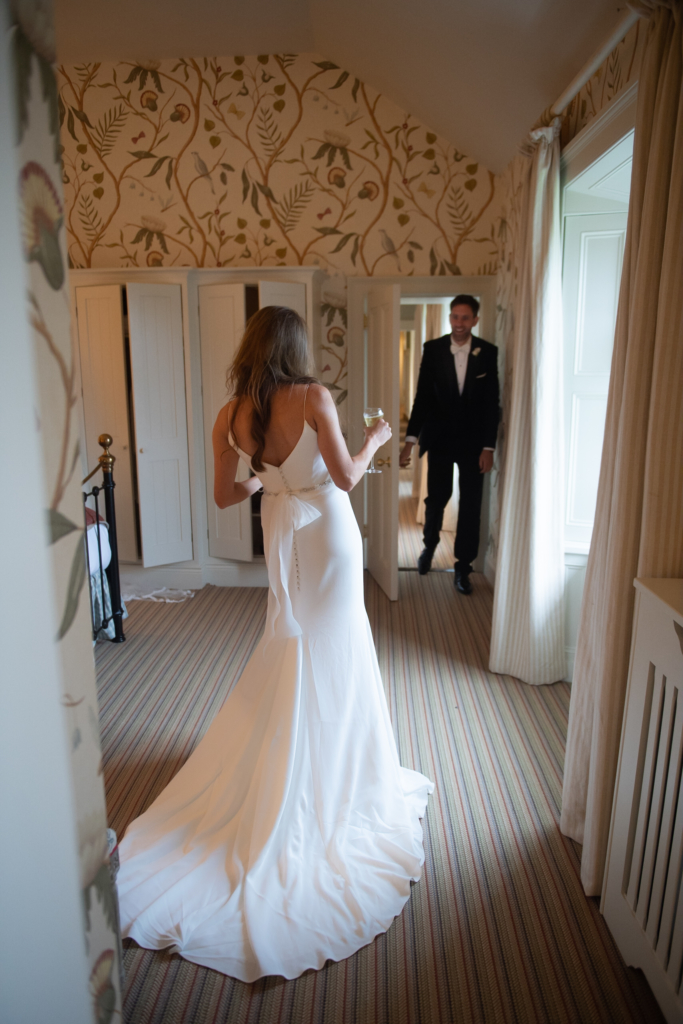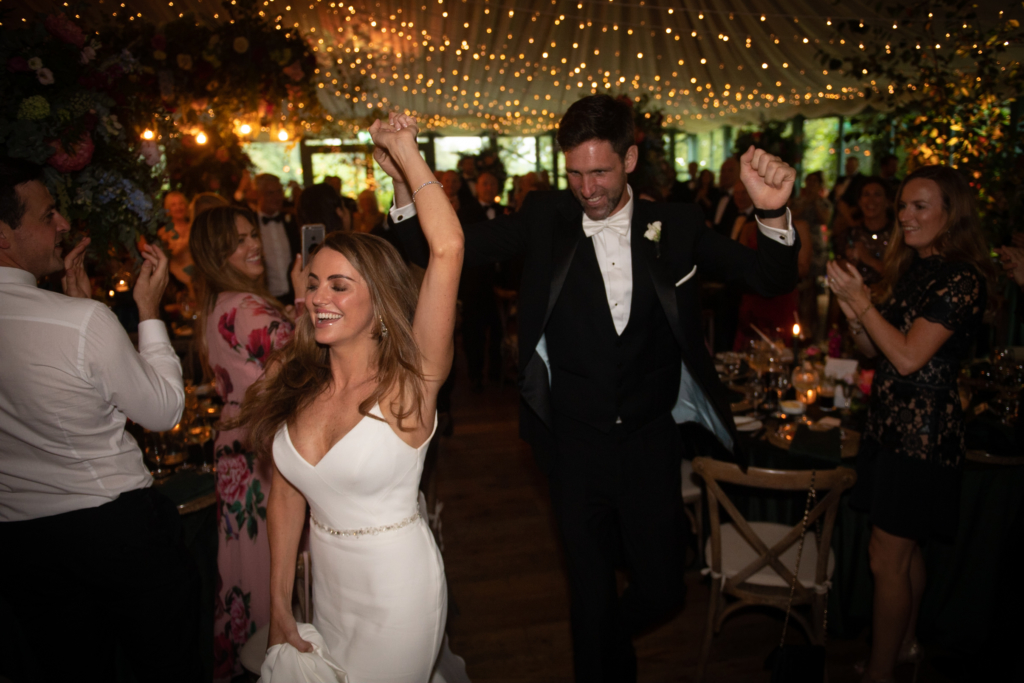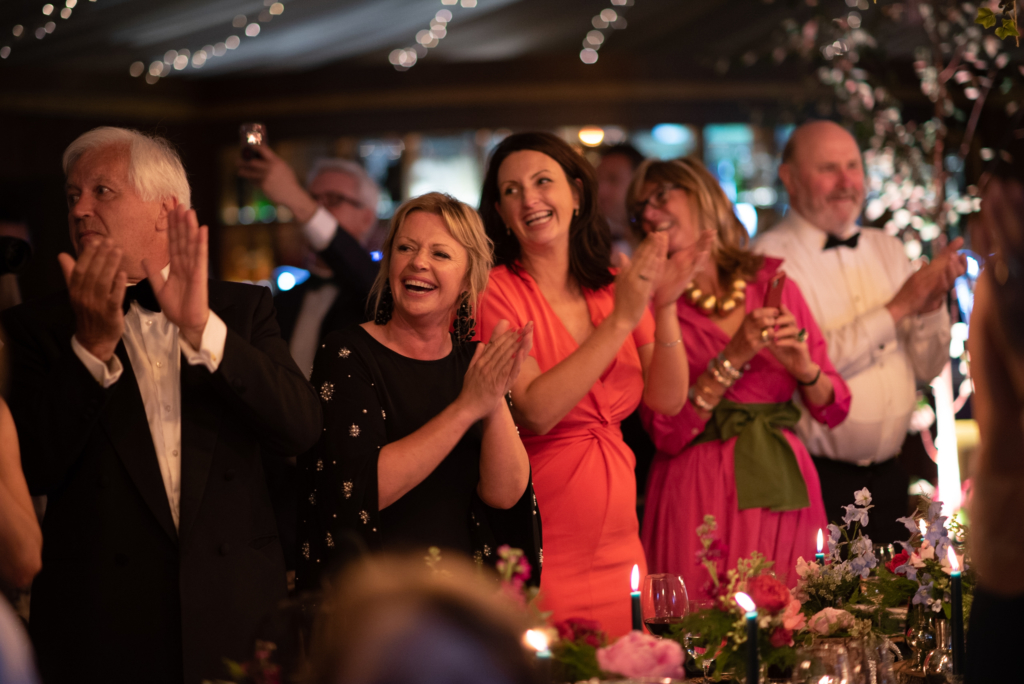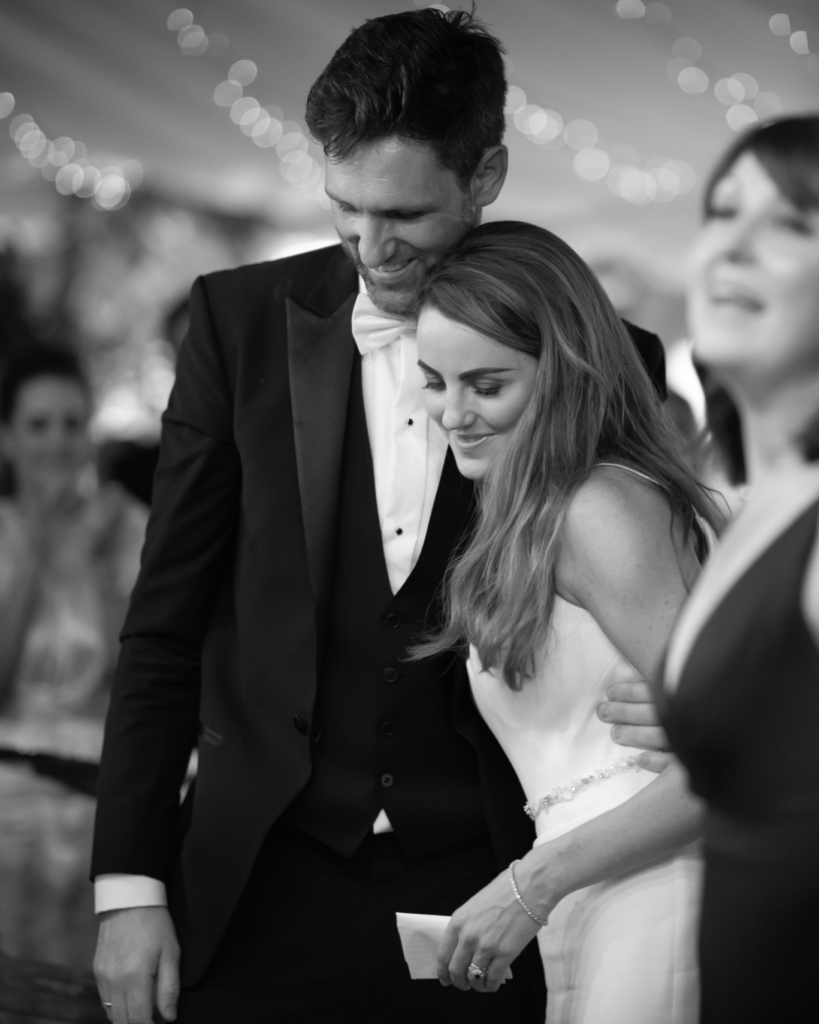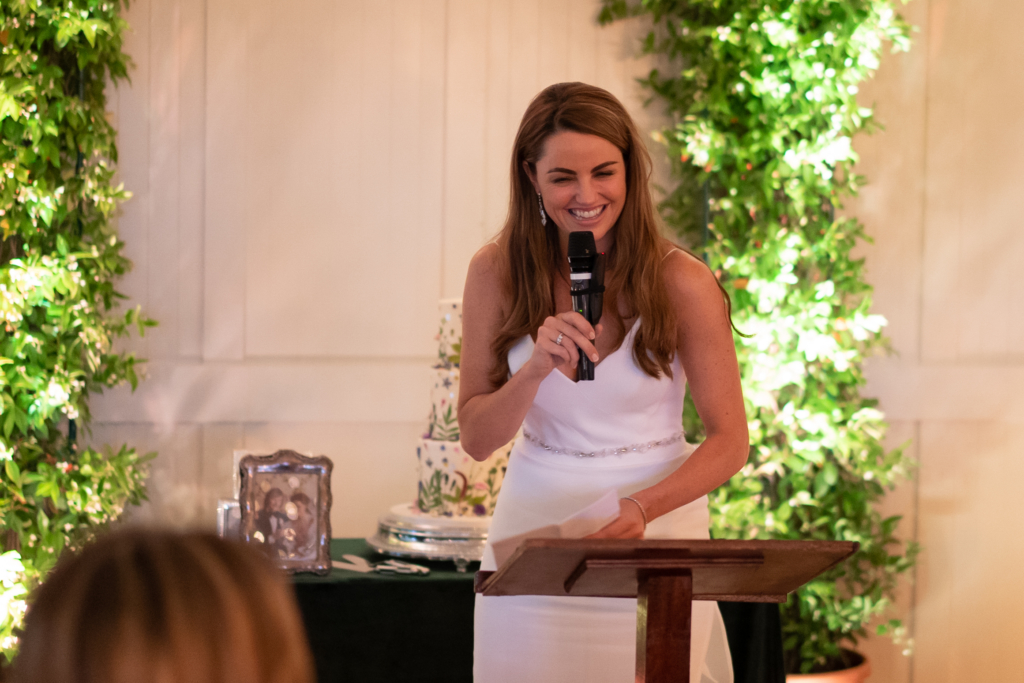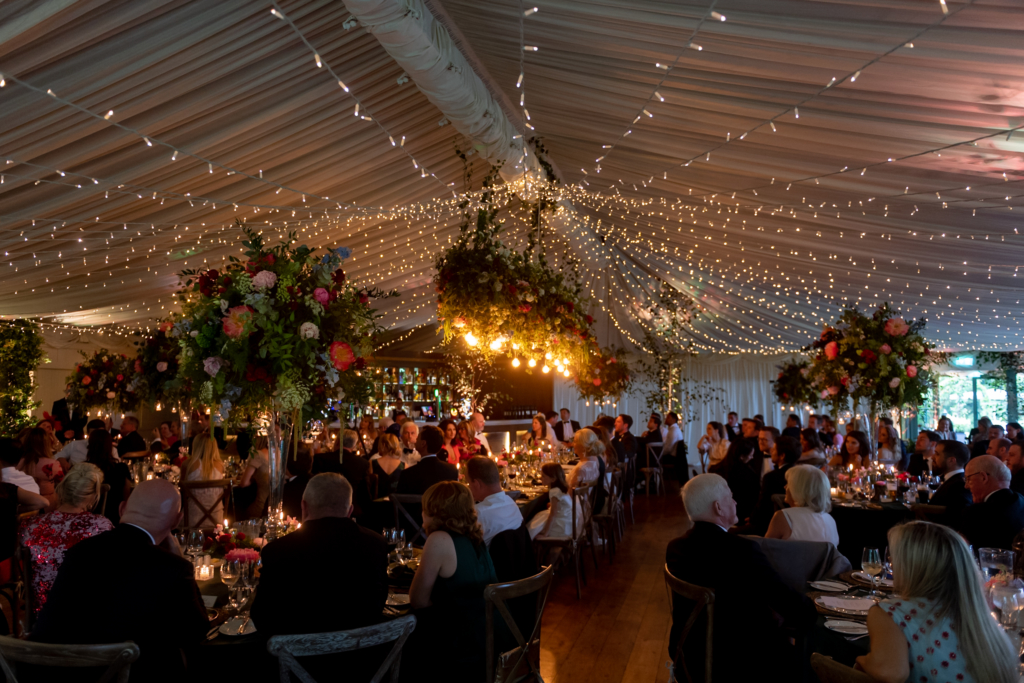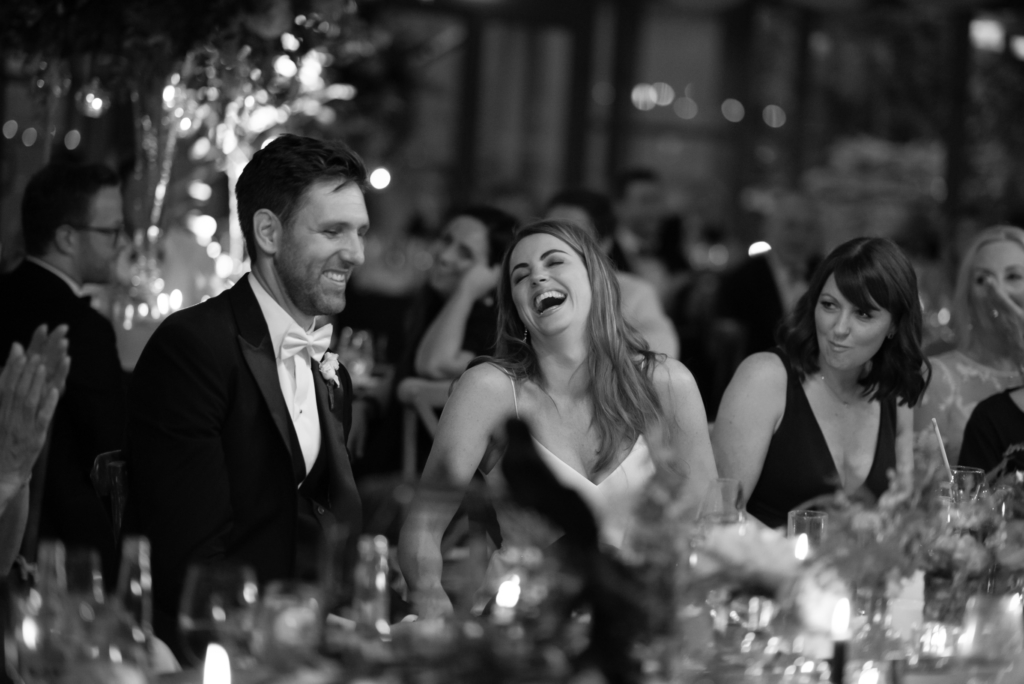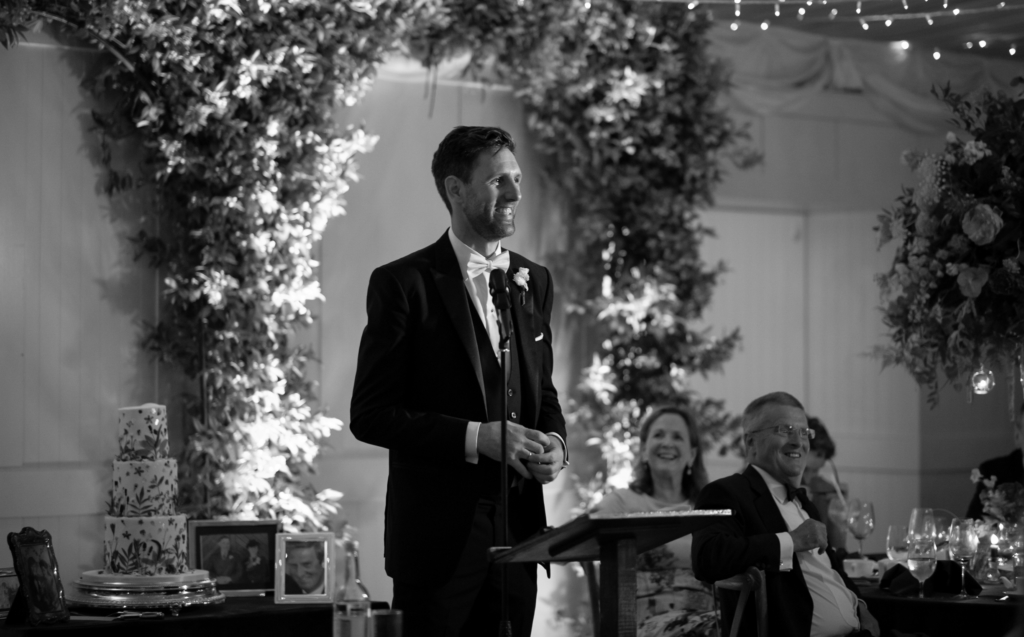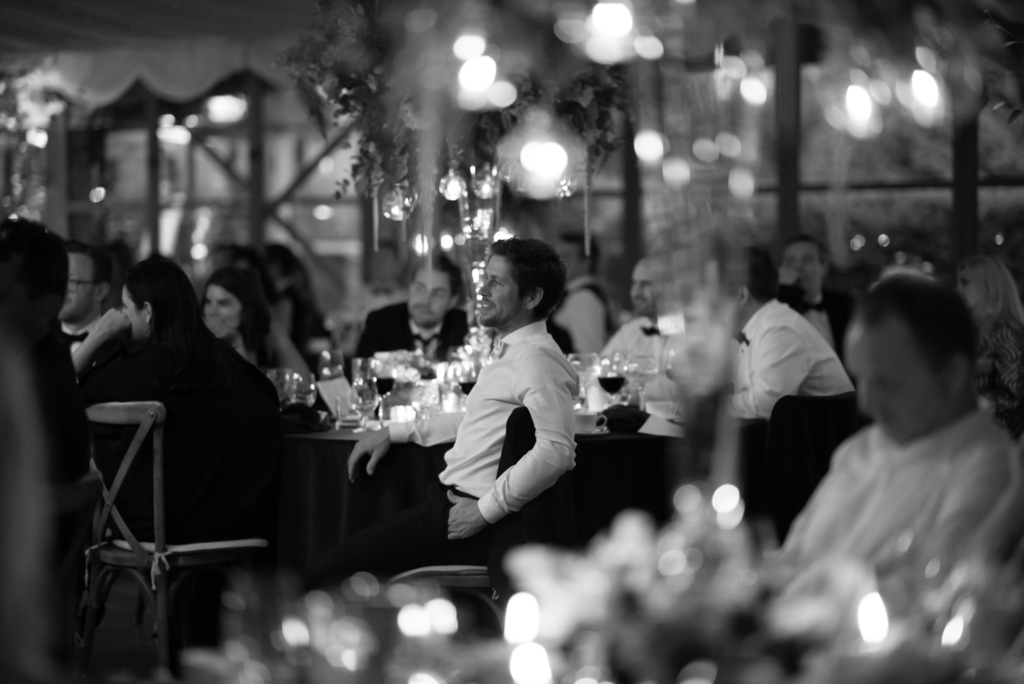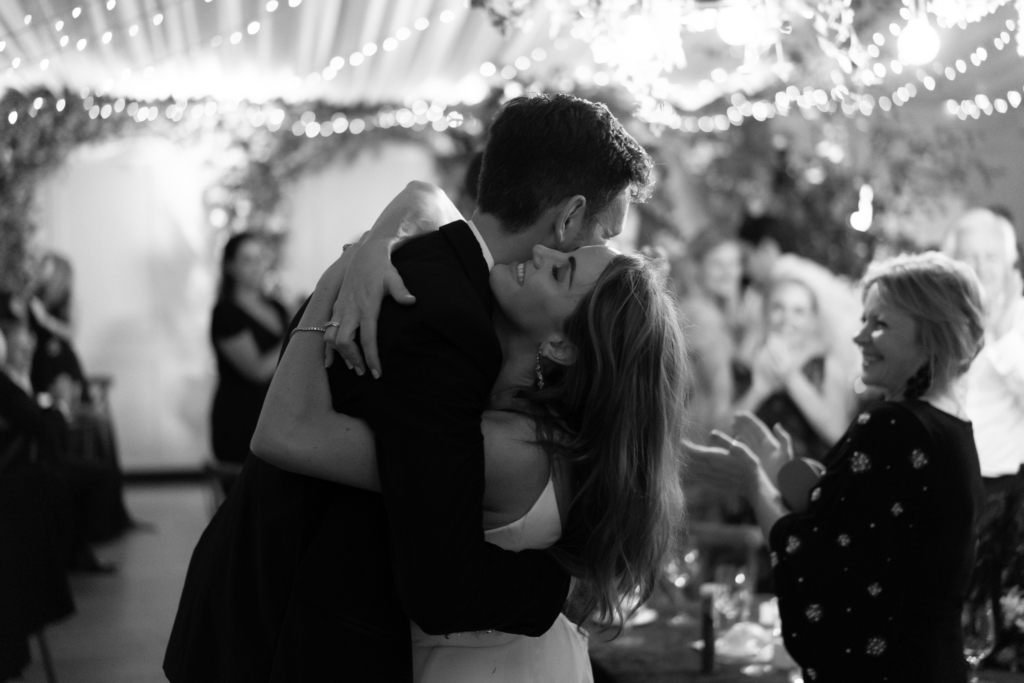 My piece of advice for other brides…
Don't get stressed, it will all work out in the end. Enjoy every moment as it's a moment in time and will pass quickly.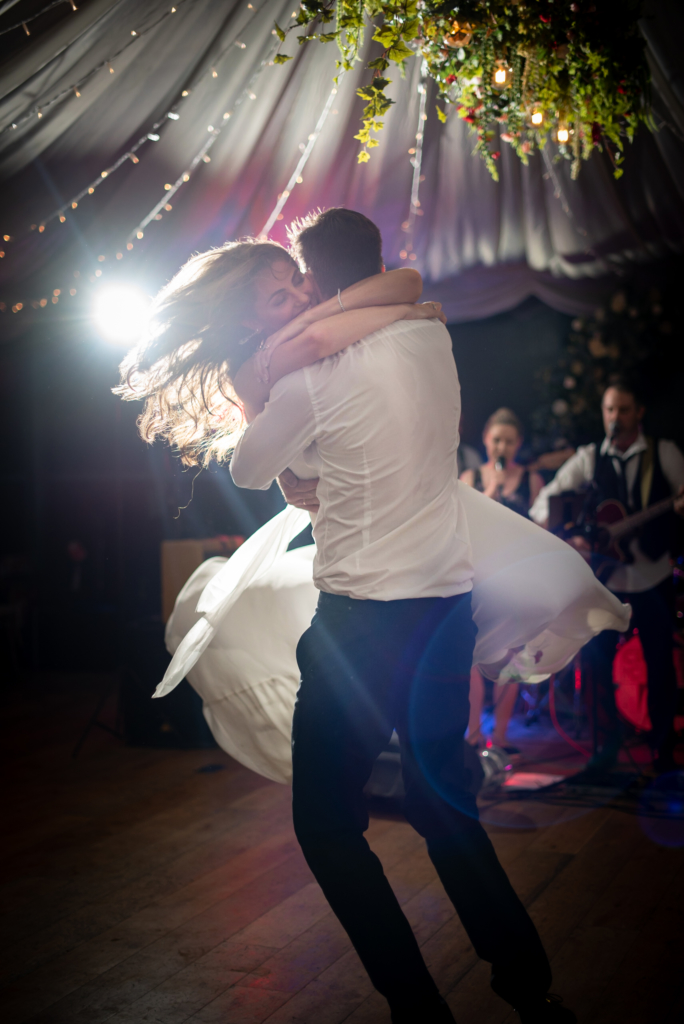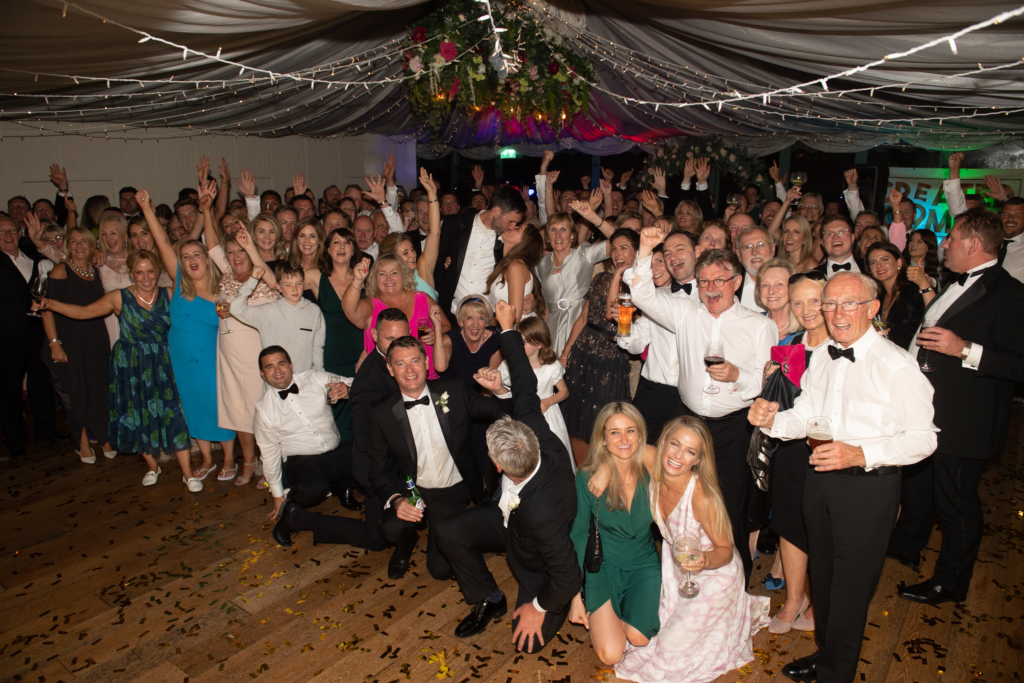 Photography & Film was provided by The Fennells.
Connect with us on INSTAGRAM for more behind the scenes and wedding inspiration: @TheFennells.ie
All photographs are copyright and property of The Fennells. No republishing is permitted without written permission from The Fennells.
All flowers for Joeanna Caffrey wedding flowers were supplied and arranged by Joeanna Caffrey Flowers.