A Stunning Ireland Castle Wedding
After trying on nearly 30 dresses, Nicola decided the only way she would get the perfect dress, was for it to be custom made. We had the pleasure of photographing Nicola and Allan's Ireland Castle wedding.
In addition to Nicola being the Bride, she is also a wedding planner, so as you can imagine, every detail was planned to perfection. From bridesmaid pj's to night time fireworks, she had thought of everything. She kindly agreed to share her wedding details and photographs for their Luttrellstown Castle wedding.
The Proposal…..
We often have date nights planned as surprises for the other. All I knew was hat I had to meet him afterwork at Leicester Square Station.
I am a big Michael Jackson fan. Allan managed to get us golden tickets (literally gold tickets!). It was the preview night of the Michael Jackson On The Wall exhibition at The National Portrait Gallery in London. Whilst walking around the rooms I kept mentioning that I really wanted to see the Andy Warhol piece.
As we entered the room showing this piece, it was completely empty, except for us. I was chatting away about how incredible it was and getting frustrated that Allan wasn't reacting. As I turned around to tell him off, I found him on one knee! I firstly checked that he had asked for my dad's permission and after that and of course, I said yes!
We walked from Trafalgar Square to Embankment Station. He mentioned we could go for a drink somewhere to celebrate.
As we were walking past one of my favourite venues in London – Gordons Wine Bar I suggested to go in there (he clearly knows me too well!).
As I walked down the stairs I saw my parents and my brother. My dad was the only person who knew that we had gotten engaged! I got to tell my mum and my brother myself (cue lots of tears and hugs!).
Gordons bar is incredibly busy and you are unable to book tables. Allan found some tables at the back. As I walked to our table, I could see my two best friends waiting to congratulate us!
It was honestly perfect!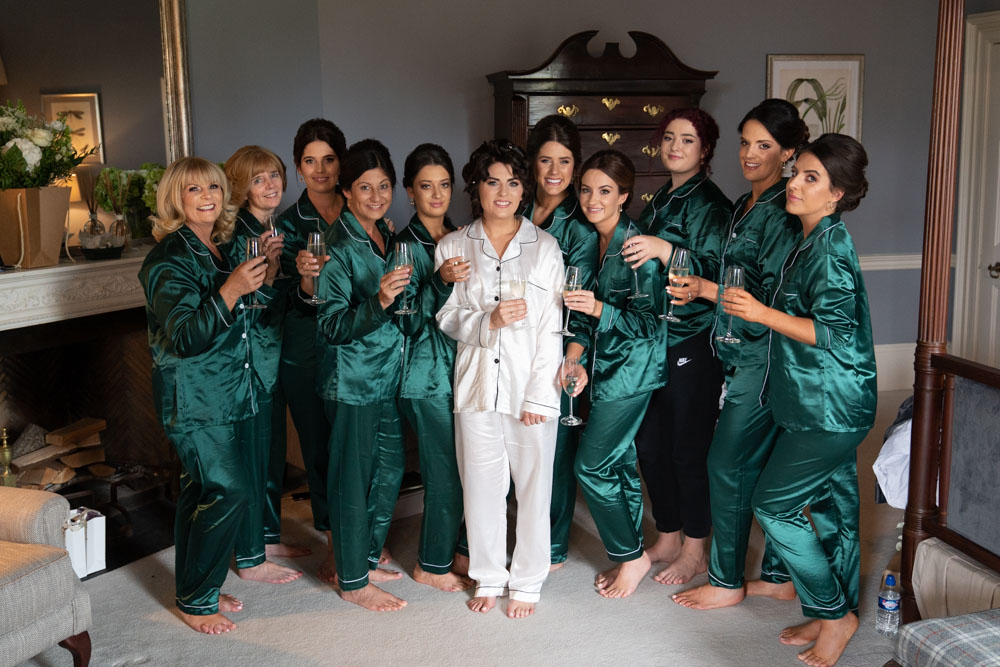 What resources helped you plan your wedding?
Having recommendations from friends and other suppliers was amazing. However, because we were not based in Dublin, Instagram was also a great source!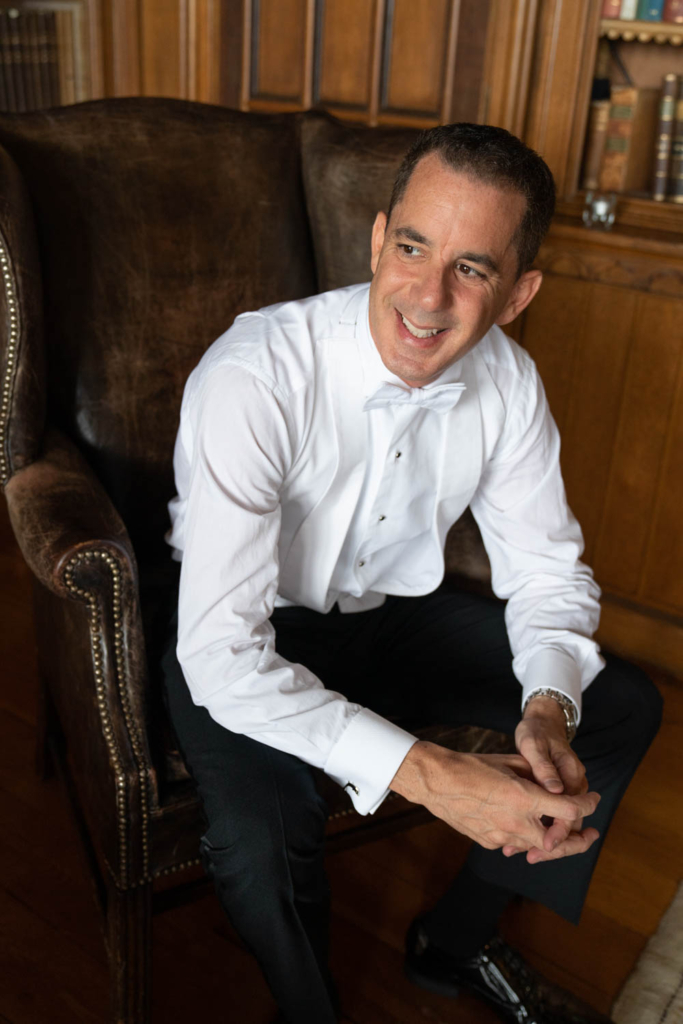 The Dress….
After trying on nearly 30 dresses and not finding the one I ended up having my dress made. Caroline based in Hitchin England custom made it for me.
The Bridesmaids dresses….
The bridesmaids dresses were white. Nicola also had their dresses made by the same lady that made her wedding dress
What was important to you about your Ireland castle wedding – what were your priorities from the very beginning?
The most important thing to both of us is our family and friends. On the lead up to the wedding we hosted parties, as a result, everyone knew everyone come the big day. This meant the entire weekend was full of the party spirit as people felt comfortable with everyone else attending! It was almost like one big reunion of people whose connection was us!
Having everyone in the same place was amazing. We wanted to make sure everyone felt part of the day. To do this, at the ceremony we handed around of our wedding bands for everyone to make a wish or to say a prayer on them.
Allan's three children were all central to the wedding, James was Allan's best man and Anna and Ella were bridesmaids.
On our first Christmas together, we were watching Love Actually. Allan mentioned he liked the song 'Songbird' by Eva Cassidy which features in the film. That night, I wrote a love note to Allan.
I told him in the note that I had decided that 'Songbird' would be the song I would walk down the aisle to, to marry him!
Ella, Allans daughter, passed this note to Allan at the top of the aisle. It was very special for Ella to be the one to give this to Allan years after I had written it.
What made you choose Luttrellstown Castle for your wedding?
We came over to view venues on weekend with Allan's youngest daughter Ella. It was a packed out trip as we had a lot of venues to see.
Searching for a wedding venue is a bit like looking for a new house. As soon as you step in you'll just know its the one for you.
I can't explain how we felt when we all walked into Luttrellstown castle. Myself and Allan kept catching each others eyes as we had our tour of the venue. We were bursting with giant smiles.I even got a bit emotional at one point which caught me off guard.
As we drove out of the long driveway, Ella told us if we didn't get married at Luttrellstown she wouldn't come to the wedding! That pretty much sealed the deal!
What made the day really special and personal to you?
Our ceremony was performed by Humanist Celebrant Philip Byers. Philip really helped us to create a personal ceremony that reflected us. Still to this day, people comment on what a great ceremony it was.
As our family and friends are the centre of everything we do. We wanted to include as many people as possible. Philip was brilliant at giving us ideas of how to do this. We passed around our wedding bands to every guest, our mothers lit the candles and we had a hand fasting ceremony.
What made you choose your photographer and videographer?
We really wanted someone with a relaxed style. We didn't want someone that would just do the formal line up shots of people. Neither myself or Allan are particularly comfortable at having our photographs taken.
What was important to us was having someone who was approachable and who would put us at ease and most importantly, Mark and Fiona made us feel completely relaxed and we enjoyed the experience! The Fennells were great fun too, so they had us all laughing throughout!
They perfectly captured every moment from the really sentimental parts of the day to the party shots at night. They managed to do all of this whilst almost blending into the background too which is an incredible skill!
---
We also have the pleasure of photographing the Home and Away stars wedding at Luttrellstown Castle
---
What advice would you give to other couples planning their day?
Take moments throughout the day to step back just the two of you and take it all in. It's amazing to watch all your hard work and planning coming together. To see what a spectacular time everyone is having to celebrate you!
Where did you go on your honeymoon?
We wanted a holiday of activity and exploring and of course relaxation. So we decided on South Africa for our honeymoon (Cape Town – Franschhoek – Krugar – Johanesburg) and then Mauritius. We could not recommend them more!
Could you sum up your wedding in a couple of sentences?
It was everything we had dreamt of!
Being a wedding planner myself, I had a very clear idea of what we wanted the day to be. Thats exactly what we achieved!
What a way to end their wedding day with these epic fireworks. Thank you to Nicola and Allan for choosing us as their Luttrellstown wedding photographers.
The Wedding Suppliers for this Ireland Castle Wedding: