A truly magnificent day right from the start. Laura and Daniel are two of the nicest couples we have had the pleasure of photographing. As wedding photographers it is always a joy to photograph a couple with so much chemistry. We hope you enjoy our Ballymagarvey Village wedding photography blog post of all the photos that tell the story of the day. Its at this stage I'll hand it over to the bride Laura and let her tell you all about their fantastic day in March 2017.
We met…
We met in New York City. Daniel moved to the big apple with work in 2009, and I moved there in 2010. Soon after my arrival, our group, which consisted of about 30 Irish people, set off on a ski trip to upstate NY. We were very diverse with all our Irish friends in the U.S ☺. It was here that we met, on a night that happened to be my birthday, what a gift to get! Our ski experience was very limited and Daniel was more than willing to offer to pick me up after one too many tumbles. Our relationship took off from there and we've been inseparable ever since.
The proposal…
Daniel caught me completely by surprise with the proposal. I always thought I'd see it coming! After a few years living in midtown Manhattan, we decided to move out to a neighborhood in Brooklyn, packed full of hipsters, Williamsburg. One sunny Friday evening after work we went for a stroll before dinner. On the banks of the east river, at sunset overlooking the Manhattan skyline, he got down on one knee accompanied by the applause of a nearby family having a picnic and a passing cyclist.
My dress…
I bought my Watters dress in 'Lovely Bride' in Tribeca, New York. My Mam was more than willing to make multiple trips to New York during the dress hunt to make sure we found the right one, which also involved a visit to the famous "Say yes to the dress" shop!
The Planning…
We were very laid back throughout the whole planning process (bar the last 2 weeks before the wedding!). We decided the wedding was a good point to move home to Ireland for good. After 7 years in New York, we were ready to settle down at home, close to family and friends. So not only were we planning a wedding, we were also moving country!
We used our few visits home to haul several suitcases over the Atlantic (it's a wonder the wedding went ahead after Daniel saw how much stuff I accumulated) and work on planning the wedding at the same time.
What our bridal party wore…
I wanted the bridesmaids to wear something a little different. In one of our many Pinterest sessions we spotted a skirt and top combo and we all loved the look. They are by the designer Dessy and we purchased them in Wedding World in Dublin (we may have had to put in a rush order since I am so last minute!). The 2 bridesmaids wore Ivory tops with grey skirts and the junior bridesmaid wore the reverse with a grey top and ivory skirt.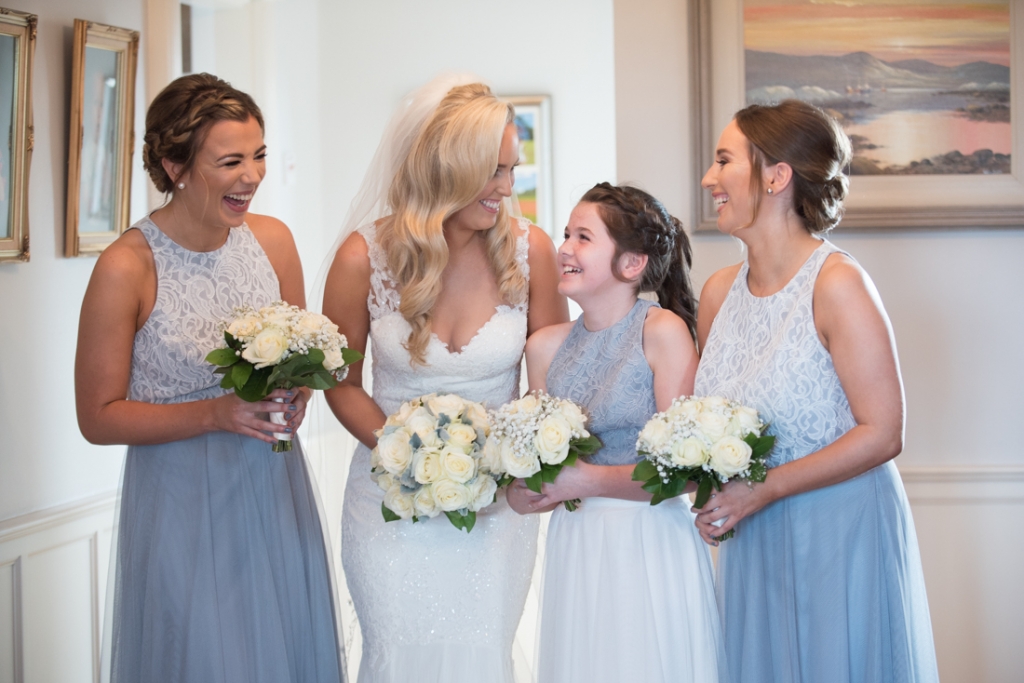 My hair and make up…
The bridal party hair was styled by Rita's Mobile Hairdressing and make up by Michelle Regazolli MRS Make Up.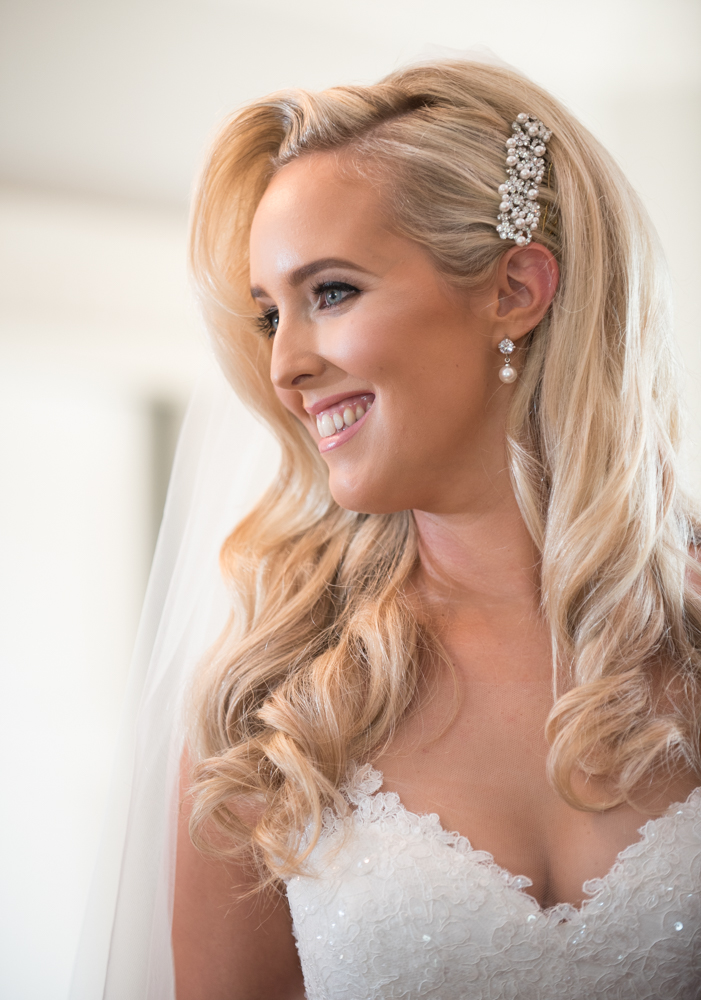 The Venue and how was it decorated…
We incorporated a bit of New York into the wedding by naming the tables after different places in NYC. The Flower Studio, Dundalk did a wonderful job on the flowers. The venue was Ballymagarvey village, and we were in the middle of cherry blossom season which gave the place a really colorful feel.
His suit…
Daniel, his two groomsmen and his Dad looked dapper in their Baulmer suits from Michael Barrie on Duke Street, Dublin.
There are many beautiful locations at this magical wedding venue and that is what makes Ballymagarvey Village wedding photography so special.
Our ceremony…
We opted for a humanist ceremony which took place in the ceremony room at Ballymagarvey with Emma Sides as our celebrant. Our ceremony was very personal and we loved how we could write the whole thing ourselves. We picked readings and poems and asked 2 of my brothers and Daniels sister to read them. Of course my youngest brother thought the reading we gave him "wasn't great" and decided to write something himself which turned out to be so special and unique. It felt laid back and very us with plenty of laughs and tears alike.
We chose our photographer because…
One look at The Fennells website and we knew they were the wedding photographers for us. We wanted to choose only the best wedding photographers because at the end of the day, it's the photos that line your walls and keep the memories alive. We loved their style of wedding photography and we wanted as many candid shots as possible – which is exactly what we got. Mark and Fiona made an effort to know everybody's name and hold handbags, or escort grandparents. They were extremely subtle at the ceremony; I wouldn't have even known they were there only for the amazing photos they produced from it.
We chose our venue because…
Ballymagarvey Village was the first (and only) venue we viewed. We wanted somewhere where we could have the ceremony and reception all under one roof and have the whole place to ourselves for the day. So much stress of planning a wedding is removed with Ballymagarvey Village. Without any extra decoration the venue is already spectacular and this we knew would be perfect for creating the backdrop to our own Ballymagarvey Village wedding photography.
Another perk of the venue was that it allowed me to get ready at home since Ballymagarvey is only half an hour from my home house. We got some fabulous photos in the house that morning. I gave my Dad the job of organizing the transport to the venue so, of course, he arranged for a white stretch limo to come and get us. Turned out to be great craic as the 3 bridesmaids and both my parents jumped in, and under the colored strobe lighting, (which I'm sure is a big hit for the Debs goers who usually occupy this limo), we had a bottle of bubbles for the road. The funniest part was probably when the driver flew straight past the entrance for Ballymagarvey and we ended up doing a 3 point turn in the limo on the main road as witnessed by a few guests!
Our honeymoon…
Since we were moving home to Ireland for good, we decided to use this transitional period as a time to escape for a few months and do the trip we've talked about for so long. So one week after the wedding we grabbed our backpacks and headed to South America for 3 months, touring Cuba, Colombia, Peru, Argentina, Chile and Brazil. It really was the trip of a lifetime.
Ballymagarvey Village wedding photography is a joy to shoot especially when the sun starts to set.
Ballymagarvey Village wedding photography of the main banqueting hall just below here…
Ballymagarvey Village wedding photography and The Suppliers on the day were:
Photography: The Fennells
The Dress: Watters, Lovely Bride (New York)
Grooms' suit: Baulmer , Michael Barrie (Dublin)
Bridesmaids' dresses: Dessy, Wedding World (Dublin)
Hair: Rita's Mobile Hairdressing
Make-up: MRS Make up
Venue: Ballymagarvey Village
Ceremony: Ballymagarvey Village
Music: Blacktye
Flowers: The Flower Studio (Dundalk)
Ballymagarvey Village wedding photography and all associated photos on this blog post are copyright of ©TheFennells and cannot be republished without consent and appropiate credits.
SaveSave
SaveSave
SaveSave
SaveSave
SaveSave
SaveSave
SaveSave
SaveSave
SaveSave