The Cabra Castle Wedding Photos of Leah and Joe's wedding day.
From the moment we arrived we knew this was going to be a super wedding day. It was lovely to see such a close family as you'll see from the photo of the sisters putting each other into their dresses. There were lots of laughs throughout the day aswell as those emotional moments when dad had to hand over Leah at the top of the aisle (always a real moment). The dress was just so unique and stunning to see. So here're Leah and Joe's Cabra Castle Wedding photos.
We started out at Leahs family home and then to Kingscourt Church, and eventually arriving at Cabra Castle in Cavan. Here are some of the Cabra Castle wedding photos from Leah and Joe's fantastic wedding day. Being the wedding photographers at this wedding was just a pleasure. The photos are in time order to give you a feel for how the day went. So enjoy this blog and here are all the details from the bride herself…
The Engagement…
We met… February 2011 in the Village on Camden St. Joe went to college with a cousin of mine and we all happened to be on the same night out. Joe and I noticed each other in the Village but it wasn't until we got to Coppers that we got talking and well the rest is history.
My dress…
The only part of the planning process that I was dreading was the dress shopping. I started off trying every style and had myself convinced that I would go for a plain and simple dress. My Mum is a needlework lady so she saw a beaded dress in Beau Chic and convinced me to try it on. I was skeptical as there was a lot going on in the dress but as soon as I looked in the mirror my face said it all. I couldn't stop smiling and loved how it sparkled with the slightest of movements. Sabrina in Beau Chic was such a pleasure to deal with. She is a true lady and made the whole process so lovely given I don't really like shopping.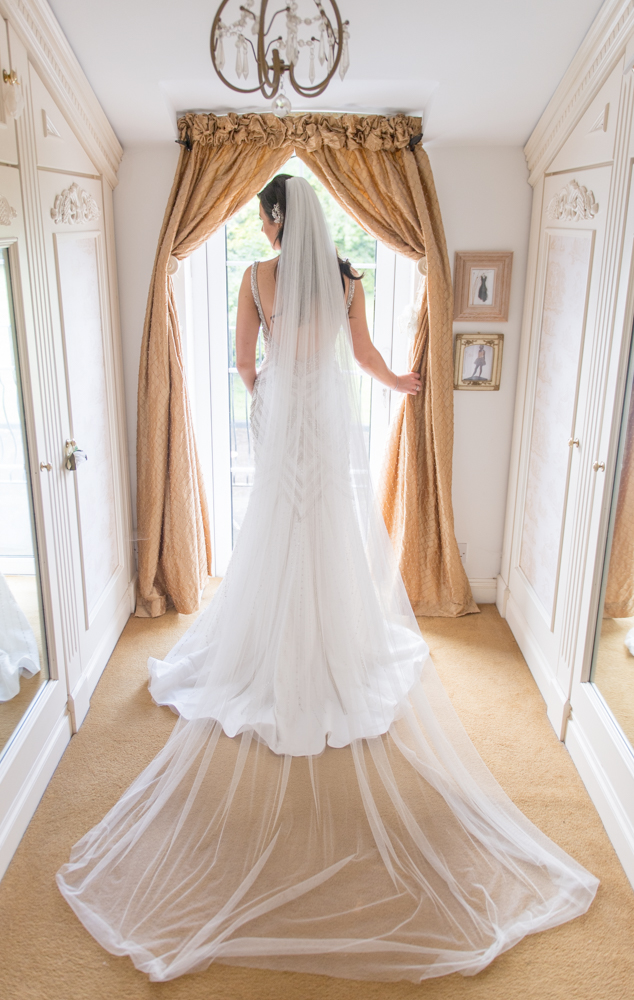 My hair and make-up…
I had the best morning in Chameleon in Drogheda. It was an early start with 9 of us but the salon pulled it off exactly as planned and on time. Kellie & Melissa were so thoughtful and had the salon decorated for the occasion and nibbles and prosecco for us. I loved the look they created for us and it was such a relaxing and fun morning.
The proposal…
I took Joe to Rome for a 6 Nations rugby match for his 30th. On our last day in Rome we decided to do some sightseeing and ended up in a beautiful garden overlooking Rome that Joe had researched. It also happened to be our 4 year anniversary so Joe started teasing me asking did I get him a present. I was embarrassed when I realised he had one for me (we never do anniversary gifts). After a couple of minutes of teasing me he took a Mi Moneda box out of his pocket. I had told him if ever he was looking for an idea for me to get me one of those necklaces so I was delighted when he remembered.
When I opened the box he said to turn over the necklace that it was engraved on the back and there were the words 'Will you marry me?' It came so unexpectedly to me that I forgot to say 'Yes' and kept repeating "No way'. When I looked at him he was down on one knee and I repeated 'No way' until he asked 'Is that a yes?' and I said 'Of course'. He still tells me I never said yes.
His suit…
In advance of the wedding, Joe bought all his suits from Adam in Baumler on Dawson St, so there was only one place he was going to get the wedding suits. As we wanted a timeless look, Adam advised that Joe wear a dark blue suit with a light blue waistcoat and a navy tie. This was paired with groomsmen suits of navy (matching the colour of Joe's tie) and the ties were light blue (matching Joe's waistcoat).
Our ceremony…
We chose our photographer because… We met Mark & Fiona at the wedding fair in the RDS and thought the samples of albums they had on show were excellent. We really liked their style and after speaking with them we knew that given their experience and professionalism they were the right choice for us. On the day Mark & Fiona went over and above to make sure we got all the shots we wanted and made us feel extremely at ease.
I saw this moment just at the top of the steps as we were about to embark down to the river for a photo, and I just love how its framed by the trees. Love moments like this.
One massive advantage in Ireland are those hidden places in nature. They are always a great compliment as a backdrop on a wedding day.
Ice cream awaited on our arrival at Cabra Castle and was so great to include the guests enjoying ice cream in Leah and Joe's Cabra Castle Wedding photos.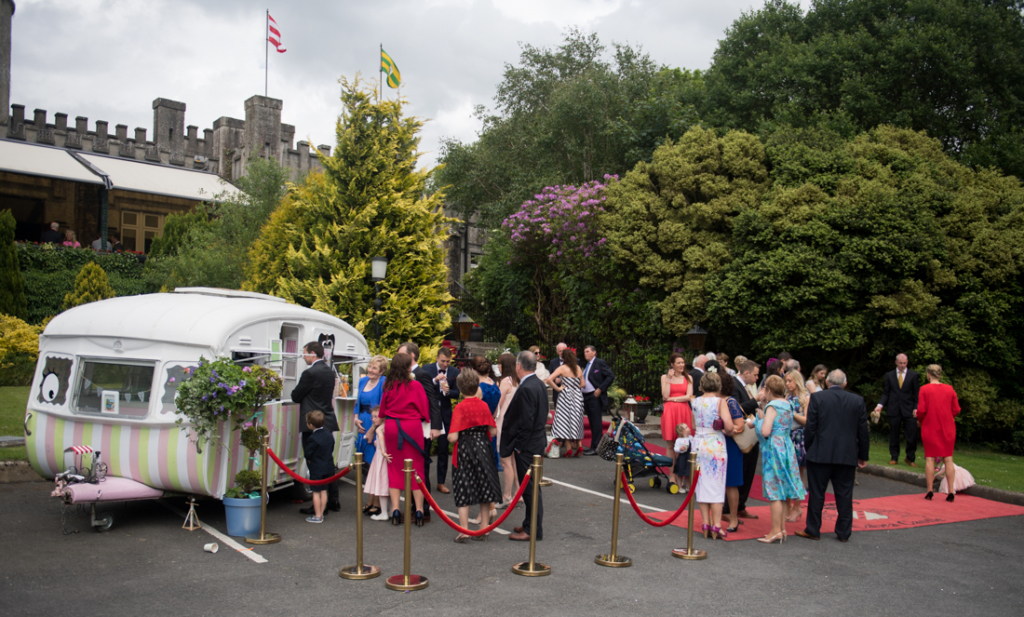 We chose our venue because…
Cabra Castle was the first and only place we viewed. It ticked all the boxes and it was free on the date we wanted. We got such a good feeling from the venue from the drive up to the castle, the function room, the whole castle and the grounds. The staff in particular Laura, Rose, Lorraine and Denise were so helpful and made sure the day ran without a single hitch.
Our honeymoon…
On the flight home from Rome when we got engaged we started discussing the honeymoon and instantly we agreed on incorporating the Lions rugby tour in New Zealand as part of our trip. We decided to do it right (and thankfully have understanding employees!) so we settled on a six week honeymoon, with 5 weeks in NZ and the final week in the Cook Islands.
As we are active people, the thoughts of sitting on a beach or shopping for a couple weeks would be our idea of hell, so NZ was the perfect country for us. We travelled both islands, driving over 6,000km and taking 5 internal flights. We trekked glaciers, skied, explored caves, took in all the adventure activities that Queenstown has to offer, had the craic with the rest of the Lions and All Blacks fans in the rugby mad country and enjoyed the amazing food, wine & beer!
We spent our last week in the Cook Islands of Rarotonga and the paradise of Aitutaki – the most amazing place on earth! This was the perfect end to the perfect trip.
The photo taken on the stairs of Cabra Castle is just fantastic as it really shows the elegance of Leah's wedding dress.
Our wedding theme/colours… We decided to keep things simple and hopefully timeless so we went with all white.
My piece of advice for other brides…
Don't be afraid to mention to him that when it happens you'd like to choose the ring yourself. I just absolutely loved being fully involved in the ring shopping. After all you'll wear it every day for the rest of your life so you want to make sure you'll love it!!
The Suppliers of this wedding featured in the Cabra Castle Wedding photos blog:
Photography:  The Fennells
The Dress: Beau Chic, Drogheda
Grooms' suit: Baumler, Dawson StRings: Cullen & Co Jewellers Bridesmaids' dresses: Ophelia Bridal, DroghedaHair & Make-up: Chameleon, Drogheda
Venue: Cabra Castle
Ceremony: Church of the Immaculate Conception, Kingscourt, Cavan Church Music: Drogheda Male Voice Choir and Amie Dyer
Wedding Band: Perfect Day
Flowers: Flowers by Ann, Kingscourt, Cavan
Cake: My talented friend and pastry chef Clare Fletcher
Ice-Cream: Storm in a Teacup, Skerries
Thank you for taking the time to check out our Cabra Castle Wedding photos. If you are interested in enquiring to book myself and Fiona for you wedding photography and/or videography don't hesitate to contact us
All photography is copyright of the Fennells. You must have written permission if you wish to use any online or in print.